Questions?

We Answer The Phone!

Telephone Us Now!

1-844-449-0444
1-856-467-2430

Email us now!

All Products - #1 of 41: Next
View: All Products (41) | Pill Blends (2) | Pills (2) | Powder Blends (4) | Powders (4) | Tea Blends (4) | Teas (4)

GERD and Heartburn Support - Peppermint, Asparagus, Turmeric and More - 450 mg


by

TerraVita


100 capsules


More Photographs below.

Peppermint is also known by the names Mint, Balm Mint, Curled Mint, Lamb Mint, and Brandy Mint. The plant is found throughout Europe, in moist areas, along stream banks and in waste lands. Mint is one of the most ancient of all health herbs. Ancient ... *

GERD Support Product Provides relief
"I've used the GERD Heartburn Support capsules for several weeks now and have not felt heartburn after meals. Thank you for providing a useful, balanced product." -- Kriss (Freelance writer/artist/musician)


More Info continues below.


Our Price: $17.73 US


Click button to Buy.
In Stock - Ships Right Now!


Specifications

ZIN Product Number: 518616
Size: 100 capsules
Weight: 0.18 lbs (0.08 KG)
Size (inches): 1.77" X 1.77" X 3.90"
Size (cm): 4.5 cm X 4.5 cm X 9.9 cm

Traditional Uses: Gastro Esophageal Reflux Disease (GERD)

Manufacturer: TerraVita

Ingredients: Turmeric (100 mg), Asparagus (100 mg) (Shoot), Horehound (100 mg), Peppermint Leaf (150 mg)

Other Ingredients: Gelatin, Water

Newsletters: GERD - How to Reduce Heartburn & Indigestion.



Description - Research and Analysis

Peppermint is also known by the names Mint, Balm Mint, Curled Mint, Lamb Mint, and Brandy Mint. The plant is found throughout Europe, in moist areas, along stream banks and in waste lands. Mint is one of the most ancient of all health herbs. Ancient Athenians would rub the leaves of mint on their arms to improve their endurance. The Greeks and Romans crowned themselves with Peppermint at their feasts, and adorned their tables with its sprays. They also flavored both their sauces and their wines with its essence. Two species of mint were used for health benefits by the ancient Greek physicians, but some writers doubt whether either was the modern Peppermint, though there is evidence that Mentha piperita was cultivated by the Egyptians. It is mentioned in the Icelandic Pharmacopoeias of the thirteenth century, but only came into general use in the medicine of Western Europe about the middle of the eighteenth century. Today, the United States is the most important producers of Peppermint and Peppermint oil. The primary chemical constituents of Peppermint include essential oils (menthol, menthone, methyl acetate, limonene, pulegone), tannins, flavonoids, choline, and potassium. Peppermint leaves contain about 0.5-4% volatile oil that is composed of 50-78% free menthol and 5-20% menthol combined with other constituents.

Peppermint is an excellent carminative, having a relaxing effect on the muscles of the digestive system, combats flatulence, and stimulates bile and digestive juice flow. It can be used to help support intestinal colic, flatulent dyspepsia and associated complaints. The volatile oil in Peppermint acts as a mild anesthetic to the stomach wall, which allays feelings of nausea and the desire to vomit. This herb has long been known to help support nausea and vomiting of pregnancy, and travel sickness. Peppermint can also be used in supporting ulcerative complaints of the bowels. It is a traditional support for fevers, colds and gastroenteritis. As an inhalant, this herb is used as temporary support for nasal catarrh. Where headaches are associated with digestion, Peppermint may help. As a nervine, it supports anxiety and tension. In painful menstrual periods, it supports the pain and eases associated tension. Externally, it can be used to help support itching, inflammations, and a variety of respiratory complaints. Peppermint oil is also a great expectorant.

Most people are acquainted with this elegant vegetable and its green stalks and tender sweet tips. However, it is the underground roots and rhizomes that are dried and used for health benefits. Research supports the use of asparagus root primarily for complaints of the urinary tract and kidneys, largely on the basis of animal studies that indicate it functions as a mild diuretic. This means it draws fluid out of the body by increasing urination. Because of this action, asparagus root may be beneficial in several complaints associated with the kidneys and urinary tract.

Turmeric Root is also known by the name Curcuma. The plant is native to Southern Asia. The genus name Curcuma is from an Arabic word "kurkum," meaning "saffron," in reference to the color of Turmeric. The actual word Turmeric is from the Medieval Latin "terra merita," meaning "deserving earth."

In India, women with lovely, velvety skin often attribute it to consuming Turmeric. The parts of this plant used for health benefits are the rhizome and the root. Turmeric is a close relative to Ginger Root, and can be used as a dye and a cooking spice in India and other Asian countries. It has been used traditionally for the potential to help support symptoms of jaundice and other liver ailments, ulcers, parasitic infections, various skin problems, sprains, strains, bruises, inflammation of the joints, cold and flu symptoms, preserving food, and promoting digestion.

Native peoples of the Pacific sprinkled the dust on their shoulders during ceremonial dances, and used it for numerous medical problems ranging from constipation to skin problems. The inhalation of smoke from burning Turmeric is said to help support "hysterical fits." The potential properties of this herb are cholagogue, hepatic, stomachic, carminative, anti-inflammatory, and antibacterial. The primary chemical constituents of Turmeric Root include curcumin (yellow pigment) essential oil (artumerone, zingberene, borneol), valepotriates, alkaloids, and protein.

Modern interest in Turmeric began in 1971 when Indian researchers found evidence suggesting that the herb may possess anti-inflammatory properties. Curcumin was later found to possess potential antioxidant properties. Evidence also suggests that Turmeric is an herb that stimulates the gallbladder. Turmeric helps to stabilize the body's microflora, thus inhibiting yeast overgrowth. It also sensitizes the body's cortisol receptor sites, and its anti-inflammatory properties are considered at least equal to those of cortisones. Turmeric can be used to help support blood platelet aggregation that can lead to dangerous blood clots. Turmeric Root also helps to protect the liver, and is excellent for those exposed to toxic chemicals. Turmeric is also anti-mutagenic, and helps protect the body from mutagens such as smoke and other pollutants.

Studies on Turmeric have verified that the herb possesses cholagogue-type substances which increase the secretions of bile. It has also been suggested that Turmeric lowers blood cholesterol and helps with weight loss. Recent investigations suggest that curcuminoids may be active in the support for symptoms related to compromised immunity levels, this is presumably connected with the cytotoxicity of these substances, which has been demonstrated on cell cultures. Past topical applications of this herb may include its use as a poultice for athlete's foot, bruises, psoriasis, swellings, and wounds.

Horehound is also known by the names Hoarhound and Marrubium. Horehound is a perennial plant with small white flowers found growing in the wild throughout Europe and Asia. The genus name Marrubium is thought to be derived from "marrob," the Hebrew word for "bitter juice." It is believed that Horehound was one of the original bitter herbs of the Jewish Passover tradition. The common name, Horehound, is from the old English "har hune," meaning "downy plant." The part of this plant used for health benefits is the above ground portion.

Horehound was reportedly first used by the physician Galen in ancient Rome, who recommended it as a therapy for coughs and other respiratory ailments. Like Galen, Nicholas Culpepper, the 17th-century English chemist, commented that it was helpful for a cough, and was also useful in helping remove stubborn phlegm from the lung. Similarly, Eclectic physicians of the 19th century remarked on its value as a useful plant not only for coughs and asthma, but also in menstrual complaints. Horehound was used by Navaho Indians to help a woman through childbirth. Horehound is an anti-spasmodic, a stimulant and a. vermifuge.

The primary chemical constituents of Horehound include essential oil (pinene, limonene, camphene), diterpene liquids (marrubinol, marruciol, silareol), sterols, saponins, bitter lactone, alkaloids (betonicine, stachydine), tannin, mucilage, bitter principle (marrubin), and vitamin C. It has a relaxing effect on heart tissue and can be used by some herbalists as a circulatory tonic to help support healthy blood pressure levels. It also acts on the hormonal system and will normalize heavy or scanty menstruation. Horehound is valuable in supporting bronchitis where there is a non-productive cough. It combines the action of relaxing the smooth muscles of the bronchus while promoting mucus production, and thus expectoration. This herb has been used in supporting whooping cough. The bitter action stimulates the flow and secretion of bile from the gall-bladder, thereby aiding digestion. Horehound can also be used externally to promote the rejuvenating of wounds, eczema, shingles and dog bites. The essential oils in Horehound help dilate the arteries and support lung congestion. The extreme bitterness helps drive away worms. Horehound increases circulation to the lungs, expels mucus, and cools infection.




User Group Forum
Share your questions and information with the ZooScape community!
Be the first to post!





Directions

Take 1 capsule, 3 times daily, with meals.




ZooScape Reviews!

Click here to share a review!

Number of Reviews:

2

Average Rating:

3.5



GERD Support Product Provides relief

I've used the GERD Heartburn Support capsules for several weeks now and have not felt heartburn after meals. Thank you for providing a useful, balanced product.

-- Kriss (Profession: Freelance writer/artist/musician)
-- March 7, 2008






-- Linda (Profession: call center agent)
-- December 12, 2008




Our Price: $17.73 US


Click button to Buy.
In Stock - Ships Right Now!




People Like You Also Bought...

You may also be interested in:

Focus with Omega 3 Fatty Acids (Evening Primose Oil, Tuna Oil, Vitamin E and Thyme Oil)






Number of Reviews
for this Product: 2
Average Rating
for this Product:
Awful
Wonderful

1

2

3

4

5




Share This Page!
Did you find this page useful?
Please share this page with your social network!
Twitter


Google +1

Facebook





Happy Customers

The BEST thing for my allergies
Works great.

-- Rochelle





Potassium Citrate Powder
This is the best potassium I've ever taken. I have to take diuretics for high blood pressure. This f [continues ...]

-- Hannah

Potassium Citrate Powder





Make $1 per sale -
Link to ZooScape.com!
More Photographs - GERD and Heartburn Support - Peppermint, Asparagus, Turmeric and More - 450 mg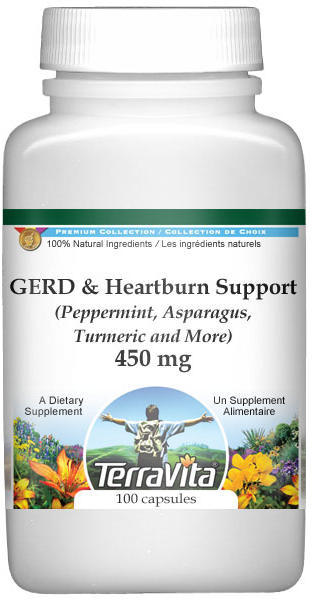 End of More Photographs - GERD and Heartburn Support - Peppermint, Asparagus, Turmeric and More - 450 mg


* These statements have not been evaluated by the Food and Drug Administration (FDA). Products are intended to support general well being and are not intended to treat, diagnose, mitigate, prevent, or cure any condition or disease. If conditions persist, please seek advice from your medical doctor.
Information provided at ZooScape.com relies partly on Traditional Uses. The essence of the current American rule on Traditional Uses is, as stated by FTC, "Claims based on historical or traditional use should be substantiated by confirming scientific evidence, or should be presented in such a way that consumers understand that the sole basis for the claim is a history of use of the product for a particular purpose."

See: FTC - Dietary Supplements: An Advertising Guide for Industry