Questions?

We Answer The Phone!

Telephone Us Now!

1-844-449-0444
1-856-467-2430

Email us now!

All Products - #32 of 181: Previous Next
View: All Products (181) | Cream, Salve and Gel Blends (12) | Oils (including LV) (2) | Pill Blends (10) | Pills (6) | Powder Blends (22) | Powders (10) | Tea and Coffee Blends (44) | Teas (8) | Creams, Salves and Gels (4)

Stress and Anxiety Support - Valerian, Passion Flower and Hops - 450 mg


by

TerraVita


100 capsules


More Photographs below.

Valerian is a tallish plant with clusters of pink or, less commonly, white flowers. A perennial grows to 4-5 feet. Leaves strongly divided, pinnate with lance-shaped leaflets; lower ones toothed. Tiny, pale pink to whitish, tubular flowers, grow in t...

More Info continues below.


Our Price: $18.29 US


Click button to Buy.


Specifications

ZIN Product Number: 518244
Size: 100 capsules
Weight: 0.18 lbs (0.08 KG)
Size (inches): 1.77" X 1.77" X 3.86"
Size (cm): 4.5 cm X 4.5 cm X 9.8 cm

Manufacturer: TerraVita

Ingredients: Valerian Root (150 mg), Hops (150 mg), Passion Flower (150 mg)

Other Ingredients: Gelatin, Water



Description - Research and Analysis

Valerian is a tallish plant with clusters of pink or, less commonly, white flowers. A perennial grows to 4-5 feet. Leaves strongly divided, pinnate with lance-shaped leaflets; lower ones toothed. Tiny, pale pink to whitish, tubular flowers, grow in three-forked terminal heads in tight clusters; each flower has a small, inrolled calyx at the base; as the fruits form, calyces become feathery parachutes. Blooms June to July.

Medicinal properties of Valerian may include: Calmative, antispasmodic, nerve tonic, nervine, sedative, anodyne, and carminative, aromatic, emmenagogue.

Valerian can also be tried to help support hypochondria, irritability, mild spasmodic affections, diarrhea, headaches, croup, hysteria, convulsions, vertigo, nervous cough, delirium, neuralgia, muscle cramps, gas pains, stomach cramps, spasms, palpitations, gas, colic, melancholy, panic attacks, emotional stress, PMS, menstrual cramps, despondency, insomnia. It is a potential supportive for fevers and colds. Valerian may be useful for expelling phlegm from the throat and chest, it can be tried as a disinfectant when everything else fails, and may be used for shortness of breath and wheezing. Valerian tea can be tried as an enema and externally as a wash for sores, wounds, chronic skin problems, and pimples.

Like many botanicals, valerian has a long history. Named the "Herb of the 19th century," is recognized worldwide for the relaxing effect it seems to have on the body. Often, in Europe, it is tried to help support anxiety. Valerian does not taste very good, but it has few unpleasant side effects. For centuries, valerian has been a popular choice by herbalists when trying to help support panic attacks or nervous tension.

The common name of valerian is heal-all, which comes from the Latin word valere, meaning "to be well". It is believed valerian is the spikenard referred to in the Bible as a perfume brought from the East.

Valerian has a distinctive, rather unpleasant smell, and was aptly called phu by the Greek physician Galen. In recent years, it has been well researched, with chemicals called valepotriates developing in valerian extracts. These can be used to support a healthy nervous system.

As a sedative, passion flower is the preferred herb for helping support insomnia and leaves no hangover. As an antispasmodic, it is helpful in central nervous system disorders, asthma (with much spasmodic activity), and hysteria. It supports nerve pain in complaints like neuralgia and shingles. Passion Flower can be used to help support nervous restlessness, anxiety, insomnia, melancholy, alcoholism and headaches. Passion Flower's gentle sedative properties produce a relaxing effect, reducing nervous over-activity and panic, and making it a mild and non-addictive herbal tranquilizer. It is an effective calmant and analgesic; its effects are primarily on the nervous system.

Hops is best known as the preservative and flavor used to make beer. However, hops can also be used by herbalists for centuries for nervous tension and the nervous system, anxiety, stress, sleeplessness/insomnia, kidney problems, urinary tract, digestion, constipation, pain, appetite, headaches and menstruation problems. Hops acts as a natural sedative to calm the nerves and help reduce stress and anxiety. Hops also promotes a good night's rest by counter-acting the effects of sleeplessness and insomnia.

Hops is rich in vitamin C and B-complex, and also contains various minerals. The natural disinfectant properties found in hops is beneficial in promoting healthy kidney functions, supporting urinary tract health concerns and painful urination.

Hops is beneficial as a digestive aid, stimulating the production of digestive fluids. Hops has been known to help stimulate the appetite and support constipation and painful menstruation and headaches.




User Group Forum
Share your questions and information with the ZooScape community!
Be the first to post!





Directions

Take 1 capsule, 3 times daily, with meals.




ZooScape Reviews!
Click here to share a review!



Our Price: $18.29 US


Click button to Buy.




People Like You Also Bought...

You may also be interested in:

Verbena Mint Tea






Be the first
to rate this product!
Awful
Wonderful

1

2

3

4

5




Share This Page!
Did you find this page useful?
Please share this page with your social network!
Twitter


Google +1

Facebook





Happy Customers

The BEST thing for my allergies
Works great.

-- Rochelle





Potassium Citrate Powder
This is the best potassium I've ever taken. I have to take diuretics for high blood pressure. This f [continues ...]

-- Hannah

Potassium Citrate Powder





Make $1 per sale -
Link to ZooScape.com!
More Photographs - Stress and Anxiety Support - Valerian, Passion Flower and Hops - 450 mg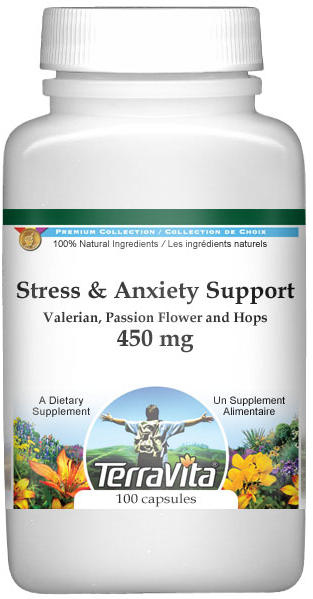 End of More Photographs - Stress and Anxiety Support - Valerian, Passion Flower and Hops - 450 mg


* These statements have not been evaluated by the Food and Drug Administration (FDA). Products are intended to support general well being and are not intended to treat, diagnose, mitigate, prevent, or cure any condition or disease. If conditions persist, please seek advice from your medical doctor.
Information provided at ZooScape.com relies partly on Traditional Uses. The essence of the current American rule on Traditional Uses is, as stated by FTC, "Claims based on historical or traditional use should be substantiated by confirming scientific evidence, or should be presented in such a way that consumers understand that the sole basis for the claim is a history of use of the product for a particular purpose."

See: FTC - Dietary Supplements: An Advertising Guide for Industry