Questions?

We Answer The Phone!

Telephone Us Now!

1-844-449-0444
1-856-467-2430

Email us now!

All Products - #100 of 196: Previous Next
View: All Products (196) | Cream, Salve and Gel Blends (2) | Liquid Extracts (5) | Pill Blends (11) | Pills (2) | Powder Blends (23) | Powders (5) | Soaps (2) | Tea and Coffee Blends (50) | Teas (16) | Creams, Salves and Gels (2)

German Chamomile (Blue, Matricaria recutita) Flower - 450 mg


by

TerraVita


100 capsules


More Photographs below.

German Chamomile
Matricaria recutita L. [= Chamomilla recutita (L.) Rauschert; = Matricaria chamomilla L.].

Family: Asteraceae.

Other Names: Camomile (French); Echte Kamille (German); camomi...

More Info continues below.


Our Price: $15.87 US


Click button to Buy.
In Stock - Ships Right Now!


Specifications

ZIN Product Number: 516213
Size: 100 capsules
Weight: 0.18 lbs (0.08 KG)
Size (inches): 1.77" X 1.77" X 3.86"
Size (cm): 4.5 cm X 4.5 cm X 9.8 cm

Manufacturer: TerraVita

Ingredients: Chamomile, German (450 mg)

Other Ingredients: Gelatin, Water



Description - Research and Analysis

German Chamomile
Matricaria recutita L. [= Chamomilla recutita (L.) Rauschert; = Matricaria chamomilla L.].

Family: Asteraceae.

Other Names: Camomile (French); Echte Kamille (German); camomilla (Italian); camomilla, manzanilla (Spanish).

Description: An annual herb with feathery leaves and attractive flower heads. The base of the flower head is characteristically hollow, while it is solid in Roman chamomile, Chamaemeleum nobile.

Origin: Eastern Europe and the Near East; widely cultivated (especially in Argentina) for traditional health use - the consumption is 5,000 tons per year.

Parts Used: Dried flower heads (Matricariae flos), essential oil distilled from the flowers (Matricariae aetheroleum) or liquid extracts.

Therapeutic Category: Anti-inflammatory, antispasmodic, carminative, antiseptic.

Uses and Properties: Used topically to help support inflammations of the skin and mucosa, and other skin disorders (including surgical wounds); internally against flatulent nervous dyspepsia (adults and children), gastritis, diarrhoea, travel sickness and mild anxiety. The volatile oil is inhaled to help support nasal catarrh, inflammation and irritation of the respiratory tract.

Preparation and Dosage: One or two teaspoons is taken by infusion (or 1 - 4 mL of a 1:1 liquid extract), three times per day. A product known as Kamillosan has over many years shown positive results in various skin disorders. Recommended dosage for douches is 3 - 10% infusion and for bathing, 50 g of herb per 10 litres of water. Creams and semisolid products should contain 3 - 10% of the crude herb.

Active Ingredients: Activity is ascribed to essential oil constituents (45% trans-beta-famesene), the flavonoids (apigenin-, luteolin- and patuletin-7-glycosides) and coumarins (umbelliferone, herniarin). The oil has cyclic sesquiterpenoids, predominantly alpha-bisabolol (up to 5% and chammulene (up to 15%). Chamazulene is an artefact formed from matricin during steam distillation and the oil a deep blue colour. Also present are polyacetylenes (cis-en-in-dicycloether) and polysaccharides.

Health Effects: In human studies, inflammatory, antiseptic, antispasmodic and sedative effects are evident, which are related to the sesquiterpenes and flavonoids. Anti-inflammatory activities were noted in topical use.

Status: Traditional health; Pharm.; Comm. E+; ESCOP 6; WHO 1.



Although a chamomile is powder, distilled water, syrup, tincture, wine and extract of chamomile can be made from the flowers, they are rarely used except in an infusion with a varying dose. It is a popular supportive for windy colic using between 4 to 8 grams to a litre of water. With 3 to 4 grams for the same quantity of liquid, it can be used to help support vomiting. As an antifebrile supportive, 8 to 15 grams are used. Chamomile can help digestion, is good for lazy stomachs, dyspepsia, atonic diarrhea and particularly putrid fevers, continual and intermittent; it has been used with success in several cases of benign neurosis. Chamomile infusion (taken internally), lotions and fermentations have been used to help support serious suppurations which it seems to dry up.




User Group Forum
Share your questions and information with the ZooScape community!
Be the first to post!





Directions

Take 1 capsule, 3 times daily, with meals.


Cautions

Allergic reactions are mostly due to contamination with Anthemis cotula, which contains anthecotulide, a contact allergen.




ZooScape Reviews!
Click here to share a review!



Our Price: $15.87 US


Click button to Buy.
In Stock - Ships Right Now!




People Like You Also Bought...

You may also be interested in:

Caffeine - 200 mg






Be the first
to rate this product!
Awful
Wonderful

1

2

3

4

5




Share This Page!
Did you find this page useful?
Please share this page with your social network!
Twitter


Google +1

Facebook





Happy Customers

The BEST thing for my allergies
Works great.

-- Rochelle





Potassium Citrate Powder
This is the best potassium I've ever taken. I have to take diuretics for high blood pressure. This f [continues ...]

-- Hannah

Potassium Citrate Powder





Make $1 per sale -
Link to ZooScape.com!
More Photographs - German Chamomile (Blue, Matricaria recutita) Flower - 450 mg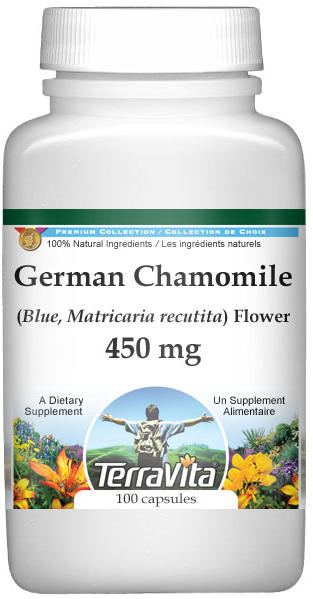 End of More Photographs - German Chamomile (Blue, Matricaria recutita) Flower - 450 mg


* These statements have not been evaluated by the Food and Drug Administration (FDA). Products are intended to support general well being and are not intended to treat, diagnose, mitigate, prevent, or cure any condition or disease. If conditions persist, please seek advice from your medical doctor.
Information provided at ZooScape.com relies partly on Traditional Uses. The essence of the current American rule on Traditional Uses is, as stated by FTC, "Claims based on historical or traditional use should be substantiated by confirming scientific evidence, or should be presented in such a way that consumers understand that the sole basis for the claim is a history of use of the product for a particular purpose."

See: FTC - Dietary Supplements: An Advertising Guide for Industry