Questions?

We Answer The Phone!

Telephone Us Now!

1-844-449-0444
1-856-467-2430

Email us now!

All Products - #129 of 162: Previous Next
View: All Products (162) | Cream, Salve and Gel Blends (2) | Liquid Extract Blends (5) | Liquid Extracts (5) | Pill Blends (12) | Pills (3) | Powder Blends (24) | Powders (6) | Tea Blends (52) | Teas (8) | Creams, Salves and Gels (4)

Mega Red Clover Combination - Red Clover, Dandelion, Burdock and More - Salve Ointment


by

Bianca Rosa


2 oz


More Photographs below.

Buckthorn, or alder, is a tall shrub native to northern Europe. The bark of alder buckthorn is removed, cut into small pieces, and dried for one year before being used medicinally.

Buckthorn has been used as a cathartic laxative in North...


More Info continues below.


Our Price: $23.72 US


Click button to Buy.


Specifications

ZIN Product Number: 515580
Size: 2 oz
Weight: 0.18 lbs (0.08 KG)
Size (inches): 2.28" X 2.28" X 2.09"
Size (cm): 5.8 cm X 5.8 cm X 5.3 cm

Manufacturer: Bianca Rosa

Ingredients: Burdock, Red Clover, Grape Root (Organic), Buchu, Licorice Root, Beeswax, Dandelion, Buckthorn (Alder), Benzoin (Preservative), Jojoba Oil





User Group Forum
Share your questions and information with the ZooScape community!
Be the first to post!





Buckthorn (Alder)

Buckthorn, or alder, is a tall shrub native to northern Europe. The bark of alder buckthorn is removed, cut into small pieces, and dried for one year before being used medicinally.

Buckthorn has been used as a cathartic laxative in Northern and Central Europe for centuries. It is still widely used today for constipation and resulting conditions such as hemorrhoids and anal fissures. Buckthorn stimulates contractions of the colon (peristalsis) and increases water content during stool formation.

A closely related shrub, cascara sagrada, is more widely known in North America due to its origins and cultivation on the Pacific coast of Canada and the United States.


Burdock

Burdock root, native to Asia and Europe, is the primary source of many herbal preparations. It as a popular root vegetable in Japanese markets (called "gobo") and has been used for centuries as a staple in traditional Chinese medicine for conditions like tonsillitis and measles.

Historically, Burdock root has also been administered for conditions such as gout, ulcers, arthritis, rheumatism, and various skin disorders.

While studies have been limited to animals and in vitro, the active constituents of burdock have shown anti-bacterial properties making it useful for bacteria-related conditions such as acne, eczema, and psoriasis. Additional test results have confirmed actions associated with blood purification, toxic immunity, hypoglycemia, and inflammation.


Dandelion

Dandelion is widely considered an invasive, unattractive weed, but must be regarded as a Godsend to the manufacturers of lawn herbicides. While the dandelion's efficacy in destroying a perfect green, carpeted lawn is undisputed, its efficacy for health matters is - or should be - of greater interest.

Dandelion has widely been used in foods, wines, beverages, and health preparations of all kinds worldwide. Its medicinal actions seem to target the digestive and eliminative systems of the body. Animal studies demonstrate extremely positive diuretic and bile-producing effects whereby dandelion extracts outperform chemical drugs without the side effects.

Unfortunately, human trials are non-existent in these areas. Research in humans that has focused on health conditions such as cancer and diabetes has yielded positive results. However, these positive findings are attributed to herbal blends and, consequently, dandelion's specific effect on these results can only be surmised.


Red Clover

Red clover is a multi-stemmed perennial that thrives in humid, grassy meadows throughout the world. It is much larger than its familiar relative, white clover, which is the low-growing, and vigorously spreading lawn weed. Both, however, exhibit a similar "trifolium" (three leaf) pattern and white arrowhead-shaped leaf markings. It is the compact, pink flower tops of the red clover plant that are dried and used medicinally - as they have been for centuries.

The expectorant and anti-spasmodic properties of red clover justify its use for repiratory conditions like asthma and bronchitis. It has also been used externally for skin conditions such as eczema and psoriasis. The concentrated isoflavones within red clover have been the subject of many studies, and research suggests benefits for menopausal symptoms as well as cancer and cardiovascular disorders.


Directions

Apply Bianca Rosa salve morning and evenings, or as directed by a health care practitioner. On a moist cotton wool pad or with the fingertips, apply to the desired area of the body. Massage onto thoroughly cleansed skin with a gentle circular motion.


Cautions

Not to be used during pregnancy and lactation. Do not exceed recommended dose. If irritation or redness occurs, discontinue use immediately.




ZooScape Reviews!
Click here to share a review!



Our Price: $23.72 US


Click button to Buy.




People Like You Also Bought...

You may also be interested in:

Linden Leaf Tea






Be the first
to rate this product!
Awful
Wonderful

1

2

3

4

5




Share This Page!
Did you find this page useful?
Please share this page with your social network!
Twitter


Facebook





Happy Customers

The BEST thing for my allergies
Works great.

-- Rochelle





Potassium Citrate Powder
This is the best potassium I've ever taken. I have to take diuretics for high blood pressure. This f [continues ...]

-- Hannah

Potassium Citrate Powder






Make $1 per sale -
Link to ZooScape.com!
More Photographs - Mega Red Clover Combination - Red Clover, Dandelion, Burdock and More - Salve Ointment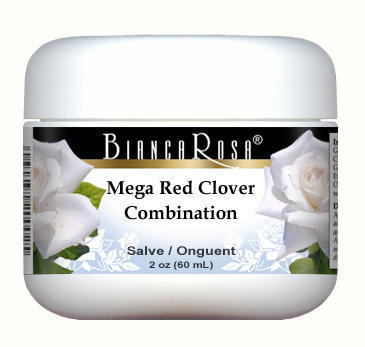 End of More Photographs - Mega Red Clover Combination - Red Clover, Dandelion, Burdock and More - Salve Ointment


* These statements have not been evaluated by the Food and Drug Administration (FDA). Products are intended to support general well being and are not intended to treat, diagnose, mitigate, prevent, or cure any condition or disease. If conditions persist, please seek advice from your medical doctor.
Information provided at ZooScape.com relies partly on Traditional Uses. The essence of the current American rule on Traditional Uses is, as stated by FTC, "Claims based on historical or traditional use should be substantiated by confirming scientific evidence, or should be presented in such a way that consumers understand that the sole basis for the claim is a history of use of the product for a particular purpose."

See: FTC - Dietary Supplements: An Advertising Guide for Industry