Questions?

We Answer The Phone!

Telephone Us Now!

1-844-449-0444
1-856-467-2430

Email us now!

All Products - #9 of 14: Previous Next
View: All Products (14) | Pills (1) | Powders (2) | Teas (4) | Creams, Salves and Gels (2)

Epazote Powder


by

TerraVita


4 oz


More Photographs below.


| | |
| --- | --- |
| | Repels insects, supports wounds, avoids irritations, calms nerves, help stimulates digestion and much more. * |


More Info continues below.


Our Price: $23.12 US


Click button to Buy.


Specifications

ZIN Product Number: 515090
Size: 4 oz
Weight: 0.15 lbs (0.07 KG)
Size (inches): 2.13" X 2.13" X 3.58"
Size (cm): 5.4 cm X 5.4 cm X 9.1 cm

Manufacturer: TerraVita

Ingredients: Epazote



Description - Research and Analysis

Epazote is an annual herb that grows to about one meter in height. It has multi-branched, reddish stems covered with small, sharply toothed leaves. Epazote bears numerous small yellow flowers in clusters along its stems. Following the flowers, it produces thousands of tiny black seeds in small fruit clusters. It is easily spread and re-grown from the numerous seeds it produces which is why some consider it an invasive weed. The whole plant gives off a strong and distinctive odor.

Epazote is native to Mexico and the tropical regions of Central and South America where it is commonly used as a culinary herb and a useful plant. It has been widely naturalized throughout the world and can be found growing in parts of the southern United States. In Brazil the plant's name is erva-de-santa-maria or mastruco; in Peru its called paico. It is known throughout Mexico and Latin America as epazote. The Siona name of this plant means disinfectant and here in America it is referred to as wormseed - both referring to it long history of use as a disinfectant.

In the Yucatan, indigenous Indian groups have long used epazote for bloating, asthma, excessive mucus, chorea (a type of rheumatic fever that affects the brain) and other nervous afflictions. The Tikuna Indians in the Amazon use it to expel intestinal worms and as a mild laxative. The Siona-Secoya and Kofan Indian tribes in South America also use epazote for intestinal worms (usually by taking one cup of a leaf decoction each morning before eating for three consecutive days). The Kofan Indians also use the plant as a perfume-tying it to their arm for an "aromatic" bracelet. (However, most s consider the smell of the plant quite strong and objectionable - calling it skunk-weed!) Creoles use it as a disinfectant for children and a cold symptom supporter for adults while the Wayapi use the plant decoction for stomach upsets and internal hemorrhages caused by falls. In Piura a leaf decoction is used to expel intestinal gas, as a mild laxative, as an insecticide, and as a natural supportive for cramps, joint pain, hemorrhoids, intestinal worms and nervous disorders. Some indigenous tribes bathe in a decoction of epazote to help support fever and will also throw a couple of freshly uprooted green plants onto their fires to drive mosquitoes and flies away.

In herbal health systems throughout Latin America epazote is a popular household supportive used to rid children and adults of skin bumps or rashes. The plant can also be used in cooking - it is said to help avoid intestinal gas if the leaves are cooked and/or eaten with beans and other common gas-forming foods. The leaves and seeds of epazote have long been used in Central and South medicine. In Brazilian herbal health, it is considered an important supportive for coughs, asthma, coughs and other upper respiratory complaints; for angina, to help support intestinal gas, to help promote sweating and as a general digestive aid. It can be used to help support similar complaints in Peruvian herbal health today. Local people in the Amazon region in Peru also soak the plant in water for several days and use it as a topical joint pain supportive. In other South herbal health systems the plant can be used to help support asthma, coughs, diarrhea, dysentery, and menstrual disorders. Externally it can be been used as a wash for hemorrhoids, bruises, wounds, contusions and fractures.

The plant's ability to expel intestinal worms has been attributed to the essential oil of the seed and "Oil of Chenopodium" has been tried for several centuries worldwide as a disinfectant. The therapeutic dose of the essential oil however does have other toxic effects, therefore it fell from favor as an internal supportive many years ago.




User Group Forum
Share your questions and information with the ZooScape community!
Be the first to post!





Directions

Stir 1/4 of a teaspoon into a glass of water and consume 3 times daily, with meals.




ZooScape Reviews!
Click here to share a review!



Our Price: $23.12 US


Click button to Buy.




People Like You Also Bought...

You may also be interested in:

Evening Primrose Flower - 450 mg






Be the first
to rate this product!
Awful
Wonderful

1

2

3

4

5




Share This Page!
Did you find this page useful?
Please share this page with your social network!
Twitter


Facebook





Happy Customers

The BEST thing for my allergies
Works great.

-- Rochelle





Potassium Citrate Powder
This is the best potassium I've ever taken. I have to take diuretics for high blood pressure. This f [continues ...]

-- Hannah

Potassium Citrate Powder





Make $1 per sale -
Link to ZooScape.com!
More Photographs - Epazote Powder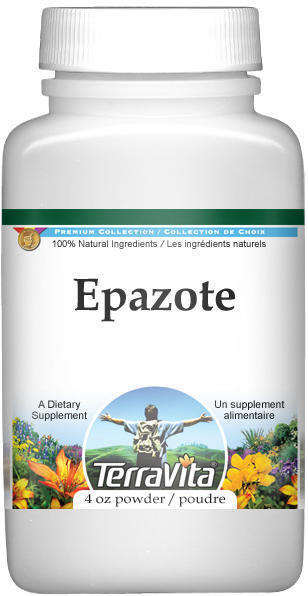 End of More Photographs - Epazote Powder


* These statements have not been evaluated by the Food and Drug Administration (FDA). Products are intended to support general well being and are not intended to treat, diagnose, mitigate, prevent, or cure any condition or disease. If conditions persist, please seek advice from your medical doctor.
Information provided at ZooScape.com relies partly on Traditional Uses. The essence of the current American rule on Traditional Uses is, as stated by FTC, "Claims based on historical or traditional use should be substantiated by confirming scientific evidence, or should be presented in such a way that consumers understand that the sole basis for the claim is a history of use of the product for a particular purpose."

See: FTC - Dietary Supplements: An Advertising Guide for Industry