Questions?

We Answer The Phone!

Telephone Us Now!

1-844-449-0444
1-856-467-2430

Email us now!

All Products - #48 of 65: Previous Next
View: All Products (65) | Liquid Extracts (5) | Pill Blends (2) | Pills (3) | Powder Blends (4) | Powders (6) | Tea and Coffee Blends (4) | Teas (8) | Creams, Salves and Gels (4)

Extra Strength Bilberry Leaf 4:1 Extract - Salve Ointment


by

Bianca Rosa


2 oz


More Photographs below.


| | |
| --- | --- |
| | Effective as a supportive for healthy vision, macular degeneration, circulation problems and much more. * |


More Info continues below.


Our Price: $23.80 US


Click button to Buy.
In Stock - Ships Right Now!


Specifications

ZIN Product Number: 514096
Size: 2 oz
Weight: 0.18 lbs (0.08 KG)
Size (inches): 2.28" X 2.28" X 2.09"
Size (cm): 5.8 cm X 5.8 cm X 5.3 cm

Manufacturer: Bianca Rosa

Ingredients: Beeswax, Bilberry, Benzoin (Preservative), Jojoba Oil



Description - Research and Analysis

Bilberry (Vaccinium myrtillus) is a short, shrubby perennial plant that inhabits the woods and forest meadows of Europe, western Asia, and the Rocky Mountains of North America. As with many other plants that belong to the same plant family (Vaccinium), bilberry bears edible fruits similar to those found on the blueberry bush. Cranberries and huckleberry belong to this plant family

The bilberry's blue-black berry, which is creamy white inside, has been valued as a food since prehistoric times. Commonly referred to as "European Blueberry," it is famed as a filling for pies, and for use in cobblers, jams, and other recipes.

In addition, for at least one thousand years, European herbalists have also recommended the plant's fruits and leaves for health purposes, addressing a variety of complaints with a strong, boiled tea made from the plant. Urinary tract infections, kidney stones, and diarrhea are just a few of the ailments for which bilberry can be been used as a supportive.

Bilberry's modern reputation as a rejuvenating plant was sparked during World War II, when British Royal Air Force (RAF) pilots noticed that their night vision was sharper than usual whenever they ate bilberry preserves before starting out on their evening bombing raids. Subsequent research revealed that bilberries are powerful antioxidants, capable of protecting cells in the eye and other parts of the body against damage from unstable oxygen molecules called free radicals.

Today, bilberry ranks among the most popular of supplements for maintaining healthy vision and for the potential to help support symptoms of various vision disorders, including poor night vision, vision, and macular degeneration.

Health Benefits:

Researchers intrigued by the improved night vision of the bilberry-eating RAF pilots eventually identified compounds in the berry called anthocyanosides. These substances appear to fortify blood vessel walls, improving blood flow to the tiny blood vessels that keep eyes healthy, and to larger blood vessels that help maintain good circulation throughout the body. Anthocyanosides also appear to strengthen collagen, the protein that provides support to mend connective tissue.

The other important healing substance in bilberry fruits - astringent compounds called tannins - help support such ailments as diarrhea, sore throat, and inflammations in the mouth. Germany health authorities approve of bilberry fruit for mild cases of diarrhea and mouth and throat inflammation. A cooled tea made from the dried berries can be either drunk or gargled for these purposes.




User Group Forum
Share your questions and information with the ZooScape community!
Be the first to post!





Directions

Apply Bianca Rosa salve morning and evenings, or as directed by a health care practitioner. On a moist cotton wool pad or with the fingertips, apply to the desired area of the body. Massage onto thoroughly cleansed skin with a gentle circular motion.


Cautions

Not to be used during pregnancy and lactation. Do not exceed recommended dose. If irritation or redness occurs, discontinue use immediately.




ZooScape Reviews!
Click here to share a review!



Our Price: $23.80 US


Click button to Buy.
In Stock - Ships Right Now!




People Like You Also Bought...

You may also be interested in:

Butcher's Broom Root - Glycerite Liquid Extract (1:5) - Strawberry Flavored






Be the first
to rate this product!
Awful
Wonderful

1

2

3

4

5




Share This Page!
Did you find this page useful?
Please share this page with your social network!
Twitter


Facebook





Happy Customers

The BEST thing for my allergies
Works great.

-- Rochelle





Potassium Citrate Powder
This is the best potassium I've ever taken. I have to take diuretics for high blood pressure. This f [continues ...]

-- Hannah

Potassium Citrate Powder






Make $1 per sale -
Link to ZooScape.com!
More Photographs - Extra Strength Bilberry Leaf 4:1 Extract - Salve Ointment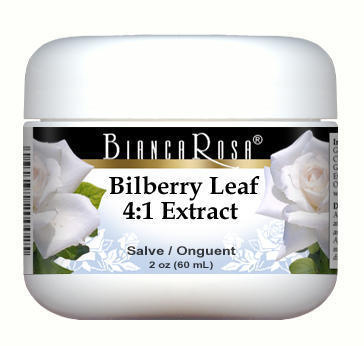 End of More Photographs - Extra Strength Bilberry Leaf 4:1 Extract - Salve Ointment


* These statements have not been evaluated by the Food and Drug Administration (FDA). Products are intended to support general well being and are not intended to treat, diagnose, mitigate, prevent, or cure any condition or disease. If conditions persist, please seek advice from your medical doctor.
Information provided at ZooScape.com relies partly on Traditional Uses. The essence of the current American rule on Traditional Uses is, as stated by FTC, "Claims based on historical or traditional use should be substantiated by confirming scientific evidence, or should be presented in such a way that consumers understand that the sole basis for the claim is a history of use of the product for a particular purpose."

See: FTC - Dietary Supplements: An Advertising Guide for Industry