Questions?

We Answer The Phone!

Telephone Us Now!

1-844-449-0444
1-856-467-2430

Email us now!

All Products - #6 of 17: Previous Next
View: All Products (17) | Liquid Extracts (5) | Pills (4) | Powders (2) | Teas (4) | Creams, Salves and Gels (2)

Quinine Bark (Red Cinchona) Powder


by

TerraVita


1 oz


More Photographs below.


Reduces digestion, nervousness, affliction, anxiety, fever and plenty more.



Good product / great service
"The product was what I wanted! The fast efficient service was pleasantly surprising!" -- Jeff (Real Estate Broker)


More Info continues below.


Our Price: $12.41 US


Click button to Buy.


Specifications

ZIN Product Number: 513833
Size: 1 oz
Weight: 0.09 lbs (0.04 KG)
Size (inches): 2.13" X 2.13" X 3.58"
Size (cm): 5.4 cm X 5.4 cm X 9.1 cm

Manufacturer: TerraVita

Ingredients: Quinine



Description - Research and Analysis

Natural quinine bark is still employed in herbal health systems around the world today. In Brazilian herbal health quinine bark is considered a tonic, a digestive stimulant, and fever-reducer. It can be used to help support anemia, indigestion, gastrointestinal disorders, general fatigue, fevers, malaria and as an appetite stimulant. Other folk supportives in South America cite quinine bark as a natural immunity booster,amebic infections, heart problems, colds, diarrhea, dysentery, dyspepsia, fevers, flu, hangover, lumbago, malaria, neuralgia, pneumonia, sciatica, typhoid, and varicose veins. In European herbal health the bark is considered antiprotozoal, antispasmodic, antimalarial, a bitter tonic, and a fever-reducer. There it can be used as an appetite stimulant, for hair loss, alcoholism, liver, spleen, and gallbladder disorders; and to help support irregular heart beat, anemia, leg cramps, and fevers of all kinds. In the U.S., quinine bark can be used as a tonic and digestive aid; can be used to help support heart palpitations and normalize heart functions; to help stimulate digestion and appetite; for hemorrhoids, varicose veins, headaches, leg cramps, colds, flu, and indigestion; and for its astringent, bactericidal, and anesthetic actions in various other complaints.

The genus Cinchona contains about forty species of trees. They grow 15-20 meters in height and produce white, pink, or yellow flowers. All cinchonas are indigenous to the eastern slopes of the Amazonian area of the Andes, where they grow from 1,500-3,000 meters in elevation on either side of the equator (from Colombia to Bolivia). They can also be found in the northern part of the Andes (on the eastern slopes of the central and western ranges). They are now widely cultivated in many tropical countries for their commercial value, although they are not indigenous to those areas.

Cinchona, or quinine bark, is one of the rainforest's most famous plants and most important discoveries. Legend has it that the name cinchona came from the countess of Chinchon, the wife of a Peruvian viceroy, who experienced support for a malarial type of fever by using the bark of the cinchona tree in 1638. It was supposedly introduced to European health in 1640 by the countess of Chinchon, even before botanists had identified and named the species of tree. Quinine bark was first advertised for sale in England in 1658, and was made official in the British Pharmacopoeia in 1677. Physicians gave credit to the drug and, because of its effectiveness with malaria, it was recognized officially even while the identity of the tree species remained unknown. Several years after the "Countess's powder" arrived in England, it arrived in Spain. There, quinine bark was used by the Jesuits very early in its history and due to the influence of the Company of Jesus, the newly named "Jesuit's powder" became known all over Europe. When the plant was finally botanically classified almost one hundred years later in 1737, botanists still named it after the countess for her contribution. Throughout the mid-1600s to mid-1800s quinine bark was the primary approach for malaria and it evidenced remarkable results. It was also used to help support fever, indigestion, mouth and throat health issues, and immunity issues.



References:
Aviado, D. M., et al., "Antimalarial and antiarrhythmic activity of plant extracts." Medicina Experimentalis--International Journal of Experimental Medicine 1969; 19(20), 79-94.
Lung, A. and S. Foster. Encyclopedia of Common Natural Ingredients 1996. Wiley & Sons: New York.






User Group Forum
Share your questions and information with the ZooScape community!
Be the first to post!





Directions

Stir 1/4 of a teaspoon into a glass of water and consume 3 times daily, with meals.




ZooScape Reviews!

Click here to share a review!

Number of Reviews:

6

Average Rating:

5.0



Good product / great service

The product was what I wanted! The fast efficient service was pleasantly surprising!

-- Jeff (Profession: Real Estate Broker)
-- August 6, 2013




quinine bark

Great product, great service........

Thanks

-- Anita (Profession: Medical Herbalist)
-- August 5, 2007




Quinine Bark - Red Cinchona (powder)

Exactly what I wanted.

-- Scott
-- December 29, 2008




It is tasty.

I loved this Quinine once I recieved it.

-- Alvina
-- October 15, 2008




Very pleased!

I got my order and was pleased with the product and have already used it. I will definitely visit your site again if I need more chinchona bark (I use it to make tonic water).

-- chris
-- September 20, 2012




Dragon Legion - Quinine Review

This product was used in a mixed drink, a Martini, specifically for the bitters. Almost right away I felt in a relaxed state. This is a perfect part to this drink.

-- corinne
-- September 13, 2011

Also Recommended: None, I am happy with the product




Our Price: $12.41 US


Click button to Buy.




People Like You Also Bought...

You may also be interested in:

Quinine Bark (Red Cinchona) - 200 mg






Number of Reviews
for this Product: 6
Average Rating
for this Product:
Awful
Wonderful

1

2

3

4

5




Share This Page!
Did you find this page useful?
Please share this page with your social network!
Twitter


Google +1

Facebook





Happy Customers

The BEST thing for my allergies
Works great.

-- Rochelle





Potassium Citrate Powder
This is the best potassium I've ever taken. I have to take diuretics for high blood pressure. This f [continues ...]

-- Hannah

Potassium Citrate Powder





Make $1 per sale -
Link to ZooScape.com!
More Photographs - Quinine Bark (Red Cinchona) Powder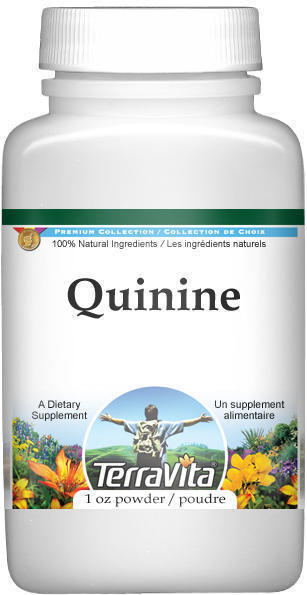 End of More Photographs - Quinine Bark (Red Cinchona) Powder


* These statements have not been evaluated by the Food and Drug Administration (FDA). Products are intended to support general well being and are not intended to treat, diagnose, mitigate, prevent, or cure any condition or disease. If conditions persist, please seek advice from your medical doctor.
Information provided at ZooScape.com relies partly on Traditional Uses. The essence of the current American rule on Traditional Uses is, as stated by FTC, "Claims based on historical or traditional use should be substantiated by confirming scientific evidence, or should be presented in such a way that consumers understand that the sole basis for the claim is a history of use of the product for a particular purpose."

See: FTC - Dietary Supplements: An Advertising Guide for Industry