Questions?

We Answer The Phone!

Telephone Us Now!

1-844-449-0444
1-856-467-2430

Email us now!

All Products - #1 of 29: Next
View: All Products (29) | Pill Blends (1) | Pills (1) | Powder Blends (2) | Powders (2) | Tea and Coffee Blends (2) | Teas (2)

Jujube (Ziziphus, Chinese date) Fruit - 450 mg


by

TerraVita


100 capsules


More Photographs below.


Traditionally used to help support anxiety, insomnia, skin irritations, loss of appetite, inflammation, diarrhea, dry skin and much more.



More Info continues below.


Our Price: $19.37 US


Click button to Buy.


Specifications

ZIN Product Number: 513793
Size: 100 capsules
Weight: 0.18 lbs (0.08 KG)
Size (inches): 1.77" X 1.77" X 3.86"
Size (cm): 4.5 cm X 4.5 cm X 9.8 cm

Manufacturer: TerraVita

Ingredients: Jujube (450 mg)

Other Ingredients: Gelatin, Water



Description - Research and Analysis

Jujube Tree
Ziziphus jujuba Mill. (= Z. vulgaris Lam.)

Family: Rhamnaceae.

Other Names: Chinese date; French jujube; jujubier (French); Jujube, Brustbeerbaum (German); giuggiolo comune (Italian).

Description: A spiny shrub or small tree of up to 6 m in height. It has glossy, three-nerved leaves, inconspicuous yellowish green flowers and oval, reddish brown, edible fruit. Each fruit has a narrowly oblong stone (pip) surrounded by a layer of tasty fruit flesh.

Origin: Southeastern Europe to China; widely cultivated in the warmer parts of Europe and Asia.

Parts Used: Ripe fruit (Jujubae fructus), seeds.

Therapeutic Category: Antiallergic, anti-catarrh, tonic (fruit); sedative (seeds).

Uses and Properties: The delicious and highly nutritious fruits (Chinese dates or da zao) are used as a functional food and tonic, to improve general health, to gain weight and to help support symptoms of disorders of the upper respiratory tract. The seeds can be used to help support nervous complaints and insomnia.

Preparation and Dosage: No data could be found.

Active Ingredients: Ziziphus species are known for accumulating an unusual type of alkaloid usually referred to as peptide alkaloids. Frangufoline (also known as sanjoinine A) occurs in seeds of Z. jujuba. The fruit (without the seed) of Chinese date also contain tetracyclic triterpenoid saponins, flavonoids and mucilage.

Health Effects: The sedative and hypnotic effects of the seeds of Z. jujuba can be ascribed to the peptide alkaloids. The main compound, frangufoline, is known to have a strong sedative effect. The mucilage can help to reduce cough-inducing irritations of the throat (leading to cough) by forming; a protective layer over mucosal tissues. The saponins are secretolytic. Some studies suggested that the fruit helps to strengthen the immune system and to increase endurance. In a human study it was found that Chinese date improved liver function in people with liver ailments.

Notes: Other species of Ziziphus that are used traditionally include Z. spinosa and Z. mucronata. Seeds of Z. spinosa (known as suan zau ren) are used in China for insomnia and other nervous complaints, In Africa, the leaves and bark of Z. mucronata (buffalo thorn) is commonly used traditionally. It is applied to boils and infected wounds, not only as a supportive but also for its sedative effects.

Status: Traditional health.




User Group Forum
Share your questions and information with the ZooScape community!
Be the first to post!





Directions

Take 1 capsule, 3 times daily, with meals.




ZooScape Reviews!
Click here to share a review!



Our Price: $19.37 US


Click button to Buy.




People Like You Also Bought...

You may also be interested in:

Java Tea (Orthosiphon stamineus) - 450 mg






Be the first
to rate this product!
Awful
Wonderful

1

2

3

4

5




Share This Page!
Did you find this page useful?
Please share this page with your social network!
Twitter


Google +1

Facebook





Happy Customers

The BEST thing for my allergies
Works great.

-- Rochelle





Potassium Citrate Powder
This is the best potassium I've ever taken. I have to take diuretics for high blood pressure. This f [continues ...]

-- Hannah

Potassium Citrate Powder





Make $1 per sale -
Link to ZooScape.com!
More Photographs - Jujube (Ziziphus, Chinese date) Fruit - 450 mg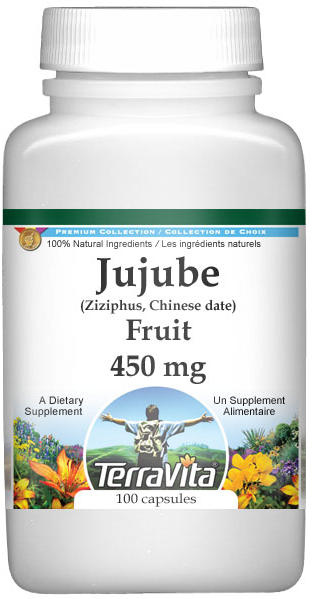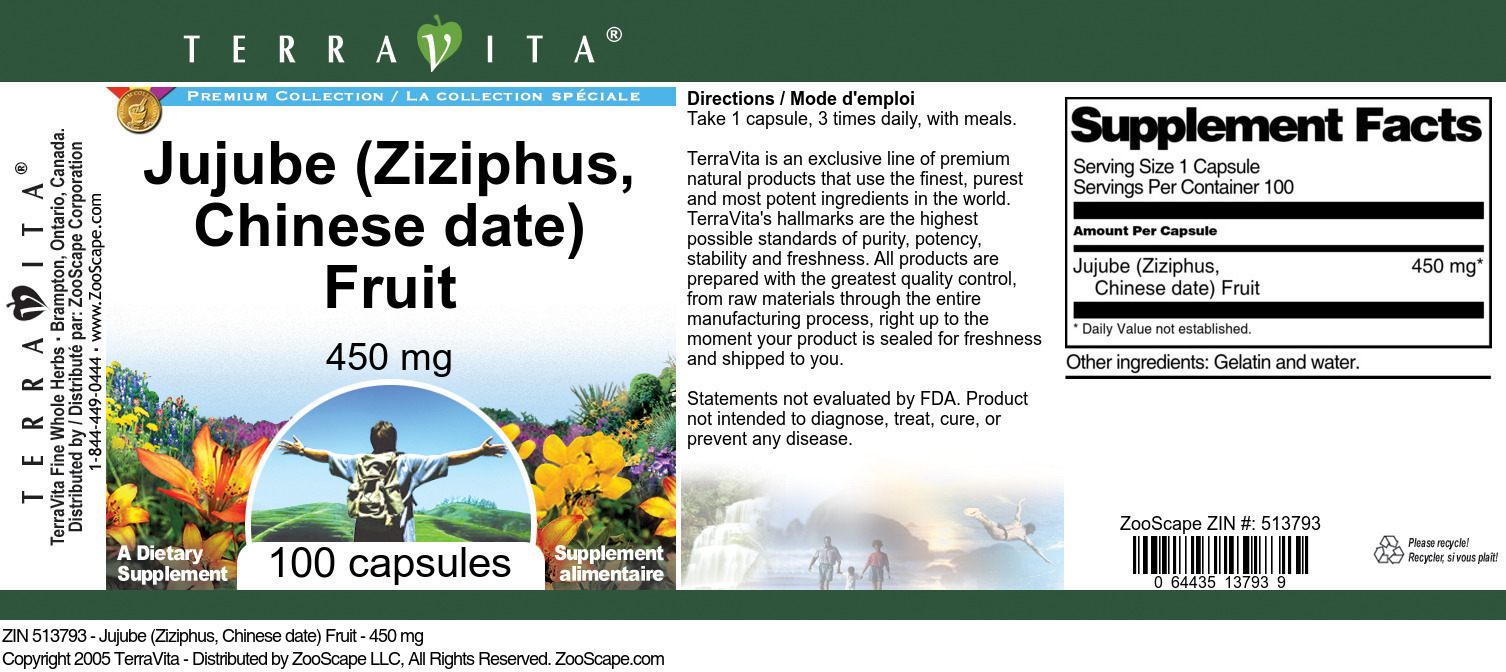 End of More Photographs - Jujube (Ziziphus, Chinese date) Fruit - 450 mg


* These statements have not been evaluated by the Food and Drug Administration (FDA). Products are intended to support general well being and are not intended to treat, diagnose, mitigate, prevent, or cure any condition or disease. If conditions persist, please seek advice from your medical doctor.
Information provided at ZooScape.com relies partly on Traditional Uses. The essence of the current American rule on Traditional Uses is, as stated by FTC, "Claims based on historical or traditional use should be substantiated by confirming scientific evidence, or should be presented in such a way that consumers understand that the sole basis for the claim is a history of use of the product for a particular purpose."

See: FTC - Dietary Supplements: An Advertising Guide for Industry