Questions?

We Answer The Phone!

Telephone Us Now!

1-844-449-0444
1-856-467-2430

Email us now!

All Products - #54 of 118: Previous Next
View: All Products (118) | Liquid Extracts (5) | Pill Blends (7) | Pills (3) | Powder Blends (14) | Powders (6) | Tea and Coffee Blends (28) | Teas (12) | Creams, Salves and Gels (4)

Marshmallow Leaf - 450 mg


by

TerraVita


100 capsules


More Photographs below.

Marshmallow
Althaea officinalis L.

Family Name: Malvaceae.

Other Names: White mallow; guimauve (French); Eibisch (German); bismalva, altea (Italian); malvavisco (Spanish).

Description: An ere...

More Info continues below.


Our Price: $18.78 US


Click button to Buy.


Specifications

ZIN Product Number: 513600
Size: 100 capsules
Weight: 0.22 lbs (0.10 KG)
Size (inches): 2.44" X 2.44" X 4.69"
Size (cm): 6.2 cm X 6.2 cm X 11.9 cm

Manufacturer: TerraVita

Ingredients: Marshmallow (450 mg)

Other Ingredients: Gelatin, Water



Description - Research and Analysis

Marshmallow
Althaea officinalis L.

Family Name: Malvaceae.

Other Names: White mallow; guimauve (French); Eibisch (German); bismalva, altea (Italian); malvavisco (Spanish).

Description: An erect perennial herb of about 2 m in height, with hairy leaves and attractive pink flowers.

Origin: The plant is indigenous to Asia, but has been distributed from Europe to China and became naturalised in America. It is cultivated for health purposes and as an ornamental in Europe.

Parts Used: Mainly the roots (Althaeae radix); also the leaves (Althaeaefolium) and flowers (Althaeae fibs).

Therapeutic Category: Anti-irritant, expectorant.

Uses and Properties: Marshmallow root infusions or extracts are traditionally taken orally as a supportive for cough, peptic ulcers and inflammation of the mucosa of mouth, throat and stomach. Leaf infusions or marshmallow syrup (Sirupus Althaeae) are used specifically for dry cough associated with irritation and inflammation of the respiratory tract. Externally, preparations are applied to burns, sores and ulcers. Commercially, only the roots are used, while leaves and flowers are popular for self-medication.

Active Ingredients: All parts of the plant contain mucilages (polysaccharides), mainly composed of galacturonic acid, glucuronic acid, galactose, arabinose, and rhamnose, located in special mucilage cells. Roots harvested late in the autumn give the highest yield of mucilage (about 15%), while leaves and flowers usually have less than 10%.

Health Effects: The polysaccharides form a protective film over inflamed mucosal tissues and thus reduce irritation. The presence of mucilage leaves no doubt that the herb has anti-irritant properties, but there is some evidence for anti-inflammatory or other beneficial effects. A hypoglycaemic activity has been observed in mice after injection of A. officinalis polysaccharides.

Notes: The well-known marshmallow sweets were once made from root extracts of this plant. Hollyhock flowers, from Alcea rosea (= Althaea rosea), seem to be useful for respiratory and inflammatory ailments and as colourant and brightener in herbal teas.

Status: Pharm.; Comm. E+; ESCOP 1; WHO 2.

Preparation and Dosage: A daily dose of 6 g of the root, 5 g of the leaf (or 10 g marshmallow syrup, in a single dose) is recommended. The herb is extracted in cold or lukewarm water, or in alcohol (but not in hot water). It may be sipped or gargled. For external application, powdered leaves are mixed into ointments.



Forget the spongy white concoctions we toast over campfires and call marshmallows; there's no marshmallow in them, just sugar and starch. The real marshmallow herb was enjoyed for centuries as a sweet delicacy, and was also known as sweetweed. It can be used as in health, as well, and still is. Both the leaf and the root of marshmallow, a native of central Asia found near marshes and sporting large, pink flowers, can be used to support health.

Potential Health Benefits

The dried leaf of marshmallow is employed to coat an irritated, inflamed throat and supportedry cough. The root has the same uses as the leaf, and is additionally used to help soothe an upset stomach.

Scientific Evidence

The mucilage in preparations made from marshmallow root and leaf coat the mouth, throat, and stomach by swelling and forming a gel when combined with water.

rejuvenateth writer Michael Castleman reports that marshmallow strengthened white blood cells against health problems-producing microbes in one experiment. In animal tests, he adds, the root reduced blood sugar levels, suggesting that marshmallow could prove beneficial to diabetics.

How to Use the Herb

Marshmallow is taken internally. The doses for crushed, dried leaf is 5 grams daily. For crushed marshmallow root, the dose is 6 grams daily. For syrup, 10 grams per dose for helping support coughs.




User Group Forum
Share your questions and information with the ZooScape community!
Be the first to post!





Directions

Take 1 capsule, 3 times daily, with meals.


Cautions

Diabetics should check the sugar content of the syrup. Commission E warned that marshmallow root could delay absorption of other drugs. If you are using marshmallow root, be sure to tell your health care provider.




ZooScape Reviews!
Click here to share a review!



Our Price: $18.78 US


Click button to Buy.




People Like You Also Bought...

You may also be interested in:

Milk Thistle Seed 225 mg - Milk Thistle Plant 225 mg






Be the first
to rate this product!
Awful
Wonderful

1

2

3

4

5




Share This Page!
Did you find this page useful?
Please share this page with your social network!
Twitter


Google +1

Facebook





Happy Customers

The BEST thing for my allergies
Works great.

-- Rochelle





Potassium Citrate Powder
This is the best potassium I've ever taken. I have to take diuretics for high blood pressure. This f [continues ...]

-- Hannah

Potassium Citrate Powder





Make $1 per sale -
Link to ZooScape.com!
More Photographs - Marshmallow Leaf - 450 mg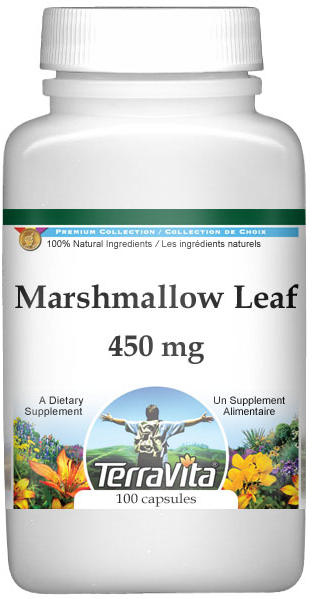 End of More Photographs - Marshmallow Leaf - 450 mg


* These statements have not been evaluated by the Food and Drug Administration (FDA). Products are intended to support general well being and are not intended to treat, diagnose, mitigate, prevent, or cure any condition or disease. If conditions persist, please seek advice from your medical doctor.
Information provided at ZooScape.com relies partly on Traditional Uses. The essence of the current American rule on Traditional Uses is, as stated by FTC, "Claims based on historical or traditional use should be substantiated by confirming scientific evidence, or should be presented in such a way that consumers understand that the sole basis for the claim is a history of use of the product for a particular purpose."

See: FTC - Dietary Supplements: An Advertising Guide for Industry