Questions?

We Answer The Phone!

Telephone Us Now!

1-844-449-0444
1-856-467-2430

Email us now!

All Products - #4 of 39: Previous Next
View: All Products (39) | Pill Blends (1) | Pills (2) | Powder Blends (2) | Powders (4) | Tea Blends (4) | Teas (4) | Creams, Salves and Gels (2)

Aloe Vera Leaf (Lu Hui) - 450 mg


An Ideal Addition To Any Medicine Cabinet. *
100 capsules


More Photographs below.


| | |
| --- | --- |
| | Aloe is commonly used to lower blood sugar levels, support constipation, liver problems, inflammations, macular degeneration and other health problems. * |



Happy I found this product
"Great producer. It has cured my chronic constipation." -- Happy lady (Mother)

More Info continues below.


Our Price: $16.51 US


Click button to Buy.


Specifications

ZIN Product Number: 511881
Size: 100 capsules
Weight: 0.18 lbs (0.08 KG)
Size (inches): 1.77" X 1.77" X 3.86"
Size (cm): 4.5 cm X 4.5 cm X 9.8 cm

Manufacturer: TerraVita

Ingredients: Aloe Vera Leaf (450 mg)

Other Ingredients: Gelatin, Water



Description - Research and Analysis

Aloe is a succulent shrub and member of the lily family. Native to southern Africa, and commonly known as aloe vera, it's often used in gel form to mend burns. In German tradition, aloe is taken internally and is valued as a laxative. One way or another, it has been tried for health benefits for a long time. The ancient Greeks used aloe; in fact, it was prized by Alexander the Great, who used aloe to help support the burns and wounds of soldiers in his conquering armies.

Potential Health Benefits

Commission E approved aloe for just one use: as a laxative. Indeed, aloe barbadensis is a straightforward, naturally based alternative to synthetically made laxatives with long lists of ingredients. The medically useful part of the plant is the juice from aloe's fleshy leaves, which stimulates the colon. Besides being used to help soothe sunburn and regular bums, aloe vera gel is a popular ingredient in cosmetics.

Scientific Evidence

Commission E published monographs on this herb in 1985 and 1993. In both cases, commission studies found that aloe is reliable and effective; scientists attribute chemical action of the herb to its 1,8-dihydroxy-anthracene derivatives. Other health writers cite exciting possible uses for aloe. In the National Geographic book Nature's Medicine, Joel L. Swerdlow, Ph.D., writes: "In laboratory tests, aloe-emodin (an ingredient in aloe) has shown signs of being able to combat leukemia." Aloe juice has also been tested to help support good blood sugar levels, with mixed results. A 1997 study published in the journal Phytomedicine found that 77 people who took 1 tablespoon of aloe juice twice daily for up to 42 days had a significant reduction in blood sugar levels. Another study, published in Psychotherapy Research in 1994, found no helpful action against diabetes. In any case, aloe's laxative powers are long-established; if anything, North herbalists consider it stronger than it has to be, often recommending gentler laxatives.

Consumer Products Available

Aloe is available in health food stores as an extract or powder, and in health food stores and drugstores as aloe vera gel. The product label should specify "stabilized" gel for best results on the skin. Aloe juice is sometimes marketed as a virtual panacea and even as a herb that can be used for immunity deficiencies. Commission E and reputable herbalists stop well short of making such claims, which the rejuvenateth writer Andrew Weil, M.D., calls "sheer fantasy."

Dosage

The typical dose is 50 to 200 milligrams taken at bedtime. When aloe vera is consumed in drinks, no matter what the contents state on the label, there is really no way to know how much is being taken because it breaks down very rapidly. Neither the U.S. nor the European governments have set limits on the amount that can be added to food or beverages, and consumers should closely read the labels of all products.




User Group Forum
Share your questions and information with the ZooScape community!
Be the first to post!





Directions

Take 1 capsule, 3 times daily, with meals.


Cautions

Long-term internal use of aloe juice, more than the recommended one to two weeks, could cause an electrolyte imbalance or a potassium deficiency. Aloe shouldn't be given to children under 12 or used by nursing mothers or during pregnancy. Overdoses can cause intestinal cramps. Commission E concluded that "The preparation should be used only if no effect can be obtained through change of diet or use of bulk-forming products." There's no risk to using aloe externally on the skin.




ZooScape Reviews!

Click here to share a review!

Number of Reviews:

3

Average Rating:

5.0



Happy I found this product

Great producer. It has cured my chronic constipation.

-- Happy lady (Profession: Mother)
-- October 26, 2014




Aloe Vera Leaf

Best product ever. Started taking it for my feet in which it was a great help! It has also helped my digestive system. Before my feet could not recover from the day. After taking the aloe for 8 weeks I finally got support for my feet. I now take it every day. I swear by the aloe and tell everyone I know.

-- Lori (Profession: Office Manager)
-- February 15, 2015




Very Pleased

-- Anonymous
-- June 17, 2005




Our Price: $16.51 US


Click button to Buy.




People Like You Also Bought...

You may also be interested in:

Apple Cider Vinegar with Bromelain and Apple Pectin - 600 mg






Number of Reviews
for this Product: 3
Average Rating
for this Product:
Awful
Wonderful

1

2

3

4

5




Share This Page!
Did you find this page useful?
Please share this page with your social network!
Twitter


Google +1

Facebook





Happy Customers

The BEST thing for my allergies
Works great.

-- Rochelle





Potassium Citrate Powder
This is the best potassium I've ever taken. I have to take diuretics for high blood pressure. This f [continues ...]

-- Hannah

Potassium Citrate Powder





Make $1 per sale -
Link to ZooScape.com!
More Photographs - Aloe Vera Leaf (Lu Hui) - 450 mg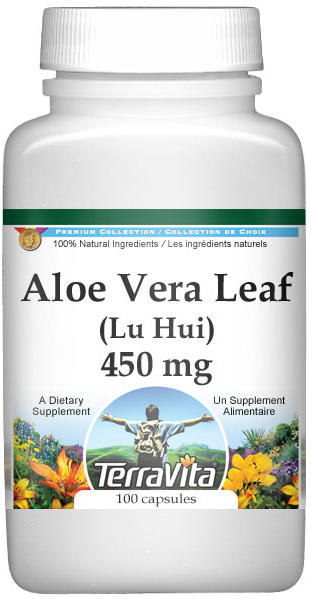 End of More Photographs - Aloe Vera Leaf (Lu Hui) - 450 mg


* These statements have not been evaluated by the Food and Drug Administration (FDA). Products are intended to support general well being and are not intended to treat, diagnose, mitigate, prevent, or cure any condition or disease. If conditions persist, please seek advice from your medical doctor.
Information provided at ZooScape.com relies partly on Traditional Uses. The essence of the current American rule on Traditional Uses is, as stated by FTC, "Claims based on historical or traditional use should be substantiated by confirming scientific evidence, or should be presented in such a way that consumers understand that the sole basis for the claim is a history of use of the product for a particular purpose."

See: FTC - Dietary Supplements: An Advertising Guide for Industry