Questions?

We Answer The Phone!

Telephone Us Now!

1-844-449-0444
1-856-467-2430

Email us now!

All Products - #0 of 26: Next
View: All Products (26) | Liquid Extracts (5) | Pills (1) | Powders (3) | Tea and Coffee Blends (2) | Teas (8) | Creams, Salves and Gels (2)

Lemongrass - 450 mg


Considered A Carminative and Insect Repellent. *
100 capsules


More Photographs below.


| | |
| --- | --- |
| | Traditionally used to help support stomach disorders, fever, respiratory problems and more. * |



great service
-- Anonymous

More Info continues below.


Our Price: $15.74 US


Click button to Buy.
In Stock - Ships Right Now!


Specifications

ZIN Product Number: 511871
Size: 100 capsules
Weight: 0.18 lbs (0.08 KG)
Size (inches): 1.77" X 1.77" X 3.86"
Size (cm): 4.5 cm X 4.5 cm X 9.8 cm

Manufacturer: TerraVita

Ingredients: Lemongrass (450 mg)

Other Ingredients: Gelatin, Water



Description - Research and Analysis

Lemongrass leaves and essential oil can be used to help support dyspeptic disorders, colds, nervous complaints and exhaustion. Some massage oils and aromatherapy oils contain lemongrass oil.

Lemongrass
Cymbopogon citratus (DC.) Stapf.

Other Names: Verveine des Jades (French); Lemongras, Zitronengras (German); citronella (Italian); sontol (Spanish).

Description: A perennial tuft with sturdy stems and rather broad, aromatic leaves. The species grown commercially for oil distillation are mostly distinguished by their characteristic smell and chemical composition of the oil. In addition to C. citratus, the main ones are C. nardus (Ceylon citronella grass, the source of citronella oil), C. martinii (ginger grass, palma-rosa, rusha) and C. winterianus Qava citronella oil).

Origin: Unknown (thought to have originated in southern India and Sri Lanka). It is now grown as a crop plant in many parts of the world. C. nardus occurs naturally in tropical Asia, C. martinii originated in India but is cultivated in Malaysia and C. winterianus is a cultigen of unknown origin grown commercially in India and Indonesia.

Parts Used: Dried aboveground parts (Cymbopogonis citrati herba) or the essential oil (Cymbopogonis citrati aetheroleum).

Therapeutic Category: Weak sedative, stomachic.

Active Ingredients: Lemongrass oil contains large amounts of citral (geranial, neral) and numerous other monoterpenoids. Citronella oil has geraniol, citrone and citronellal as main ingredients.

Pharmacological Effetcs: Lipophilic monoterpenes interact with biomembranes of cells and can modulate the activity of membrane proteins, especially ion channels and receptors. These properties might explain the anti-germ, sedative, spasmolytic and carminative effects of the oil. Oils containing high levels of citronellal are used in insect repellents.

Notes: Lemongrass is an important ingredient in Oriental cooking. The oils of Cymbopogon species are mair used in the perfume industry and have limited health applications.

Status: Traditional health; Pharm.

Preparation and Dosage: Leaf infusions or diluted oil may be taken orally; oil is also applied topically.




User Group Forum
Share your questions and information with the ZooScape community!
Judy - May 3, 2007, 17:21
#10001121
Do you have information regarding the research conducted at the University of Ben Gurion of the Negev [southern Israel]? The article was published in Planta Medical stating the herb citral found in Lemongrass improves immunity.
ZooScape Moderator - July 16, 2007, 18:33
#10001485
The results of this study are found in only sketchy details within online publications. It did receive a great deal of publicity in Israel, at BGU in Negev, and the results were published in Planta Medica (as you stated), a journal of alternative and herbal research findings. Here's a brief synopsis of the findings:

Citral is not an 'herb' but actually an aromatic aldehyde found in lemongrass, lemon verbena, and lemon balm. The research concluded that, in vitro, this aromatic compound (lemongrass citral) would improve immunity while healthy cells were left unharmed. Researchers referred to the suicidal phenomena of the bad cells as apoptosis, or a programmed cell death. They concluded that 1 gram of herbs in hot water would be the equal to the quantity of citral in the petri dish concentrate used in the research.

With the BGU findings promoted by the Israeli press, many doctors, though cautiously optimistic and requiring further research to be absolutely convinced, have recommended that people take advantage of the potentially immune boosting effects of the lemony herb.




Directions

Take 1 capsule, 3 times daily, with meals.


Cautions

Much diluted lemongrass oil and citronella oil are flavourants of food or drinks. In their pure form however, they may be toxic or even lethal if taken orally in large amounts.




ZooScape Reviews!

Click here to share a review!

Number of Reviews:

3

Average Rating:

4.0



zooscape service

-- Anonymous
-- June 17, 2005




great service

-- Anonymous
-- June 17, 2005




Very Satisfied!

-- Anonymous
-- June 17, 2005




Our Price: $15.74 US


Click button to Buy.
In Stock - Ships Right Now!




People Like You Also Bought...

You may also be interested in:

Linden Flower Tea






Number of Reviews
for this Product: 3
Average Rating
for this Product:
Awful
Wonderful

1

2

3

4

5




Share This Page!
Did you find this page useful?
Please share this page with your social network!
Twitter


Facebook





Happy Customers

The BEST thing for my allergies
Works great.

-- Rochelle





Potassium Citrate Powder
This is the best potassium I've ever taken. I have to take diuretics for high blood pressure. This f [continues ...]

-- Hannah

Potassium Citrate Powder





Your Special Deal!





Save $0.00
Price: $0.00 US



Make $1 per sale -
Link to ZooScape.com!
More Photographs - Lemongrass - 450 mg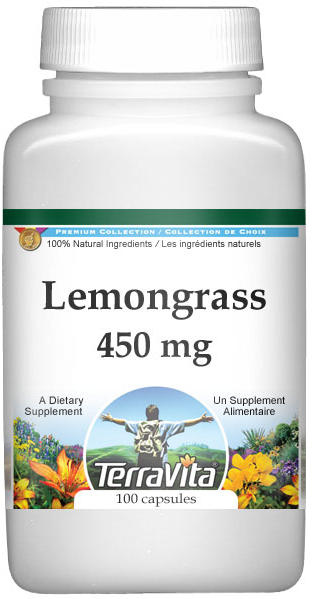 End of More Photographs - Lemongrass - 450 mg


* These statements have not been evaluated by the Food and Drug Administration (FDA). Products are intended to support general well being and are not intended to treat, diagnose, mitigate, prevent, or cure any condition or disease. If conditions persist, please seek advice from your medical doctor.
Information provided at ZooScape.com relies partly on Traditional Uses. The essence of the current American rule on Traditional Uses is, as stated by FTC, "Claims based on historical or traditional use should be substantiated by confirming scientific evidence, or should be presented in such a way that consumers understand that the sole basis for the claim is a history of use of the product for a particular purpose."

See: FTC - Dietary Supplements: An Advertising Guide for Industry