Questions?

We Answer The Phone!

Telephone Us Now!

1-844-449-0444
1-856-467-2430

Email us now!

All Products - #13 of 34: Previous Next
View: All Products (34) | Pill Blends (3) | Pills (2) | Powder Blends (6) | Powders (4) | Tea Blends (6)

Cayenne (90,000 I.U. Heat Units) Powder


Used to Support Health for Centuries! *
1 oz


More Photographs below.


| | |
| --- | --- |
| | Traditionally used to help support symptoms of joint pain, circulation problems, colds and chills, flu, digestion, cardiovascular ailments and much more. * |


More Info continues below.


Our Price: $6.93 US


Click button to Buy.


Specifications

ZIN Product Number: 511710
Size: 1 oz
Weight: 0.09 lbs (0.04 KG)
Size (inches): 2.13" X 2.13" X 3.58"
Size (cm): 5.4 cm X 5.4 cm X 9.1 cm

Manufacturer: TerraVita

Ingredients: Cayenne



Description - Research and Analysis

Name

Capsicum frutescens L. (Solanaceae). Also Capsicum annuum L., commonly called Capsicum, Chilies, Chillies, Tabasco pepper, and Paprika. In French, the herb is called Piment and Paprika; in German, Paprika, and Spanischer Pfeffer. The fleshy, bell shaped, green, red, and yellow peppers sold in supermarkets, are a related, but different, variety known as C. annum var. Annum.

Source

Originally native to South America, these plants are now grown in many temperate and tropical zones, especially in Africa, China and India. At least 50 different closely related cultivars are recognized. Paprika is made from the dried fruits of various Capsicum species. Cayenne pepper is made only from the fruits of Capsicum frutescens. Capsaicin is the main pungent (hot) principle of hot pepper, which is consumed in enormous quantities by people all around the world. The capsaicin content of some chili varieties ranges up to 0.53 percent. The bright red color of chilies comes from a carotenoid pigment called capsanthine.

History

The ancient Mayans used extracts of chilies as antibacterials, and modern studies confirm that, in fact, cayenne does have some antibacterial properties.

Traditional Support Uses

Poultices and liniments made from the dried fruits have been used to help support symptoms of joint pain and muscle sprains. European herbalists recommend cayenne-containing formulations for "dyspepsia," a general term used to describe upset stomach. Within the last few years, there has been a tendency to include cayenne in formulations designed to help avoid heart health issues, improve memory, and enhance male sexual function.

Commission E Recommendations

Low dose capsaicin-cayenne produds can be used internally to help support digestive, stomach and gastrointestinal problems. External usage includes product for muscle spasms.

Possible Effects

In addition to containing substantial amounts of Vitamin C, chilies also contain a chemical called capsaicin (trans-8-methyl-N-vanillyl-6-nonenamide) which is what makes them taste hot. Capsaicin is currently used to help support various painful complaints such as joint pain. Initially, when capsaicin-containing creams are applied to the skin there is a burning feeling. But shortly afterwards there is pain support. The support is a result of interactions between the capsaicin molecule and nerves in the skin and muscles that transmit painful sensations. Capsaicin fights these nerves from transmitting pain messages back to the brain (It does so by causing the nerves to deplete their supply of a neurotransmitter called "substance p.").

Because capsaicin is so irritating to the skin and mucous membranes, extracts are used by police as chemical crowd control agents ("pepper spray," also called oleoresin capsicum spray). When the spray comes in contact with mucous membranes, such as the insides of the eye lids, there is temporary, but very intense pain and swelling. The same sort of thing can happen if the eyes are inadvertently touched when cutting fresh chilies, or when handling capsaicin creams or herbal products. Claims that internal use of cayenne can aid digestion, or external use of cayenne can support joint pain, have never been proven.

Capsaicin applied to the skin will cause blood vessels in the skin to dilate (which is why the skin gets red where the capsaicin has been applied), but capsaicin does not cause any changes in the blood vessels controlling blood pressure. Claims that capsaicin can be used to help support high blood pressure are spurious. Additional claims that cayenne, alone, or in combination with other herbs can improve memory and sex life, or lower cholesterol, have never been tested, let alone proven.

Dosage

According to Commission E, liquid preparations should be standardized to contain no more than .005 to .01 percent capsaicinoids. Poultices should deliver no more than 40 grams of capsaicinoids per square centimeter and should not be used for more than two consecutive days.




User Group Forum
Share your questions and information with the ZooScape community!
Be the first to post!





Directions

Stir 1/4 of a teaspoon into a glass of water and consume 3 times daily, with meals.


Cautions

Excessive internal use can inflame membranes that line the stomach and intestines; harm to the kidneys is also possible.

If you have any digestive disorders, seek professional medical advice before use.

Concerns

Because so many people use so much cayenne, and because it appears to be such a potent agent, questions have been repeatedly raised about possible links between cancer and chili peppers. The results have been conflicting, and clear evidence, one way or the other, is lacking.

Warnings

When using these products, great care must be taken not to get them in the eyes, or in open cuts on the hands or elsewhere.

Drug Testing

Peppers are not known to contain any materials that will interfere with standard workplace drug screening tests.




ZooScape Reviews!

Click here to share a review!

Number of Reviews:

2

Average Rating:

3.5



wonderful product!

-- Anonymous
-- June 17, 2005




Good product

-- Anonymous
-- June 17, 2005




Our Price: $6.93 US


Click button to Buy.




People Like You Also Bought...

You may also be interested in:

Cayenne - 450 mg - 35,000 I.U. Heat Units






Number of Reviews
for this Product: 2
Average Rating
for this Product:
Awful
Wonderful

1

2

3

4

5




Share This Page!
Did you find this page useful?
Please share this page with your social network!
Twitter


Google +1

Facebook





Happy Customers

The BEST thing for my allergies
Works great.

-- Rochelle





Potassium Citrate Powder
This is the best potassium I've ever taken. I have to take diuretics for high blood pressure. This f [continues ...]

-- Hannah

Potassium Citrate Powder






Make $1 per sale -
Link to ZooScape.com!
More Photographs - Cayenne (90,000 I.U. Heat Units) Powder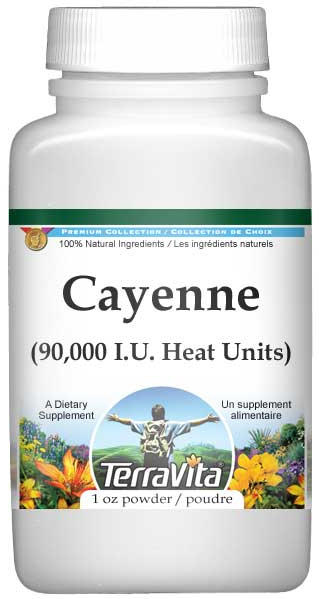 End of More Photographs - Cayenne (90,000 I.U. Heat Units) Powder


* These statements have not been evaluated by the Food and Drug Administration (FDA). Products are intended to support general well being and are not intended to treat, diagnose, mitigate, prevent, or cure any condition or disease. If conditions persist, please seek advice from your medical doctor.
Information provided at ZooScape.com relies partly on Traditional Uses. The essence of the current American rule on Traditional Uses is, as stated by FTC, "Claims based on historical or traditional use should be substantiated by confirming scientific evidence, or should be presented in such a way that consumers understand that the sole basis for the claim is a history of use of the product for a particular purpose."

See: FTC - Dietary Supplements: An Advertising Guide for Industry