Questions?

We Answer The Phone!

Telephone Us Now!

1-844-449-0444
1-856-467-2430

Email us now!

All Products - #1 of 41: Next
View: All Products (41) | Pill Blends (1) | Pills (1) | Powder Blends (2) | Powders (2) | Tea and Coffee Blends (4) | Teas (4)

Carrot - 450 mg


Helps Encourage Delayed Menstruation. *
100 capsules


More Photographs below.


| | |
| --- | --- |
| | Traditionally used to help support delayed menstruation, flatulence, dysentry, chronic coughs, fluid retention and more. * |


More Info continues below.


Our Price: $15.74 US


Click button to Buy.
In Stock - Ships Right Now!


Specifications

ZIN Product Number: 511680
Size: 100 capsules
Weight: 0.20 lbs (0.09 KG)
Size (inches): 1.77" X 1.77" X 3.86"
Size (cm): 4.5 cm X 4.5 cm X 9.8 cm

Manufacturer: TerraVita

Ingredients: Carrot (450 mg)

Other Ingredients: Gelatin, Water



Description - Research and Analysis

Wild carrot herb is traditionally used to help support kidney and bladder complaints, notably urinary calculus or gravel, lithuria, bladder health and also as a disinfectant. The herb and the fruits are used in case of indigestion, spasms, flatulence and joint pain. Carrot juice is an important health drink because it contains high levels of carotene which is converted to vitamin A in the liver.

Wild Carrot
Daucus carota L.

Family: Apiaceae.

Other Names: Carotte (French); Wilde Möhre (German); carota (Italian).

Description: Wild carrot is a biennial herb with a single, erect stem, feathery leaves, small white flowers and small dry fruits in characteristic clusters (umbels) surrounded by finely branched bracts. Wild carrot - D. carota subsp. carota - has a thin, white inedible root, while the common cultivated carrot - D. carota subsp. sailva has a thick, fleshy taproot.

Origin: Europe to central Asia, where it is wild-harvested.

Parts Used: Aerial parts (Dauci carotae herba) or the dried root (Dauci carotae radix; synon. Radix Dauci); sometimes also the fruits (Dauci carotae fructus; synom. Fructus Dauci) or the fruit oil.

Therapeutic Category: Diuretic, carminative.

Active Ingredients: The chemical composition of the fruits and the essential oil obtained from them are better known than the leaf. Leaves contain flavonoids and furanocoumarins (5-methoxypsoralen and 8-methoxypsoralen). Fruits have high levels of flavones (apigenin, luteolin and chrysin) and flavonols (quercit in, kaempferol), together with a complex essential oil comprising monoterpenoids (alpha-pinene, beta-pinene, geraniol, limonene, alpha-terpinen, terpinen-4-ol and others) and sesquiterpenoids (beta-bisabolne, caryophyllene, beta-elemene, carotol and daucol) and a phenylpropanoid (asarone).

Health Effects: The diuretic effect of wild carrot has not yet been documented in animals or humans. One of the main constituents of the oil, terpinen-4-ol, however, has documented diuretic activity (it is the diuretic renal irritant present in juniper oil).

Status: Traditional health; Pharm.

Preparation and Dosage: An infusion of 2 - 4 g of the herb is taken three times per day.




User Group Forum
Share your questions and information with the ZooScape community!
Be the first to post!





Directions

Take 1 capsule, 3 times daily, with meals.


Cautions

Not recommended if you are, or think you may be, pregnant.

Wild carrot may cause slight skin allergic reactions in some people and there may be a slight photosensitising effect due to the furanocoumarins.




ZooScape Reviews!
Click here to share a review!



Our Price: $15.74 US


Click button to Buy.
In Stock - Ships Right Now!




People Like You Also Bought...

You may also be interested in:

Chlorophyll Liquid - Super Concentrated






Be the first
to rate this product!
Awful
Wonderful

1

2

3

4

5




Share This Page!
Did you find this page useful?
Please share this page with your social network!
Twitter


Google +1

Facebook





Happy Customers

The BEST thing for my allergies
Works great.

-- Rochelle





Potassium Citrate Powder
This is the best potassium I've ever taken. I have to take diuretics for high blood pressure. This f [continues ...]

-- Hannah

Potassium Citrate Powder





Make $1 per sale -
Link to ZooScape.com!
More Photographs - Carrot - 450 mg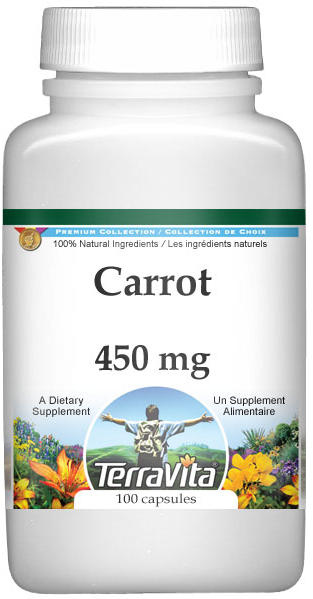 End of More Photographs - Carrot - 450 mg


* These statements have not been evaluated by the Food and Drug Administration (FDA). Products are intended to support general well being and are not intended to treat, diagnose, mitigate, prevent, or cure any condition or disease. If conditions persist, please seek advice from your medical doctor.
Information provided at ZooScape.com relies partly on Traditional Uses. The essence of the current American rule on Traditional Uses is, as stated by FTC, "Claims based on historical or traditional use should be substantiated by confirming scientific evidence, or should be presented in such a way that consumers understand that the sole basis for the claim is a history of use of the product for a particular purpose."

See: FTC - Dietary Supplements: An Advertising Guide for Industry