Questions?

We Answer The Phone!

Telephone Us Now!

1-844-449-0444
1-856-467-2430

Email us now!

All Products - #1 of 14: Next
View: All Products (14) | Pills (1) | Powders (2) | Teas (4)

Pleurisy Root - 450 mg


Used By Native Tribes For A Variety of Lung Ailments. *
100 capsules


More Photographs below.


| | |
| --- | --- |
| | Traditionally used to help support colds, flu, pulmonary complaints, diarrhea, flatulence and more. * |


More Info continues below.


Our Price: $20.76 US


Click button to Buy.
In Stock - Ships Right Now!


Specifications

ZIN Product Number: 511534
Size: 100 capsules
Weight: 0.18 lbs (0.08 KG)
Size (inches): 1.77" X 1.77" X 3.86"
Size (cm): 4.5 cm X 4.5 cm X 9.8 cm

Manufacturer: TerraVita

Ingredients: Pleurisy Root (450 mg)

Other Ingredients: Gelatin, Water



Description - Research and Analysis

Medicinal Usage

Pleurisy root has been used more extensively for health purposes than any other milkweed. Plains Indians ate the raw root for bronchial and pulmonary afflictions. The root was also chewed and put on wounds, or dried and powdered, then blown into wounds. The root has diuretic, tonic, diaphoretic, expectorant, and antispasmodic properties. Doses as small as a tablespoon of chopped root boiled in water may have emetic and laxative effects.

This plant is effective as an expectorant and diaphoretic in pleurisy, bronchitis, pneumonia, and other lung inflammations. Flu, asthma, stomach problems, colic, and rheumatic pains have been improved with this plant. A teaspoon of the dried root can be boiled in a cup of water and taken one or two times a day.

A glycoside-asclepiadine-is contained in the root, along with asciepione, a bitter principle, an essential oil and resin.

General Herb Information

Of the 200 or so species of Asclepias, A. tuberosa is one of the showiest. Butterfly weed or pleurisy root is, in fact, one of the most glorious flowering roadside weeds of America. It well earns both common names. It is one of the best herbal supportives for pleurisy, and it attracts hordes of butterflies. It is a perennial growing from two to three feet tall native to dry gravelly soils from Maine to Florida, west to Arizona, and north to Minnesota.

Unlike other milkweeds, it doesn't produce a milky juice and its leaves are alternate rather than opposite or whorled. The plant is hairy and rough. The lance-shaped to oblong leaves, two to six inches long, are entire, sessile or with short leaf stalks, dark green above and paler beneath. The one-fourth inch hooded and horned orange flowers are borne on showy, erect umbels, appearing in late May in the southern part of its range, lasting through September in the north. Occasionally flowers may be reddish or yellow. The slender furry seed pods are three to four inches long.

Pleurisy root is propagated from root cuttings made in the spring or fall or by seeds sown in late autumn to germinate the following spring. The thick, fleshy, horizontal roots break easily when dug, but if you're careful to excavate as much root and surrounding soil as possible, the plant transplants well. It is always best to purchase wild plants from nurseries specializing in such stock, rather than deplete wild populations. Plants grown from seed may take two to three years to flower.

A dry sandy, well-drained, slightly acid soil is best. Full sun is essential. Harvest roots in the fall. Older woody roots may have to be split with a small axe.

The young seed pods of this and other milkweeds can be cooked as a vegetable. The Sioux made a crude sugar from its flowers.




User Group Forum
Share your questions and information with the ZooScape community!
Be the first to post!





Directions

Take 1 capsule, 3 times daily, with meals.


Cautions

Not recommended if you are pregnant or lactating.

Excessive use may cause vomiting or diarrhea.

Do not use if you are taking heart medication, diuretics or hormonal medication.




ZooScape Reviews!
Click here to share a review!



Our Price: $20.76 US


Click button to Buy.
In Stock - Ships Right Now!




People Like You Also Bought...

You may also be interested in:

Apple Cider Vinegar with Bromelain and Apple Pectin - 600 mg






Be the first
to rate this product!
Awful
Wonderful

1

2

3

4

5




Share This Page!
Did you find this page useful?
Please share this page with your social network!
Twitter


Google +1

Facebook





Happy Customers

The BEST thing for my allergies
Works great.

-- Rochelle





Potassium Citrate Powder
This is the best potassium I've ever taken. I have to take diuretics for high blood pressure. This f [continues ...]

-- Hannah

Potassium Citrate Powder





Make $1 per sale -
Link to ZooScape.com!
More Photographs - Pleurisy Root - 450 mg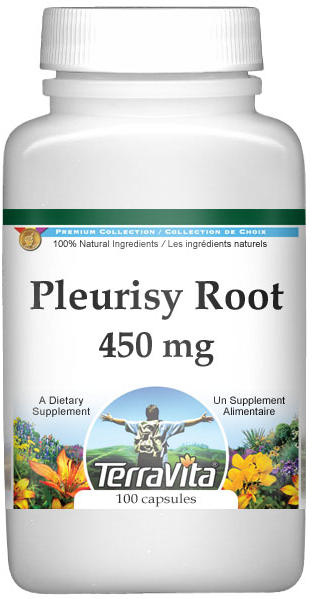 End of More Photographs - Pleurisy Root - 450 mg


* These statements have not been evaluated by the Food and Drug Administration (FDA). Products are intended to support general well being and are not intended to treat, diagnose, mitigate, prevent, or cure any condition or disease. If conditions persist, please seek advice from your medical doctor.
Information provided at ZooScape.com relies partly on Traditional Uses. The essence of the current American rule on Traditional Uses is, as stated by FTC, "Claims based on historical or traditional use should be substantiated by confirming scientific evidence, or should be presented in such a way that consumers understand that the sole basis for the claim is a history of use of the product for a particular purpose."

See: FTC - Dietary Supplements: An Advertising Guide for Industry