Questions?

We Answer The Phone!

Telephone Us Now!

1-844-449-0444
1-856-467-2430

Email us now!

All Products - #74 of 79: Previous Next
View: All Products (79) | Liquid Extracts (5) | Pill Blends (4) | Pills (5) | Powder Blends (8) | Powders (6) | Tea and Coffee Blends (16) | Teas (4) | Creams, Salves and Gels (6)

St. John's Wort Powder


The World's Best Known Alternative For A Positive Mental Attitude! *
1 oz


More Photographs below.


| | |
| --- | --- |
| | Traditionally used to help support melancholy, headache, insomnia, stress and anxiety and much more. * |


More Info continues below.


Our Price: $7.78 US


Click button to Buy.


Specifications

ZIN Product Number: 511516
Size: 1 oz
Weight: 0.09 lbs (0.04 KG)
Size (inches): 2.13" X 2.13" X 3.58"
Size (cm): 5.4 cm X 5.4 cm X 9.1 cm

Manufacturer: TerraVita

Ingredients: St. John's Wort



Description - Research and Analysis

Name

Hypericum perforatum, L. (Hypericaceae), commonly called St. John's Wort, and Fairy herb. In French, it is Herbe de la St-Jean, and Millepertuis perforé; in German, Johanniskraut.

Source

Products containing St. John's Wort are made from the dried flowering tops and upper parts of the plant. They must be harvested just before, or just as, flowering begins. Flowers are harvested from the wilds during July-August, mainly in eastern Europe, although it is now grown commercially in South America.

Hypericum contains a number of different, unrelated compounds, many of which possess important biological activity (naphthodianthrones, flavonoids, phloroglucinols and xanthones). These molecules are not distributed evenly throughout the plant, so depending on the source of the raw materials, hypericum formulations will contain variable amounts of each.

Products are usually standardized for their content of a molecule called hypericin. Unfortunately, it is now clear that hypericin is not the molecule responsible for the anti-melancholy effect, so even "standardized" formulas may sometimes prove ineffective.

History

The common name for Hypericum, St. John's Wort, comes from the fact that the herb flowers around the time of St. John's Day (June 24). Its flowers are golden yellow, but they also contain a red pigment that is said to symbolize the blood of St. John. Hypericum was first used to drive away witches and evil spirits, but the anti-melancholy properties of the herb were recognized early on. Culpeper's Complete Herbal and English Physician, published in 1826, claimed that a liquid extract made from wine and hypericum flowers could ward off melancholy and insanity.

Traditional Support Uses

Diuretic, sedative, astringent and anti-melancholy.

Commission E Recommendations

St. John's Wort is used internally to help support anxiety, melancholy, and dyspepsia (upset stomach). Externally, it can be used to help support contusion injuries, first degree burns and muscle pain.

Possible Effects

Laboratory studies of hypericum extract have shown that something in this plant fights the reuptake of neurotransmitters (serotonin, norepinephrine and dopamine). Since reuptake is the way the brain terminates the activity of those neurotransmitters, inhibition of reuptake leads to exaggerated effects. Cocaine, for example, works in exactly the same way, by reducing dopamine reuptake. Modern anti-melancholy drugs, such as Prozac™, fight the reuptake of serotonin. Their anti-melancholy effects are thought to be due, at least in part, to increased levels of serotonin in certain parts of the brain.

The active molecule contained in hypericum extract is now known to be a substance called hyperforin, and not the red pigment hypericin. Well-controlled studies of outpatients with mild or moderate melancholy have shown that hypericum extracts are superior to placebo and about as effective as standard anti-melancholys. Claims for other actions have never been validated in believable clinical trials.

Dosage

Commission E recommends a daily dose of 2 to 4 grams of crude drug containing 0.2 to 1 mg of total hypericin. Commercially available products in the United States generally contain on the order of 300 mg.

The recommended dose for melancholy, at least in Europe, is 900 mg per day as a starting dose, though in milder cases, doses as low as 300 mg per day may be sufficient.

References

Chatterjee SS, Bhattacharya SK, Wonnemann M, Singer A, Muller WE. Hyperforin as a possible anti-melancholy component of hypericum extracts. Life Sd 1998;63(6):499-510.

Erdelmeier CA. Hyperforin, possibly the major non-nitrogenous secondary metabolite of Hypericum perforatum L. Pharmacopsychiatry 1998;3 1 Suppl 1:2-6.

Garrett BJ, Cheeke PR, Miranda CL, Goeger DE, Buhler DR. Consumption of poisonous plants (Senecio jacobaea, Symphytum officinale, Pteridium aquilinum, Hypericum perforatum) by rats: chronic toxicity, mineral metabolism, and hepatic drug-metabolizing enzymes. Toxicol Lett 1982; 10(2-3): 183-8.

Heiligenstein E, Guenther G. Over-the-counter psychotropics: a review of melatonin, St John's Wort and kava-kava. J Am Coll Health 1998;46(6):271-6.

Miller AL. St. John's Wort (Hypericum perforatum): clinical effects on melancholy and other complaints. Altern Med Rev 1998;3(1):18-26.

Muller WE, Singer A, Wonnemann M, Hafner U, Rolli M, Schafer C. Hyperforin represents the neurotransmitter reuptake inhibiting constituent of hypericum extract. Pharmacopsychiatry 1998;31 Suppl 1:16-21.




User Group Forum
Share your questions and information with the ZooScape community!
Be the first to post!





Directions

Stir 1/4 of a teaspoon into a glass of water and consume 3 times daily, with meals.


Cautions

May increase sun sensitivity, especially in fair skinned individuals.

Seek professional medical advise prior to taking this product, if you are taking any of the following medications, MAO-inhibiting anti-depressants, anti-coagulants, oral contraceptives, anti-epilepsy drugs, antiretroviral drugs (protease inhibitors) or immunosupressants.

Concerns

The biggest concern for consumers using this herb might just be getting what they pay for. In August, 1998, reporters from the Los Angeles Times bought 10 different brands of St. John's wort and had them analyzed at an independent laboratory. Only three of the ten brands tested contained the amount advertised on the label (see the table below). In three cases, the hypericin content was less than half the amount stated.The findings of the survey only serve to emphasize the need for consumers to deal with reputable companies with established names. In the absence of serious government oversight, the reputation is about the only assurance consumers can rely upon.

The only real medical concern is photosensitivity. Grazing animals that eat St. John's wort have had phytotoxic reactions, and several HIV positive patients treated with intravenous hypericin in very large doses (hypericin has antiviral properties), also developed severe sunburns. Anecdotal reports suggest that sunburn and severe phytotoxic reactions may be more common than had previously been thought, especially with very high doses of the extract, but there is still very little information in the literature.

Otherwise, serious adverse effects due to St. John's wort appear to be quite rare. Dry mouth, dizziness, constipation, other gastrointestinal symptoms and confusion have been reported, but rarely. In trials, fewer than 2 percent of patients stopped taking the herb because of adverse effects.

Warnings

Depression is the most common psychiatric disorder, with a peak onset at age 50. Depression is not a disorder to be taken lightly. St. John's wort may be "nature's Prozac," but anyone suffering from real symptoms of depression should only be taking medication - natural or otherwise - under a doctor's supervision. Fair-complected users should avoid excessive sun exposure and wear a sun block while taking this herb.

Drug Testing

St. John's wort extract does contain some pigments that could, in theory, interfere with workplace urine drug screening tests, but such an occurrence has not been reported.




ZooScape Reviews!
Click here to share a review!



Our Price: $7.78 US


Click button to Buy.




People Like You Also Bought...

You may also be interested in:

White Stevia - 85% Steviosides - 250 mg






Be the first
to rate this product!
Awful
Wonderful

1

2

3

4

5




Share This Page!
Did you find this page useful?
Please share this page with your social network!
Twitter


Google +1

Facebook





Happy Customers

The BEST thing for my allergies
Works great.

-- Rochelle





Potassium Citrate Powder
This is the best potassium I've ever taken. I have to take diuretics for high blood pressure. This f [continues ...]

-- Hannah

Potassium Citrate Powder






Make $1 per sale -
Link to ZooScape.com!
More Photographs - St. John's Wort Powder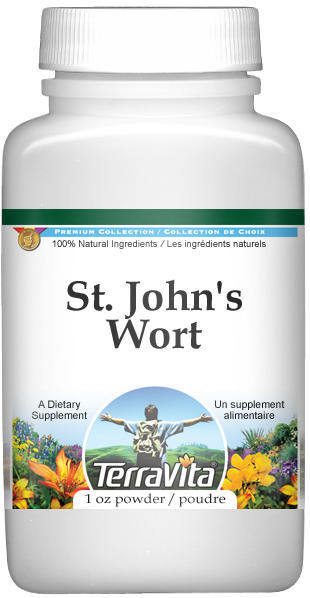 End of More Photographs - St. John's Wort Powder


* These statements have not been evaluated by the Food and Drug Administration (FDA). Products are intended to support general well being and are not intended to treat, diagnose, mitigate, prevent, or cure any condition or disease. If conditions persist, please seek advice from your medical doctor.
Information provided at ZooScape.com relies partly on Traditional Uses. The essence of the current American rule on Traditional Uses is, as stated by FTC, "Claims based on historical or traditional use should be substantiated by confirming scientific evidence, or should be presented in such a way that consumers understand that the sole basis for the claim is a history of use of the product for a particular purpose."

See: FTC - Dietary Supplements: An Advertising Guide for Industry