Questions?

We Answer The Phone!

Telephone Us Now!

1-844-449-0444
1-856-467-2430

Email us now!

All Products - #17 of 22: Previous Next
View: All Products (22) | Liquid Extracts (5) | Oils (including LV) (3) | Pills (1) | Powders (2) | Teas (4) | Creams, Salves and Gels (2)

Yarrow Flower Tea


Relaxes Blood Vessels and Improves Circulation. *
50 tea bags


More Photographs below.


| | |
| --- | --- |
| | Traditionally used to help support inflammation, fever, appetiti, nosebleeds, excessive menstruation, diarrhea and more. * |


More Info continues below.


Our Price: $21.02 US


Click button to Buy.


Specifications

ZIN Product Number: 511492
Size: 50 tea bags
Weight: 0.24 lbs (0.11 KG)
Size (inches): 2.56" X 4.72" X 7.87"
Size (cm): 6.5 cm X 12.0 cm X 20.0 cm

Manufacturer: TerraVita

Ingredients: Yarrow



Description - Research and Analysis

Yarrow is also known by the names Devil's Nettle, Devil's Plaything, Bad Man's Plaything, Milfoil, Soldier's Woundwort, Carpenter's Weed, Bloodwort, Staunch Weed, Nosebleed, and Thousand Leaf Gandana. Yarrow, a member of the sunflower family, can be found along roadsides, in meadows, and in pastures in Europe, Asia, South Australia and North America. It grows in altitudes as high as 8,500 feet. The part of this plant used for health benefits is the above ground portion, particularly the flowering tops. The genus name Achillea is named after Achilles, the Greek hero, who was taught Herbology by the centaur Chiron, who was said to have used Yarrow to staunch the bleeding of the warrior's wounds during the Trojan war (1200 B.C.). The species name millefolium is Latin for "thousand leaves."

The plant has a long history of use, going back thousands of years. It was once associated with evil, as evidenced by its alternative names Devil's Nettle, Devil's Plaything, and Bad Man's Plaything, and was used in spells. An old and English superstition held that young girls should tickle their noses with Yarrow to see if their lovers were being faithful - if the nose bled, the man's heart was true. In France and Ireland, people wanting to be more clairvoyant hold Yarrow over their eyes. Dried stalks were used to throw the I Ching, an ancient Chinese system for guidance and wisdom. The Druids used Yarrow stems to foretell the weather. When added to a compost pile, it will accelerate its breakdown. When Yarrow is grown in the garden, it helps other plants nearby become more resistant to health problems. This herb was also used to flavor products, and as a snuff. The primary chemical constituents of Yarrow include essential oil (proazulene, borneol, camphor, cineole, eugenol, linalool, pinene, sabinene, thujone), achillein, formic acid, salicylic acid, polyacetylenes, asparagin, sterols, glycoalkaloid (achhilleine), flavonoids (apigenin, luteolin, rutin, quercit in), coumarins, and tannins. Yarrow's effects are mostly astringent.

Yarrow nutritionally supports mucus membranes. It is closely related to Chamomile, both botanically and chemically. Yarrow also contains fairly high amounts of selenium, potassium, vitamin A, vitamin C, vitamin E, vitamin F, and vitamin K. Having a variety of effects on the body, Yarrow is known to alleviate inflammation, reduce fevers, help stimulate the appetite, and encourage sweating, thus expelling toxins from the body. Yarrow's astringent properties are especially helpful in stopping nosebleeds, excessive menstruation, and diarrhea. Yarrow is also known for helping support muscle spasms, joint pain, and easing digestion. Yarrow helps to relax peripheral blood vessels, thereby improving circulation. The constituents achilletin and achilleine aid in blood coagulation. Yarrow contains several anti-inflammatory and pain-supporting constituents, such as azulene and salicylic acid.




User Group Forum
Share your questions and information with the ZooScape community!
Be the first to post!





Directions

Hot tea brewing method: Bring freshly drawn cold water to a rolling boil. Place 1 tea bag for each cup into the teapot. Pour the boiling water into the pot, cover and let steep for 2-4 minutes. Pour into your cup; add milk and sugar to taste.

Iced tea brewing method: (to make 1 liter/quart): Place 5 tea bags into a teapot or heat resistant pitcher. Pour 1 1/4 cups of freshly boiled water over the tea itself. Steep for 5 minutes. Quarter fill a serving pitcher with cold water. Pour the tea into the serving pitcher straining the tea bags. Add ice and top-up with cold water. Garnish and sweeten to taste.


Cautions

Not recommended if you are pregnant or lactating.

Do not exceed recommended dosage as overuse may cause skin photo sensitivity, dizziness and headaches in some people.




ZooScape Reviews!
Click here to share a review!



Our Price: $21.02 US


Click button to Buy.




People Like You Also Bought...

You may also be interested in:

Virili-T - For Men and Women - 600 mg






Be the first
to rate this product!
Awful
Wonderful

1

2

3

4

5




Share This Page!
Did you find this page useful?
Please share this page with your social network!
Twitter


Facebook





Happy Customers

The BEST thing for my allergies
Works great.

-- Rochelle





Potassium Citrate Powder
This is the best potassium I've ever taken. I have to take diuretics for high blood pressure. This f [continues ...]

-- Hannah

Potassium Citrate Powder





Make $1 per sale -
Link to ZooScape.com!
More Photographs - Yarrow Flower Tea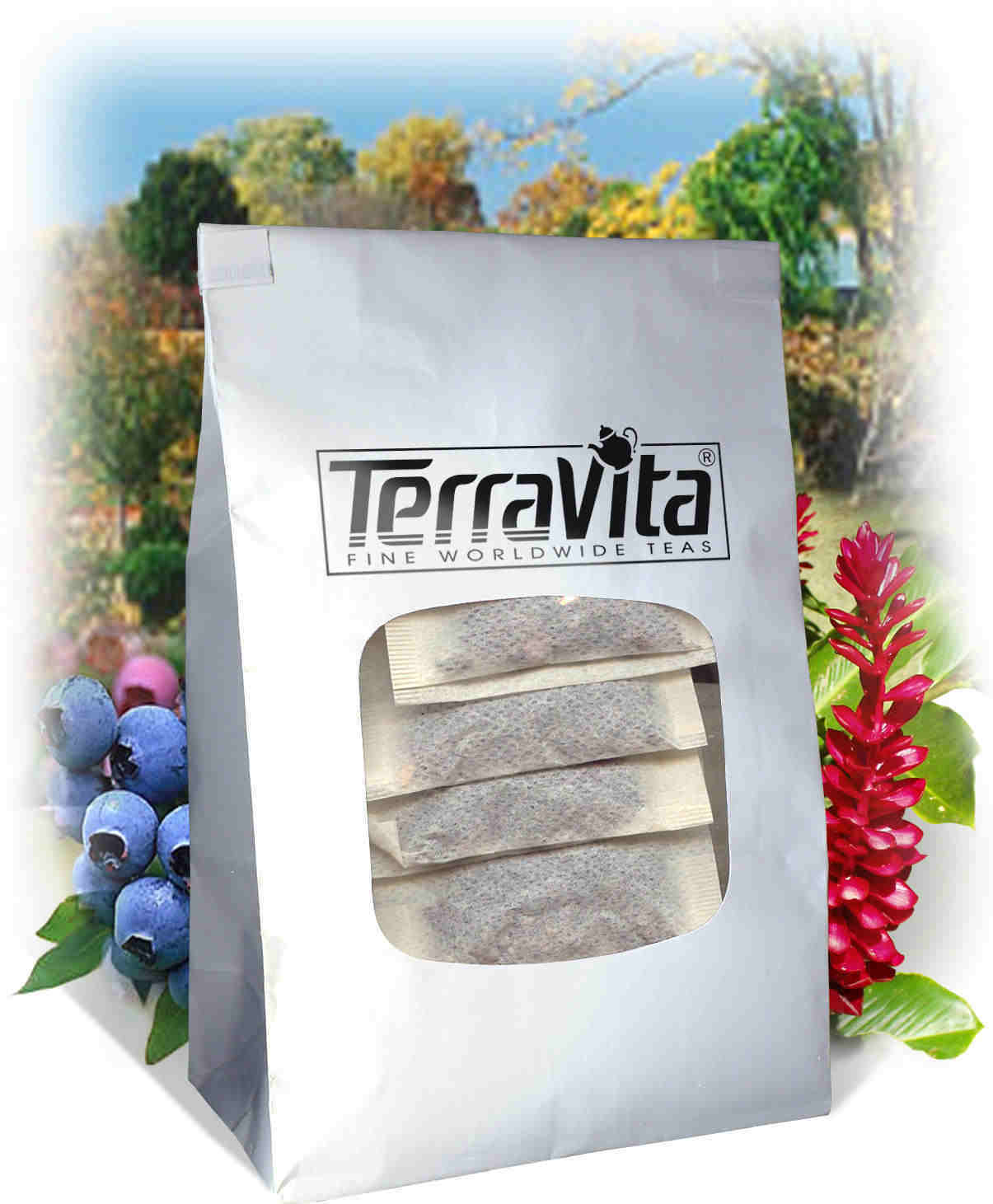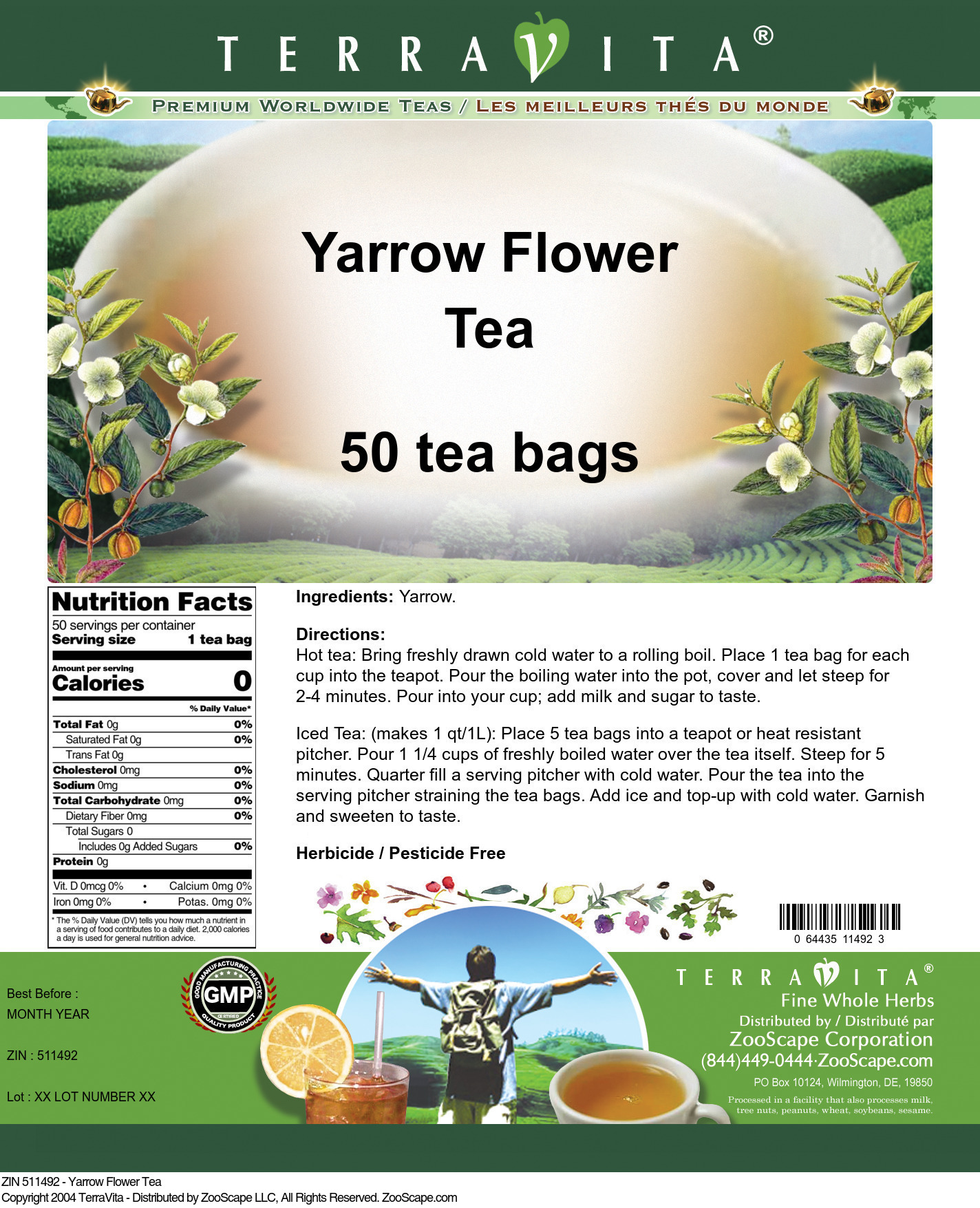 End of More Photographs - Yarrow Flower Tea


* These statements have not been evaluated by the Food and Drug Administration (FDA). Products are intended to support general well being and are not intended to treat, diagnose, mitigate, prevent, or cure any condition or disease. If conditions persist, please seek advice from your medical doctor.
Information provided at ZooScape.com relies partly on Traditional Uses. The essence of the current American rule on Traditional Uses is, as stated by FTC, "Claims based on historical or traditional use should be substantiated by confirming scientific evidence, or should be presented in such a way that consumers understand that the sole basis for the claim is a history of use of the product for a particular purpose."

See: FTC - Dietary Supplements: An Advertising Guide for Industry