Questions?

We Answer The Phone!

Telephone Us Now!

1-844-449-0444
1-856-467-2430

Email us now!

All Products - #13 of 30: Previous Next
View: All Products (30) | Cream, Salve and Gel Blends (2) | Pill Blends (1) | Pills (1) | Powder Blends (2) | Powders (2) | Tea Blends (4) | Teas (4)

Reishi Mushroom (Ganoderma lucidum) Powder


Helps Reduce Cholesterol and Blood Lipid Levels. *
4 oz


More Photographs below.


| | |
| --- | --- |
| | Effectively helps liver disorders, hypertension, joint pain, blood lipid levels, allergies, inflammation and much more. * |



Amazing!
-- Anonymous

More Info continues below.


Our Price: $21.48 US


Click button to Buy.


Specifications

ZIN Product Number: 511415
Size: 4 oz
Weight: 0.15 lbs (0.07 KG)
Size (inches): 2.13" X 2.13" X 3.58"
Size (cm): 5.4 cm X 5.4 cm X 9.1 cm

Manufacturer: TerraVita

Ingredients: Reishi Mushroom



Description - Research and Analysis

Reishi Mushroom is also known by the name Lucky Fungus. Reishi Mushrooms grow wild on decaying logs and tree stumps in the coastal provinces of China. The fruit ing body of the mushroom is employed for health Reishi occurs in six different colors, but the red variety is most commonly used and commercially cultivated in North America, China, Taiwan, Japan, and Korea. The Latin word lucidum means "shiny" or "brilliant," and refers to the varnished surface of Reishi's cap, which is reddish orange to black. In Japan, 99% of Reishi growing in the wild are found on old plum trees, and wild Reishi Mushrooms are rare.

In the Taoist tradition, Reishi is said to enhance spiritual receptivity. It was used by monks to calm the spirit and mind. It is also considered a symbol of feminine sexuality. Reishi has been used in traditional China for more than 4,000 years to help support liver disorders, hypertension, joint pain, and other ailments. The Chinese have always regarded the mushroom as having special properties. Mushrooms are regarded as "spirit medicine" because they are believed to nourish the "shen," or spirit. As such, they are considered particularly important in vegetarian diets and regarded as a nutritional food that promotes longevity.

Various mushrooms are used by the Chinese. One of the oldest recorded botanical monograph has claimed that Reishi Mushroom made the body "lighter," which may refer to its ability to help support cholesterol and blood lipid levels. Reishi may also have immune potentiating properties. Fungi, such as Reishi, spend most of their life cycles in the mycelial stage. The mushroom mycelia excretes digestive enzymes to digest nutrients and fend off competition and other pathogens in their environment. At the peak of the growth cycle, the mycelial biomass contains a fully myceliated brown rice substrate, mushroom primordia, and various metabolites. The mycelial biomass is harvested and carefully dried under low temperature and then made into powder. Reishi mycelium is rich in carbohydrates, proteins and vitamins. Active compounds from Reishi include glycoproteins, enzymes, polysaccharides and other metabolites which can stimulate immune response in a host. Some compounds in Reishi Mushrooms are classified as immuno-potentiators. Reishi can also act to restore homeostasis in an immuno-suppressed host.

Studies have indicated that Reishi is able to induce potent anti-microbial activity in mice. In vitro studies point to the stimulative effects on the production of monocytes, macrophages and cytokines. Anti-viral and anti-oxidant effects are other in vitro effects observed from the study of Reishi. Reishi contains several chemical constituents, including sterols, coumarin, mannitol, polysaccharides, and triterpenoids called ganoderic acids. Ganoderic acids may support healthy blood pressure levels and decrease low density lipoprotein (LDL) and triglyceride levels. These specific triterpenoids also help reduce blood platelets from sticking together-an important factor in lowering the risk for coronary artery problems.

While human research demonstrates some efficacy for the herb in supporting altitude sickness and a healthy liver B, these uses still need to be confirmed scientifically. Recent test-tube and human studies have demonstrated anti-allergic, anti-inflammatory, antibacterial, and antioxidant effects. Reishi is beneficial to the joints, can increase vital energy, strengthens tendons and bones, and is good for one's complexion. The common name Reishi includes the species Ganoderma japonicum, which is used interchangeably with Ganoderma lucidum.




User Group Forum
Share your questions and information with the ZooScape community!
Be the first to post!





Directions

Stir 1/4 of a teaspoon into a glass of water and consume 3 times daily, with meals.




ZooScape Reviews!

Click here to share a review!

Number of Reviews:

3

Average Rating:

4.0



Amazing!

-- Anonymous
-- June 17, 2005




Can't live without it

-- Anonymous
-- June 17, 2005




Good

-- Anonymous
-- June 17, 2005




Our Price: $21.48 US


Click button to Buy.




People Like You Also Bought...

You may also be interested in:

Shiitake and Reishi Mushroom Combination Cream






Number of Reviews
for this Product: 3
Average Rating
for this Product:
Awful
Wonderful

1

2

3

4

5




Share This Page!
Did you find this page useful?
Please share this page with your social network!
Twitter


Facebook





Happy Customers

The BEST thing for my allergies
Works great.

-- Rochelle





Potassium Citrate Powder
This is the best potassium I've ever taken. I have to take diuretics for high blood pressure. This f [continues ...]

-- Hannah

Potassium Citrate Powder





Make $1 per sale -
Link to ZooScape.com!
More Photographs - Reishi Mushroom (Ganoderma lucidum) Powder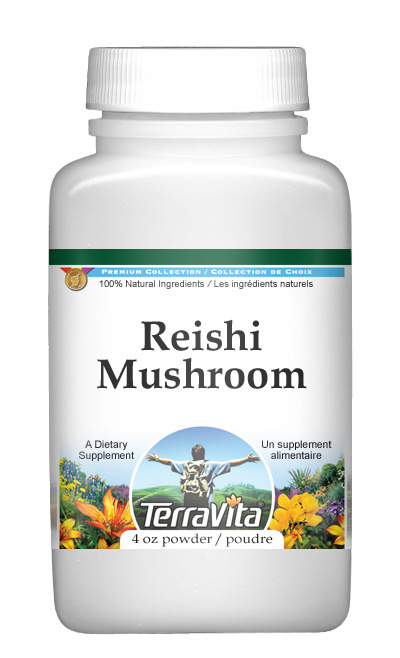 End of More Photographs - Reishi Mushroom (Ganoderma lucidum) Powder


* These statements have not been evaluated by the Food and Drug Administration (FDA). Products are intended to support general well being and are not intended to treat, diagnose, mitigate, prevent, or cure any condition or disease. If conditions persist, please seek advice from your medical doctor.
Information provided at ZooScape.com relies partly on Traditional Uses. The essence of the current American rule on Traditional Uses is, as stated by FTC, "Claims based on historical or traditional use should be substantiated by confirming scientific evidence, or should be presented in such a way that consumers understand that the sole basis for the claim is a history of use of the product for a particular purpose."

See: FTC - Dietary Supplements: An Advertising Guide for Industry