Questions?

We Answer The Phone!

Telephone Us Now!

1-844-449-0444
1-856-467-2430

Email us now!

All Products - #33 of 37: Previous Next
View: All Products (37) | Liquid Extracts (5) | Pill Blends (1) | Pills (3) | Powder Blends (2) | Powders (4) | Tea Blends (4) | Teas (4) | Creams, Salves and Gels (2)

Evening Primrose Flower Powder


Used In Folk Medicine For A Wide Variety of Ailments! *
1 oz


More Photographs below.


| | |
| --- | --- |
| | Traditionally used to help support dizziness, whooping cough, asthma, nerve pain, skin complaints and much more. * |


More Info continues below.


Our Price: $11.25 US


Click button to Buy.


Specifications

ZIN Product Number: 511397
Size: 1 oz
Weight: 0.09 lbs (0.04 KG)
Size (inches): 2.13" X 2.13" X 3.58"
Size (cm): 5.4 cm X 5.4 cm X 9.1 cm

Manufacturer: TerraVita

Ingredients: Evening Primrose Oil



Description - Research and Analysis

Name

Oenothera biennis L. (Onagraceae). In English it is called Evening Primrose, or Primrose.

Source

Evening primrose is a New World plant, but it is closely related to the European water dropwort (Oenanthe aquatica). The seeds of both plants contain an essential oil rich in gamma linolenic acid that is sold as a food supplement.

History

Indians showed European settlers how to use the oil to help support stomach upsets and respiratory infections. Food supplement makers now promote evening primrose oil for complaints where sex hormones and prostoglandins are thought to be disordered such as premenstrual syndrome, benign breast concern, elevated cholesterol, atopic skin problem, and as a supplement capable of reducing abnormal blood clotting, obesity, and degenerative neurologic problems, including joint pain.

Traditional Support Uses

Expectorant and stomachic

Commission E Recommendations

Primrose can be used to help support respiratory catarrh and upper respiratory tract catarrh.

Possible Effects

Evening primrose, like borage, blackcurrant, hemp oil, and oils derived from some fungi, contains a substance called gamma linolenic acid (GLA). Humans normally make GLA from linoleic acid in their diet. Patients with blood sugar level concerns, however, do not convert linoleic acid to GLA very effectively. Since the protective coating that surrounds most nerves is made partly from GLA, it is believed that nerve disease in diabetics (diabetic neuropathy) is due to this GLA deficiency.

In experimental animals with blood sugar level concerns, adding GLA to the diet corrects the nerve damage. Gamma linolenic acid is also important because it is converted into hormones called 'prostoglandins.' These hormones regulate multiple body functions and play a very important part in regulating the inflammatory response (such as the swelling of a joint, or even the swelling that occurs after an ankle sprain).

The process of converting GLA into prostoglandins starts with a reaction called "desaturation" of linoleic acid to form GLA. Many factors can interfere with this conversion, including aging, blood sugar levels concerns or stress (high levels of adrenalin), to name just a few. GLA formation is also blocked when the diet contains excessive amounts of unsaturated fatty acids (the kind found in semi-solid fats such as some kinds of margarine and cooking oil) in the diet.

No one knows for certain whether prostaglandin deficiencies are the cause of complaints such as premenstrual tension and breast discomfort, and clinical trials have failed to help support claims that GLA supplementation would increase immunity or make platelets less sticky. However, GLA supplements clearly do improve some types of neurologic problems, and clinical trials evaluating the other claims are ongoing.

Dosage

In clinical trials, patients have been given doses of 1 to 3 grams per day, but the safe and potentially effective range, if there is one, is not known. Commission E recommends a daily dose of 2-4 grams of drug.




User Group Forum
Share your questions and information with the ZooScape community!
Be the first to post!





Directions

Stir 1/4 of a teaspoon into a glass of water and consume 3 times daily, with meals.


Cautions

Concerns

Not all GLA-containing natural oils are equally effective, and results cannot be predicted on just the GLA content of the product being used. In animal studies, evening primrose was substantially better at reversing diabetic neuropathy than either blackcurrant or borage. Obviously, other components of the oils have something to do with the process. The same considerations almost apply to commercial supplements. They may contain a lot of GLA, but that does not mean that all of the GLA contained in the product will be absorbed, or that some other component added to the product may not prevent the GLA from working.

Warnings

None.

Drug Testing

There is no evidence that any of the components found in evening primrose oil can interfere with standard workplace urine screening tests.




ZooScape Reviews!

Click here to share a review!

Number of Reviews:

1

Average Rating:

3.0



works great

-- Anonymous
-- June 17, 2005




Our Price: $11.25 US


Click button to Buy.




People Like You Also Bought...

You may also be interested in:

Evening Primrose Flower - 450 mg






Number of Reviews
for this Product: 1
Average Rating
for this Product:
Awful
Wonderful

1

2

3

4

5




Share This Page!
Did you find this page useful?
Please share this page with your social network!
Twitter


Google +1

Facebook





Happy Customers

The BEST thing for my allergies
Works great.

-- Rochelle





Potassium Citrate Powder
This is the best potassium I've ever taken. I have to take diuretics for high blood pressure. This f [continues ...]

-- Hannah

Potassium Citrate Powder






Make $1 per sale -
Link to ZooScape.com!
More Photographs - Evening Primrose Flower Powder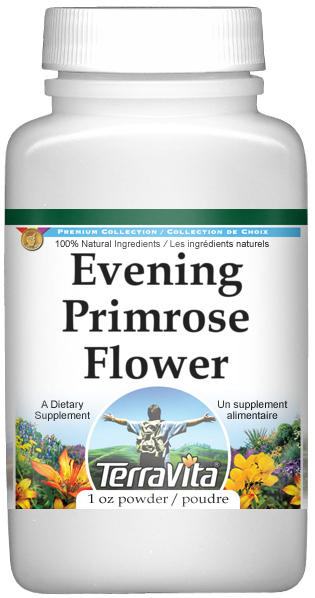 End of More Photographs - Evening Primrose Flower Powder


* These statements have not been evaluated by the Food and Drug Administration (FDA). Products are intended to support general well being and are not intended to treat, diagnose, mitigate, prevent, or cure any condition or disease. If conditions persist, please seek advice from your medical doctor.
Information provided at ZooScape.com relies partly on Traditional Uses. The essence of the current American rule on Traditional Uses is, as stated by FTC, "Claims based on historical or traditional use should be substantiated by confirming scientific evidence, or should be presented in such a way that consumers understand that the sole basis for the claim is a history of use of the product for a particular purpose."

See: FTC - Dietary Supplements: An Advertising Guide for Industry