Questions?

We Answer The Phone!

Telephone Us Now!

1-844-449-0444
1-856-467-2430

Email us now!

All Products - #4 of 20: Previous Next
View: All Products (20) | Pill Blends (2) | Pills (1) | Powder Blends (4) | Powders (2) | Tea and Coffee Blends (4) | Creams, Salves and Gels (2)

Glucomannan (Konjac Root) Powder


A Valuable Herb For Reducing Cholesterol and Triglyceride Levels. *
4 oz


More Photographs below.


| | |
| --- | --- |
| | Traditionally used to help support blood pressure, cholesterol, high triglycerides, hypertension, blood sugar levels and more. * |



Konjac root
"I decided to give Konjac Root a try after researching it on the web. To my knowledge there has never been a bad review about it and NO side effects. I have noticed some change in my condition but it is to early to make a decision as of yet. I will..." -- Jim (webmaster---also retired)

More Info continues below.


Our Price: $25.62 US


Click button to Buy.


Specifications

ZIN Product Number: 511308
Size: 4 oz
Weight: 0.31 lbs (0.14 KG)
Size (inches): 2.13" X 2.13" X 3.58"
Size (cm): 5.4 cm X 5.4 cm X 9.1 cm

Manufacturer: TerraVita

Ingredients: Glucomannan



Description - Research and Analysis

Konjac is tops in fibre, quintessential for cleaning the digestive system. Konjac is taken from the Konnyaku tuber and is from the same family unit as the yam, which is one hundred percent nutritional fibre, but without the calories. Because lack of fibre is a main cause for the high occurrence of gastrointestinal disorders, this can be a crucial plant for many people.

Konjac helps to diminish cholesterol and triglyceride quantities, assists realizing consistent bowel movements and advances general bowel health. It renormalises sugar levels in the blood, minimizes fat absorption, advances weight loss, alleviates pressure in the pancreas and inhibits sugar in the blood, including hypoglycemia. Konjac takes in toxic items furnished at different stages in their digestion and in their removal. It restricts the presence of toxic material and removes them before they can be absorbed into the blood circulation. Konjac performs as a weight loss agent and helps to avoid health issues. As a food plan assistant, it widens to approximately 50 times its original size when taken with a sizable cup of water. It has also been shown to have usefulness for atheroslerosis, piles, irregularity, blood pressure, blood sugar level issues, hypoglycemia, digestive complications, weight gain, diverticulitis, and overworked pancreas.




User Group Forum
Share your questions and information with the ZooScape community!
Be the first to post!





Directions

Stir 1/4 of a teaspoon into a glass of water and consume 3 times daily, with meals.


Cautions

Like other soluble fibers, glucomannan has the potential to bind with and reduce the absorption of certain nutrients - so a daily multivitamin supplement may be advisable for individuals consuming high doses of glucomannan on a regular basis.

In high doses, glucomannan may lead to diarrhea, bloating and flatulence - but cutting back the dose relieves these unpleasant side effects.




ZooScape Reviews!

Click here to share a review!

Number of Reviews:

2

Average Rating:

3.5



Konjac root

I decided to give Konjac Root a try after researching it on the web. To my knowledge there has never been a bad review about it and NO side effects. I have noticed some change in my condition but it is to early to make a decision as of yet. I will be placing another order on the 16th of this month for two more bottles. Thank you for the kindness of asking about me. Jim.

-- Jim (Profession: webmaster---also retired)
-- September 6, 2005




Didn't go to well

Unfortunately the Glucomannan powder gave me a stomach ache. I used it consistently for a week and followed the directions. The taste was ok 'tolerable' but my stomach ache was not, therefore I could no longer use the product. My overall experience with Zooscape was a positive one though and would order from them again in the future.

[Editor: First of all, we are sorry that your experience with glucomannan didn't quite go as expected. Let's see if we can't offer some insight into this problem.

An upset stomach is a rare, secondary side effect associated with glucomannan. Glucomannan may enhance the effects of certain diabetes medications, so side effects from hypoglycemia have been known to occur (although, an upset stomach is not one of them). For sure, if you are on diabetes medication, or any medication for that matter, make sure you inform your healthcare practitioner about glucomannan to make you aware of any adverse drug interactions.

Since it is a bulk-type laxative that coats the lining of the GI tract, in theory it could prevent the absorption of other medications or supplements. Whether this scenario could lead to an upset stomach is in the realm of possiblilty, but doesn't seem likely. There may be risk of an esopgageal blockage (due to the swelling nature of the herb) in capsule form; in powdered form, this is less likely. Either way, you must make sure that you are getting adequate water to maintain the softness of the bulk created, and that should facilitate an ease of movement through the intestinal tract. This may have been the source of your upset stomach, though we cannot say for sure. As with any bulk laxative, if the product expands in your GI tract without sufficient hydration, you've created an obvious source of discomfort and a resultant stomach ache.

You can lower the recommended dosage and see if you are achieving the same benefits without the stomach aches, or simply discontinue use. There are, typically, several herbs or supplements that accomplish the same thing, and it may be a matter of just finding what is best for you. But, don't forget to rule out any adverse drug or supplement interactions, as well as any other possible sources of the upset stomach. We're happy that your ZooScape experience was a happy one overall, and we certainly have enough of a variety of products to address your health needs without enduring an upset stomach.]

-- Anno (Profession: Plumber)
-- March 31, 2007




Our Price: $25.62 US


Click button to Buy.




People Like You Also Bought...

You may also be interested in:

Ginger Root - 450 mg






Number of Reviews
for this Product: 2
Average Rating
for this Product:
Awful
Wonderful

1

2

3

4

5




Share This Page!
Did you find this page useful?
Please share this page with your social network!
Twitter


Google +1

Facebook





Happy Customers

The BEST thing for my allergies
Works great.

-- Rochelle





Potassium Citrate Powder
This is the best potassium I've ever taken. I have to take diuretics for high blood pressure. This f [continues ...]

-- Hannah

Potassium Citrate Powder






Make $1 per sale -
Link to ZooScape.com!
More Photographs - Glucomannan (Konjac Root) Powder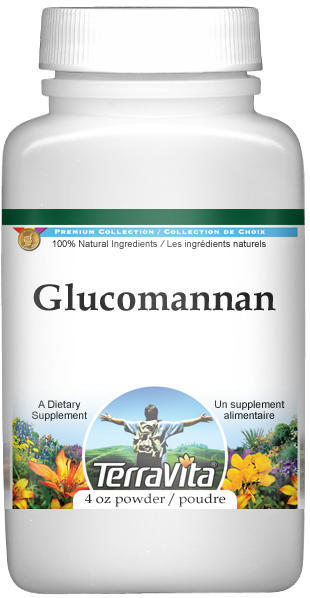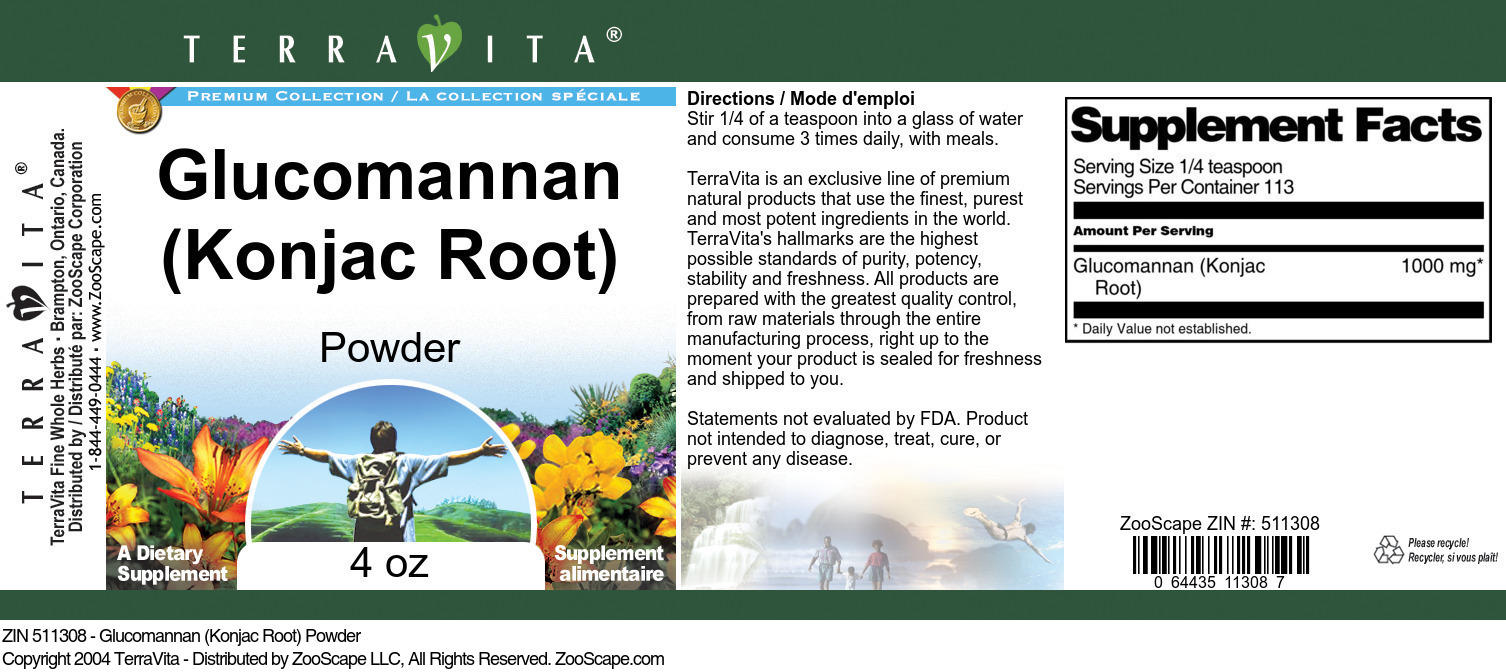 End of More Photographs - Glucomannan (Konjac Root) Powder


* These statements have not been evaluated by the Food and Drug Administration (FDA). Products are intended to support general well being and are not intended to treat, diagnose, mitigate, prevent, or cure any condition or disease. If conditions persist, please seek advice from your medical doctor.
Information provided at ZooScape.com relies partly on Traditional Uses. The essence of the current American rule on Traditional Uses is, as stated by FTC, "Claims based on historical or traditional use should be substantiated by confirming scientific evidence, or should be presented in such a way that consumers understand that the sole basis for the claim is a history of use of the product for a particular purpose."

See: FTC - Dietary Supplements: An Advertising Guide for Industry