Questions?

We Answer The Phone!

Telephone Us Now!

1-844-449-0444
1-856-467-2430

Email us now!

All Products - #3 of 20: Previous Next
View: All Products (20) | Pill Blends (2) | Pills (1) | Powder Blends (4) | Powders (2) | Tea and Coffee Blends (4) | Creams, Salves and Gels (2)

Glucomannan (Konjac Root) - 450 mg


Essential For Cleaning the Digestive System. *
100 capsules


More Photographs below.


| | |
| --- | --- |
| | Traditionally used to help support blood pressure, cholesterol, high triglycerides, hypertension, blood sugar levels and more. * |




"best fiber pill I have ever taken" -- none (retired)

More Info continues below.


Our Price: $23.44 US


Click button to Buy.
In Stock - Ships Right Now!


Specifications

ZIN Product Number: 511306
Size: 100 capsules
Weight: 0.18 lbs (0.08 KG)
Size (inches): 1.77" X 1.77" X 3.86"
Size (cm): 4.5 cm X 4.5 cm X 9.8 cm

Manufacturer: TerraVita

Ingredients: Glucomannan (450 mg)

Other Ingredients: Gelatin, Water



Description - Research and Analysis

Glucomannan is high in fiber, integral for cleaning the digestion tract. Glucomannan is taken from the Konnyaku tuber and is from the same familial roots as the wild yam (Dioscorea), which is 100% natural nutritional fiber without any calories. On account of the fact that loss of fiber is an immense reason for the increasingly high occurrence of gastro-intestinal disorders, it is a useful herb!

Glucomannan helps soothe ldl cholesterol and glyceride amounts, aids consistent bowel movements and helps overall bowel healthiness. It aids in renormalising glucose in the blood, limits fat absorption, aids weight loss, can help reduce pressure in the pancreas and curbs blood glucose anomalies, which includes hypoglycemia. Glucomannan absorbs toxic materials created during the process of digestion and elimination. It inhibits toxic substances and removes them prior to being taken into the blood. Glucomannan works to help avoid chronic afflictions and is a valuable weight loss agent. As a diet aid, it extends to approximately 50 times its original size when consumed with a large tumbler of water. It has also been shown to have effectiveness for atheroslerosis, swollen anal tissue, dyschezia, low and high blood pressure, high sugar levels in the blood, hypoglycemia, digestion troubles, obesity, diverticulitis affliction, and pancreas strain.




User Group Forum
Share your questions and information with the ZooScape community!
Ashley - April 30, 2006, 00:07
#10000253
do you have glucomannan fiber with fos?
ZooScape Moderator - May 2, 2006, 13:43
#10001331
I am pleased to say that ZooScape.com does carry a product called Glucomannan and Chicory Root (FOS) that contains both glucomannan (fiber) and Chicory Root (FOS). This product is available in capsules, powders, loose teas and tea bags.

Chicory Root provides a natural source of fructo-oligosaccharides, or FOS. A moderately fermentable fiber source, FOS is partially digested in the digestive tract. The by-products from this digestion process are called Short Chain Fatty Acids (SCFA's). These SCFA's provide colonocytes (cells lining the colon) and beneficial bacteria the energy they need to perform their functions in the gastrointestinal tract. One of the primary functions of beneficial bacteria is to help prevent the bad bacteria from multiplying and causing illness.
Anonymous - April 29, 2006, 23:26
#10000252
How long do you have to take Glucomannan before you notice a difference in bowel movements?
ZooScape Moderator - May 2, 2006, 14:42
#10001333
Glucomannan is a water-soluble dietary fiber that is derived from konjac root (Amorphophallus konjac). Like other forms of dietary fiber, glucomannan is considered a 'bulk-forming laxative.' Glucomannan promotes a larger, bulkier stool that passes through the colon more easily and requires less pressure and subsequently less straining to expel.

In constipated individuals, glucomannan and other bulk-forming laxatives generally help produce a bowel movement within 12 to 24 hours.

It is suggested that you speak with your physician prior to beginning to use this product. He or she has the most background regarding your personal medical history and therefore will be able to make the most informed decision regarding your optimal health. It is also recommended that you discuss this with your physician to rule out the possibility of more serious conditions.




Directions

Take 1 capsule, 3 times daily, with meals.


Cautions

Like other soluble fibers, glucomannan has the potential to bind with and reduce the absorption of certain nutrients - so a daily multivitamin supplement may be advisable for individuals consuming high doses of glucomannan on a regular basis.

In high doses, glucomannan may lead to diarrhea, bloating and flatulence - but cutting back the dose relieves these unpleasant side effects.




ZooScape Reviews!

Click here to share a review!

Number of Reviews:

3

Average Rating:

4.3





best fiber pill I have ever taken

-- none (Profession: retired)
-- August 23, 2005




Great product!

-- Anonymous
-- June 17, 2005




great value

-- Anonymous
-- June 17, 2005




Our Price: $23.44 US


Click button to Buy.
In Stock - Ships Right Now!




People Like You Also Bought...

You may also be interested in:

Grape Seed Extract - 50 mg






Number of Reviews
for this Product: 3
Average Rating
for this Product:
Awful
Wonderful

1

2

3

4

5




Share This Page!
Did you find this page useful?
Please share this page with your social network!
Twitter


Google +1

Facebook





Happy Customers

The BEST thing for my allergies
Works great.

-- Rochelle





Potassium Citrate Powder
This is the best potassium I've ever taken. I have to take diuretics for high blood pressure. This f [continues ...]

-- Hannah

Potassium Citrate Powder





Make $1 per sale -
Link to ZooScape.com!
More Photographs - Glucomannan (Konjac Root) - 450 mg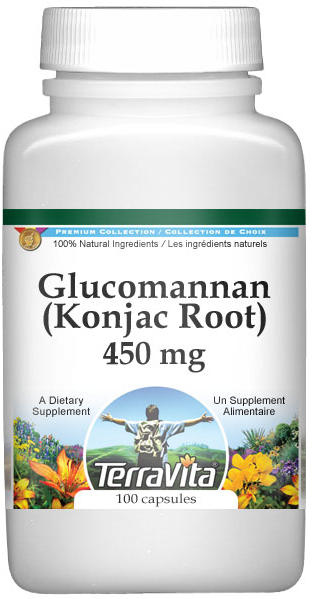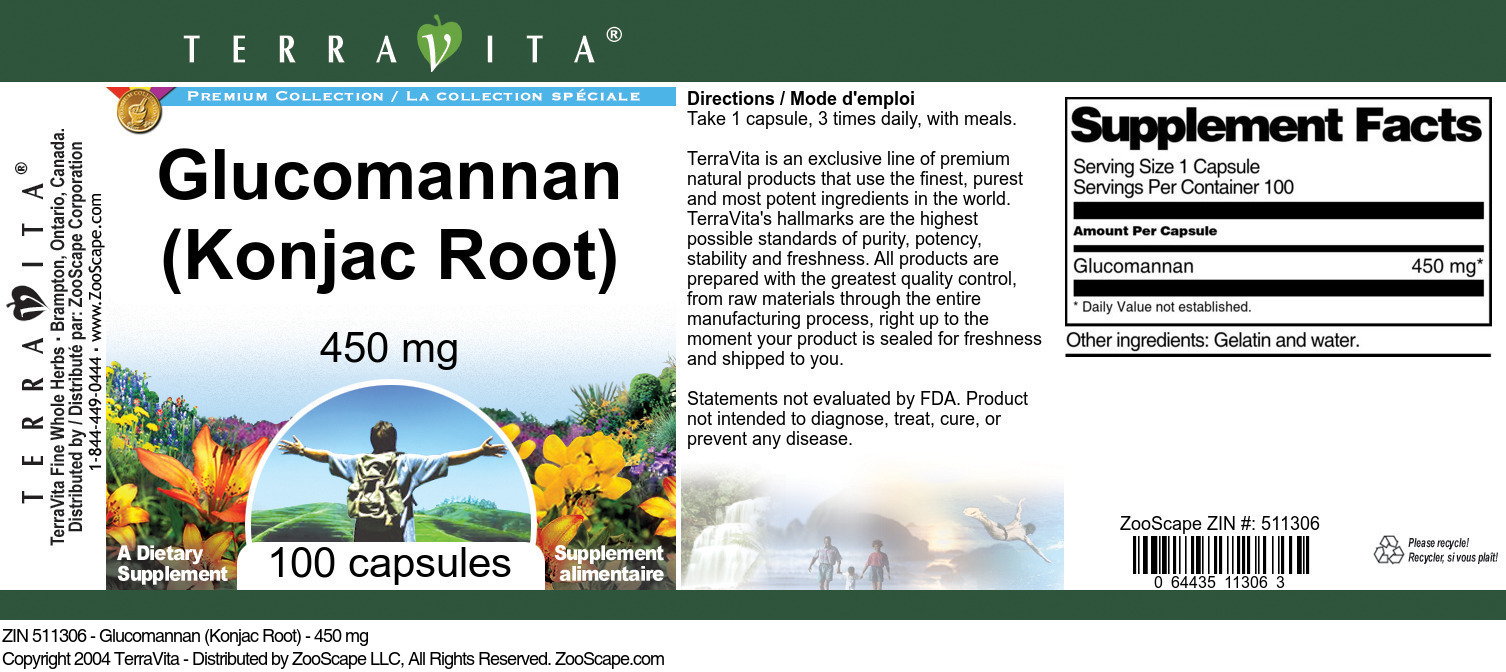 End of More Photographs - Glucomannan (Konjac Root) - 450 mg


* These statements have not been evaluated by the Food and Drug Administration (FDA). Products are intended to support general well being and are not intended to treat, diagnose, mitigate, prevent, or cure any condition or disease. If conditions persist, please seek advice from your medical doctor.
Information provided at ZooScape.com relies partly on Traditional Uses. The essence of the current American rule on Traditional Uses is, as stated by FTC, "Claims based on historical or traditional use should be substantiated by confirming scientific evidence, or should be presented in such a way that consumers understand that the sole basis for the claim is a history of use of the product for a particular purpose."

See: FTC - Dietary Supplements: An Advertising Guide for Industry