Questions?

We Answer The Phone!

Telephone Us Now!

1-844-449-0444
1-856-467-2430

Email us now!

All Products - #76 of 135: Previous Next
View: All Products (135) | Liquid Extract Blends (5) | Liquid Extracts (5) | Pill Blends (8) | Pills (5) | Powder Blends (16) | Powders (8) | Tea and Coffee Blends (32) | Teas (4) | Creams, Salves and Gels (6)

Ginkgo Biloba (Bai Guo Ye) Leaf - 450 mg


Can't Remember Like You Used To? *
100 capsules


More Photographs below.


| | |
| --- | --- |
| | Has been used to help support memory, cognitive abilities, circulation problems and more. * |




"Ginkgo Biloba is a great supplement for me. I observed an immediate difference in my circulation. My cholesterol problem makes Ginkgo Biloba an important supplement for me. I also take Lipitor and I am not aware of any negative interactions with Gin..." -- Bharati (Computer programmer)

More Info continues below.


Our Price: $15.37 US


Click button to Buy.


Specifications

ZIN Product Number: 511300
Size: 100 capsules
Weight: 0.18 lbs (0.08 KG)
Size (inches): 1.77" X 1.77" X 3.86"
Size (cm): 4.5 cm X 4.5 cm X 9.8 cm

Manufacturer: TerraVita

Ingredients: Ginkgo Biloba Leaf (450 mg)

Other Ingredients: Gelatin, Water

Newsletters: Ginkgo Biloba: Top-Selling Brain Enhancer Worldwide!



Description - Research and Analysis

Ginkgo has been dubbed the memory tree. The oldest living tree species on Earth, it was around at the time of the dinosaurs, and is native to northeast Asia. Some ginkgo trees live for up to 1,000 years, and its toughness makes it a good choice for lining the streets of polluted cities. Medically, ginkgo is used to help avoid or slow memory loss associated with aging, memory loss, and other causes. The leaves are the most medically useful part of the tree, and the safest, as the fruit and seeds are high in toxins.

Potential Health Benefits

Prime benefits of ginkgo, according to Commission E, which assessed the standardized dry extract of green, fan-shaped ginkgo leaves, include: improving memory and learning capacity; strengthening blood flow to the brain; supporting vertigo; zapping destructive free radicals in the blood; and reducing swelling and lesions in the retina of the eye. In short, ginkgo is great for the circulation. In Germany, it's used to help support memory loss and memory issues. Commission E also found ginkgo useful for the potential to help support symptoms of symptoms of some of tinnitus (ringing in the ear). With annual sales topping $500 million, ginkgo is Europe's best-selling herbal drug.

Scientific Evidence

Commission E and other researchers attribute ginkgo's medical powers to its ability to increase blood flow to the brain and extremities such as hands and feet. Active chemicals in ginkgo, called ginkgolides, have a blood-thinning effect. Dozens of clinical studies of GBE extract - the standardized European ginkgo drug - have been published in Europe, especially Germany. A U.S. study of 202 patients with memory loss, published in 1997 in the Journal of the Amen can Medical Association, concluded that daily doses of 120 milligrams of GBE strengthened and in some cases improved the mental functions of people who took it for up to one year.

How to Use the Herb

Commission E recommends daily doses of 120-240 milligrams of dry ginkgo extract in 2 or 3 divided doses to combat memory loss. For vertigo and tinnitus, the daily dose is 120-160 milligrams of dry extract, also in 2 or 3 divided daily doses. Several herbal authorities caution that teas made from ginkgo leaves, a standby of traditional Chinese health, are too weak to do much medicinally.




User Group Forum
Share your questions and information with the ZooScape community!
Rsgupta - June 6, 2006, 04:37
#10000737
at time of writing examination,does Ginkgo Biloba helpwith memory as well as keeping one awake when studying?
ZooScape Moderator - June 6, 2006, 10:04
#10001429
Ginkgo Biloba promotes healthy circulation to the brain to ensure a healthy supply of oxygen and nutrients. It also has antioxidant properties that protect brain cells from the damaging effects of free radicals. These unique traits make Ginkgo Biloba the number one herb for a sharp memory and a healthy, active mind. The positive effects that Ginkgo Biloba has on the brain and body have catapulted this herb to its current popularity among herbalists today. Ginkgo Biloba has been known to increase brain functionality, which may be beneficial for those who suffer from low concentration and memory loss. While Ginkgo Biloba will work to help with your cognitive function, it does not work to keep you awake.

If you are considering a product to help increase your energy level and assist with your memory, may I suggest a product called Ginseng and Ginkgo Biloba Combination that is manufactured by TerraVita. This product is a blend of two ingredients, Ginkgo Biloba, as discussed above and Siberian Ginseng. Siberian Ginseng, also referred to as Eleuthero, has been used to increase stamina and endurance in Soviet Olympic athletes. Russian explorers, divers, sailors, and miners also used eleuthero to prevent stress-related illness. Siberian Ginseng helps the body cope with physical and mental stress which is why athletes love it as it promotes physical stamina and endurance. Siberian Ginseng has also been used in cardiovascular and neuro-vascular conditions to help restore memory, concentration, and cognitive abilities which may be impaired from poor blood supply to the brain.




Directions

Take 1 capsule, 3 times daily, with meals.


Cautions

May increase the effects of MAO-inhibitors.

Consult a medical professional before using, if you are taking any anti-depressants.

The commission found no lethal level of overdoses or side effects but doesn't recommend using ginkgo for longer than eight weeks. Ginkgo shouldn't be used if you're taking blood-thinners, including aspirin.




ZooScape Reviews!

Click here to share a review!

Number of Reviews:

2

Average Rating:

5.0





Ginkgo Biloba is a great supplement for me. I observed an immediate difference in my circulation. My cholesterol problem makes Ginkgo Biloba an important supplement for me. I also take Lipitor and I am not aware of any negative interactions with Ginkgo. This product is very easy to take since it is in capsule form.

-- Bharati (Profession: Computer programmer)
-- May 2, 2005




Significant effect!

I've found this product to have a significant effect in the short amount of time I've used it. I really like this product. The Ginkgo Biloba I've taken in the past was not in capsule form. I love these capsules. It's an excellent product. I'd recommend this to anyone.

-- Carolle (Profession: Nurse)
-- May 2, 2005




Our Price: $15.37 US


Click button to Buy.




People Like You Also Bought...

You may also be interested in:

Grape Seed Extract - 50 mg






Number of Reviews
for this Product: 2
Average Rating
for this Product:
Awful
Wonderful

1

2

3

4

5




Share This Page!
Did you find this page useful?
Please share this page with your social network!
Twitter


Google +1

Facebook





Happy Customers

The BEST thing for my allergies
Works great.

-- Rochelle





Potassium Citrate Powder
This is the best potassium I've ever taken. I have to take diuretics for high blood pressure. This f [continues ...]

-- Hannah

Potassium Citrate Powder





Make $1 per sale -
Link to ZooScape.com!
More Photographs - Ginkgo Biloba (Bai Guo Ye) Leaf - 450 mg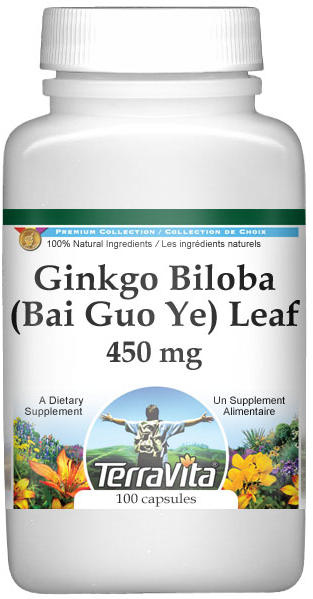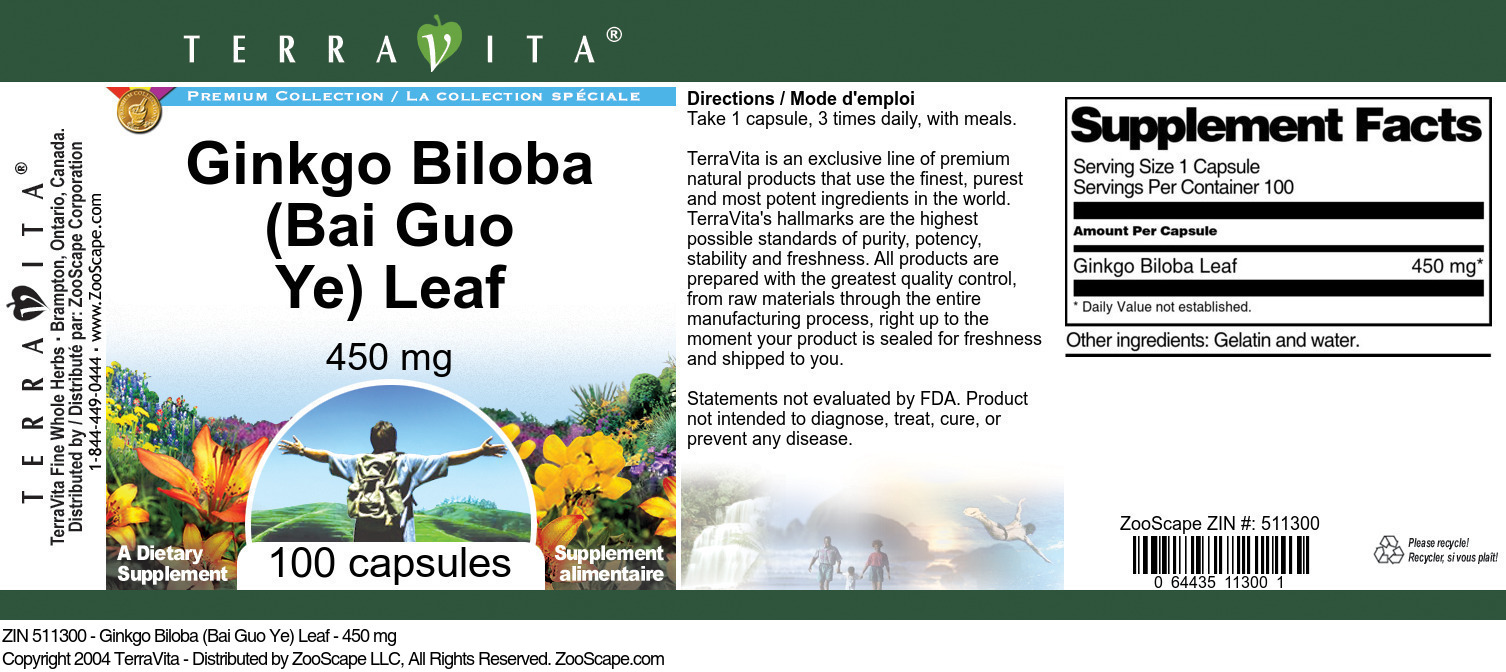 End of More Photographs - Ginkgo Biloba (Bai Guo Ye) Leaf - 450 mg


* These statements have not been evaluated by the Food and Drug Administration (FDA). Products are intended to support general well being and are not intended to treat, diagnose, mitigate, prevent, or cure any condition or disease. If conditions persist, please seek advice from your medical doctor.
Information provided at ZooScape.com relies partly on Traditional Uses. The essence of the current American rule on Traditional Uses is, as stated by FTC, "Claims based on historical or traditional use should be substantiated by confirming scientific evidence, or should be presented in such a way that consumers understand that the sole basis for the claim is a history of use of the product for a particular purpose."

See: FTC - Dietary Supplements: An Advertising Guide for Industry