Questions?

We Answer The Phone!

Telephone Us Now!

1-844-449-0444
1-856-467-2430

Email us now!

All Products - #58 of 183: Previous Next
View: All Products (183) | Cream, Salve and Gel Blends (7) | Liquid Extract Blends (5) | Liquid Extracts (16) | Pill Blends (12) | Pills (5) | Powder Blends (24) | Powders (10) | Tea and Coffee Blends (44) | Teas (12) | Creams, Salves and Gels (7)

Dandelion Root - 450 mg


Dandelion Supports Immune System Health! *
100 capsules


More Photographs below.


| | |
| --- | --- |
| | Chinese researchers were able to show that dandelion restores three different types of immune functions! * |
| | A harmful natural substance has been shown to be inhibited by dandelion! * |


More Info continues below.


Our Price: $17.54 US


Click button to Buy.
In Stock - Ships Right Now!


Specifications

ZIN Product Number: 511212
Size: 100 capsules
Weight: 0.20 lbs (0.09 KG)
Size (inches): 1.77" X 1.77" X 3.86"
Size (cm): 4.5 cm X 4.5 cm X 9.8 cm

Manufacturer: TerraVita

Ingredients: Dandelion (450 mg)

Other Ingredients: Gelatin, Water



Description - Research and Analysis

Medicinal Usage

European settlers deliberately introduced it to the New World, where Natives quickly took it up. The Mohegans drank dandelion leaf tea as a tonic, while other Indians prepared a tea from the roots for heartburn. Because the flowers have such a long blooming season, later settlers introduced the dandelion into the Midwest to provide food for bees.

Dandelion greens are edible, either as a salad or cooked, and furnish a rich source of vitamins A and C. The blossoms are made into wine, and the dried roots can be ground, roasted, and brewed into a coffeelike beverage. The brew from the roots has been drunk as a tonic and for the reputed diuretic effect that accounts for its common French name, pissenlit, or "piss-in-bed." Dried dandelion leaves make a tea that is mildly laxative. But the most notable health use of the dandelion has been the support for liver ailments with a brew made from the roots.

A tea from the leaves can be used as a tonic and to help promote bowel regularity. Although a brew from the roots is given for liver, gallbladder, and other digestive ailments, only its use as a tonic is fairly well substantiated. Dandelion wine can be made from the blossoms.

General Herb Information

Much money is spent on herbicides to remove this cheery flower from lawns and gardens, but the dandelion holds its own, producing seeds with or without pollination and distributing them far and wide.

Habitat: Meadows, roadsides, lawns.

Range: Throughout most of North America.

Identification: A perennial herb with a short stem hidden beneath a basal rosette of deeply toothed leaves. The plant has slender, hollow stalks that bear single heads of tiny, tongue-shaped yellow flowers (March-September). The flowerheads open wide in the morning and close in the evening. When mature, these flowerheads turn into downy white balls of seeds (actually fruits), each with its own parachute that carries it away on the wind.

Uses: The flowers can be boiled to make a yellow dye, the roots a magenta one.




User Group Forum
Share your questions and information with the ZooScape community!
Anonymous - February 14, 2007, 08:58
#10001051
Hi,

I wanted to thank you for sending me these health newsletters , I do enjoy reading them. I don't know how I got into your system ...........but thanks.

I would like to know if you have anything about the plant belladonna and what the plant looks like??

If you also have anything on dandylions, I would love to read up on that
ZooScape Moderator - February 15, 2007, 08:29
#10001473
Hi Karen,

There is enough research and information available to go on forever, but I've tried to boil down the information into a few brief paragraphs:

Belladonna is a tall perennial (3-6 feet high) with purple, bell-shaped flowers. It's name, atropa belladonna, is derived from one of the three Fates in Greek mythology who "cut the thread of life". This is significant because belladonna is actually a poisonous plant. The natural chemicals found in the plant have been used by doctors to dilate puipls and for their sedative and relaxant effects on smooth muscle. These properties have also made belladonna useful in relieving tremors in Parkinson's disease patients and as an anesthetic. It is always used with a great deal of caution since the medicinal doses are dangerously close to toxic dosages that can lead to paralysis and death.

Belladonna, as with many other natural substances that would be toxic or near-toxic in regular herbal dosages, is more typically used in homeopathy. Homeopathy, and the underlying "Law of Similars" that governs it, involves extremely diluted concentrations of substances like belladonna (or poison ivy called rhus toxicodendron, for example). These plant substances would be harmful to the body in herbal or medicinal dosages, but when concentrated to the point where nothing remains but their "energy imprint", they are used to relieve a variety of disorders. Homeopathic belladonna has been used to relieve everything from infections, fevers, flu, and headaches to labour pains, nephritis, cystitis, and teething in infants.

Dandelion is highly regarded by the herbal practitioner, if not by the gardener, and needs no description in terms of the physical characteristics of the plant. The leaf and the root are both used medicinally (the flower has been used but not nearly as much), but typically dandelion root is favoured. Dandelion is cultivated primarily for liver, kidney, and gall bladder complaints and has been used to relieve gout, kidney stones, obesity, hypertension, arteriosclerosis, and high choletserol. The expert panel in Germany known as the Commission E recommends the use of dandelion for liver disorders, appetite loss, indigestion, and fluid retention. Some research has pointed to the diuretic, antiviral, antifungal, and even immunity building properties of dandelion as well. It is, for good reason, one of the safest and most popular herbs.

I Hope that helps!




Directions

Take 1 capsule, 3 times daily, with meals.


Cautions

Discomfort due to gastric hyperacidity may occur.

In case of gallstones or obstruction of the bile ducts, gallbladder, or bile ducts seek professional medical advice before consumption.




ZooScape Reviews!
Click here to share a review!



Our Price: $17.54 US


Click button to Buy.
In Stock - Ships Right Now!




People Like You Also Bought...

You may also be interested in:

DHEA - DeHydro EpiAndrosterone - 25 mg






Be the first
to rate this product!
Awful
Wonderful

1

2

3

4

5




Share This Page!
Did you find this page useful?
Please share this page with your social network!
Twitter


Google +1

Facebook





Happy Customers

The BEST thing for my allergies
Works great.

-- Rochelle





Potassium Citrate Powder
This is the best potassium I've ever taken. I have to take diuretics for high blood pressure. This f [continues ...]

-- Hannah

Potassium Citrate Powder





Make $1 per sale -
Link to ZooScape.com!
More Photographs - Dandelion Root - 450 mg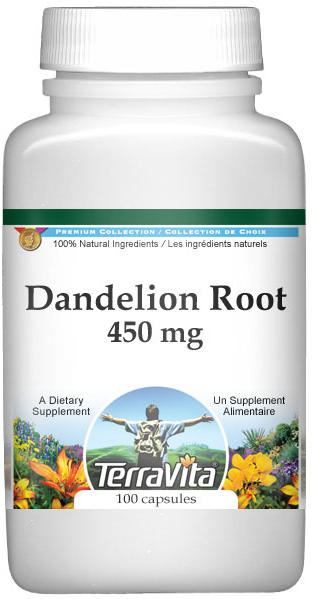 End of More Photographs - Dandelion Root - 450 mg


* These statements have not been evaluated by the Food and Drug Administration (FDA). Products are intended to support general well being and are not intended to treat, diagnose, mitigate, prevent, or cure any condition or disease. If conditions persist, please seek advice from your medical doctor.
Information provided at ZooScape.com relies partly on Traditional Uses. The essence of the current American rule on Traditional Uses is, as stated by FTC, "Claims based on historical or traditional use should be substantiated by confirming scientific evidence, or should be presented in such a way that consumers understand that the sole basis for the claim is a history of use of the product for a particular purpose."

See: FTC - Dietary Supplements: An Advertising Guide for Industry