Questions?

We Answer The Phone!

Telephone Us Now!

1-844-449-0444
1-856-467-2430

Email us now!

All Products - #10 of 27: Previous Next
View: All Products (27) | Liquid Extracts (5) | Pill Blends (1) | Pills (1) | Powder Blends (2) | Powders (2) | Tea and Coffee Blends (4) | Teas (4) | Creams, Salves and Gels (2)

Chickweed Leaf Powder


An Effective Respiratory Tonic! *
1 oz


More Photographs below.


| | |
| --- | --- |
| | Can be used to help support joint pain, respiratory ailments and more. * |


More Info continues below.


Our Price: $7.58 US


Click button to Buy.


Specifications

ZIN Product Number: 511196
Size: 1 oz
Weight: 0.09 lbs (0.04 KG)
Size (inches): 2.13" X 2.13" X 3.58"
Size (cm): 5.4 cm X 5.4 cm X 9.1 cm

Manufacturer: TerraVita

Ingredients: Chickweed



Description - Research and Analysis

Chickweed, fresh or dried, can be used mainly to help support the itchiness caused by rashes, irritated skin, haemorrhoids, varicose veins, psoriasis, inflammation, nettle burns and other skin disorders. Internally it is traditionally used against joint pain. Fresh flowering plants are used in homoeopathy against inflammation of the joints and joint pain.

Chickweed
Stellaria media (L.) Vill.

Family: Caryophyllaceae.

Other Names: Starweed; mouron blanc (French); Vogelmiere (German); stellaria (Italian).

Description: Chickweed is a small, creeping, annual herb of up to 0.1 m in height but which can spread up to 0.4 m wide under favourable . It has soft, fleshy stems bearing small, oblong leaves in opposite pairs, inconspicuous, white, star-shaped flowers and small, nodding fruits that are enclosed in persistent green calyx lobes.

Origin: Europe, North Africa, north Asia. Chickweed thrives in moist places and has become a cosmopolitan weed. It is exceptionally common and can be found in almost any garden.

Parts Used: Fresh or dried aboveground parts (Stellariae media hirba; = Herba alsines).

Therapeutic Category: Treatment of skin disorders.

Preparation and Dosage: The fresh juice, poultices, ointments or creams can be used to help support itchy skin. Decoctions of the fresh or dry herb can be taken orally to help support joint pain. The fresh herb is edible and may be cooked as a vegetable or added fresh to a salad.

Active Ingredients: Triterpene saponins, to which the itch-supporting properties are ascribed. Also present are coumarins, phytosterols, flavonoids (mainly apigenin C-glycosides, rutin), organic acids and vitamin C. The Asian species S. yunnanensis, S. dichotoma and others have yielded several cyclopeprides but these or similar compounds have nor yet been reported from S. media.

Health Effects: The efficacy of the herb in supporting itching skin is attributed to the saponins (said to be emollient and rejuvenating) but the actual mechanism of action appears to be unknown (possibly a corticomimeric activity).

Notes: Members of the family Caryophyllaceae typically produce saponins and several of them can be used to support health as secrerolytics (Gypsophila and Saponaria). Furthermore, whereas anthocyanins are normally responsible for blue and red colours of flowers, betalains take this role in the order Caryophyllales.

Status: Traditional health.




User Group Forum
Share your questions and information with the ZooScape community!
Be the first to post!





Directions

Stir 1/4 of a teaspoon into a glass of water and consume 3 times daily, with meals.




ZooScape Reviews!
Click here to share a review!



Our Price: $7.58 US


Click button to Buy.




People Like You Also Bought...

You may also be interested in:

Chlorophyll Liquid - Super Concentrated






Be the first
to rate this product!
Awful
Wonderful

1

2

3

4

5




Share This Page!
Did you find this page useful?
Please share this page with your social network!
Twitter


Google +1

Facebook





Happy Customers

The BEST thing for my allergies
Works great.

-- Rochelle





Potassium Citrate Powder
This is the best potassium I've ever taken. I have to take diuretics for high blood pressure. This f [continues ...]

-- Hannah

Potassium Citrate Powder





Make $1 per sale -
Link to ZooScape.com!
More Photographs - Chickweed Leaf Powder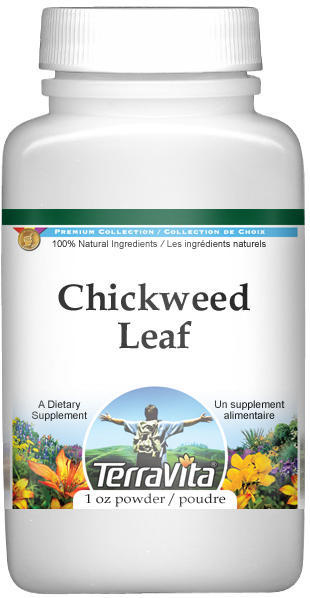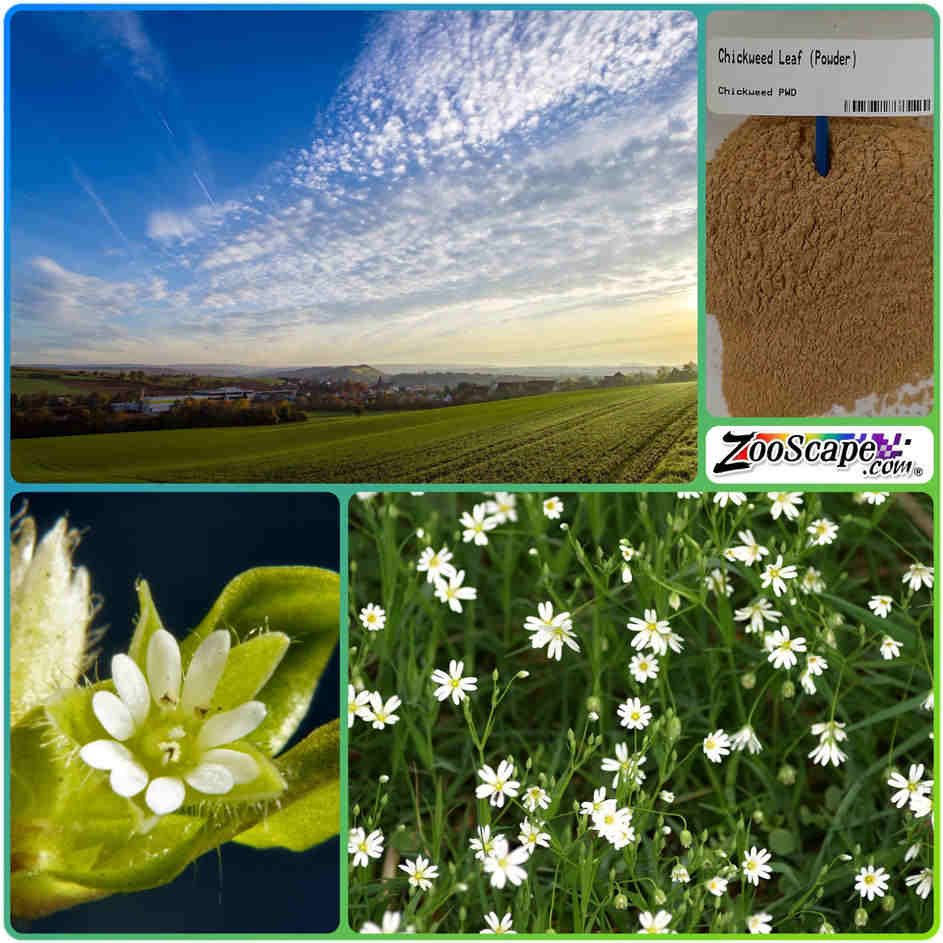 End of More Photographs - Chickweed Leaf Powder


* These statements have not been evaluated by the Food and Drug Administration (FDA). Products are intended to support general well being and are not intended to treat, diagnose, mitigate, prevent, or cure any condition or disease. If conditions persist, please seek advice from your medical doctor.
Information provided at ZooScape.com relies partly on Traditional Uses. The essence of the current American rule on Traditional Uses is, as stated by FTC, "Claims based on historical or traditional use should be substantiated by confirming scientific evidence, or should be presented in such a way that consumers understand that the sole basis for the claim is a history of use of the product for a particular purpose."

See: FTC - Dietary Supplements: An Advertising Guide for Industry