Questions?

We Answer The Phone!

Telephone Us Now!

1-844-449-0444
1-856-467-2430

Email us now!

All Products - #99 of 164: Previous Next
View: All Products (164) | Cream, Salve and Gel Blends (2) | Liquid Extract Blends (5) | Liquid Extracts (5) | Pill Blends (12) | Pills (3) | Powder Blends (24) | Powders (6) | Tea and Coffee Blends (52) | Teas (8) | Creams, Salves and Gels (4)

Licorice Root - 450 mg


Used Medicinally In Europe Since The Middle Ages! *
100 capsules


More Photographs below.


| | |
| --- | --- |
| | Traditionally used to help support coughs, digestion, headaches and migraines, infections, inflammation, sore throat and much more. * |


More Info continues below.


Our Price: $15.43 US


Click button to Buy.
In Stock - Ships Right Now!


Specifications

ZIN Product Number: 511141
Size: 100 capsules
Weight: 0.20 lbs (0.09 KG)
Size (inches): 1.77" X 1.77" X 3.86"
Size (cm): 4.5 cm X 4.5 cm X 9.8 cm

Manufacturer: TerraVita

Ingredients: Licorice Root (450 mg)

Other Ingredients: Gelatin, Water



Description - Research and Analysis

Medicinal Usage

Medicinally the dried peeled root has been decocted to allay coughs, sore throat, laryngitis, and urinary and intestinal irritations. The root is expectorant, diuretic, demulcent, antitussive, anti-inflammatory and mildly laxative. It has proven helpful in inflammatory upper respiratory issues, adrenal gland issues, and gastric and duodenal ulcers. Side effects may develop in ulcer regime. Licorice may increase venous and systolic arterial pressure causing some people to experience edema, cardiac asthma, and hypertension. In some countries, licorice can be used to help support immunity issues. Licorice stick, the sweet earthy flavored stolons, are chewed. Licorice chew sticks blackened Napoleon's teeth.

Up to 24 percent of the root weight is glycyrrhizin, the plant's major active component. Glycyrrhizin may cause hypertension from potassium loss, sodium retention, and an increase of extracellular fluid and plasma volume. It is fifty times sweeter than sugar. Licorice also reportedly contains steroid hormones, but their relation to licorice's biological activity is yet to be determined, though extracts have been shown to be estrogenic in laboratory animals.

Licorice extracts can be used to flavor products, chewing gums, confections, soft drinks, ice cream, and baked goods. It is also an ingredient in cough medications, laxatives, and anti-smoking preparations. Licorice increases the foam in beer. It is one of the most widely consumed herbs in the world.

General Herb Information

Licorice is a fairly hardy perennial native to southern Europe west to Pakistan and northern India. It is herbaceous or slightly woody and grows to a height of three to seven feet. The leaves are divided into oval leaflets, one inch long, oppositely arranged along a mid-rib similar to acacia. Each leaf is arranged alternately on the main stalk. The small light blue or purple pea-like flowers are borne on four-to six-inch spikes arising from the leaf axils. The small pods containing two to four kidney-shaped seeds look like immature pea pods. The main root-stock is a deep penetrating taproot burrowing from three to six feet below the soil's surface. Creeping horizontal stolons branch from the main root traveling up to six feet just under the soil. In the second year, shoots emerge from the stolon buds.

Licorice can be grown from seed sown in spring in well-prepared seed beds, but seedlings are slow to develop. Licorice is usually propagated by dividing the root crown or by stolon cuttings. Eight- to twenty-inch stolon cuttings with a bud or "eye" can be planted vertically about an inch below the surface, spacing the plantings at eighteen inches. This is best performed in the spring. Plants will grow to a one-foot height the first year, and onions or other shallow-rooted crops can be sown with first-year licorice plantings.

Soil should be dug to a depth of two feet or more and manured well the autumn prior to planting. A moist, fairly rich, well-drained sandy loam is best. Soil pH should be slightly alkaline (7 to 8). Licorice is a plant for southern climates, dying in a hard freeze. Warm regions and mild climates insure vigorous growths.

The main root and stolons are harvested in the fall of the third or fourth years-preferably the latter. All pieces of the root must be removed from the ground, for like comfrey and horseradish, once established, licorice can become weedy. It is best to harvest plants that haven't gone to seed as the sweet sap is exhausted by the flowering process. Pinch flowers back as they develop. An acre has been reported to produce 2 1/2 to 5 tons of root. The main root should be split as it is slow to dry.

An extract of licorice is made by crushing the fresh or stored roots, then boiling or passing steam through them and evaporating the liquid, leaving a thick paste or solid black glossy substance with a sharp fracture.




User Group Forum
Share your questions and information with the ZooScape community!
Be the first to post!





Directions

Take 1 capsule, 3 times daily, with meals.


Cautions

Do not take Licorice if you have chronic hepatitis, cirrhosis of the liver, or any disease that impedes the flow of bile from the liver. Avoid it also if you have abnormal muscle tension, poor kidney function, or low potassium levels in your blood.

When taken in high dosages for an extended period of time, Licorice Root may lead to excessive loss of salt from the blood, water retention, high blood pressure, and heart irregularities. Because of the possibility of these side effects, limit your use of Licorice to 6 weeks. The side effects disappear after the drug is discontinued.

Licorice can increase the potassium loss caused by the other drugs, such as diuretics that flush excess water from the body (Diuril, Zaroxolyn, others). This potassium loss can, in turn, increase your sensitivity to drugs containing digitalis, such as the heart medication Lanoxin.

Licorice may also increase the effects, and unwanted side effects, of steroid medications such as prednisone (Deltasone).

Do not take Licorice preparations during pregnancy.




ZooScape Reviews!

Click here to share a review!

Number of Reviews:

1

Average Rating:

4.0



Quality product

-- Anonymous
-- June 17, 2005




Our Price: $15.43 US


Click button to Buy.
In Stock - Ships Right Now!




People Like You Also Bought...

You may also be interested in:

Linden Sapwood Tea






Number of Reviews
for this Product: 1
Average Rating
for this Product:
Awful
Wonderful

1

2

3

4

5




Share This Page!
Did you find this page useful?
Please share this page with your social network!
Twitter


Google +1

Facebook





Happy Customers

The BEST thing for my allergies
Works great.

-- Rochelle





Potassium Citrate Powder
This is the best potassium I've ever taken. I have to take diuretics for high blood pressure. This f [continues ...]

-- Hannah

Potassium Citrate Powder





Make $1 per sale -
Link to ZooScape.com!
More Photographs - Licorice Root - 450 mg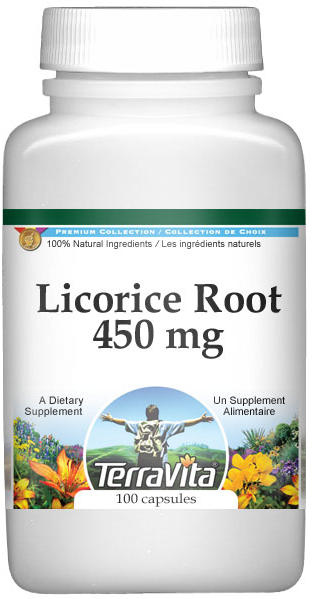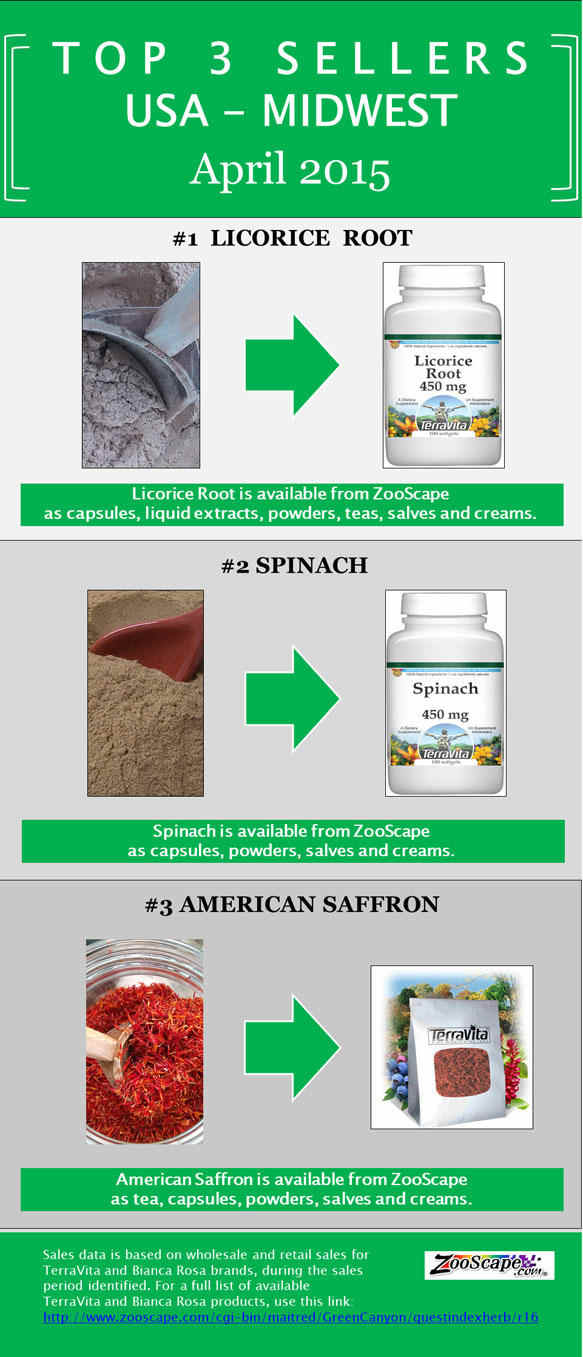 End of More Photographs - Licorice Root - 450 mg


* These statements have not been evaluated by the Food and Drug Administration (FDA). Products are intended to support general well being and are not intended to treat, diagnose, mitigate, prevent, or cure any condition or disease. If conditions persist, please seek advice from your medical doctor.
Information provided at ZooScape.com relies partly on Traditional Uses. The essence of the current American rule on Traditional Uses is, as stated by FTC, "Claims based on historical or traditional use should be substantiated by confirming scientific evidence, or should be presented in such a way that consumers understand that the sole basis for the claim is a history of use of the product for a particular purpose."

See: FTC - Dietary Supplements: An Advertising Guide for Industry