Questions?

We Answer The Phone!

Telephone Us Now!

1-844-449-0444
1-856-467-2430

Email us now!

All Products - #52 of 110: Previous Next
View: All Products (110) | Cream, Salve and Gel Blends (4) | Liquid Extract Blends (5) | Liquid Extracts (1) | Pill Blends (4) | Pills (6) | Powder Blends (8) | Powders (10) | Tea and Coffee Blends (20) | Teas (17) | Creams, Salves and Gels (2)

Red Clover Combination Tea


A Powerful Blood Cleanser. *
25 tea bags


More Photographs below.


| | |
| --- | --- |
| | Traditionally used to help support bowel and digestive tract health, immunity, liver ailments, appetite, skin disorders and much more. * |


More Info continues below.


Our Price: $16.29 US


Click button to Buy.


Specifications

ZIN Product Number: 511129
Size: 25 tea bags
Weight: 0.15 lbs (0.07 KG)
Size (inches): 2.56" X 4.72" X 7.87"
Size (cm): 6.5 cm X 12.0 cm X 20.0 cm

Traditional Uses: Inflammatory Bowel Disease (IBD)

Manufacturer: TerraVita

Ingredients: Burdock, Red Clover, Prickly Ash, Barberry, Licorice Root, Bladderwrack, Cascara Sagrada, Sarsaparilla, Yellow Dock Root, Buckthorn (Alder)



Description - Research and Analysis

Red Clover may act as a disinfectant, appetite suppressant, blood purifier and relaxant. Can be used to help support health concerns, inflamed lungs, inflammatory bowel disorders, kidney problems, liver problems, skin disorders and weakened immune system.

Burdock is considered a powerful blood purifier. It can stimulate the immune system , restores liver and gallbladder function, helps skin disorders such as psoriasis, irritated skin, dermatitis, boils and carbuncles. Burdock lends help to the urinary tract, aids kidney and prostrate function and supports joint pain. This herb contains chromium, iron, magnesium, vitamin C, potassium, carotenes, calcium, protein, zinc, sulphur, tannins, vitamin E, B1, B6 and B12.

Barberry Bark stimulates bile flow and eases liver congestion.; inflammation of the gallbladder, gallstones; jaundice; with weak or debilitated people it strengthens and cleanses the system by its mild laxative effects; reduces an enlarged spleen; acts against malaria; effective in support for protozoal infection due to Leishman spp.

Buckthorn softens the stool, and thus, Buckthorn is used by people with anal fissures and hemorrhoids, and those who've recently undergone rectal surgery. It's also used as a cleansing agent prior to diagnostic exams. In traditional health, it can be used as a diuretic to flush excess water from the body.

Buckthorn's potent laxative effect has been known since at least the 13th century, when Welsh physicians prescribed juice of Buckthorn for constipation. As recently as the late 19th century, syrup of Buckthorn can be used as an overly powerful laxative for children. It is still used, with equal parts of castor oil, as a laxative for dogs.

There are three species of Buckthorn, all with similar laxative properties. The plant is found all over northern Africa, western Asia, and Europe, in the form of either a large, 9-foot-high bush or a small tree. The medicinal parts are the whole, ripe fruit, either fresh or dried.

Buckthorn works by stimulating the colon. This action tends to help support liquid absorption by moving food more quickly through the intestines.

Cascara Sagrada is commonly used as a laxative. Cascara Sagrada cleanses the colon, chronic constipation and other disorders. It encourages peristalsis and toning of relaxed muscles of the digestive system. This herb contains cascarosides, anthraquinone, B-complex vitamins, calcium, inositol, manganese and potassium.

Licorice (Glycyrrhiza glabra) is a perennial herb indigenous to Greece, Italy, Spain, Syria, Iraq and southern China. The root penetrates deeply into the ground and is the part of the herb that contains an abundance of valuable properties. The word Licorice comes from the Greek glykys (sweet) and rhiza(root), meaning sweet root. The root yields a substance known as glycyrrhizin or glycyrrhizic acid which is 50 times as sweet as sugar cane. The use of Licorice dates back to ancient times.

Archaeologists found great quantities of Licorice stored among the fabulous jewelry and art treasures in the 3000 year old tomb of King Tut. This was done to enable the departed spirit to prepare a sweet drink called mai sus in the next world. It is still a favorite beverage among the Egyptians today.

Both Licorice Root and Licorice Juice can be used to support health. Licorice can help speed restoration of stomach irritations. The juice can also be tried to help support liver inflammations, and, in Asian health, the root can be used to help support, diarrhea, headache, excessive thirst, sore throat, and swellings from infections. Their effectiveness for these disorders has not, however, been scientifically verified.

Licorice contains glycyrrhizic acid, which helps rejuvenate stomach irritations and soothes inflammation. It also loosens and thins mucus in the lungs and acts as a decongestant. There is some evidence that Licorice may help the body by encouraging the production of interferon.

There are several varieties of Licorice growing from southeastern Europe to southwestern Asia and Iraq. The plant was introduced to the Ancient Greeks by Scythians from the east. It has been used in Europe since the Middle Ages.

Sarsaparilla can be used as a blood purifier and general tonic, and has been used all over the world for the same complaints, namely dermatosis, nephritis, joint pain, fevers, coughs, scrofula, hypertension, digestive disorders, psoriasis, skin problem, immunity issues and as a tonic. It also works well with other herbs to aid absorption and facilitate their actions. Its blood-purifying actions have been clinically shown to attack and neutralize harmful substances in the blood stream. Claims that Sarsaparilla increases energy levels, but are however quite misleading. It does have high amounts of steroids and saponins, but it has never been proven to have any anabolic effects. It's properties include: Alterative, Aphrodisiac, Anti-inflammatory, Anti-rheumatic, Antiseptic, Antipruritic, Anti-syphilic, Carminative, Depurative, Diaphoretic, Diuretic, Febrifuge, Hepatoprotective, Hormonal, Steroidal, Stimulant, Stomachic, and Tonic.

The identifying characteristics of Yellow Dock, or Rumex crispus are the narrowness of the leaves, usually curly along the long edges, and the deep yellow colour of the root when scraped. It is a native perennial British herb found in arable farmland, on roadsides and in ditches and waste places throughout the world. Its spindle-shaped taproot sends up a smooth, slender stem, up to a metre in height. Lanceolate to oblong-lanceolate in shape, the pointed light green leaves have predominantly wavy margins. The lower leaves are larger and longer-petioled than the upper leaves. Blooming from June to July, the numerous pale green, drooping flowers are loosely whorled in panicled racemes. The fruit is a pointed three-angled and heart-shaped nut.

Yellow Dock is used extensively in supporting chronic skin complaints, especially psoriasis associated with constipation; and obstructive jaundice. The anthraquinones have a cathartic action on the bowel, but act in quite a mild way, possibly tempered by the tannin content. It can help promote the flow of bile, and its action on the gallbladder gives it a role in supporting jaundice when this is due to congestion. The plant's high iron content makes it valuable for correcting anaemia. A compress can be used to help soothe itchy skin. The ointment is valuable for itching, sores, swellings and scabby eruptions.

One of the richest sources of micro-nutrition, minerals, and trace minerals, Bladderwrack (kelp) is especially high in iodine and potassium. It has proved most useful in supporting underactive thyroid function and for alkalizing blood chemistry. The extensive research done on this remarkable seaweed has shown it to help support healthy immunity levels (Japanese researchers have claimed kelp has been "conclusively proven to improve breast health"), and antibiotic, antioxidant and disinfectant properties. Bladderwrack also has the ability to protect against environmental toxins, increase circulation and help lower cholesterol, among other benefits.

Prickly Ash is also known by the names Toothache Tree, Yellow Wood, Northern Prickly Ash, Tumburu, and Hua Jiao. Prickly Ash is native to North America. The bark, and sometimes the berries, of these trees are used for health. There are many other trees in this genus that grow on other continents, including Chinese Prickly Ash (Zanthoxylum bungeanum), which grows in Asia. The genus name Zanthoxylum is derived from the Greek "zanthos" and "xylum," meaning "yellow wood."

Many eastern Native tribes valued Prickly Ash Bark as a supportive for upset stomach, sore throats, aching muscles, skin infections, to stimulate saliva flow, and various other complaints. Eclectic physicians in the United States at the end of the 19th century continued the traditional uses of Prickly Ash Bark, primarily as a digestive aid, to strengthen the nervous system, and for cholera. The bark was also widely used by herbalists to help support rheumatic complaints. The primary chemical constituents of Prickly Ash Bark include essential oils, fat, sugar, gum, alkaloids (fagarine, magnoflorine, laurifoline, nitidine, chelerythrine), tannin, lignan (asarin), coumarins, and phenol (xanthoxylin). It has a stimulating effect upon the entire body, including the lymphatic system and mucus membranes. Prickly Ash Bark stimulates sluggish digestion and helps destroy toxins and yeast overgrowth. It is considered to be as strong a stimulant as Cayenne Pepper, but is slower acting and longer lasting. Due to its stimulating effect on the lymphatic system, circulation and mucous membranes, this herb has a role in the holistic support for many specific complaints, a few of which have included joint pain, Candida, chilblains, diarrhea, fatigue, fever, flatulence lumbago, Raynaud's phenomenon, joint pain, sore throat, and varicose veins.

References:

Balch, 1997; BHMA Scientific Committee, 1996; Hallowell, 1994; Hoffman, 1994; Tyler, 1993; Tyler, 1994; Wishard, 1995.




User Group Forum
Share your questions and information with the ZooScape community!
Be the first to post!





Directions

Hot tea brewing method: Bring freshly drawn cold water to a rolling boil. Place 1 tea bag for each cup into the teapot. Pour the boiling water into the pot, cover and let steep for 2-4 minutes. Pour into your cup; add milk and natural sweetener to taste.

Iced tea brewing method: (to make 1 liter/quart): Place 5 tea bags into a teapot or heat resistant pitcher. Pour 1 1/4 cups of freshly boiled water over the tea itself. Steep for 5 minutes. Quarter fill a serving pitcher with cold water. Pour the tea into the serving pitcher straining the tea bags. Add ice and top-up with cold water. Garnish and sweeten to taste.


Cautions

This product contains Cascara Sagrada Bark and Buckthorn Bark. Read and follow directions carefully. Do not use if you have developed diarrhea, loose stools, or abdominal pain, because Cascara Sagrada Bark and Buckthorn Bark may worsen these conditions, and may be harmful to your health. Consult your physician if you have frequent diarrhea or if you are pregnant, nursing, taking medication or have a medical condition.




ZooScape Reviews!

Click here to share a review!

Number of Reviews:

1

Average Rating:

4.0



good

-- Anonymous
-- June 17, 2005




Our Price: $16.29 US


Click button to Buy.




People Like You Also Bought...

You may also be interested in:

Rooibos Tea






Number of Reviews
for this Product: 1
Average Rating
for this Product:
Awful
Wonderful

1

2

3

4

5




Share This Page!
Did you find this page useful?
Please share this page with your social network!
Twitter


Google +1

Facebook





Happy Customers

The BEST thing for my allergies
Works great.

-- Rochelle





Potassium Citrate Powder
This is the best potassium I've ever taken. I have to take diuretics for high blood pressure. This f [continues ...]

-- Hannah

Potassium Citrate Powder






Make $1 per sale -
Link to ZooScape.com!
More Photographs - Red Clover Combination Tea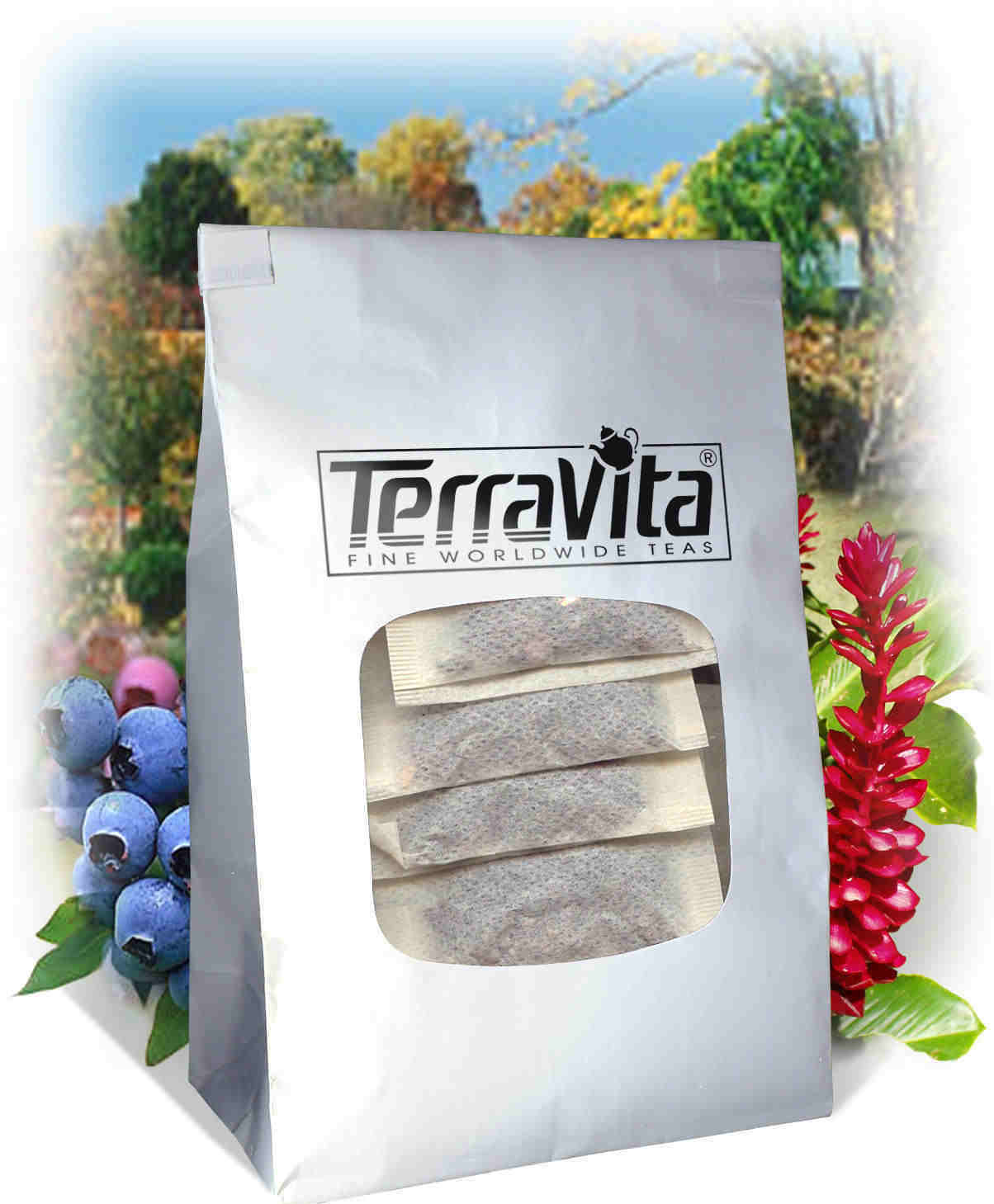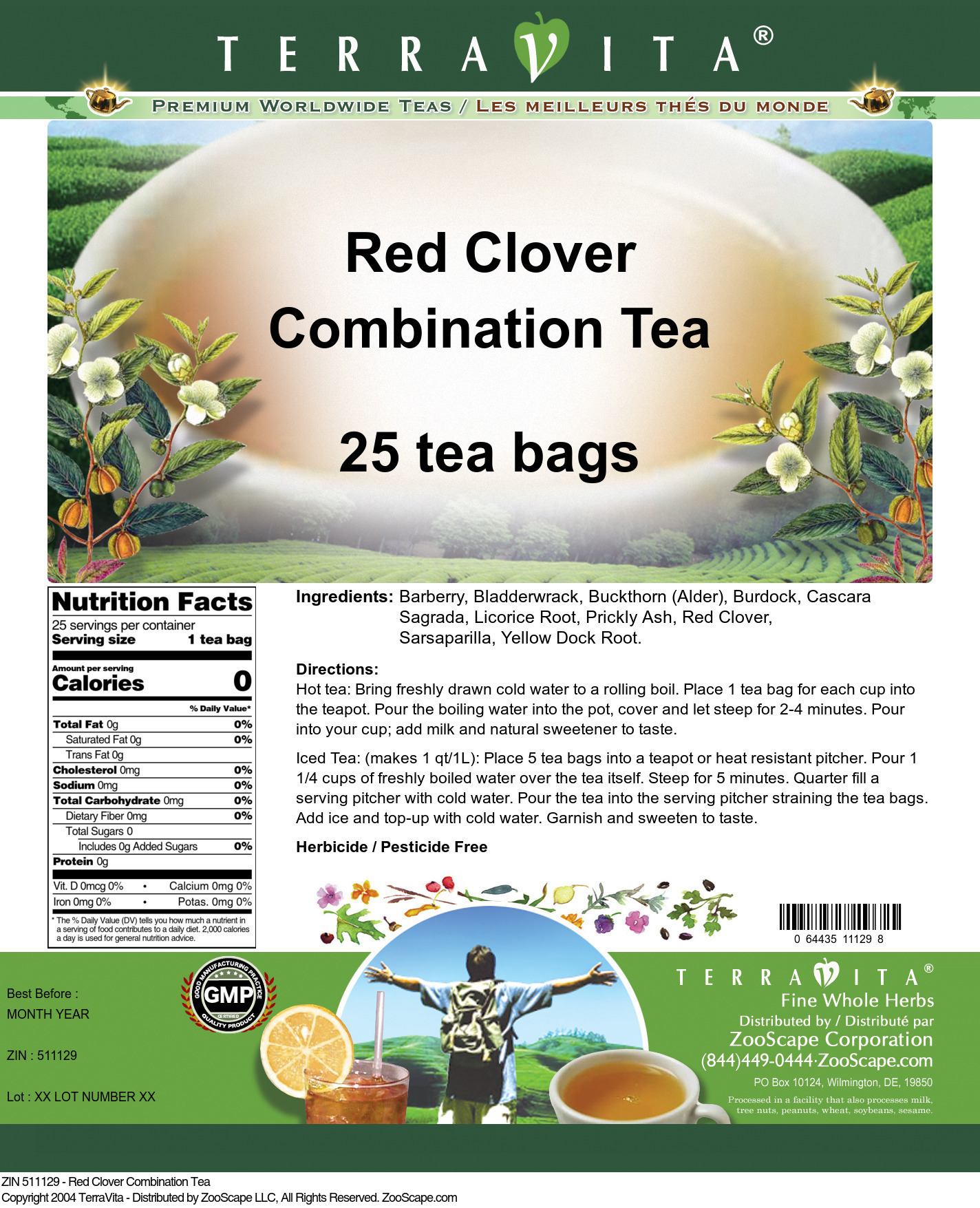 End of More Photographs - Red Clover Combination Tea


* These statements have not been evaluated by the Food and Drug Administration (FDA). Products are intended to support general well being and are not intended to treat, diagnose, mitigate, prevent, or cure any condition or disease. If conditions persist, please seek advice from your medical doctor.
Information provided at ZooScape.com relies partly on Traditional Uses. The essence of the current American rule on Traditional Uses is, as stated by FTC, "Claims based on historical or traditional use should be substantiated by confirming scientific evidence, or should be presented in such a way that consumers understand that the sole basis for the claim is a history of use of the product for a particular purpose."

See: FTC - Dietary Supplements: An Advertising Guide for Industry