Questions?

We Answer The Phone!

Telephone Us Now!

1-844-449-0444
1-856-467-2430

Email us now!

All Products - #4 of 129: Previous Next
View: All Products (129) | Cream, Salve and Gel Blends (2) | Liquid Extract Blends (5) | Liquid Extracts (5) | Oils (including LV) (1) | Pill Blends (10) | Pills (2) | Powder Blends (20) | Powders (4) | Tea and Coffee Blends (40) | Teas (4) | Creams, Salves and Gels (4)

Buckthorn Bark - 450 mg


Jump Start Your Elimination System! *
100 capsules


More Photographs below.


| | |
| --- | --- |
| | Documented as early as thirteenth century for its health uses! * |
| | Clinically proven to help support constipation! * |


More Info continues below.


Our Price: $17.41 US


Click button to Buy.


Specifications

ZIN Product Number: 510973
Size: 100 capsules
Weight: 0.18 lbs (0.08 KG)
Size (inches): 1.77" X 1.77" X 3.86"
Size (cm): 4.5 cm X 4.5 cm X 9.8 cm

Manufacturer: TerraVita

Ingredients: Buckthorn Bark (Alder) (450 mg)

Other Ingredients: Gelatin, Water



Description - Research and Analysis

Habitat: Hedgerows, old fields, woodland edges; prefers well-drained soils.

Range: Native to Eurasia and North Africa, alder buckthorn is naturalized in North America from Nova Scotia to Quebec south to New Jersey and west to Illinois.

Identification: A deciduous shrub or small tree, growing up to 20 feet tall. It has glossy oval green leaves, 1-3 inches long, that are alternate and toothless. The bark is green when young, becoming gray and marked with whitish transverse ridges when older. Small greenish-white flowers (May- July) grow in small clusters at the leaf joints or at the tips of branches. Pea-size berries turn from green to red to black when mature (September).

Uses: Herbalists recommend a tea made from the bark as a laxative. In Europe, the bark is a common ingredient in commercial laxatives.




User Group Forum
Share your questions and information with the ZooScape community!
Anonymous - June 7, 2006, 15:19
#10000758
We used Buckthorn for dogs 50 yrs. ago. Can it be used for dogs now, for general health?
ZooScape Moderator - June 14, 2006, 13:48
#10001461
Yes! Buckthorn is an excellent laxative and purgative still found in many herbal cleansing formulas for pets. Often times buckthorn, in liquid form, was mixed with castor oil as an intestinal tonic for dogs. Herbs like buckthorn, or its close relative cascara sagrada, can induce peristalsis in the colon of both animals and humans, while castor oil can be used as a muscle relaxant to alleviate spasms of the colon.




Directions

Take 1 capsule, 3 times daily, with meals.


Cautions

Avoid Buckthorn if you have an intestinal obstruction, an acute inflammatory intestinal disorder such as Crohn's Disease, ulcerative colitis, appendicitis, or any abdominal pain of unknown origin.

Not for use by children under 12.

Buckthorn can cause abdominal pain or discomfort. If it does, reduce the dosage.

Do not take Buckthorn for more than 1 to 2 weeks without consulting a doctor. Long-term use can lead to potassium deficiency, intestinal dysfunction, heart problems, kidney disease, swelling, and bone problems.

Avoid combining Buckthorn with other medications that flush water and potassium from the body, including diuretics such as Diuril and Lasix, steroid drugs such as prednisone, and licorice root.

Potassium plays an important role in regulating the heart, so depleting it through long-term use of laxatives can affect the action of certain heart medications. There could be an increase in the effect of drugs such as digitalis and digoxin (Lanoxin). Medications taken to steady the heartbeat could also be affected.

Consult with your doctor before using Buckthorn while pregnant or breastfeeding.


Additional Information

The TerraVita Premium Collection uses only the finest, purest and most potent plant extracts from around the world.

The TerraVita Premium Collection is hallmarked by the highest possible standards of purity, potency, stability and freshness. Our highest possible standards are certified by independent laboratories and backed by our personal guarantee.

The TerraVita Premium Collection is packed in tamper-proof, food-grade, recyclable containers.

ZooScape is proud to be the exclusive distributor of TerraVita teas, herbs and supplements in the United States, Canada and around the world. Please direct all wholesale and bulk inquiries to Simona Heather at 1-844-449-0444.




ZooScape Reviews!

Click here to share a review!

Number of Reviews:

1

Average Rating:

3.0



pleased

-- Anonymous
-- June 17, 2005




Our Price: $17.41 US


Click button to Buy.




People Like You Also Bought...

You may also be interested in:

Blueberry Root - 400 mg






Number of Reviews
for this Product: 1
Average Rating
for this Product:
Awful
Wonderful

1

2

3

4

5




Share This Page!
Did you find this page useful?
Please share this page with your social network!
Twitter


Google +1

Facebook





Happy Customers

The BEST thing for my allergies
Works great.

-- Rochelle





Potassium Citrate Powder
This is the best potassium I've ever taken. I have to take diuretics for high blood pressure. This f [continues ...]

-- Hannah

Potassium Citrate Powder





Make $1 per sale -
Link to ZooScape.com!
More Photographs - Buckthorn Bark - 450 mg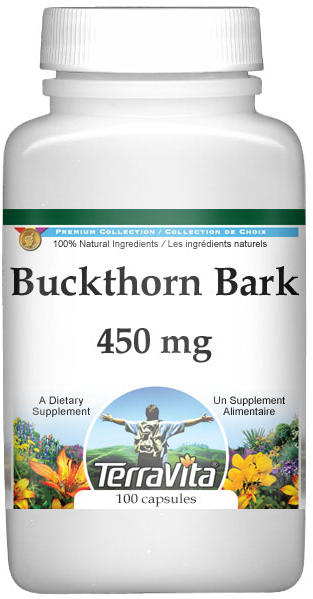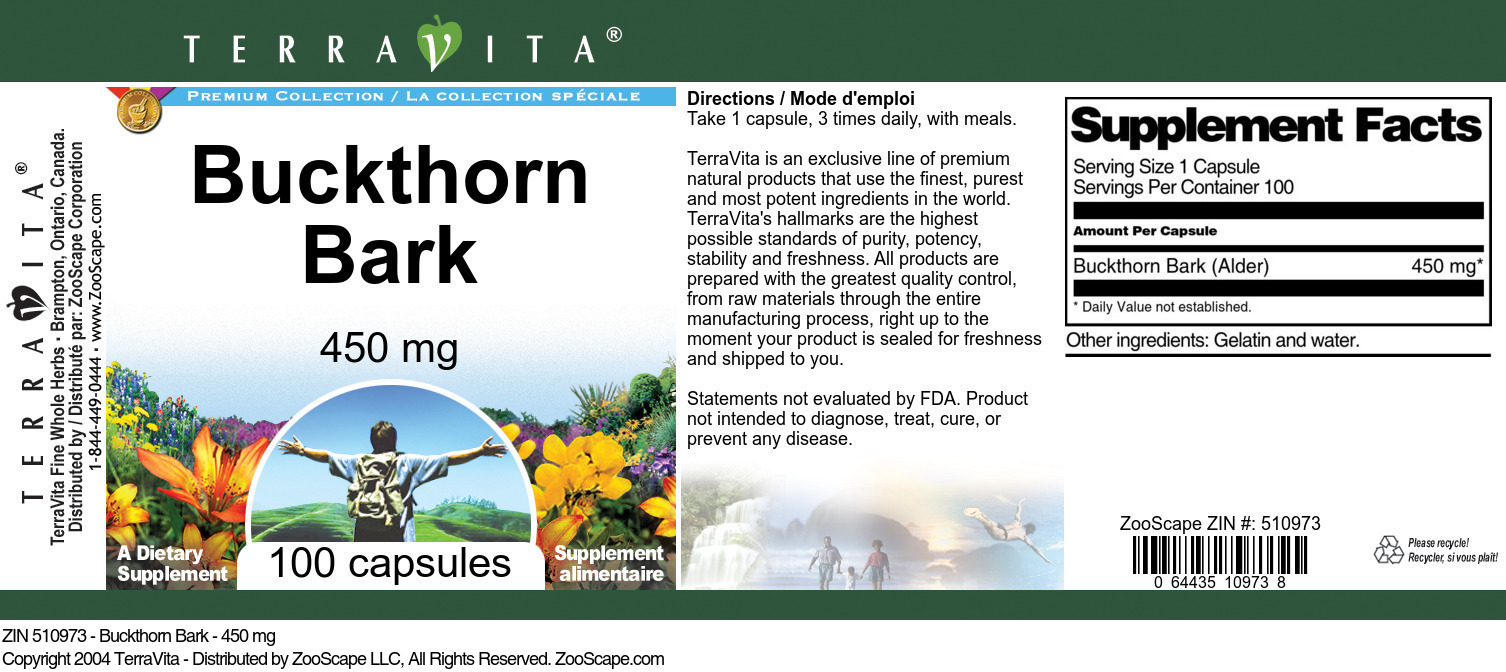 End of More Photographs - Buckthorn Bark - 450 mg


* These statements have not been evaluated by the Food and Drug Administration (FDA). Products are intended to support general well being and are not intended to treat, diagnose, mitigate, prevent, or cure any condition or disease. If conditions persist, please seek advice from your medical doctor.
Information provided at ZooScape.com relies partly on Traditional Uses. The essence of the current American rule on Traditional Uses is, as stated by FTC, "Claims based on historical or traditional use should be substantiated by confirming scientific evidence, or should be presented in such a way that consumers understand that the sole basis for the claim is a history of use of the product for a particular purpose."

See: FTC - Dietary Supplements: An Advertising Guide for Industry