Questions?

We Answer The Phone!

Telephone Us Now!

1-844-449-0444
1-856-467-2430

Email us now!

All Products - #17 of 30: Previous Next
View: All Products (30) | Liquid Extracts (5) | Pill Blends (1) | Pills (1) | Powder Blends (2) | Powders (2) | Tea and Coffee Blends (4) | Teas (8) | Creams, Salves and Gels (2)

Lemon Balm Leaf - 450 mg


Lemon Balm Is Commonly Called "Melissa." *
100 capsules


More Photographs below.


| | |
| --- | --- |
| | Used for helping support gas, colic, nerve pain, insomnia, heart problems and much more. * |


More Info continues below.


Our Price: $17.41 US


Click button to Buy.


Specifications

ZIN Product Number: 510776
Size: 100 capsules
Weight: 0.15 lbs (0.07 KG)
Size (inches): 1.77" X 1.77" X 3.86"
Size (cm): 4.5 cm X 4.5 cm X 9.8 cm

Manufacturer: TerraVita

Ingredients: Lemon Balm (Melissa) Leaf (450 mg)

Other Ingredients: Gelatin, Water



Description - Research and Analysis

In modern times, lemon balm has become popular as a calming and soothing herb, mainly for the potential to help support symptoms of minor sleeplessness and nervous stomach disorders in adults and children. It is said to help stimulate appetite. Extracts of the herb have demonstrated activity and are an ingredient of ointments and creams for topical use.

Lemon Balm
Melissa officinalis L.

Family: Lamiaceae.

Other Names: Mélisse (French); Zitronenmelisse (German); melissa, cedronella (Italian); melissa (Spanish).

Description: A herbaceous perennial of up to 0.9 m in height with angular stems, rugosely veined leaves in opposite pairs and cream-coloured to white flowers.

Origin: Eastern Mediterranean and Asia Minor; commercial cultivation is centred in southwestern, central and eastern Europe.

Parts Used: Dried leaves of Melissa officinalis subsp. officinalis (Melissae folium) and essential oil (Melissae aetheroleum)

Therapeutic Category: Sedative, carminative, spasmolytic, disinfectant.

Preparation and Dosage: A cup of lemon balm tea (1.5 - 4.5 g of dried leaf) may be taken several times a day. Various products are available, mainly for oral use. Lemon balm is often used as a minor ingredient and then it is unlikely to have any therapeutic effect.

Active Ingredients: The product should contain at least 0.05% of essential oil (a complex mixture monoterpenoids and sesquiterpenoids). The main ingredient is citronellal (about 30-40%), together with 10-30% citral. Citral actually comprises two compounds, citral a (geranial) and citral b (neral) in a ratio of 4:3. Major sesquiterpenoids include germacrene D and beta-ancaryophyllene. The drug contains about 4% rosmarinic acid (also known as labiate tannin), phenolic acids, triterpenes, monoterpene glycosides and flavonoids.

Health Effects: The essential oil has spasmolytic and sedative properties and is known for its disinfectant activities. This is plausible with regard to the biochemical properties of lipophilic monoterpenes with aldehyde groups. Water extracts containing rosmarinic acid have disinfectant effects. They also exhibit antihormonal and antithyreotropic effects.

Notes: The herb has a long history of health use in Europe, associated with bees and honey, hence the name Melissa (mel is the Latin for honey).

Status: Pharm.; Comm. E+; ESCOP 2; WHO 2.



The Ancients called Balm Melisphyion, which means honey leaf. Virgil recommended making it available to bees hence the epithet apiastrum. The slight stimulating action it has on the nervous system has earned it a reputation hardly credited today as a cephalic, cordial, stomachic, carminative. It is, however, regarded as slightly stimulating and anti-spasmodic. It can be useful in nervous complaints, hysteria, cardialgia, spasms, vertigo, in all cases of general atony.

In a tea-like infusion it can be used to help support flatulence, lack of appetite and indigestion. The Arabs used it extensively as a cordial. A distilled water is made from it. It is the basis of compound Melissa water, or compound alcoholate of Melissa; Carmelite's water, often used to good effect in inhalations; internally, in a dose of one teaspoonful to one glass of sweetened water, in cases of fainting, flatulence and weakness.

The fragrant and pretty lemon balm, a form of mint, is one of the good guys of the herb garden and pantry. Modern herbalists use the plant's green leaves medicinally, as the ancient Romans did. Native to the eastern Mediterranean, lemon balm is cultivated widely and known under a variety of names, including melissa, sweet balm, and sweet mary.

Potential Health Benefits

Lemon balm lives up to its name; it's a balm for a nervous stomach and a approach for sleep disorders.

Scientific Evidence

Lemon balm leaves contain terpenes, which are tranquilizing agents, plus bitter principles and flavonoids according to Commission E. In addition to its sedative effects, lemon balm reduces flatulence. The herb's lemon smell comes from citronella, which is also present in lemons and lemongrass. Animal studies have shown disinfectant, and disinfectant effects. These results haven't been obtained in humans, however, where controlled studies of lemon balm are few in number.

How to Use the Herb

Fresh leaves and dry extracts make a refreshing tea. Use 1.5-4.5 grams of dried leaves. Or pour boiling water over a sprig of fresh leaves and steep for several minutes for a lovely, lemon-scented tea.




User Group Forum
Share your questions and information with the ZooScape community!
Be the first to post!





Directions

Take 1 capsule, 3 times daily, with meals.


Cautions

Do not use if you are currently on thyroid or hormones medication.

No significant adverse effects from lemon balm have been reported. Unlike sedative drugs, lemon balm is safe even while driving or operating machinery. Lemon balm's sedating effects are not intensified by alcohol.

No known drug interactions, side effects, or contraindications.


Additional Information

The TerraVita Premium Collection uses only the finest, purest and most potent plant extracts from around the world.

The TerraVita Premium Collection is hallmarked by the highest possible standards of purity, potency, stability and freshness. Our highest possible standards are certified by independent laboratories and backed by our personal guarantee.

The TerraVita Premium Collection is packed in tamper-proof, food-grade, recyclable containers.

ZooScape is proud to be the exclusive distributor of TerraVita teas, herbs and supplements in the United States, Canada and around the world. Please direct all wholesale and bulk inquiries to 1-844-449-0444.




ZooScape Reviews!
Click here to share a review!



Our Price: $17.41 US


Click button to Buy.




People Like You Also Bought...

You may also be interested in:

Linden Leaf Tea






Be the first
to rate this product!
Awful
Wonderful

1

2

3

4

5




Share This Page!
Did you find this page useful?
Please share this page with your social network!
Twitter


Google +1

Facebook





Happy Customers

The BEST thing for my allergies
Works great.

-- Rochelle





Potassium Citrate Powder
This is the best potassium I've ever taken. I have to take diuretics for high blood pressure. This f [continues ...]

-- Hannah

Potassium Citrate Powder





Make $1 per sale -
Link to ZooScape.com!
More Photographs - Lemon Balm Leaf - 450 mg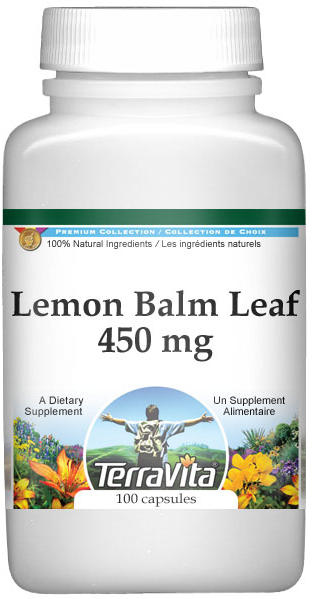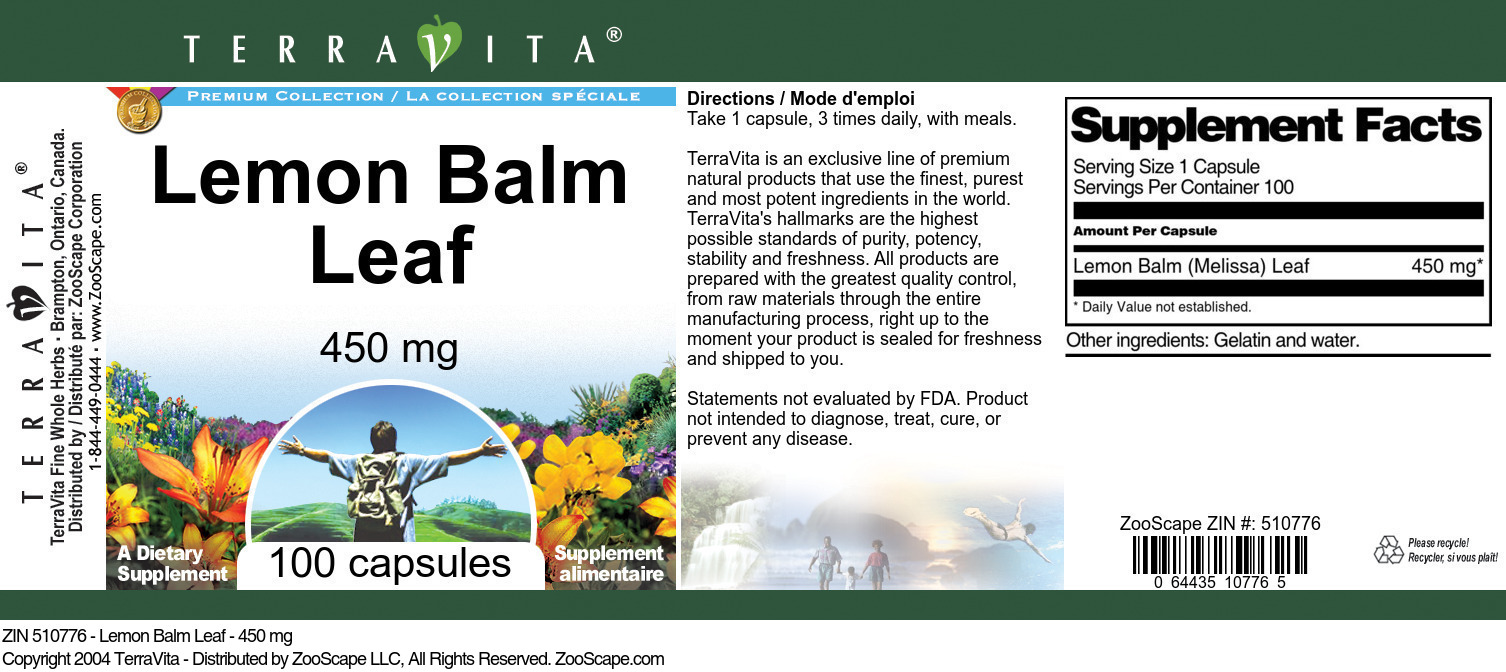 End of More Photographs - Lemon Balm Leaf - 450 mg


* These statements have not been evaluated by the Food and Drug Administration (FDA). Products are intended to support general well being and are not intended to treat, diagnose, mitigate, prevent, or cure any condition or disease. If conditions persist, please seek advice from your medical doctor.
Information provided at ZooScape.com relies partly on Traditional Uses. The essence of the current American rule on Traditional Uses is, as stated by FTC, "Claims based on historical or traditional use should be substantiated by confirming scientific evidence, or should be presented in such a way that consumers understand that the sole basis for the claim is a history of use of the product for a particular purpose."

See: FTC - Dietary Supplements: An Advertising Guide for Industry