Questions?

We Answer The Phone!

Telephone Us Now!

1-844-449-0444
1-856-467-2430

Email us now!

All Products - #6 of 24: Previous Next
View: All Products (24) | Pill Blends (1) | Pills (2) | Powder Blends (2) | Powders (4) | Tea Blends (2) | Teas (4) | Creams, Salves and Gels (2)

Kola Nut - 450 mg


A Potent Heart Tonic. *
100 capsules


More Photographs below.


| | |
| --- | --- |
| | A central nervous system stimulant * |
| | A natural source of caffeine * |



Excellent service!
-- Anonymous

More Info continues below.


Our Price: $16.24 US


Click button to Buy.
In Stock - Ships Right Now!


Specifications

ZIN Product Number: 510762
Size: 100 capsules
Weight: 0.18 lbs (0.08 KG)
Size (inches): 1.89" X 1.89" X 4.21"
Size (cm): 4.8 cm X 4.8 cm X 10.7 cm

Manufacturer: TerraVita

Ingredients: Kola Nut (450 mg)

Other Ingredients: Gelatin, Water



Description - Research and Analysis

The nut of the kola (cola) plant - a tropical evergreen tree that can reach heights of 50 feet and more - is a familiar energizer in cola soft drinks. Actually, the nut gets its energy-generating powers from the same stimulant that launched thousands of coffee bars: caffeine.

Potential Health Benefits

Kola nut is used to banish mental and physical fatigue and increase concentration.

Scientific Evidence

The kola nut's caffeine stimulates the central nervous system, speeds up the heart, and acts as a diuretic. The nut and its preparations contain 1.5 percent caffeine and slight amounts of the asthma drug theobromine.

How to Use the Herb

Cola nuts are dried and powdered for traditional health use. Commission E approves these average daily doses: 2 - 6 grams of dried nut, 0.25 - 0.75 grams of cola extract, 2.5 - 7.5 grams of liquid extract, 10 - 30 grams of a liquid extract.



Cola Nut Tree
Cola acuminata (Pal.) Schott & Endl.

Family: Sterculiaceae.

Other Names: Colatier (French); Kolabaum (German); cola (Italian); cola (Spanish).

Description: Cola is a medium-sized tree (up to 15 m), with large leaves and yellow flowers in clusters. The nuts are borne in large, multi-seeded follicles. Another important commercial species is Cola nitida (previously known as C. vera). It differs from C. acuminata in having narrower leaves and larger flowers, which are pale yellow streaked with purple. The seeds of C. acuminata are split into about four irregular pieces of endosperm when the seed coat is removed, while those of C. nitida split in two.

Origin: West Africa (Nigeria and Sierra Leone to Gabon); cultivation in tropical America and Asia.

Parts Used: Seeds or nuts (Colae semen), with the seed coat or testa removed.

Therapeutic Category: Stimulant.

Uses and Properties: Cola seeds can be used to help support mental and physical fatigue. Extracts are included in various energy drinks and give the user a short-term energy boost. The fresh seeds are traditionally chewed for their stimulating and tonic effects. They are also astringent and said to be useful in supporting diarrhoea, wounds and inflammations.

Active Ingredients: The main compound is the purine alkaloid caffeine (1.5-3%) that co-occurs with much smaller amounts of theobromine. Also present are phenolics (4-6%) such as catechin, epicatechin and procyariidins, that can complex the purine alkaloids.

Health Effects: Cola nuts are similar in their effect to other caffeine-containing products such as coffee, tea, guarana and maté. They have a stimulant effect of the central nervous system and the heart. Animal experiments indicate, too, that cola nuts have analeptic and lipolytic properties, and that they stimulate the secretion of gastric juices. In human studies, cola nuts have shown positive chronotropic and weak diuretic effects.

Status: Traditional health; Comm. E+.

Preparation and Dosage: The daily dose is 2 - 6 g of cola nut, taken as extract or liquid extract. It has been traditionally used in cola drinks but artificial flavours are currently used.




User Group Forum
Share your questions and information with the ZooScape community!
Anonymous - June 7, 2006, 20:27
#10000766
I have an allergy to tree nuts, eg. walnuts, almonds, hazelnuts all tree nuts. I have a herbal supplement that contains kola-nut . Is kola-nut considered a tree nut, would I be able to use this supplement.
ZooScape Moderator - June 14, 2006, 11:46
#10001457
Kola nut, (cola nitida), is a caffeine-containing nut of two evergreen trees of the cocoa family (Sterculiaceae), native to tropical North Africa and cultivated extensively in the New World tropics. The nut has been used in medicines and in soft drinks, though American 'colas' today instead use synthetic flavorings that mimic its taste. Kola nuts are also used where grown as a medium of exchange or are chewed to diminish sensations of hunger and fatigue, to aid digestion, and to combat intoxication, hangover and diarrhea. If you are on medication where caffeine is contraindicated, you should not use Kola nut.

The terms 'nuts' or 'tree nuts' refer to shell (nut) fruits of various botanical families. In the present Allergen Data Collection, nuts or tree nuts include almonds, Brazil nuts, cashew nuts, hazelnuts, pecans, pistachios, and walnuts. Other tree nuts that are not commonly allergenic include nutmegs, shea nuts, and Kola nuts. Unless not otherwise stated peanuts, chestnuts, and coconuts are not included. As Kola nuts are not considered to be tree nuts and are not commonly allergenic, it would appear that the supplement you have purchased is safe for your consumption. However, as I am not familiar with the supplement you have nor the severity of your allergies, I do suggest that you speak with your physician prior to beginning this product. He or she will have the most knowledge regarding your personal medical history and will be able to make the best decision regarding your optimal health.
metin - June 6, 2006, 15:30
#10000743
does it enlarge the penis?
ZooScape Moderator - June 7, 2006, 15:10
#10000756
Kola Nut is also known as Cola Nut and Cola. Kola Nut is the seed kernel of a large African tree grown commercially around the world. It is extremely popular in the tropics as a caffeine-containing stimulant. The properties of Kola are the same as caffeine, modified only by the astringents present. Historical uses of Kola Nut include increasing the capacity for physical exertion, for enduring fatigue without food, for stimulating a weak heart and for relieving nervous debility, weakness, lack of emotion, nervous diarrhea, depression, despondency, brooding, anxiety and seasickness. I cannot find any evidence to suggest that Kola Nut would have any effect such as that which you are looking for, nor do I know of any products that would be able to provide such results.




Directions

Take 1 capsule, 3 times daily, with meals.


Cautions

People suffering from stomach and duodenal ulcers or hypertension and heart disorders should restrict their intake of cola products.


Additional Information

The TerraVita Premium Collection uses only the finest, purest and most potent plant extracts from around the world.

The TerraVita Premium Collection is hallmarked by the highest possible standards of purity, potency, stability and freshness. Our highest possible standards are certified by independent laboratories and backed by our personal guarantee.

The TerraVita Premium Collection is packed in tamper-proof, food-grade, recyclable containers.

ZooScape is proud to be the exclusive distributor of TerraVita teas, herbs and supplements in the United States, Canada and around the world. Please direct all wholesale and bulk inquiries to Simona Heather at 1-844-449-0444.




ZooScape Reviews!

Click here to share a review!

Number of Reviews:

2

Average Rating:

4.5



great service!

-- Anonymous
-- June 17, 2005




Excellent service!

-- Anonymous
-- June 17, 2005




Our Price: $16.24 US


Click button to Buy.
In Stock - Ships Right Now!




People Like You Also Bought...

You may also be interested in:

Glucose Support - Kidney Bean, Olive Leaf and Bilberry - 450 mg






Number of Reviews
for this Product: 2
Average Rating
for this Product:
Awful
Wonderful

1

2

3

4

5




Share This Page!
Did you find this page useful?
Please share this page with your social network!
Twitter


Google +1

Facebook





Happy Customers

The BEST thing for my allergies
Works great.

-- Rochelle





Potassium Citrate Powder
This is the best potassium I've ever taken. I have to take diuretics for high blood pressure. This f [continues ...]

-- Hannah

Potassium Citrate Powder





Make $1 per sale -
Link to ZooScape.com!
More Photographs - Kola Nut - 450 mg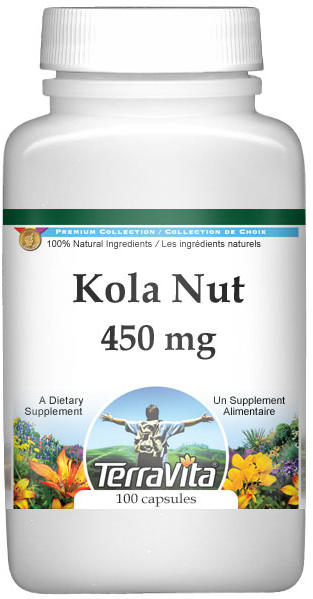 End of More Photographs - Kola Nut - 450 mg


* These statements have not been evaluated by the Food and Drug Administration (FDA). Products are intended to support general well being and are not intended to treat, diagnose, mitigate, prevent, or cure any condition or disease. If conditions persist, please seek advice from your medical doctor.
Information provided at ZooScape.com relies partly on Traditional Uses. The essence of the current American rule on Traditional Uses is, as stated by FTC, "Claims based on historical or traditional use should be substantiated by confirming scientific evidence, or should be presented in such a way that consumers understand that the sole basis for the claim is a history of use of the product for a particular purpose."

See: FTC - Dietary Supplements: An Advertising Guide for Industry