Questions?

We Answer The Phone!

Telephone Us Now!

1-844-449-0444
1-856-467-2430

Email us now!

All Products - #34 of 66: Previous Next
View: All Products (66) | Liquid Extracts (5) | Pill Blends (4) | Pills (2) | Powder Blends (8) | Powders (4) | Tea Blends (14) | Teas (4) | Creams, Salves and Gels (4)

Devil's Claw Root Tea


Studies Support Safe and Effective Use for Rheumatic Conditions. *
50 tea bags


More Photographs below.

A new clinical study shows that a traditional African health herb may support joint pain. In a randomized, double-blind, parallel group study conducted in France, the patients received either capsules containing the herb devil's claw or another produ... *

excellent service!
-- Anonymous


More Info continues below.


Our Price: $25.49 US


Click button to Buy.


Specifications

ZIN Product Number: 427678
Size: 50 tea bags
Weight: 0.26 lbs (0.12 KG)
Size (inches): 2.56" X 4.72" X 7.87"
Size (cm): 6.5 cm X 12.0 cm X 20.0 cm

Traditional Uses:

Manufacturer: TerraVita

Ingredients: Devil's Claw



Description - Research and Analysis

A new clinical study shows that a traditional African health herb may support joint pain. In a randomized, double-blind, parallel group study conducted in France, the patients received either capsules containing the herb devil's claw or another product. Pain measurements of all patients indicated that those taking the herb and the drug experienced similar benefits. However, the study also showed that patients taking the herb experienced significantly fewer adverse side effects than those taking the drug.

The herb devil's claw and a pharmaceutical drug were tested on 122 patients from the ages of 30 to 79 who suffer from pain of the knee and hip. In order to "blind" the researchers from knowing if the patients were taking the herb or the drug, both groups of patients received either the herb or the drug, plus dummy pills that looked like the herb or the drug. In this way, neither the patients nor the researchers knew who was receiving which until the study was completed.

Researchers noted that there were significantly more adverse effects caused by the drug diacerhein over the four-month period of the study. The main side effect was gastrointestinal distress, occurring more frequently in the diacerhein group than the devil's claw group.

Devil's claw (Harpagophytum procumbens), also known as "grapple plant" because of its claw-like dried seed pods, is an herb from the Kalahari desert region of southwestern Africa. The tubers from the plant have been used traditionally in Africa for a variety of disorders. Modern research in Europe has shown it reduces inflammation and pain in tired limbs and can stimulate appetite.

Devil's claw is approved as a nonsupplements by the German Commission E, an expert panel of physicians and pharmacists who advise Germany's counterpart of the U.S. Food and Drug Administration. Approved uses of devil's claw include loss of appetite, digestive disorders, and "degenerative disorders of the locomotor system" (i.e., to help support pain and inflammation in the joints).

A relatively new drug in France and Italy, the drug diacerhein is for the potential to help support symptoms of degenerative joint complaints. It does not produce some of the same adverse side effects like bleeding of the stomach lining like some conventional analgesic drugs of the nonsteroidal anti-inflammatory class. It was chosen for this study because its mechanism of action was considered similar to devil's claw.

However, the use of diacerhein may be a potential weakness of this study. According to John Hicks, M.D., a board certified rheumatologist in Minaot, ND, and co-founder of the College of Rheumatology, since devil's claw was compared to a drug that is not approved in the U.S., it may not impress physicians here as much as it might if used to suppport joint pain symptoms Regarding the potential benefits of devil's claw, he said, "It is certainly a herb I would like to see researched in a placebo-controlled study here in the U.S."

According to Mark Blumenthal, founder and executive director of the Botanical Council, a nonprofit research and education organization, "At least two previous clinical trials on devil's claw have supported its use as an aid in supporting lower back pain and tired limbs. This study is significant in that it is the first to show the potential benefits of devil's claw for osteoarthritis." He added, "Although more research is warranted, this may be good news to people who sufferfrom joint pain, and their physicians, whose therapeutic choices have been fairly limited."




User Group Forum
Share your questions and information with the ZooScape community!
Be the first to post!





Directions

Hot tea brewing method: Bring freshly drawn cold water to a rolling boil. Place 1 tea bag for each cup into the teapot. Pour the boiling water into the teapot. Cover and let steep for 3-7 minutes according to taste (the longer the steeping time the stronger the tea).

Iced tea brewing method (to make 1 liter/quart): Place 6 tea bags into a teapot or heat resistant pitcher. Pour 1 1/4 cups of freshly boiled water over the tea. Steep for 5 minutes. Quarter fill a serving pitcher with cold water. Pour the tea into your serving pitcher straining the bags. Add ice and top-up the pitcher with cold water. Garnish and sweeten to taste. [A rule of thumb when preparing fresh brewed iced tea is to double the strength of hot tea since it will be poured over ice and diluted with cold water].


Additional Information

ZooScape is proud to be the exclusive distributor of TerraVita teas, herbs and supplements in the United States, Canada and around the world. Please direct all wholesale and bulk inquiries to Simona Heather at 1-844-449-0444.




ZooScape Reviews!

Click here to share a review!

Number of Reviews:

2

Average Rating:

4.0



excellent service!

-- Anonymous
-- June 17, 2005




good

-- Anonymous
-- June 17, 2005




Our Price: $25.49 US


Click button to Buy.




People Like You Also Bought...

You may also be interested in:

Devil's Claw 6:1 Harpagophytum Procumbens - 230 mg






Number of Reviews
for this Product: 2
Average Rating
for this Product:
Awful
Wonderful

1

2

3

4

5




Share This Page!
Did you find this page useful?
Please share this page with your social network!
Twitter


Facebook





Happy Customers

The BEST thing for my allergies
Works great.

-- Rochelle





Potassium Citrate Powder
This is the best potassium I've ever taken. I have to take diuretics for high blood pressure. This f [continues ...]

-- Hannah

Potassium Citrate Powder





Make $1 per sale -
Link to ZooScape.com!
More Photographs - Devil's Claw Root Tea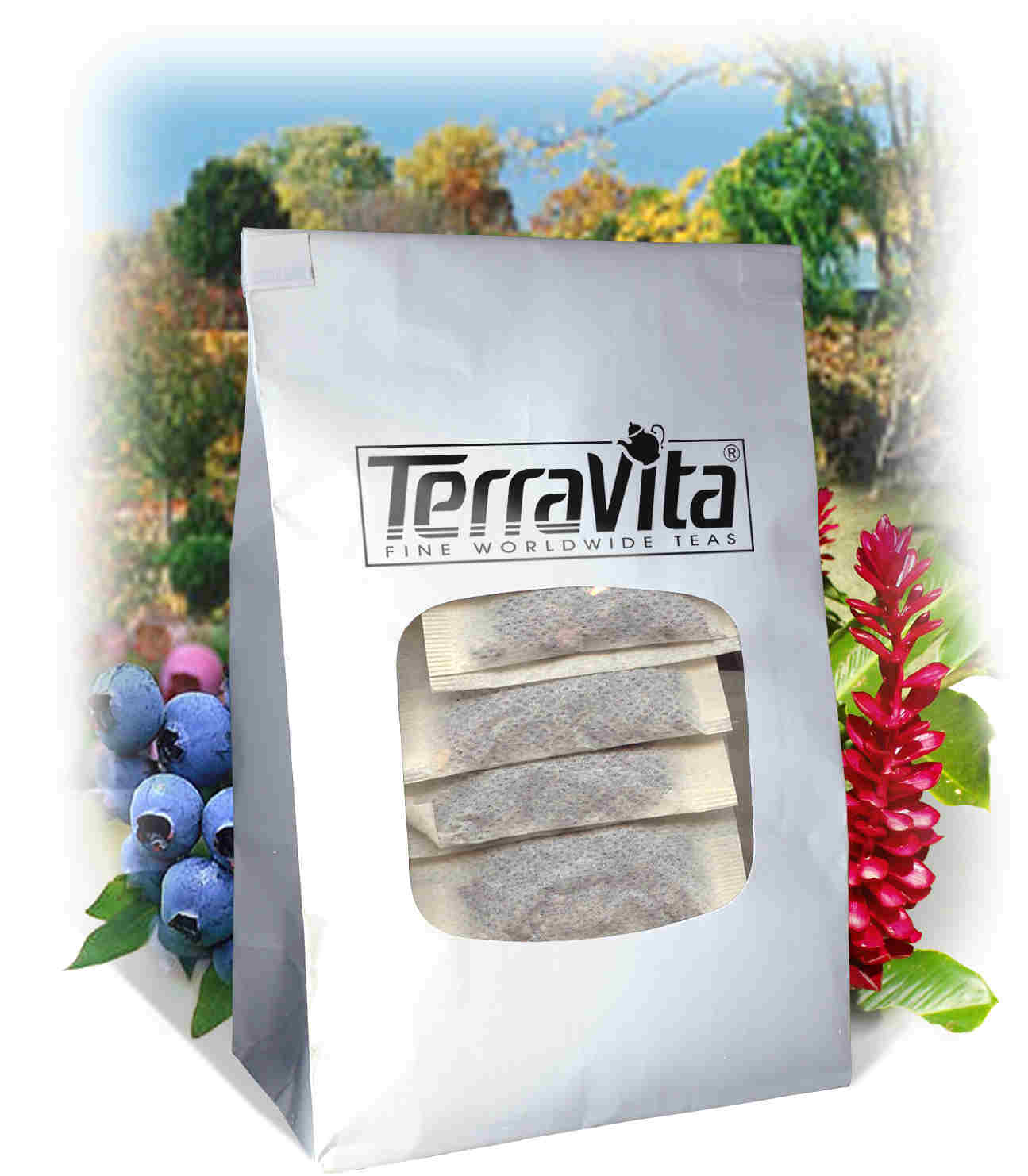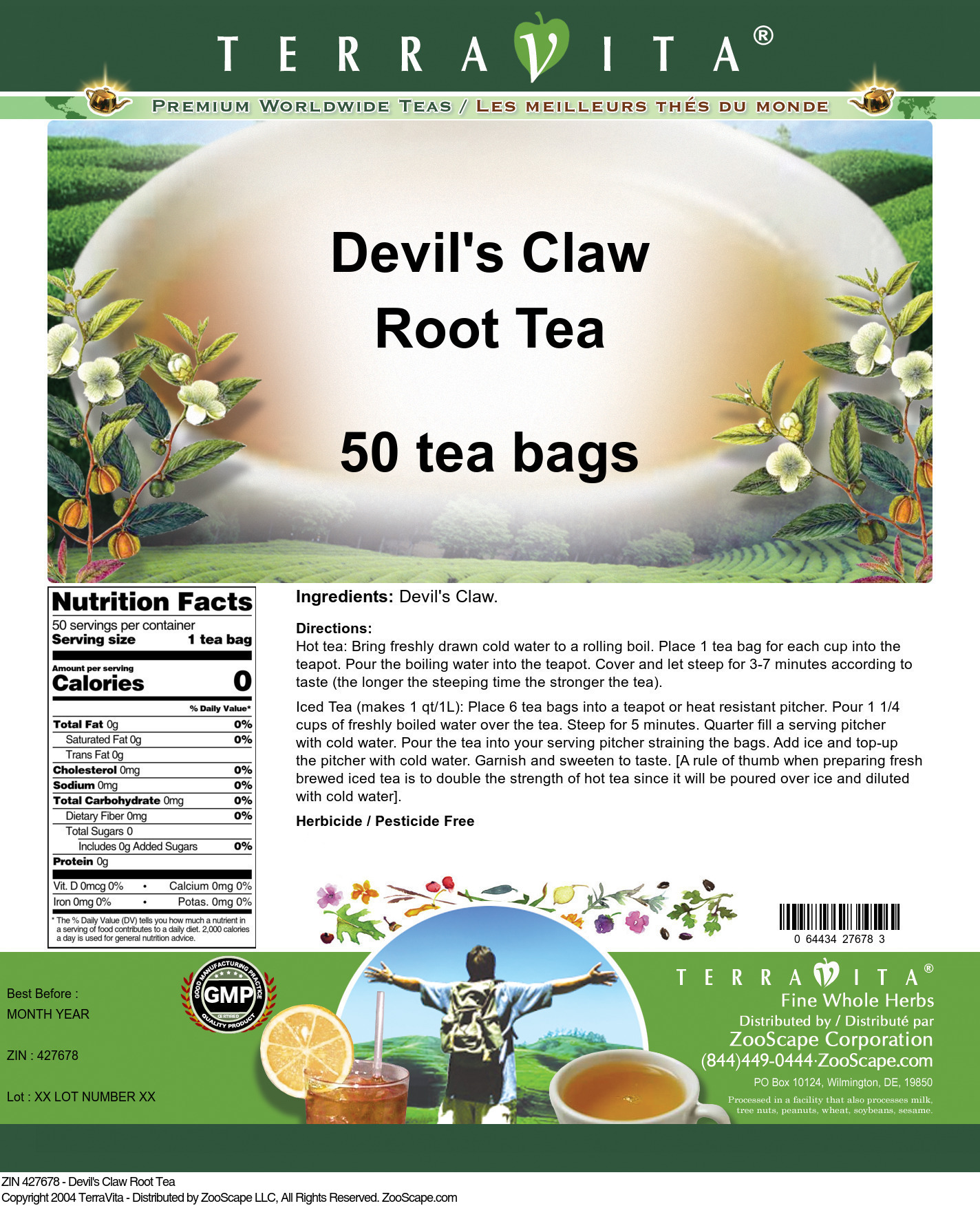 End of More Photographs - Devil's Claw Root Tea


* These statements have not been evaluated by the Food and Drug Administration (FDA). Products are intended to support general well being and are not intended to treat, diagnose, mitigate, prevent, or cure any condition or disease. If conditions persist, please seek advice from your medical doctor.
Information provided at ZooScape.com relies partly on Traditional Uses. The essence of the current American rule on Traditional Uses is, as stated by FTC, "Claims based on historical or traditional use should be substantiated by confirming scientific evidence, or should be presented in such a way that consumers understand that the sole basis for the claim is a history of use of the product for a particular purpose."

See: FTC - Dietary Supplements: An Advertising Guide for Industry