Questions?

We Answer The Phone!

Telephone Us Now!

1-844-449-0444
1-856-467-2430

Email us now!

All Products - #82 of 85: Previous Next
View: All Products (85) | Cream, Salve and Gel Blends (1) | Liquid Extracts (5) | Pill Blends (5) | Pills (2) | Powder Blends (10) | Powders (4) | Tea Blends (16) | Teas (8) | Creams, Salves and Gels (1)

Fenugreek Tea


Helps Support Blood Sugar and Insulin Resistance. *
25 tea bags


More Photographs below.

Fenugreek seeds are mainly used to help support loss of appetite, anorexia and weight loss, and externally as a poultice against skin inflammation, boils, ulcers and eczema. Traditional uses are many and varied, and include supporting sore throat (se...

More Info continues below.


Our Price: $11.39 US


Click button to Buy.


Specifications

ZIN Product Number: 427544
Size: 25 tea bags
Weight: 0.22 lbs (0.10 KG)
Size (inches): 2.56" X 4.72" X 7.87"
Size (cm): 6.5 cm X 12.0 cm X 20.0 cm

Traditional Uses:

Manufacturer: TerraVita

Ingredients: Fenugreek Seeds

Newsletters: Fennel - Can it help with Gas and Better Health?



Description - Research and Analysis

Fenugreek seeds are mainly used to help support loss of appetite, anorexia and weight loss, and externally as a poultice against skin inflammation, boils, ulcers and eczema. Traditional uses are many and varied, and include supporting sore throat (seed powder used as roborant), symptoms of stomach ulcers, stomach pain, symptoms of blood sugar level issues, symptoms of high cholesterol, symptoms of impotence and loss of sexual desire. The seeds or sprouts are nutritional supplements (in Ethiopia, for example, the seeds can be used to prepare a milk substitute for infants). The distinctive flavour is used in Middle Eastern and Indian cooking.

Fenugreek
Trigonella foenum-graecum L.

Family: Fabaceae.

Other Names: Fénugrec (French); Griechischer Bockshornklee (German); fieno-greco (Italian): fenugreco (Spanish).

Description: Fenugreek is a small annual herb (up to 0.5 m), bearing trifoliate leaves and inconspicuous pale yellow flowers in the leaf axils. The fruits are long, thin, often curved and sharply pointed pods with 10 to 20 angular seeds (3-5 mm long).

Origin: Mediterranean region, northeastern Africa and western Asia; cultivated since ancient times; nowadays mainly in France, Turkey, India, and China.

Parts Used: Ripe, dried seeds (Foenugraeci semen).

Therapeutic Category: Digestive tonic, demulcent, expectorant.

Preparation and Dosage: For internal use, a daily dose of 3 - 18 g of seeds (powdered or crushed) is recommended. For external use, 50 g of powdered seeds are mixed with 250 mL of water (also as gels, liniments, ointments and oils).

Active Ingredients: The seeds are rich in mucilage (mainly galactomannans), lipids, proteins (up to 30%) and protease inhibitors. Numerous steroid saponins are present; the most common aglycone is diosgenin and its epimer yamogenin. Also present are furostanol glycosides (trigofoenoside A-G). Small amounts of an alkaloid (trigonelline) and a steroidal peptide (foenugraecin) may contribute to the health properties. The characteristic fenugreek smell is ascribed to 3-hydroxy-4,5-dimerhyl-2 [5H]-furanone; the bitter taste to the furostanol glycosides.

Health Effects: The saponins could be responsible for the observed healthy blood sugar level supportive, lipid and cholesterol lowering activities. Also recorded are secretolytic, hyperglycaemic, anti-inflammatory, uterotonic, cardiotonic and mild antiseptic effects.

Notes: Fenugreek might be an industrial source of diosgenin for the production of steroidal hormones.

Status: Traditional health; Pharm.; Comm.E+.



In the East, where this plant is known as helbeh (its Latin name means "Greek Hay") is so highly thought of that the inhabitants of that part of the world use a courtesy greeting among themselves which means: "May you tread in peace the land where helbeh grows!" or: "Happy are the feet which tread the land on which the helbeh grows."

The mucilaginous seeds of Fenugreek have been recommended in health; they are components in several health preparations; the flour was used in poultices. The decoction of the same seeds was administered in drinks, rectal injections and lotions. Fenugreek is above all emollient and resolvent; it is also slightly astringent. It is used to resolve inflammations, such as carbuncles, phlegmons, and whitlows. When the inflammation is not os is no longer angry. The flour can be used to help support aphtha, chapping, hemorrhoids and, in a rectal injection, for dysentery, diarrhea, bilious and inflammatory colics. It is one of the resolvent flours.




User Group Forum
Share your questions and information with the ZooScape community!
Be the first to post!





Directions

Hot tea brewing method: Bring freshly drawn cold water to a rolling boil. Place 1 tea bag for each cup into the teapot. Pour the boiling water into the teapot. Cover and let steep for 3-7 minutes according to taste (the longer the steeping time the stronger the tea).

Iced tea brewing method (to make 1 liter/quart): Place 6 tea bags into a teapot or heat resistant pitcher. Pour 1 1/4 cups of freshly boiled water over the tea. Steep for 5 minutes. Quarter fill a serving pitcher with cold water. Pour the tea into your serving pitcher straining the bags. Add ice and top-up the pitcher with cold water. Garnish and sweeten to taste. [A rule of thumb when preparing fresh brewed iced tea is to double the strength of hot tea since it will be poured over ice and diluted with cold water].


Additional Information

ZooScape is proud to be the exclusive distributor of TerraVita teas, herbs and supplements in the United States, Canada and around the world. Please direct all wholesale and bulk inquiries to Simona Heather at 1-844-449-0444.




ZooScape Reviews!
Click here to share a review!



Our Price: $11.39 US


Click button to Buy.




People Like You Also Bought...

You may also be interested in:

Fenugreek - 500 mg






Be the first
to rate this product!
Awful
Wonderful

1

2

3

4

5




Share This Page!
Did you find this page useful?
Please share this page with your social network!
Twitter


Google +1

Facebook





Happy Customers

The BEST thing for my allergies
Works great.

-- Rochelle





Potassium Citrate Powder
This is the best potassium I've ever taken. I have to take diuretics for high blood pressure. This f [continues ...]

-- Hannah

Potassium Citrate Powder





Make $1 per sale -
Link to ZooScape.com!
More Photographs - Fenugreek Tea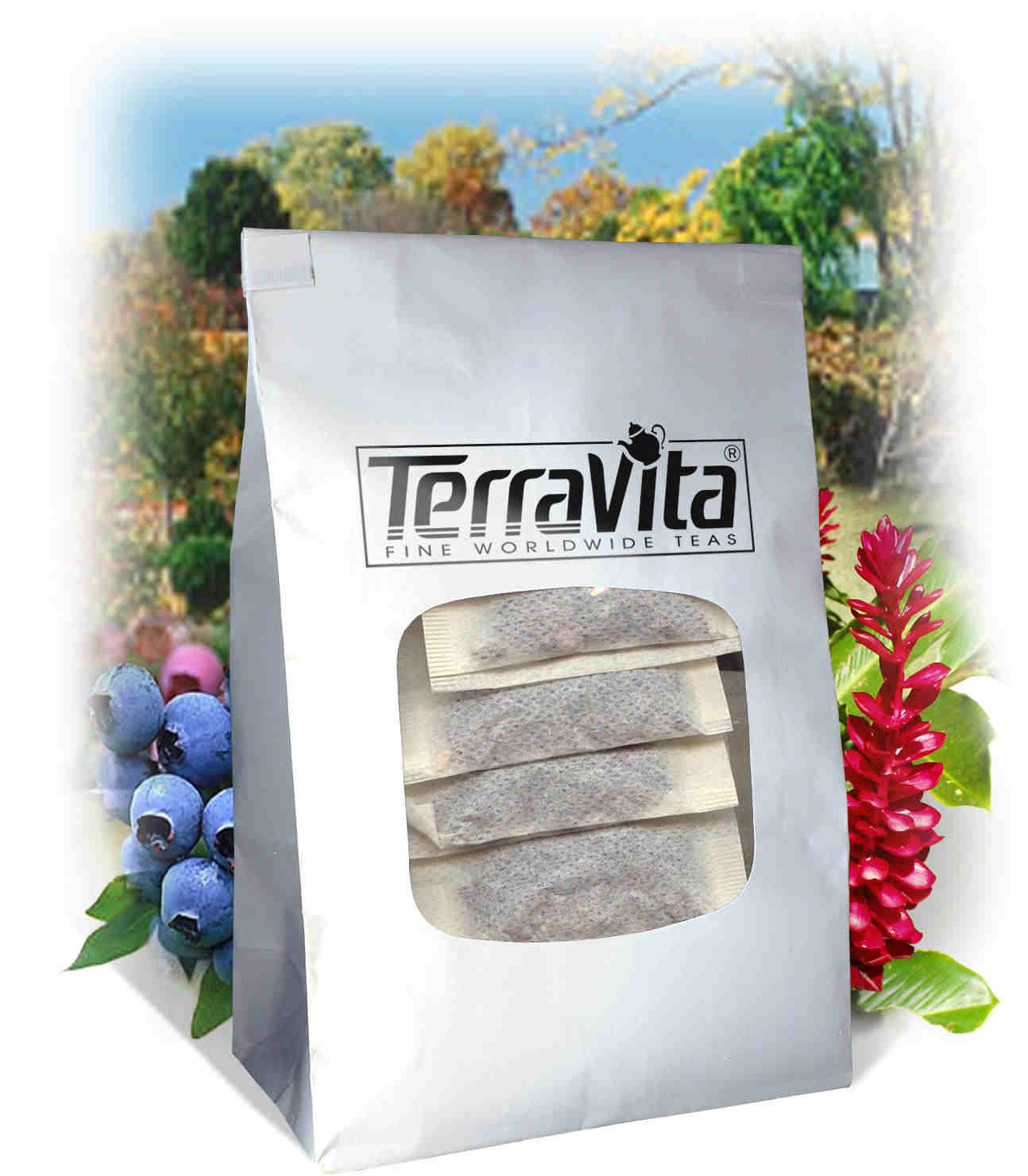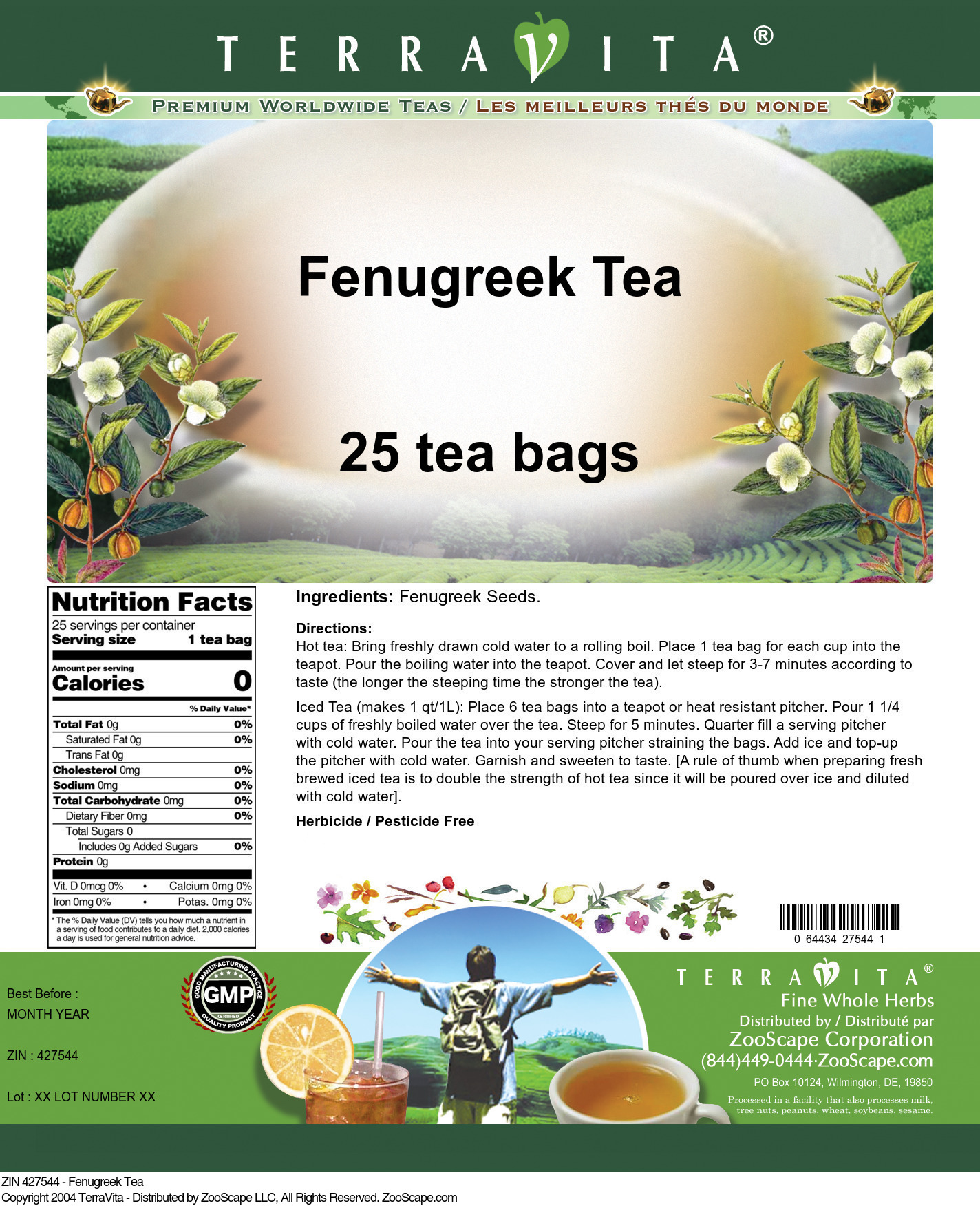 End of More Photographs - Fenugreek Tea


* These statements have not been evaluated by the Food and Drug Administration (FDA). Products are intended to support general well being and are not intended to treat, diagnose, mitigate, prevent, or cure any condition or disease. If conditions persist, please seek advice from your medical doctor.
Information provided at ZooScape.com relies partly on Traditional Uses. The essence of the current American rule on Traditional Uses is, as stated by FTC, "Claims based on historical or traditional use should be substantiated by confirming scientific evidence, or should be presented in such a way that consumers understand that the sole basis for the claim is a history of use of the product for a particular purpose."

See: FTC - Dietary Supplements: An Advertising Guide for Industry