Questions?

We Answer The Phone!

Telephone Us Now!

1-844-449-0444
1-856-467-2430

Email us now!

All Products - #96 of 203: Previous Next
View: All Products (203) | Cream, Salve and Gel Blends (2) | Liquid Extracts (5) | Oils (including LV) (8) | Pill Blends (12) | Pills (3) | Powder Blends (24) | Powders (6) | Soaps (2) | Tea Blends (49) | Teas (12) | Creams, Salves and Gels (2)

Five Herbs Tea


Relaxation and Tranquility in a Delicious Hot Beverage. *
25 tea bags


More Photographs below.

Five Herbs Tea is an herbal blend of Linden, Chamomile, Mint, Orange, and Verbena that promotes feelings of calm and relaxation. This blend is an ideal choice for the end of a day, after dinner, or before bedtime.

The fragrant and tasty linden...

More Info continues below.


Our Price: $8.47 US


Click button to Buy.
In Stock - Ships Right Now!


Specifications

ZIN Product Number: 427473
Size: 25 tea bags
Weight: 0.18 lbs (0.08 KG)
Size (inches): 2.56" X 4.72" X 7.87"
Size (cm): 6.5 cm X 12.0 cm X 20.0 cm

Traditional Uses:

Manufacturer: TerraVita

Ingredients: Chamomile, Orange, Vervain (Verbena), Linden, Spearmint



Description - Research and Analysis

Five Herbs Tea is an herbal blend of Linden, Chamomile, Mint, Orange, and Verbena that promotes feelings of calm and relaxation. This blend is an ideal choice for the end of a day, after dinner, or before bedtime.

The fragrant and tasty linden flowers have been used for health benefits as a calming agent and to help support indigestion, the common cold, and griping or colicky pain in the abdomen. Many of these uses have been confirmed or partially confirmed in modern research. Linden flowers act as a diaphoretic when consumed as a hot tea. Diaphoretics induce a mild fever, thereby possibly helping promote the immune system's ability to help fight infections. The fever usually does not go very high because the diaphoretic also causes sweating, the body's natural way of lowering its temperature. The German Commission E has approved linden flower for the support for colds and cold-related coughs.

Research has confirmed that apigenin is the factor answerable for chamomile's calming, mildly sedative, anti-inflammatory and anti-spastic outcomes. Other elements along with Chamazuline, Azulene, Matricine and Bisabolol even have anti-inflammatory effects. Chamomile (Matricaria chamomilla) has been described by Germans as "Alles zutraut", which means "capable of anything" owing to their conception that chamomile can soothe many ailments. The active ingredients are found in the essential oils from the plant life of chamomile. Taken internally, Chamomile fights and handles gastritis, burning sensation, stomach ulcers and other digestive difficulties including inability to digest and flatulence. The flavonoid apigenin has been recognized for its capability to urge rest and for its calmative traits. Because of this, chamomile is a popular supplement used to deal with and help reduce nervousness, stress, anxiousness and difficulty sleeping.

Mint is often taken internally or used topically for it's calming and soothing properties. It has been prescribed for a distressed nervous system and as a muscle relaxant in addition, to it's wonderful benefits for the skin.

Native of Europe, Verbena is extensively cultivated in other countries. Verbena has long been credited with magical properties and was used in ceremonies by the Romans, Druids of ancient Britain and Gaul. It is a traditional herbal health in both China and Europe. Verbena can be used in mouth washes for infected gums and as a poultice for hemorrhoids. A tea can be been used as a nerve tonic, to help support insomnia and to help digestion. It has tonic, restorative properties, and can be used to help support stress and anxiety, and to improve digestive function. Verbean also acts as a mild sedative, a mild bitter, and effectively stimulates bile secretion.

The scent of Orange, especially Orange essential oil, provides a feling of revitalization when one is lacking energy, giving positive feelings. Orange, with all it's mood-lifting benefits, provides the perfect accompaniment to it's counterparts which promote relaxation and restfulness.




User Group Forum
Share your questions and information with the ZooScape community!
Be the first to post!





Directions

Hot tea brewing method: Bring freshly drawn cold water to a rolling boil. Place 1 tea bag for each cup into the teapot. Pour the boiling water into the teapot. Cover and let steep for 3-7 minutes according to taste (the longer the steeping time the stronger the tea).

Iced tea brewing method (to make 1 liter/quart): Place 6 tea bags into a teapot or heat resistant pitcher. Pour 1 1/4 cups of freshly boiled water over the tea. Steep for 5 minutes. Quarter fill a serving pitcher with cold water. Pour the tea into your serving pitcher straining the bags. Add ice and top-up the pitcher with cold water. Garnish and sweeten to taste. [A rule of thumb when preparing fresh brewed iced tea is to double the strength of hot tea since it will be poured over ice and diluted with cold water].


Additional Information

ZooScape is proud to be the exclusive distributor of TerraVita teas, herbs and supplements in the United States, Canada and around the world. Please direct all wholesale and bulk inquiries to Simona Heather at 1-844-449-0444.




ZooScape Reviews!

Click here to share a review!

Number of Reviews:

1

Average Rating:

3.0



what I was looking for

-- Anonymous
-- June 17, 2005




Our Price: $8.47 US


Click button to Buy.
In Stock - Ships Right Now!




People Like You Also Bought...

You may also be interested in:

Chlorophyll Liquid - Super Concentrated






Number of Reviews
for this Product: 1
Average Rating
for this Product:
Awful
Wonderful

1

2

3

4

5




Share This Page!
Did you find this page useful?
Please share this page with your social network!
Twitter


Google +1

Facebook





Happy Customers

The BEST thing for my allergies
Works great.

-- Rochelle





Potassium Citrate Powder
This is the best potassium I've ever taken. I have to take diuretics for high blood pressure. This f [continues ...]

-- Hannah

Potassium Citrate Powder






Make $1 per sale -
Link to ZooScape.com!
More Photographs - Five Herbs Tea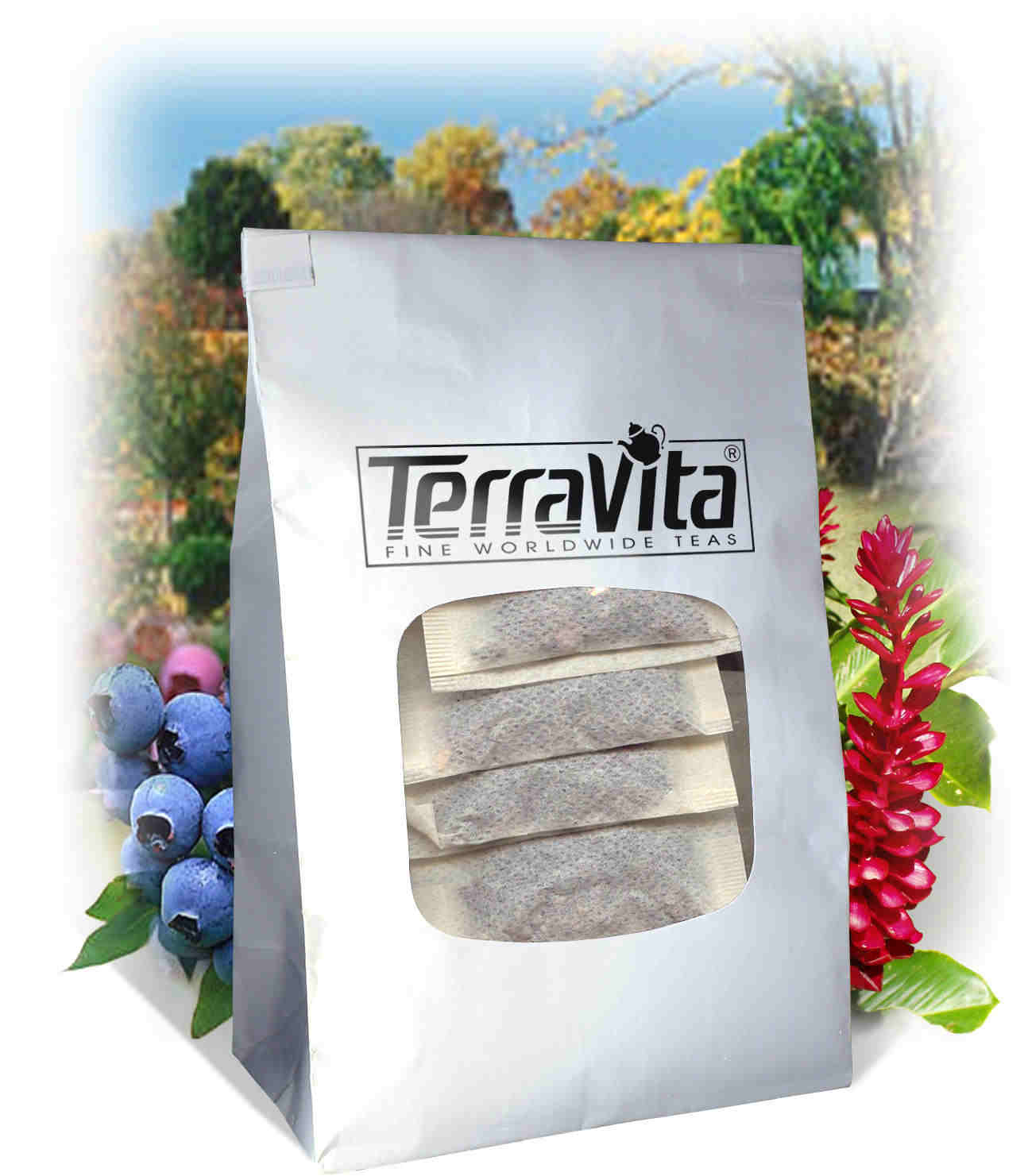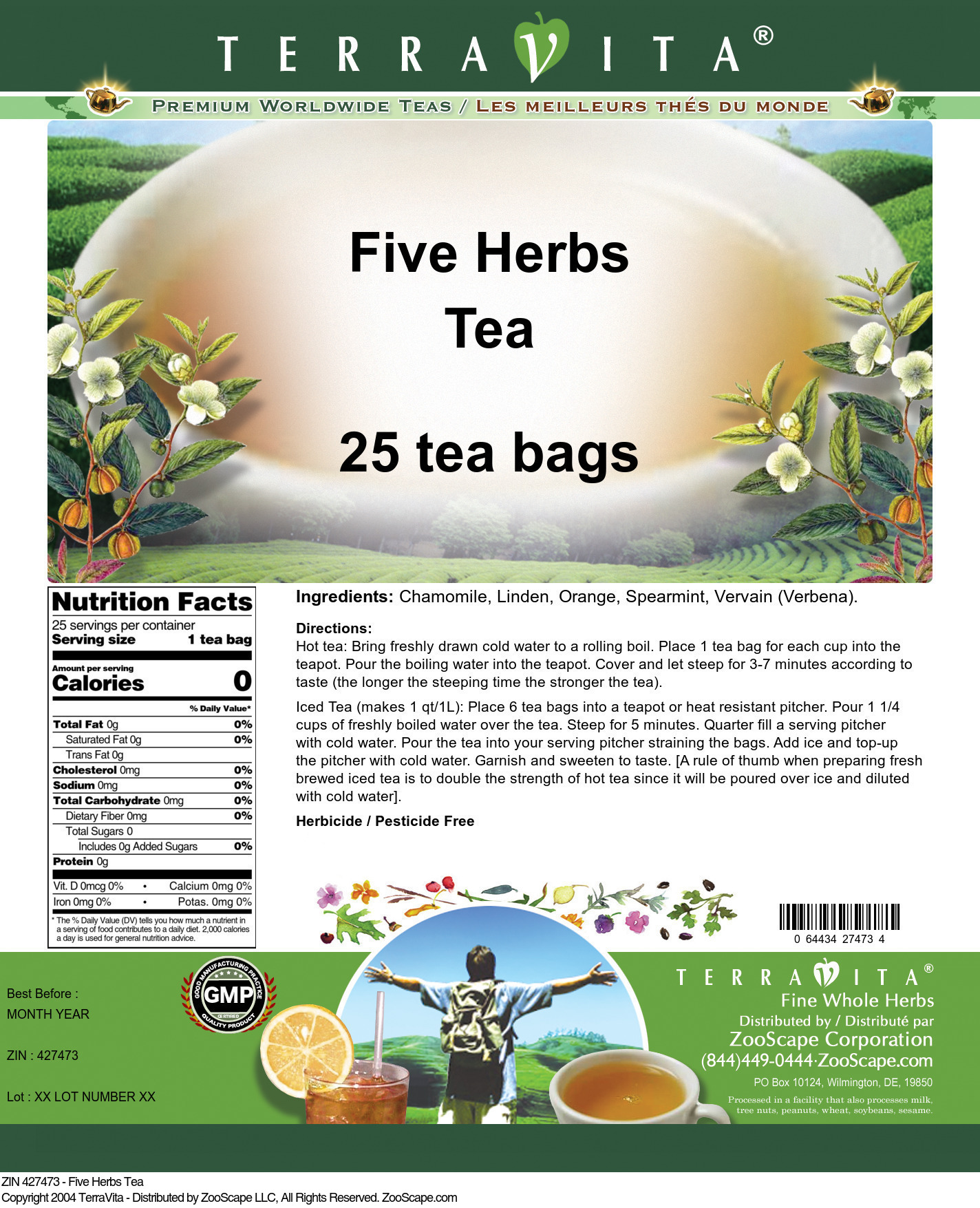 End of More Photographs - Five Herbs Tea


* These statements have not been evaluated by the Food and Drug Administration (FDA). Products are intended to support general well being and are not intended to treat, diagnose, mitigate, prevent, or cure any condition or disease. If conditions persist, please seek advice from your medical doctor.
Information provided at ZooScape.com relies partly on Traditional Uses. The essence of the current American rule on Traditional Uses is, as stated by FTC, "Claims based on historical or traditional use should be substantiated by confirming scientific evidence, or should be presented in such a way that consumers understand that the sole basis for the claim is a history of use of the product for a particular purpose."

See: FTC - Dietary Supplements: An Advertising Guide for Industry