Questions?

We Answer The Phone!

Telephone Us Now!

1-844-449-0444
1-856-467-2430

Email us now!

All Products - #50 of 52: Previous Next
View: All Products (52) | Cream, Salve and Gel Blends (1) | Liquid Extracts (10) | Pill Blends (3) | Pills (1) | Powder Blends (6) | Powders (2) | Tea and Coffee Blends (12) | Teas (4) | Creams, Salves and Gels (3)

Thyme Leaf Tea


Used traditionally for Catarrah, Bronchitis and Whooping Cough. *
50 tea bags


More Photographs below.

Name

Thymus serpyllum L. Fries (Labiatae) commonly called wild thyme. In French, it is Serpolet a feuilles étroites; in German, Feld-Thymian or Kleiner Kostets. Hundreds of related (some distantly) plant... *

great!
-- Anonymous


More Info continues below.


Our Price: $18.24 US


Click button to Buy.


Specifications

ZIN Product Number: 427455
Size: 50 tea bags
Weight: 0.31 lbs (0.14 KG)
Size (inches): 2.56" X 4.72" X 7.87"
Size (cm): 6.5 cm X 12.0 cm X 20.0 cm

Traditional Uses:

Manufacturer: TerraVita

Ingredients: Thyme Leaf



Description - Research and Analysis

Name

Thymus serpyllum L. Fries (Labiatae) commonly called wild thyme. In French, it is Serpolet a feuilles étroites; in German, Feld-Thymian or Kleiner Kostets. Hundreds of related (some distantly) plants are referred to by the same name, making the situation for consumers quite confusing. Products sold in the United States often contain the dried leaves of related plants, such as Thymus pulegioides L., and T. Praecox subsp. articus. Thymus vulgaris L., also called garden thyme or common thyme, grows robustly in and European gardens. In French, it is called Thym cultivé; in German, Garten-Thymian.

Source

Wild thyme (Thymus serpyllum) is native to Europe and does not grow in the United States. T. Vulgaris, also known as English thyme or garden thyme, is native to the Western Mediterranean but now grows in gardens. Extracts of the flowers of wild thyme are used as an expectorant. Garden thyme is used mainly as a culinary herb, but infusions made from its leaves have traditionally been used to help support upset stomach and have been applied locally to help support wounds.

History

Legend has it that thyme grew from the tears shed by Helen of Troy. Thyme was a component of the embalming compounds used by the ancient Egyptians. It was probably introduced into Europe by the Romans. In the Middle Ages, the plant was associated with death and was planted around graves.

Traditional Support Uses

Wild thyme can be used as an antiseptic, antispasmodic, expectorant, astringent, and digestive aid. Garden thyme was also used as a deodorant.

Commission E Recommendations

The Commission recommends wild thyme for inflammation of the upper respiratory tract. Garden thyme can also be used for helping support the symptoms of bronchitis, whooping cough, and upper respiratory tract infections.

Possible Effects

Wild thyme contains most of the same ingredients as garden thyme, but in lower concentrations. The essential oil extracted from the flowers of T. vulgaris contains thymol, a powerful antiseptic, widely used by dentists. Thyme essential oil (3%) can be been used as a preservative in the cosmetic industry for many years. There is good evidence that thyme oil, in common with the essential oils of anise seed, cinnamon leaf, red thyme, and tea tree, can be used as an approach to kill body lice (pediculus humanus). The oils are dissolved in alcohol, applied in the evening and rinsed off in the morning.

In the laboratory, aqueous extracts of thyme fight the growth of H. pylori, known to play a role in the occurrence of peptic ulcer issues. Very few clinical studies have ever been undertaken, and thyme's usefulness in respiratory infections has never been validated. Thyme oil is used widely by aromatherapists, who have published at least one controlled trial, the results of which suggest that thyme oil can be used to help grow hair:

A randomized, double-blind, controlled trial of seven months duration involved 43 balding men who massaged essential oils (thyme, rosemary, lavender, and cedarwood) into their scalps daily, and 43 others who rubbed in a placebo-containing oil. The participants were photographed on a regular basis, and the pictures were reviewed by two dermatologists for evidence of hair growth. (The dermatologists did not know which men were using placebo and which were using the essential oils). No side effects occurred and, by the end of the study, half of the men supported with the oil had grown significantly more hair than the controls.

References

Hay IC, Jamieson M, Ormerod AD. Randomized trial of aromatherapy. Successful product for alopecia areata [In Process Citation]. Arch Dermatol 1998;134(11):1349-52.

Manou I, Bouillard L, Devleeschouwer MJ, Barel AO. Evaluation of the preservative properties of Thymus vulgaris essential oil in topically applied formulations under a challenge test. J Appl Microbiol 1998;84(3):368-76.

Tabak M, Armon R, Potasman I, Neeman I. In vitro inhibition of Helicobacter pylon by extracts of thyme. J Appl Bacteriol 1996;80(6):667-72.

Veal L. The potential effectiveness of essential oils against headlice, Pediculus humanus capitis. Complement Ther Nurs Midwifery 1996;2(4):97-1O1.

Dosage

For cough, Commission E recommends a tea made from 1 to 2 grams of the dried thyme leaves, several times a day as needed. Alternatively, 1-2 grams of fluid extract of garden thyme can be taken up to three times a day. For supporting sores and ulcers, the Commission recommends compresses made from a 5 percent infusion of thyme. The recommended dose of wild thyme is 6 grams per day of the dried flowers.




User Group Forum
Share your questions and information with the ZooScape community!
Be the first to post!





Directions

Hot tea brewing method: Bring freshly drawn cold water to a rolling boil. Place 1 tea bag for each cup into the teapot. Pour the boiling water into the teapot. Cover and let steep for 3-7 minutes according to taste (the longer the steeping time the stronger the tea).

Iced tea brewing method (to make 1 liter/quart): Place 6 tea bags into a teapot or heat resistant pitcher. Pour 1 1/4 cups of freshly boiled water over the tea. Steep for 5 minutes. Quarter fill a serving pitcher with cold water. Pour the tea into your serving pitcher straining the bags. Add ice and top-up the pitcher with cold water. Garnish and sweeten to taste. [A rule of thumb when preparing fresh brewed iced tea is to double the strength of hot tea since it will be poured over ice and diluted with cold water].


Additional Information

ZooScape is proud to be the exclusive distributor of TerraVita teas, herbs and supplements in the United States, Canada and around the world. Please direct all wholesale and bulk inquiries to Simona Heather at 1-844-449-0444.




ZooScape Reviews!

Click here to share a review!

Number of Reviews:

3

Average Rating:

4.0



thankyou!

-- Anonymous
-- June 17, 2005




great!

-- Anonymous
-- June 17, 2005




thankyou

-- Anonymous
-- June 17, 2005




Our Price: $18.24 US


Click button to Buy.




People Like You Also Bought...

You may also be interested in:

Turmeric 95% Curcumoids Curcumin - 450mg






Number of Reviews
for this Product: 3
Average Rating
for this Product:
Awful
Wonderful

1

2

3

4

5




Share This Page!
Did you find this page useful?
Please share this page with your social network!
Twitter


Facebook





Happy Customers

The BEST thing for my allergies
Works great.

-- Rochelle





Potassium Citrate Powder
This is the best potassium I've ever taken. I have to take diuretics for high blood pressure. This f [continues ...]

-- Hannah

Potassium Citrate Powder





Make $1 per sale -
Link to ZooScape.com!
More Photographs - Thyme Leaf Tea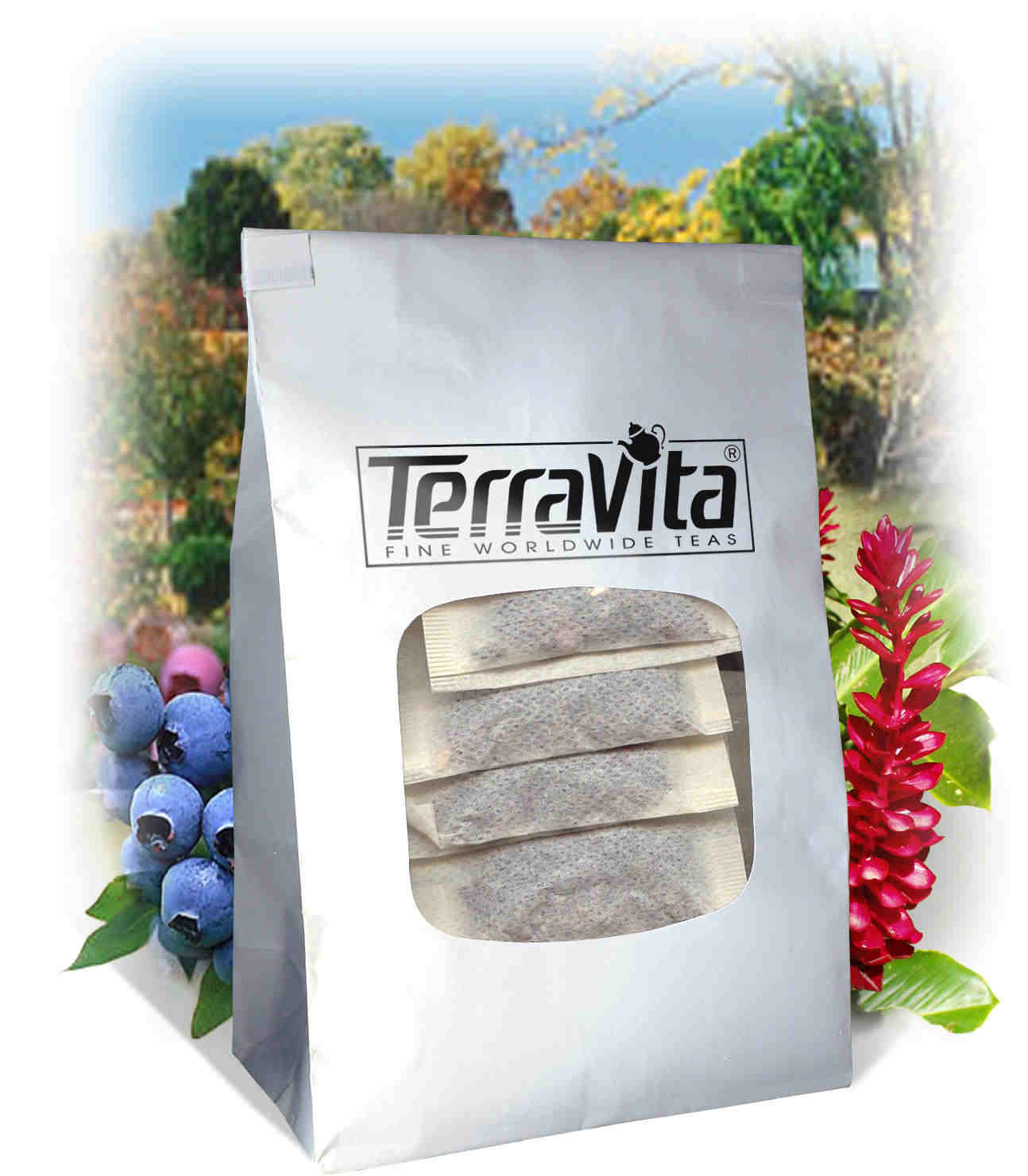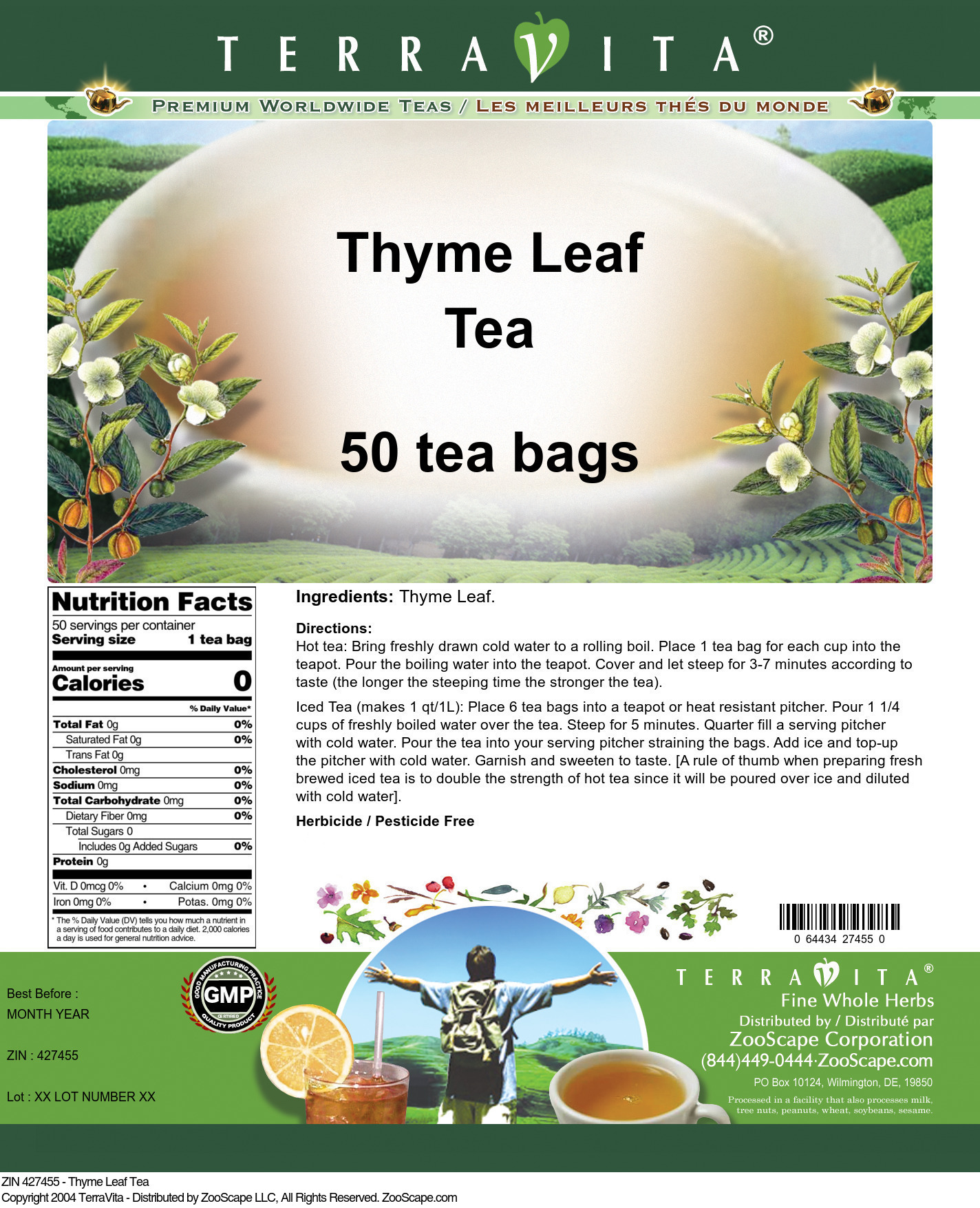 End of More Photographs - Thyme Leaf Tea


* These statements have not been evaluated by the Food and Drug Administration (FDA). Products are intended to support general well being and are not intended to treat, diagnose, mitigate, prevent, or cure any condition or disease. If conditions persist, please seek advice from your medical doctor.
Information provided at ZooScape.com relies partly on Traditional Uses. The essence of the current American rule on Traditional Uses is, as stated by FTC, "Claims based on historical or traditional use should be substantiated by confirming scientific evidence, or should be presented in such a way that consumers understand that the sole basis for the claim is a history of use of the product for a particular purpose."

See: FTC - Dietary Supplements: An Advertising Guide for Industry