Questions?

We Answer The Phone!

Telephone Us Now!

1-844-449-0444
1-856-467-2430

Email us now!

View: All Products (1) | Liquid Blends (1) | Pill Blends (1)
Last chance: We only have 2 left - This product will not be available again once our stock runs out.



Gynacoheel N (aka Nymeel)


Designed Specifically for Female Health Concerns. *
1 fl oz


More Photographs below.


| | |
| --- | --- |
| | Heel antihomotoxic combinations are scientifically measured and carefully tested in Germany. * |
| | Heel medication offers bodily support by turning on the body's own forces of immunity and resistance. * |
| | Based upon 100 years of healing experience. * |



zooscape service
"" -- Anonymous

More Info continues below.


Our Price: $15.99 US


Click button to Buy.
In Stock - Ships Right Now!


Specifications

ZIN Product Number: 426414
Size: 1 fl oz
Weight: 0.15 lbs (0.07 KG)
Size (inches): 1.57" X 1.57" X 3.94"
Size (cm): 4.0 cm X 4.0 cm X 10.0 cm

Traditional Uses: Endometriosis, Ovarian Health, Female Genitals, Colpitis, Adnexitis (Pelvic Inflammatory Disease), Salpingitis, Parametritis, Myometritis, Ovaritis

Manufacturer: Heel

Ingredients: Pulsatilla (6 X), Apis Mellifica (4 X), Viburnum Opulus (2 X), Helonias Dioica (4 X), Lilium Tigrinum (4 X), Palladium Metallicum (12 X), Platinum Metallicum (12 X), Staphysagria (4 X), Vespa Crabro (4 X) (ana 10 mL), Melilotus Officinalis (3 X) (ana 5 mL)

Other Ingredients: Alcohol Content (30%-40%)

* Please Note: This information at ZooScape.com is based in part on Traditional Medicine which uses natural substances to aid well being. This information has not been evaluated or approved through the FDA. Those statements have not been evaluated by the Food and Drug Administration (FDA). These ZooScape.com products are intended to aid well being and are not intended to treat, diagnose, mitigate, stop, or cure any condition or disorder. If conditions persist, please seek advice from your doctor.



Description - Research and Analysis

Heel Combo Preparations.

A good way to find a preparation which is highly effective on the one hand, but low in negative aspects and unintended effects on the other, the best explanation was once to combine a great number of herbal supportives and homeopathically adjusted allopathic medications inside of one uncompounded combination preparation.

As a result of the multiplicity of materials within Blended preparations, a huge, penetrating therapeutic end result is performed. The foundation for this are the different stages of achievement at which the principal medications broaden their robustness.




User Group Forum
Share your questions and information with the ZooScape community!
Be the first to post!





Directions

Adults: In general, 10 drops 3 times daily. In acute cases, initially 10 drops every 15 minutes (for a period of up to 2 hours).


Ingredients

100 mL Contains:

Apis mellifica D4 - 10 mL
Helonias dioica D4 - 10 mL
Lilium tigrinum D4 - 10 mL
Palladium metallicum D12 - 10 mL
Platinum Metallicum D12 - 10 mL
Pulsatilla D6 - 10 mL
Staphysagria D4 - 10 mL
Vespa crabro D4 - 10 mL
Melilotus officinalis D3 - 5 mL
Viburnum opulus D2 - 5 mL
35 vol. % alcohol




Cautions




Additional Information

Did you know...

that Heel medications are based on homotoxicology, which bridges the gap between conventional medicine and homeopathy?
that many clinical studies and basic research have confirmed the efficacy of Heel medications?
that Heel is the leading seller of homeopathic medications in Germany, the only pharmaceutical company offering antihomotoxic medications, and the top producer of injectable homeopathic medications (70 million ampules per year)?
that Heel provides continuing education for health-care professionals throughout the world?
that Heel employs more then 800 people worldwide?
that Heel has affiliates and representatives in more than 50 countries?
that seventy percent of all patients prefer natural supporters?
that fifty percent of the licensed physicians in Germany prescribe homeopathic medicines on a regular basis?

"Every disease is a meaningful defensive measure on the part of the body, an attempt to compensate for damage caused by homotoxins. Therefore, supporting the body's antihomotoxic (toxin-eliminating) efforts is the most effective and well-tolerated approach."
-Hans-Heinrich Reckeweg, M. D.




ZooScape Reviews!

Click here to share a review!

Number of Reviews:

2

Average Rating:

4.5



thank you

-- Anonymous
-- June 17, 2005




zooscape service

-- Anonymous
-- June 17, 2005




Our Price: $15.99 US


Click button to Buy.
In Stock - Ships Right Now!




People Like You Also Bought...

You may also be interested in:

Vaccininum-Injeel Vaccinotoxinum Nosode - Homeopathic Preparation - 10 Drinkable Ampules






Number of Reviews
for this Product: 2
Average Rating
for this Product:
Awful
Wonderful

1

2

3

4

5




Share This Page!
Did you find this page useful?
Please share this page with your social network!
Twitter


Google +1

Facebook





Happy Customers


Never tried this before but when I saw it on the list decided it was worth a try. It is great and [continues ...]

-- Marcia

Almond Tea



Awesome!
Everyone, repeat everyone loves this! Hot or cold we add a dash of honey and it's just awesome!

-- Yelwen

Cherry Rose Rooibos Tea (Loose)





Make $1 per sale -
Link to ZooScape.com!
More Photographs - Gynacoheel N (aka Nymeel)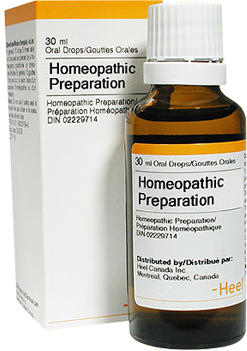 End of More Photographs - Gynacoheel N (aka Nymeel)


These statements have not been evaluated by the Food and Drug Administration (FDA). Products are intended to support general well being and are not intended to treat, diagnose, mitigate, prevent, or cure any condition or disease.

See: FTC - Dietary Supplements: An Advertising Guide for Industry