Questions?

We Answer The Phone!

Telephone Us Now!

1-844-449-0444
1-856-467-2430

Email us now!

Sinuspax - Sinus Ease


by

Homeocan


40 tablets
Currently not available for purchase.




More Photographs below.

Sinuses are cavities within certain facial bones, and Sinusit is is the inflammation of those cavities.

Now, whether you suffer from Acute or Chronic Sinusit is, feel better thanks to SINUSPAX. Effective and without side effects, this preparat... *


"It's works!!! No other products work so quickly, the best in the market!!!" -- GW (Insurance Broker)


More Info continues below.


Specifications

ZIN Product Number: 414548
Size: 40 tablets
Weight: 0.09 lbs (0.04 KG)
Size (inches): 0.98" X 3.74" X 3.15"
Size (cm): 2.5 cm X 9.5 cm X 8.0 cm

Traditional Uses: Analgesia (Pain Support), Cold, Common (Rhinovirus), Eye Infection, Sinusitis / Sinus Infection Support

Manufacturer: Homeocan

Ingredients: Calci Carbonas (1 X), Calcifluor (3 X), Belladonna (4 X) (60 mg), Sabadilla (3 X), Hepar Sulphuris Calcareum (1 X), Silicea (3 X), Hydrastis Canadensis (2 X), Mangani Sulfas (3 X), Kali Chromicium (3 X), Kali Sulphuricum (2 X), Thuja Occidentalis (1 X)

Symptoms: Swelling / Inflammation, Nasal Congestion



Description - Research and Analysis

Sinuses are cavities within certain facial bones, and Sinusit is is the inflammation of those cavities.

Now, whether you suffer from Acute or Chronic Sinusit is, feel better thanks to SINUSPAX. Effective and without side effects, this preparation is suited for people of all ages. Easy to take and devoid of any toxicity, SINUSPAX is just as ideal for children pregnant women as it is for sufferers of hypertension.

SO, don't let yourself be put down by the inconveniences of a sinusitis resulting from a cold or an allergic rhinitis. Instead, take 2 chewable tablets 3 times a day.




User Group Forum
Share your questions and information with the ZooScape community!
Anonymous - May 25, 2006, 08:34
#10000610
I have enlarged nasal bone and recommended Nasal operation by E.N.T. specialist to clear the blockage.
I am 70 years old and taking High blood pressure medicine Mepresor and also Lipitor. Is it safe for me to use SinusPax and if so is it worth while to take a full course of this medicine.If so please let me know the dosage and duration of full tratment . Thanks
ZooScape Moderator - June 14, 2006, 10:34
#10001455
This is a homeopathic formula comprised of about a dozen different homeopathic ingredients. Generally speaking, if you follow the recommended dosage of 3-6 pellets dissolved in the mouth per day, there shouldn't be any side effects.

Because homeopathy is an energy-based system of healing involving vibrational patterns and energy imprints, the active ingredients have been diluted to the point where the original substance is virtually absent. This means that there are no known interactions between homeopathic approaches and traditional medicines.

The duration is usually very patient-specific and is best determined by a qualified homeopathic doctor or a naturopathic doctor.
GERARD - May 5, 2006, 18:35
#10000373
Is this product completely natural herbs?
ZooScape Moderator - May 10, 2006, 12:12
#10001354
This product is a homeopathic blend. Homeopathy uses trace quantities of natural substances that may be herb-based, mineral-based, or obscure substances that are actually toxic to humans in larger herbal doses such as bee venom or poison ivy. Homeopathy's founding principal asserts that diluted or trace quantities of these substances illicit symptoms similar to the disorder being relieved, and in turn, trigger a healing reaction in the body not unlike a vaccine.

Because it is an energy-based method of healing, the substances in homeopathic approaches exist in minute quantities and are suspended in either a liquid vehicle (alcohol) or a solid vehicle (sugar pellets or tablets). Some of the common names of the substances in the homeopathic blend in question, labelled in Latin as always, include calcium carbonate, manganese sulfate, sabadilla (perennial plant), Hahnemann's calcium sulfide, goldenseal, silica, and cedar. So, yes they are natural and not chemical-based, synthesized substances. But, they cannot be compared to herbs or herbal methods of healing - it's a completely different healing approach.




Directions

Take 3 to 6 tablets daily.
Bite once, and let melt in mouth.


Ingredients

Calciicarbonas - 1X, Calciifluor - 3X, Mangani Sulfas - 3X, Belladonna - 3X, Sabadilla - 3X, Heparis sulfur calc. - 1X, Hydrastis - 2X, Kalii sulf. - 2X, Silicea - 3X, Thuya - 1X, Kalii Chromicum - 3X,Exc AD1 Tablet=.50 g


Additional Information

Homeopathy is a medical system based on the belief that illness can becured by taking a minute dose of a substance that, if taken by a healthyperson, would produce symptoms like those being addressed. Homeopathyemploys a variety of plant, animal, and mineral substances in very smalldoses to stimulate the body's natural rejuvenating powers and to bring the bodyback into balance.

Homeocan is Canada's leading manufacturerof naturopathic products




ZooScape Reviews!

Click here to share a review!

Number of Reviews:

4

Average Rating:

5.0





It's works!!! No other products work so quickly, the best in the market!!!

-- GW (Profession: Insurance Broker)
-- February 25, 2007




Works well.

Works well.

-- Name (Profession: Writer)
-- March 4, 2004




The best remedy for alergies

Forget western meds for alerigies SinusPax acts immediately and without side effects. It's a natural homeopathic remedy but don't let that fool you, it really works!

-- Anonymous
-- September 18, 2004




Sinuspax Lehning

The best thing for me, it does work very fast, it's fantastic !!!

-- MENDEL
-- January 21, 2008






People Like You Also Bought...

You may also be interested in:

Butt It Out - Stop Smoking






Number of Reviews
for this Product: 4
Average Rating
for this Product:
Awful
Wonderful

1

2

3

4

5




Share This Page!
Did you find this page useful?
Please share this page with your social network!
Twitter


Facebook





Happy Customers

The BEST thing for my allergies
Works great.

-- Rochelle





Potassium Citrate Powder
This is the best potassium I've ever taken. I have to take diuretics for high blood pressure. This f [continues ...]

-- Hannah

Potassium Citrate Powder





Make $1 per sale -
Link to ZooScape.com!
More Photographs - Sinuspax - Sinus Ease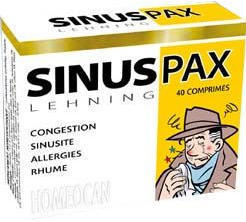 End of More Photographs - Sinuspax - Sinus Ease


* These statements have not been evaluated by the Food and Drug Administration (FDA). Products are intended to support general well being and are not intended to treat, diagnose, mitigate, prevent, or cure any condition or disease. If conditions persist, please seek advice from your medical doctor.
Information provided at ZooScape.com relies partly on Traditional Uses. The essence of the current American rule on Traditional Uses is, as stated by FTC, "Claims based on historical or traditional use should be substantiated by confirming scientific evidence, or should be presented in such a way that consumers understand that the sole basis for the claim is a history of use of the product for a particular purpose."

See: FTC - Dietary Supplements: An Advertising Guide for Industry