Questions?

We Answer The Phone!

Telephone Us Now!

1-844-449-0444
1-856-467-2430

Email us now!

All Products - #10 of 15: Previous Next
View: All Products (15) | Pill Blends (2) | Pills (2) | Powders (2)

Apple Cider Vinegar - 500 mg


Powerful cleanser, healer and germ fighter. ZooScape exclusive! *
240 tablets


More Photographs below.


| | |
| --- | --- |
| | Allows weight loss. * |
| | Aids problems in the alimentary tract. * |
| | Helps reduce Arthralgia. * |



Great product!
"I've lost 10 lbs!" -- Brittany

More Info continues below.


Our Price: $15.30 US


Click button to Buy.
In Stock - Ships Right Now!


Specifications

ZIN Product Number: 406578
Size: 240 tablets
Weight: 0.24 lbs (0.11 KG)
Size (inches): 1.77" X 1.77" X 3.94"
Size (cm): 4.5 cm X 4.5 cm X 10.0 cm

Traditional Uses: Analgesia (Pain Support), Indigestion, Infections, Detox / Toxicity, Weight Control / Obesity Support, Metabolism, Nutritional / Dietary Imbalance

Manufacturer: TerraVita

Ingredients: Apple Cider Vinegar (500 mg) (Powder)

Other Ingredients: Magnesium Stearate, Maltodextrin, Cellulose Gum, Dicalcium Phosphate

Symptoms: Joint Problems

Actions: Antibacterial, Diuretic, Blood Toner, Antimicrobial, Depurative



Description - Research and Analysis

Guaranteed for Regular Purity, Powerfulness, Balance and Freshness!

Hippocrates, known as the Greek Father of Medicine, often prescribed apple cider vinegar for its powerful detoxification, medicinal and germ-reducing capabilities.

TerraVita Premium Collection Apple Cider Vinegar is administered for weight reduction, digestive problems, joint aches and infectious health issue. Apple Cider Vinegar additionally serves as a great blood thinner, a detoxifier and a diuretic.




User Group Forum
Share your questions and information with the ZooScape community!
Erum - August 17, 2008, 14:54
#10001762
Hi There

I had the same problem specially when i used to take ACV in morning, by noon i starts having headaches, then i checked some references and came to know, never take any vitamin supplement within 2 hours of ACV consumption, and thats what i was doing, i changed by intake time of vitamin, just ACV in morning with breakfast and vitamins around 4 pm. All set no more headaches:) hope this help you.
Jackie christiansen - May 6, 2006, 03:22
#10000377
can i use apple cider vinegar as it is? if so ..how?
ZooScape Moderator - May 10, 2006, 18:12
#10001363
Absolutely! Apple cider vinegar taken from the spoon before meals makes an effective digestive tonic enhancing nutrient assimilation and elimination while preventing any stomach or intestinal ills. It is rich in potassium and it can neutralize any harmful bacteria found in your foods, acting as a powerful detoxifier and purifier for the body. The potent, sour taste stimulates the digestive juices if a spoonful or two is taken 15-30 minutes before a meal; it can also be slightly diluted with water for a slightly more palatable experience.
Anonymous - May 2, 2006, 11:08
#10000304
I would like to know about the possible negative drug-drug interactions of your product and the following drugs: Celexa (depression), Inderal (HTN), Zantac, Hydrochlorathiazide, and Aspirin.
ZooScape Moderator - May 2, 2006, 12:16
#10000306
Apple Cider Vinegar may decrease the effects of the following: Pyridoxine/Altretamine, Cisplatin, Di-Trivalent Cations/Tetracyclines, Oral Calcium Products/Estramustine, Oral Calcium Products/Selected Oral Quinolones, Calcium Supplements/Calcium Channel Blockers and Pyridoxine/Levodopa.

Before beginning to take Apple Cider Vinegar, or any other herbal product, as you do seem to be on a few prescription medications, I would strongly suggest that you discuss your intentions with your physician. He or she has the most knowledge regarding your personal medical history and therefore will be able to make the best decision for your optimal health!
Wen por Wang - April 24, 2006, 10:48
#10000125
would using this nutrient interfere with prescription drugs for depression?

Celexa,.Klonipin
ZooScape Moderator - April 25, 2006, 13:05
#10001285
I would suggest that before you start taking Apple Cider Vinegar of any sort you should consult with your physician. While there are no proven drug interactions between Apple Cider Vinegar and prescription depression medication, your physician would be best suited to respond to this question as they have more background regarding your personal medical history.
wqwq - April 23, 2006, 08:21
#10000113
I have high blood pressure - should i be taking these ??
ZooScape Moderator - April 25, 2006, 09:12
#10001280
The potassium in apple cider vinegar is said to be beneficial to both the heart and blood pressure, and in some quarters this remedy is said to assist in making the blood thinner, thereby assisting with blood pressure and the prevention of strokes.
Anonymous - April 20, 2006, 15:46
#10000071
I have just started taking Apple cider tablets and I've had terrible headaches is this connected
ZooScape Moderator - April 20, 2006, 17:51
#10001258
In fact, some sources tout apple cider vinegar (pure and in pill form) as an old folk remedy for migraine headaches! I have no way of knowing for sure, but my feeling is that your headaches are unrelated to the apple cider vinegar tablets. Headaches can be caused by dehydration, stress, or a whole host of other psychological or physical disorders. I'm not aware of any side effects of apple cider vinegar.
dinco - April 18, 2006, 08:04
#10000025
can i take apple cider vinegar whilst i am breastfeeding a 5 month old baby?
ZooScape Moderator - April 18, 2006, 09:34
#10001222
Apple Cider Vinegar, like most herbal products, is not recommended for use by pregnant or nursing women. If you are still interested in taking this product, while nursing, it is suggested that you consult with your physician prior to taking any course of action.




Directions

Take one to two tablets three times daily with each of your meals, or as directed by a health care professional.

For extended use, please consult a health care professional.


Ingredients

Each coated tablet is guaranteed to contain 500 mg of Apple Cider Vinegar Powder, equivalent to 5 mL liquid apple cider.

Also contains Di Calcium Phosphate, Cellulose and Magnesium Stearate. May contain Maltodextrin.

Contains no artificial preservatives, color, dairy, sugar, starch, soya, flavor, corn, wheat or yeast.

Tablets are protein coated to provide guaranteed consistent purity, potency, stability and freshness.


Additional Information

The TerraVita Premium Collection uses only the finest, purest and most potent plant extracts from around the world.

The TerraVita Premium Collection is hallmarked by the highest possible standards of purity, potency, stability and freshness. Our highest possible standards are certified by independent laboratories and backed by our personal guarantee.

The TerraVita Premium Collection is packed in tamper-proof, food-grade, recyclable containers.

ZooScape is proud to be the exclusive distributor of TerraVita teas, herbs and supplements in the United States, Canada and around the world. Please direct all wholesale and bulk inquiries to Simona Heather at 1-844-449-0444.




ZooScape Reviews!

Click here to share a review!

Number of Reviews:

14

Average Rating:

4.2



Great product!

I've lost 10 lbs!

-- Brittany
-- August 11, 2003




ACV

I have been taking the pills for 2 weeks, and there has been no change in my weight whatsoever, my urine is bright yellow, that is the only difference.

-- motek
-- June 4, 2003




GREAT!

Great product... GREAT PRICE!!

-- Christina (Profession: Accountant)
-- October 14, 2003






I've got it second time for my wife (from your company) and she is happy. We'll see how it will work. Thanks.

-- Roman (Profession: OBGYN doctor)
-- December 8, 2003






THANKS FOR OFFERING THIS PRODUCT!

-- Big Jerry Bigs
-- March 15, 2006




Apple Cider Vinegar 500mg

In my opinion this is a very good product and I am using it now hope you keep it on your shelves.

Thanks....

-- walt (Profession: retired and in good health)
-- May 12, 2007




Good digestive aid!

This product is very helpful for aiding digestion, keeping off excess fat, and reducing tendency to sanck between meals. Also, price is very reasonable.

-- Cindy
-- May 17, 2007






very good it is what I wanted thanks

-- Chelgood
-- October 26, 2007






In my specific case doesn't help much, some but not much. I needed something more "eficiente" for my situation. I think the product isn't bad, helps me SOME but i would need something else.I hope to be clear, don't missunderstand me, please.
Carlos Ferrinho

-- Carlos (Profession: Electronics/ tech. manager)
-- April 6, 2007




Thank you

The vinegar pills seems to be the God Send that my husband needs for his diabetes. Vinegar pills are not the only pills he takes, he takes his prescription meds, but the vinegar has made a HUGE improvement. Very satisfied customer

-- Ronald
-- May 21, 2010






thanks a lot, very informative....

-- karin
-- April 17, 2010




thank you!

-- Anonymous
-- June 17, 2005




Good Service

-- Anonymous
-- June 17, 2005






Apple Cider Vinegar: What are the side effects.

-- Jenny
-- May 10, 2005




Our Price: $15.30 US


Click button to Buy.
In Stock - Ships Right Now!




People Like You Also Bought...

You may also be interested in:

Apple Cider Vinegar with Bromelain and Apple Pectin - 600 mg






Number of Reviews
for this Product: 14
Average Rating
for this Product:
Awful
Wonderful

1

2

3

4

5




Share This Page!
Did you find this page useful?
Please share this page with your social network!
Twitter


Google +1

Facebook





Happy Customers

The BEST thing for my allergies
Works great.

-- Rochelle





Potassium Citrate Powder
This is the best potassium I've ever taken. I have to take diuretics for high blood pressure. This f [continues ...]

-- Hannah

Potassium Citrate Powder





Make $1 per sale -
Link to ZooScape.com!
More Photographs - Apple Cider Vinegar - 500 mg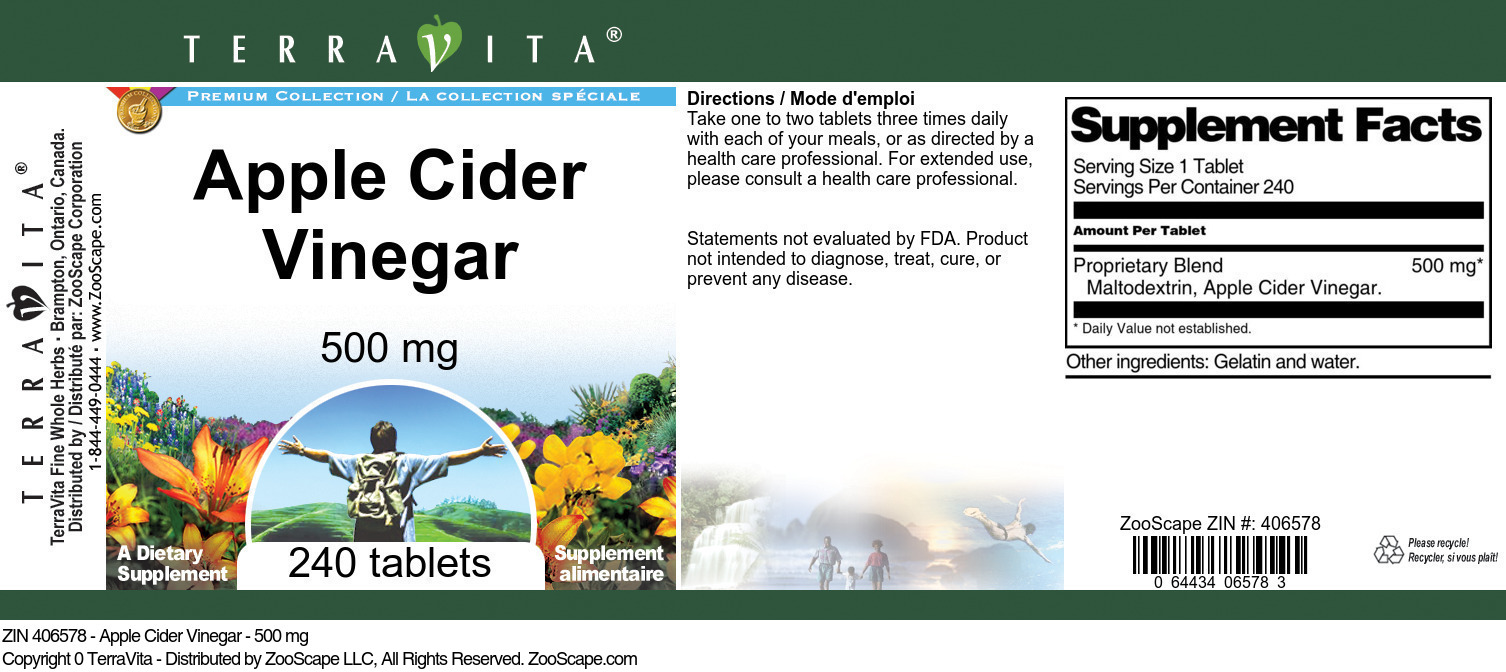 End of More Photographs - Apple Cider Vinegar - 500 mg


* These statements have not been evaluated by the Food and Drug Administration (FDA). Products are intended to support general well being and are not intended to treat, diagnose, mitigate, prevent, or cure any condition or disease. If conditions persist, please seek advice from your medical doctor.
Information provided at ZooScape.com relies partly on Traditional Uses. The essence of the current American rule on Traditional Uses is, as stated by FTC, "Claims based on historical or traditional use should be substantiated by confirming scientific evidence, or should be presented in such a way that consumers understand that the sole basis for the claim is a history of use of the product for a particular purpose."

See: FTC - Dietary Supplements: An Advertising Guide for Industry