Questions?

We Answer The Phone!

Telephone Us Now!

1-844-449-0444
1-856-467-2430

Email us now!

Last chance: We only have 3 left - This product will not be available again once our stock runs out.



Personal Roll-on Waxer


Easy roll-on hair removal for face, legs, and bikini line. *


More Photographs below.


| | |
| --- | --- |
| | Exfoliates the skin * |
| | Leaves skin smooth and silky * |
| | Eliminates nicks, cuts and razor stubble * |
| | Diminished regrowth with continued use * |
| | Reduces hair removal frequency * |


More Info continues below.


Our Price: $29.27 US


Click button to Buy.
In Stock - Ships Right Now!


Specifications

ZIN Product Number: 310512
Weight: 0.26 lbs (0.12 CU)
Size (inches): 4.72" X 1.97" X 4.72"
Size (cm): 12.0 cm X 5.0 cm X 12.0 cm

Manufacturer: One Touch



Description - Research and Analysis

This system includes:

Electric Warmer (Voltage: 120 V)
Large Refill Wax 2 oz (55 grams), Face Refill Wax 0.5 oz (10 grams)
2 disposable roll on wax applicators ( 1 for face, 1 for body)
Wax Remover Strips

Directions:

Read instructions thoroughly before using.
Before using any new product on your skin, always patch test on a small, less noticeable section of the area you are going to wax, like the inside of your thigh. If there is no adverse reaction after 24 hours, you may continue.

Preparation:

Attach roller heads to applicator after removing caps or foil seal and place both in warmer.
Replace warmer cover and plug waxer into outlet. Allow wax to warm for 30-45 minutes. Do not overheat.
Cleanse skin with soap and water to remove oil, make-up or perspiration, but do not bathe or shower less than 2 hours before waxing. Dry skin thoroughly.
Always apply a light dusting of talcum powder before waxing.

Applying Wax:

To start new roller flowing smoothly prior to waxing, remove applicator from warmer, turn upside down. Wait a few seconds to allow air bubbles to rise and wax to flow into roller head.
Hold applicator by the sides at a 45§ angle with arrow visible. Roll in direction of arrow and always roll in the direction of hair growth. Roll in one smooth motion. Do not roll back and forth. One thin coat of wax is all that is necessary. Do not squeeze applicator.
After applying wax, return applicator to warmer. Keep unit plugged in until waxing session is complete. Always close cover to maintain proper wax temperature.

Removing Wax:

Apply wax remover strip and rub briskly in direction of hair growth for 3-4 seconds
With on hand, hold the skin taut. With the other hand pull off the strip in the opposite direction of growth. Use one quick motion parallel to the skin. Pulling the strip straight up and/or too slowly may irritate skin and break hair rather than remove it at the roots and may also leave wax residue.
If you experience stinging after waxing sensitive areas, apply firm pressure using your fingertips or palms immediately after removing wax remover strip.

After Waxing:

If any residue remains on your skin, re-apply the remover strip, rub firmly and removes as usual, or apply After Wax Cleanser, baby oil, mineral oil, or any vegetable oil and smooth into wax, rubbing lightly for a few minutes. Repeat if necessary until wax wipe off with a damp cloth. Do not try to remove wax by washing with water.
Finish waxing program by soothing and refreshing your skin with a fragrance-free moisturizer.

Warnings & Precautions:

Consult physician before waxing if you are pregnant, have varicose veins, high blood sugar levels, phlebitis or any skin disorders.
Not for use on children under the age of 18 without parental supervision.
Do not heat wax or heater in microwave or any other oven, or stove.






User Group Forum
Share your questions and information with the ZooScape community!
Be the first to post!





Ingredients

Triethylene Glycol Hydrogenated Rosinate, Glyceryl Hydrogenated Rosinate, Beeswax.


Label Information






ZooScape Reviews!
Click here to share a review!



Our Price: $29.27 US


Click button to Buy.
In Stock - Ships Right Now!




People Like You Also Bought...

You may also be interested in:

Surgi-Wax - Bikini, Body and Legs (Tea Tree Formula) - 14 Strips with Finishing Balm






Be the first
to rate this product!
Awful
Wonderful

1

2

3

4

5




Share This Page!
Did you find this page useful?
Please share this page with your social network!
Twitter


Google +1

Facebook





Happy Customers

The BEST thing for my allergies
Works great.

-- Rochelle





Potassium Citrate Powder
This is the best potassium I've ever taken. I have to take diuretics for high blood pressure. This f [continues ...]

-- Hannah

Potassium Citrate Powder





Your Special Deal!





Save $0.00
Price: $0.00 US



Make $1 per sale -
Link to ZooScape.com!
More Photographs - Personal Roll-on Waxer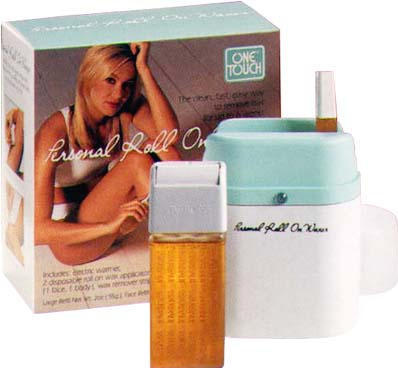 End of More Photographs - Personal Roll-on Waxer


* These statements have not been evaluated by the Food and Drug Administration (FDA). Products are intended to support general well being and are not intended to treat, diagnose, mitigate, prevent, or cure any condition or disease. If conditions persist, please seek advice from your medical doctor.
Information provided at ZooScape.com relies partly on Traditional Uses. The essence of the current American rule on Traditional Uses is, as stated by FTC, "Claims based on historical or traditional use should be substantiated by confirming scientific evidence, or should be presented in such a way that consumers understand that the sole basis for the claim is a history of use of the product for a particular purpose."

See: FTC - Dietary Supplements: An Advertising Guide for Industry