Questions?

We Answer The Phone!

Telephone Us Now!

1-844-449-0444
1-856-467-2430

Email us now!

All Products - #1 of 3: Next

White Camphor Pure Essential Oil


by

Bianca Rosa


0.5 oz


More Photographs below.

General Herb Information

Ancient medicine gave this plant a great reputation as vulnerary, aperitif, cephalic, sudorific, and emmenagogue. It has been tried for dropsy and asthma and for the latter, it was recommended, to add to the inf... *


-- Brittan


More Info continues below.


Our Price: $6.55 US


Click button to Buy.


Specifications

ZIN Product Number: 305413
Size: 0.50 oz
Weight: 0.11 lbs (0.05 KG)
Size (inches): 0.98" X 0.98" X 2.56"
Size (cm): 2.5 cm X 2.5 cm X 6.5 cm

Manufacturer: RedSafari

Ingredients: Camphor Oil, White



Description - Research and Analysis

General Herb Information

Ancient medicine gave this plant a great reputation as vulnerary, aperitif, cephalic, sudorific, and emmenagogue. It has been tried for dropsy and asthma and for the latter, it was recommended, to add to the infusion a few drops of essence of viper and laudanum: it is hardly worth pointing out that the virtue of this supportive lay in the laudanum. Camphor is rarely used today in medicine and where it is, it is infused in white wine or water like tea, sweetened with honey or syrup.

The camphor tree is a large evergreen native to Japan and Taiwan. It's the source of a volatile crystalline substance, also called camphor, which is distilled from the wood of the tree. Camphor gives mainstream preparations such as Vicks VapoRub their characteristic strong smell.

Potential Health Benefits

Used internally, camphor clears mucous from the upper respiratory tract. Inhaled in a steam preparation, it opens clogged nasal passages and eases bronchial coughs. Rubbed on the skin, it stimulates local circulation.

Scientific Evidence

Commission E offers little hard information on how camphor works, but it gives an unambiguous endorsement for both internal and external use to ease the symptoms of coughs and colds, based on good results from long-time use of the herb in German medicine.

Camphor oil is extracted from the gum resin of the leaves and contains a dextrorotatory ketone (d-camphora), a volatile oil, and other substances. The herb also known as gum camphor or laurel camphor is typically used externally. Its stimulant, rubefacient, diaphoretic, anti-septic, analgesic, and antiseptic properties make it an effective liniment for upper respiratory tract congestion, chilblains, and muscular aches and pains.

Camphor is primarily an oil created by dissolving the crystals in olive oil or some other neutral oil. It is then rubbed over the lung area for acute and chronic lung and bronchial affections, directly applied to the feet or hands to treat chilblains, used on cold sores and as a liniment for the support of muscular aches and pains. Since it is toxic and potentially fatal, only small doses should be taken internally. As such it is used for colds, diarrhea and other similar complaints. Toxic symptoms include vomiting, convulsions, palpitations.



General Herb Information
*Note: Bianca Rosa Camphor Pure Essential Oil is not to be taken internally.

Camphor Tree
Cinnamomum camphora (L.) J. Presl.

Family: Lauraceae.

Other Names: Camphrier du Japon (French); Kampferbaum (German); camfora (Italian); alcanfor (Spanish).

Description: This very large tree of more than 50 m in height has a massive trunk and spreading crown. The characteristic leaves are glossy green, with three main veins arising from near the base and a strong camphor smell when crushed.

Origin: Japan, Taiwan and China. It is an ornamental tree in most parts of the world. Commercial production in Japan and Taiwan.

Parts Used: Timber is distilled to give an essential oil. Further fractionation gives a camphor fraction, known as camphor or gum camphor and a white, cineol-rich oil which is used medicinally (Cinnamoni camphorae aetheroleum; = Oleum camphorae).

Therapeutic Category: Circulatory and respiratory stimulant (internal); counter-irritant (topical).

Uses and Properties: Traditional uses of camphor are varied, but relate mainly to colds, fever, pneumonia, inflammation and diarrhoea. Externally the oil is specifically used to treat rheumatic of the muscles; internally for circulatory disorders. It is used both internally and externally against inflammation and congestion of the respiratory tract.

Active Ingredients: The biological activity is linked to natural camphor (d-camphor). Commercial gum camphor should contain at least 50% camphor. The white oil fraction contains cineol as main component, and also borneol, carvacrol, eugenol and limonene.

Pharmacological Effects: Camphor and the essential oil have definite antiseptic, spasmolytic (e.g. in bronchia), counter-irritant, carminative, circulatory stimulant and analeptic properties. The pleasant, cooling sensation in the nose and lungs is due to stimulation of the cold receptors in the mucous membranes and not to any direct decongestant effect.

Status: Pharm.; Comm. E+.

Preparation and Dosage: Semisolid preparations intended for external application (nasal ointments, inhalant solutions and chest rubs) should contain 10 - 20% camphor, while camphor spirits should contain 1 - 10%. For internal use, an average daily dose of 30 - 300 mg is proposed by the German Commission E.

*Note: Bianca Rosa White Camphor Pure Essential Oil is not intended for internal usage.




User Group Forum
Share your questions and information with the ZooScape community!
Be the first to post!





Directions

All pure essential oils should be used with care. Do not apply directly into skin. A 2% dilution of essential oils to a base of carrier oil or lotion is recommended for all skincare and massage preparations.

Internally, this oil should not be taken; externally it is best to be used diluted in a carrier oil (castor, jojoba, almond, etc.), as it can be absorbed through the skin and create some systemic toxicity in high quantities.


Ingredients

100% Pure Camphor Essential Oil


Cautions

Avoid contact with sensitive areas, such as eyes. Citrus oils are photosensitive and should not be applied prior to sun exposure. During pregnancy, use only with advise from a trained aromatherapist. For external use only. Keep all bottles out of reach of children.

Don't use camphor for infants and small children. Sensitive adults can get contact eczema from this powerful substance. Overdoses can cause spasms and difficulty breathing.


Label Information

USAGE: Add 1-3 drops of Bianca Rosa® essential oil to every 5 mL (1 tsp.) of carrier oil for massage or skin care needs. Add 5-15 drops (depending on strength desired) to bath water. Add a few drops of oil to a water-filled spray bottle to create a refreshing room spray, or add to diffusers to create warm room scent. CAUTIONS: Always do a test patch when applying oils to the skin (particularly citrus oils) to determine if itching, soreness, or redness develop. Store away from heat and light. Keep away from eyes, nose, and mouth. Bianca Rosa® essential oils are for EXTERNAL USE ONLY.


Additional Information

Essential Oils by Bianca Rosa are 100% Pure Natural Essences derived from the highest quality fruits, flowers, leaves, spices, herbs and roots. Our essential oil distillers and growers are located around the world, operating ethically, organically and chemical-free.

Bianca Rosa Essential Oils Are Not Tested On Animals.




ZooScape Reviews!

Click here to share a review!

Number of Reviews:

2

Average Rating:

4.5



great product

-- Anonymous
-- June 17, 2005






-- Brittan
-- April 18, 2007




Our Price: $6.55 US


Click button to Buy.




People Like You Also Bought...

You may also be interested in:

Clove Bud Pure Essential Oil






Number of Reviews
for this Product: 2
Average Rating
for this Product:
Awful
Wonderful

1

2

3

4

5




Share This Page!
Did you find this page useful?
Please share this page with your social network!
Twitter


Google +1

Facebook





Happy Customers

The BEST thing for my allergies
Works great.

-- Rochelle





Potassium Citrate Powder
This is the best potassium I've ever taken. I have to take diuretics for high blood pressure. This f [continues ...]

-- Hannah

Potassium Citrate Powder





Your Special Deal!





Save $0.00
Price: $0.00 US



Make $1 per sale -
Link to ZooScape.com!
More Photographs - White Camphor Pure Essential Oil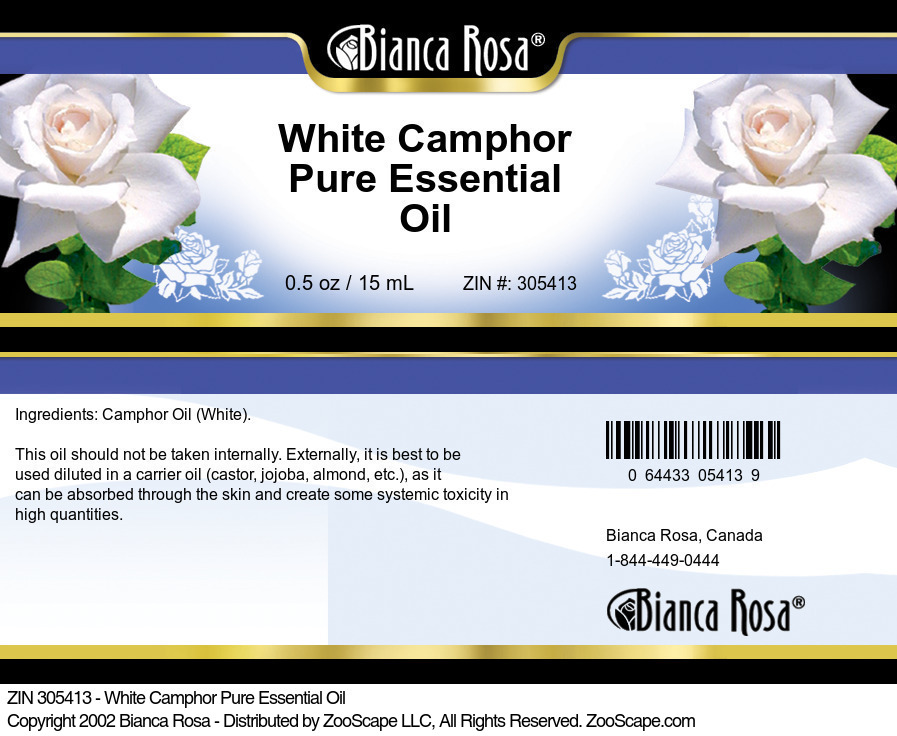 End of More Photographs - White Camphor Pure Essential Oil


* These statements have not been evaluated by the Food and Drug Administration (FDA). Products are intended to support general well being and are not intended to treat, diagnose, mitigate, prevent, or cure any condition or disease. If conditions persist, please seek advice from your medical doctor.
Information provided at ZooScape.com relies partly on Traditional Uses. The essence of the current American rule on Traditional Uses is, as stated by FTC, "Claims based on historical or traditional use should be substantiated by confirming scientific evidence, or should be presented in such a way that consumers understand that the sole basis for the claim is a history of use of the product for a particular purpose."

See: FTC - Dietary Supplements: An Advertising Guide for Industry