Questions?

We Answer The Phone!

Telephone Us Now!

1-844-449-0444
1-856-467-2430

Email us now!

All Products - #0 of 36: Next
View: All Products (36) | Cream, Salve and Gel Blends (2) | Pill Blends (6) | Pills (1) | Powder Blends (10) | Powders (2) | Tea and Coffee Blends (2) | Creams, Salves and Gels (2)

Joint Complex - Glucosamine, MSM and Chondroitin Sulfate - 1000 mg


Relieves Bone & Joint Pain, Builds & Maintains Healthy Cartilage! *
120 caplets
Currently not available for purchase.




More Photographs below.

This formulation works synergistically to support and stimulate the repair of joint tissue. Glucosamine Sulfate, MSM and Chondroitin Sulfate are all components found in joint tissue. Glucosamine is a component of cartilage. Supplementation with Gluco... *


-- Debarah


More Info continues below.


Specifications

ZIN Product Number: 101233
Size: 120 caplets
Weight: 0.40 lbs (0.18 KG)
Size (inches): 2.17" X 2.17" X 4.33"
Size (cm): 5.5 cm X 5.5 cm X 11.0 cm

Traditional Uses: Aging, Analgesia (Pain Support), Arthritis Support, Bursitis, Cardiovascular Disorders, Carpal Tunnel Syndrome, Migraine Headache Support, Healthy Skin, Hair, and Nails, Osteoarthritis Support, Rheumatoid Arthritis Support, Bone Fractures

Manufacturer: Swiss Natural Sources

Ingredients: Glucosamine Sulfate (500 mg) (25% Potassium Chloride), MSM Methyl-Sulfonyl-Methane (300 mg), Chondroitin Sulfate (200 mg)

Other Ingredients: Magnesium Stearate, Dicalcium Phosphate, Hydroxypropyl Methylcellulose, Microcrystalline Cellulose

Symptoms: Swelling / Inflammation, Joint Problems, Stiffness



Description - Research and Analysis



This formulation works synergistically to support and stimulate the repair of joint tissue. Glucosamine Sulfate, MSM and Chondroitin Sulfate are all components found in joint tissue. Glucosamine is a component of cartilage. Supplementation with Glucosamine Sulfate stimulates the body cells to manufacture its own glucosamine which will maintain and repair joint tissue. Chondroitin Sulfates (CS) are common mucopolysaccharides which are bound to collagen, where it works synergistically to keep tendons and ligaments strong and resilient. MSM (Methylsulfonylmethane) has high organic sulfur content (34% by weight) and will help supplement the body sulfur requirements. Sulfur is one of the body's most abundant minerals, supplying the building blocks for amino acids, vitamins, hormones and "physical" structures including collagen, skin and nails.






User Group Forum
Share your questions and information with the ZooScape community!
kimoanh - March 12, 2007, 06:28
#10001073
Dear Sir/ Madam,

My father is 70 years old. He has gotten the knee arthritis, articular cartilage, and bend his back with pain for 5 years. Would you please tell me how long and how many bottles of Glucosamine, MSM & Chondroitin sulfate he should use to be quite recovered.

Please give me an advice.

Thank you very much.

Best regards,

Vo kim Oanh
ZooScape Moderator - July 16, 2007, 19:17
#10001504
It is impossible to give an exact timeframe as to when and if your father will undergo a full recovery. However, glucosamine, chondroitin, and MSM have yielded excellent clinical results, particularly in the relief of osteoarthritis of the knee. They are best used as a trio as opposed to individually, too, in my opinion. Back pain is often a trickier condition to relieve due to variable causes, but knee ostearthritis has responded quite well to these supplements.

Using the product as directed on the label or by a healthcare practitioner should yield results after a couple months or sooner. Some European trials examined results following 2-3 years of use and, as long-term results are the goal here, patience is required. You have to keep in mind that these supplements are not only intended to have a symptom-modifying effect, but also a structure-modifying effect. In other words, while pain is decreased and joint mobility is increased, cartilage repair is promoted - something not addressed in NSAIDs. You may want consult your father's healthcare practitioner who may be able to identify some potentially adverse drug interactions with any existing medications that your father is taking.




Directions

Adults: Take two caplets daily with water or as directed by a health care practitioner.


Cautions

Not recommended for those on potassium-reduced diets, especially those with severe renal disease.

Also, not recommended for those having adverse reactions to sulfate.

Do not use if you have shellfish allergies, pregnant or breast-feeding.

Consult a health care practitioner if you experience gastrointestinal pain, bowel movement disturbances or if you have diabetes. Discontinue use if allergic reaction occurs.


Label Information

This product contains no artificial preservatives, color, milk, soya, corn, wheat or yeast.


Additional Information

Swiss Herbal products are an exclusive line of premium quality, natural source vitamins, minerals and supplements as well as herbs, cosmetics and herbal remedies. All products are prepared to the highest standards of quality control, from raw materials right through the entire manufacturing process. Samples are sent to independent laboratories to verify that these high standards are met or surpassed for purity, potency, stability and freshness.

All Swiss Herbal products are packed in tamper-proof pharmaceutical-grade& recyclable containers.

All vitamins and supplements are guaranteed for purity, potency and stability for up to three years.




ZooScape Reviews!

Click here to share a review!

Number of Reviews:

3

Average Rating:

4.0



great product!

-- Anonymous
-- June 17, 2005






-- Debarah
-- January 6, 2009






-- Debarah
-- January 6, 2009






People Like You Also Bought...

You may also be interested in:

Goldenrod - 400 mg






Number of Reviews
for this Product: 3
Average Rating
for this Product:
Awful
Wonderful

1

2

3

4

5




Share This Page!
Did you find this page useful?
Please share this page with your social network!
Twitter


Facebook





Happy Customers

The BEST thing for my allergies
Works great.

-- Rochelle





Potassium Citrate Powder
This is the best potassium I've ever taken. I have to take diuretics for high blood pressure. This f [continues ...]

-- Hannah

Potassium Citrate Powder





Make $1 per sale -
Link to ZooScape.com!
More Photographs - Joint Complex - Glucosamine, MSM and Chondroitin Sulfate - 1000 mg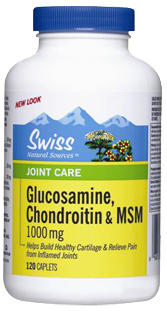 End of More Photographs - Joint Complex - Glucosamine, MSM and Chondroitin Sulfate - 1000 mg


* These statements have not been evaluated by the Food and Drug Administration (FDA). Products are intended to support general well being and are not intended to treat, diagnose, mitigate, prevent, or cure any condition or disease. If conditions persist, please seek advice from your medical doctor.
Information provided at ZooScape.com relies partly on Traditional Uses. The essence of the current American rule on Traditional Uses is, as stated by FTC, "Claims based on historical or traditional use should be substantiated by confirming scientific evidence, or should be presented in such a way that consumers understand that the sole basis for the claim is a history of use of the product for a particular purpose."

See: FTC - Dietary Supplements: An Advertising Guide for Industry