Questions?

We Answer The Phone!

Telephone Us Now!

1-844-449-0444
1-856-467-2430

Email us now!

All Products - #46 of 46: Previous
View: All Products (46) | Liquid Extracts (5) | Oils (including LV) (1) | Pill Blends (2) | Pills (1) | Powder Blends (4) | Powders (2) | Tea and Coffee Blends (8) | Teas (4) | Creams, Salves and Gels (2)
Last chance: We only have 2 left - This product will not be available again once our stock runs out.



Eucalyptus Essential Oil


The Heart and Soul of Eucalyptus. *
0.5 oz


More Photographs below.

Also known as Tasmanian Blue Gum Oil.

PLANT NAME (Botanical name): EUCALYPTUS (Eucalyptus globulus)

Geographical source: Spain, Portugal, Australia, France, China

Commonly used to scent topical ...

More Info continues below.


Our Price: $8.53 US


Click button to Buy.
In Stock - Ships Right Now!


Specifications

ZIN Product Number: 100289
Size: 0.50 oz
Weight: 0.13 lbs (0.06 KG)
Size (inches): 0.98" X 0.98" X 2.95"
Size (cm): 2.5 cm X 2.5 cm X 7.5 cm

Traditional Uses: Cold, Common (Rhinovirus)

Interests: Health? I just want to be pampered!

Manufacturer: Aura Cacia

Symptoms: Coughing, Fatigue, Stress / Anxiety



Description - Research and Analysis

Also known as Tasmanian Blue Gum Oil.

PLANT NAME (Botanical name): EUCALYPTUS (Eucalyptus globulus)

Geographical source: Spain, Portugal, Australia, France, China

Commonly used to scent topical preparations such as liniments and salves. It also serves as a flavoring in cold and cough products such as syrups, cough drops and inhalants.

Aromatherapy: purifying, invigorating, cooling.

In the late 1700's, early botanists first tackled the job of describing the more than 500 species of eucalyptus. The job is not yet complete, because botanists are still discovering new varieties and hybrids and revising old classifications.

The genus name for eucalyptus comes from the Greek "Eu kalyptos" which stands for "well-covered". It refers to the flower buds which are cone shaped and have a lid-like structure that opens as the flowers mature. Eucalyptus trees exude a sticky, tannin-rich substance known as kino. Kino has a history of medicinal use because of its astringent properties.

In fact, 19th century British colonists noting the fragrant, medicinal aroma of eucalyptus groves, planted the 'fever trees' in tropical fever-ridden districts throughout the Empire to help drive away insects and contagious disease. The extensive root system of these trees also helped dry out water-logged soils, deterring disease-carrying insects, especially mosquitoes, which need standing water to breed.

Today, most eucalyptus oils come from California as well as Australia, Tasmania, Brazil, China, India, Portugal, Russia and Spain. The oils are steam-distilled from the fresh leaves and branch tips. A yellow oil, darker than the ones normally available on the market, is yield from the initial distillation. The crude oil is then redistilled, removing less stable constituents that cause it to deteriorate more rapidly. The second distillation also produces a more consistent product.

People familiar with the sweet, fresh, woody aroma of green eucalyptus leaves are often surprised by the more medicinal aroma of the oil. The difference is explained by the chemical changes that naturally occur when heat is applied during distillation and redistillation. Also, the essential oil is not made out of some aroma constituents in the living plant. For those who prefer a sweeter aroma, the lemon-scented oil is a good alternative.

There can be found three varieties of eucalyptus oils: industrial; perfumery oils; medicinal and aromatherapy oils.

The species of tree and its essential oil used in industry contains constituents used in floatation. This process is mainly used in the mining industry to separate ore particles from unwanted minerals.

The lemon-scented eucalyptus oil used in perfumery contains nearly 90 percent citronella along with geraniol. Both of these substances are top fragrancing compounds in the perfume and cosmetics industry.

Cineol, also known as eucalyptol, is the primary active constituent in the medicinal/aromatherapy eucalyptus species. The medicinal, camphoraceous aroma of cineol is for activating, vitalizing and energizing. Hundreds of cough and cold preparations such as cough drops, throat lozenges and chest rubs use eucalyptol.

By experimenting with the wide variety of eucalyptus essential oils available, you can chart a truly personal course through the garden to the aromatic benefits of eucalyptus essential oils.




User Group Forum
Share your questions and information with the ZooScape community!
Be the first to post!





Cautions

Not approved by the FDA for internal consumption.


Additional Information



The brisk aroma of eucalyptus essential oilis activating, vitalizing and energizing. When mixed with other essentialoils, it creates great blends for steam inhalation, chest rubs, roomsprays, bath, massage or air diffusion.

North WoodsSauna

This recipe will create a woodsyatmosphere and have a refreshing and uplifting effect.

20 dropseucalyptus
20 drops fir needle
20 drops tangerine
10 dropsjuniper berry
10 drops pine
10 drops wintergreen
10 dropslemon

Add a few drops of this blend tobath water or fill a bowl with boiling water and inhale.

MassageOil

This activating eucalyptus massageoil iseffective for sore and aching muscles.

Combine:

20 drops eucalyptus
20 drops lavender
20 drops rosewood
5 dropspeppermint
5 drops wintergreen

Add notmore than 36 drops of this blend to three ounces of sweet almond oil.Shake briefly and massage a small amount into tired, achy muscles andjoints.

Energizing Spritzer

The eucalyptus essential oil in this blend adds an inspiring note to a water based spritzer. Whenever you need a little boost, whether before abig meeting, after a long day or to get you started in the morning, simplyspritz your face lightly and inhale thefresh, invigoratingaroma.

Combine:

40 drops lavender
20 dropseucalyptus
20 drops lemon
10 drops petitgrain
10 dropsspearmint

Add not more than 36 drops of this blend to three ounces of distilled water. Shake vigorously and add toa bottle with a spray atomizer attachment. Be sure to shake bottle beforeeach application.

PurifyingDiffusion

This recipe is great for thewintertime cough and cold season.

30 drops eucalyptus
30 dropslemon
20 drops tea tree
10 drops bergamot orange
10 drops juniperberry

Add several drops of this blend to asteam vaporizer.

Founded in 1984 in the Trinity Mountains of north central California, Aura Cacia is a leading manufacturer of 100% pure and natural essential oils and quality aromatherapy products.

Aura Cacia offers more than 80 essential oils that create moods such as relaxation, rejuvenation and sensuality.

Essential oils from Aura Cacia are 100% pure botanical oils without any added water, alcohol or other diluting agents. These aromatic oils are generally steam-distilled from herbs, fruits and flowers. Citrus fruit essential oils are cold-expressed.

No animals are used to test Aura Cacia products. The products are biodegradable.




ZooScape Reviews!

Click here to share a review!

Number of Reviews:

1

Average Rating:

3.0



very satisfied!

-- Anonymous
-- June 17, 2005




Our Price: $8.53 US


Click button to Buy.
In Stock - Ships Right Now!




People Like You Also Bought...

You may also be interested in:

Caffeine - 200 mg






Number of Reviews
for this Product: 1
Average Rating
for this Product:
Awful
Wonderful

1

2

3

4

5




Share This Page!
Did you find this page useful?
Please share this page with your social network!
Twitter


Google +1

Facebook





Happy Customers

The BEST thing for my allergies
Works great.

-- Rochelle





Potassium Citrate Powder
This is the best potassium I've ever taken. I have to take diuretics for high blood pressure. This f [continues ...]

-- Hannah

Potassium Citrate Powder





Make $1 per sale -
Link to ZooScape.com!
More Photographs - Eucalyptus Essential Oil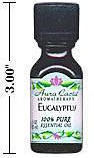 End of More Photographs - Eucalyptus Essential Oil


* These statements have not been evaluated by the Food and Drug Administration (FDA). Products are intended to support general well being and are not intended to treat, diagnose, mitigate, prevent, or cure any condition or disease. If conditions persist, please seek advice from your medical doctor.
Information provided at ZooScape.com relies partly on Traditional Uses. The essence of the current American rule on Traditional Uses is, as stated by FTC, "Claims based on historical or traditional use should be substantiated by confirming scientific evidence, or should be presented in such a way that consumers understand that the sole basis for the claim is a history of use of the product for a particular purpose."

See: FTC - Dietary Supplements: An Advertising Guide for Industry