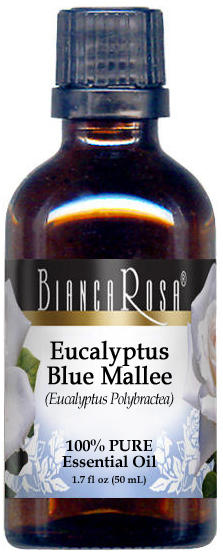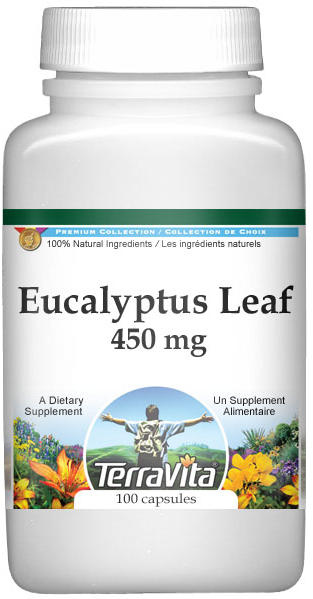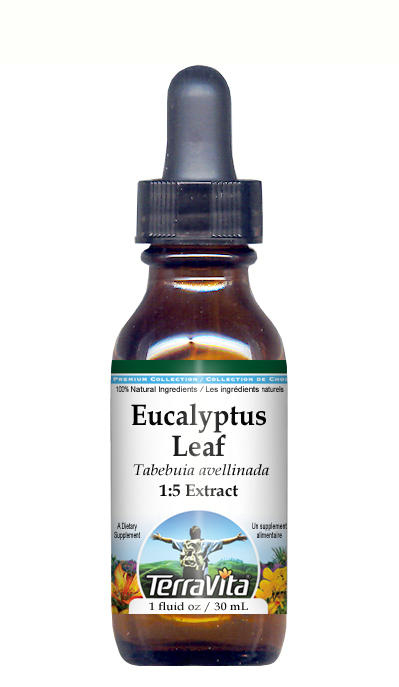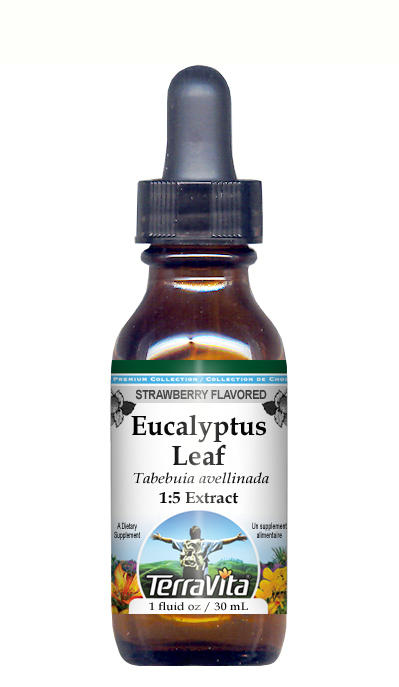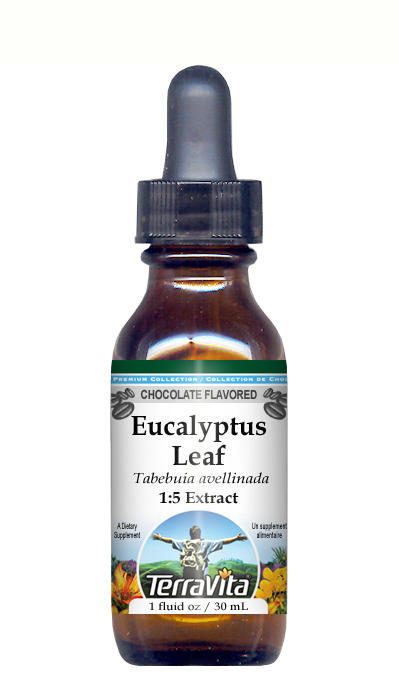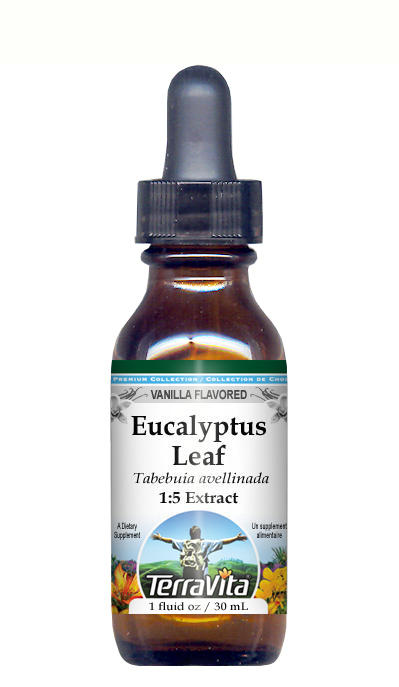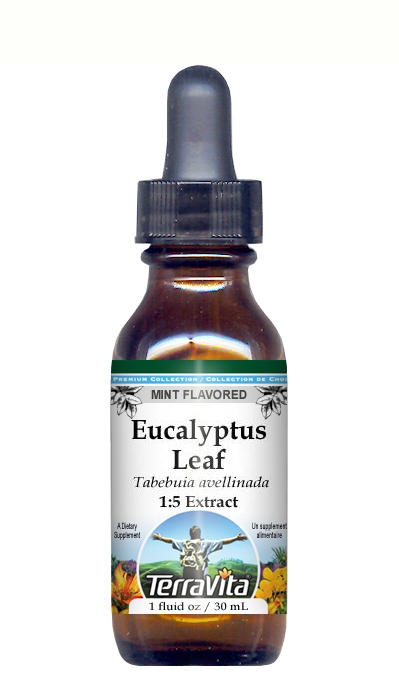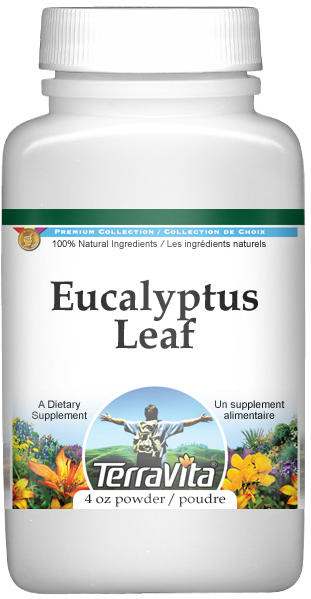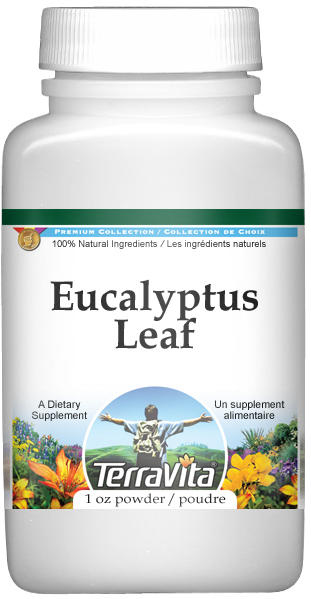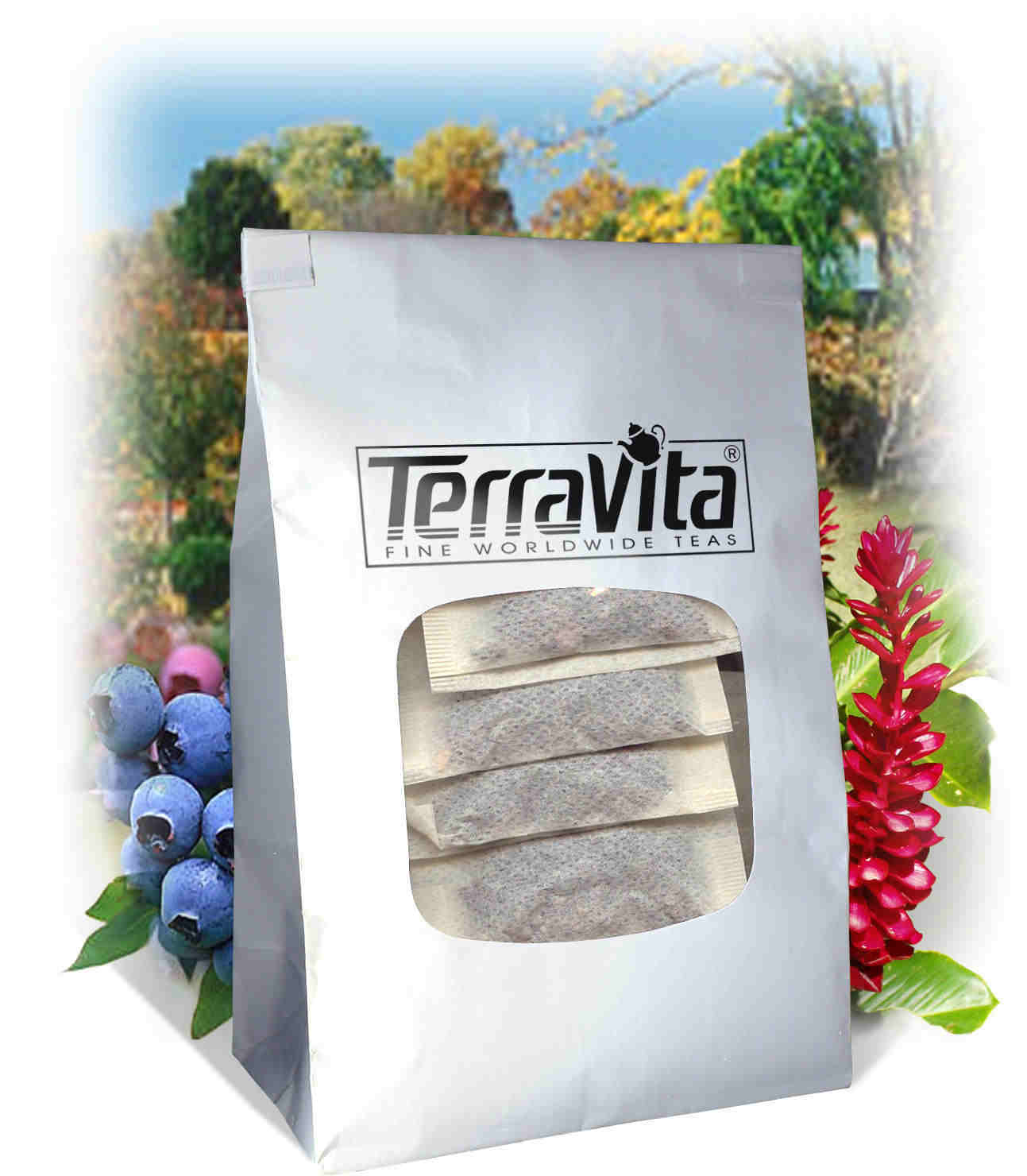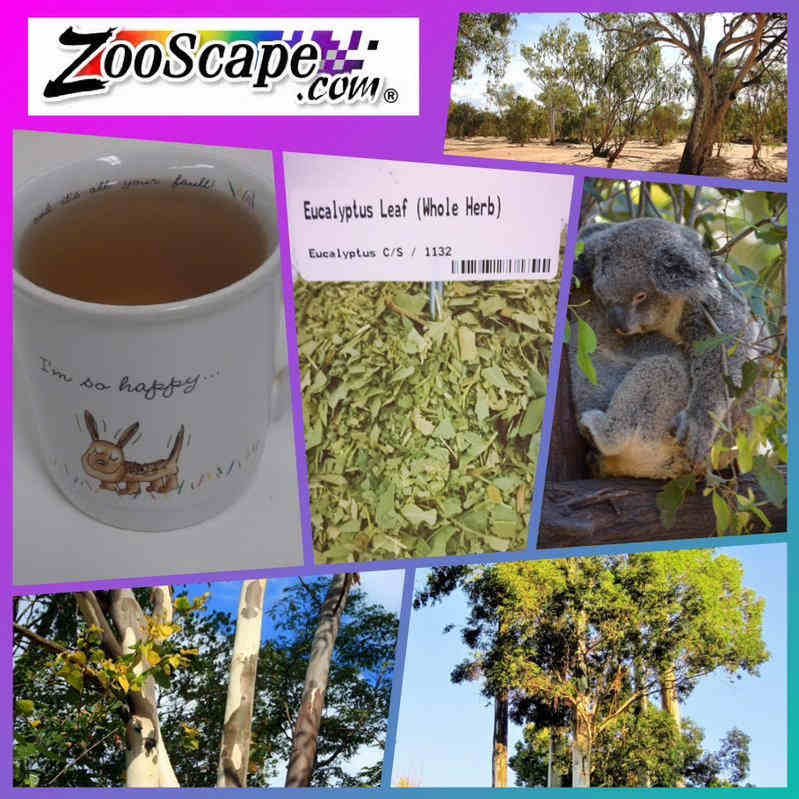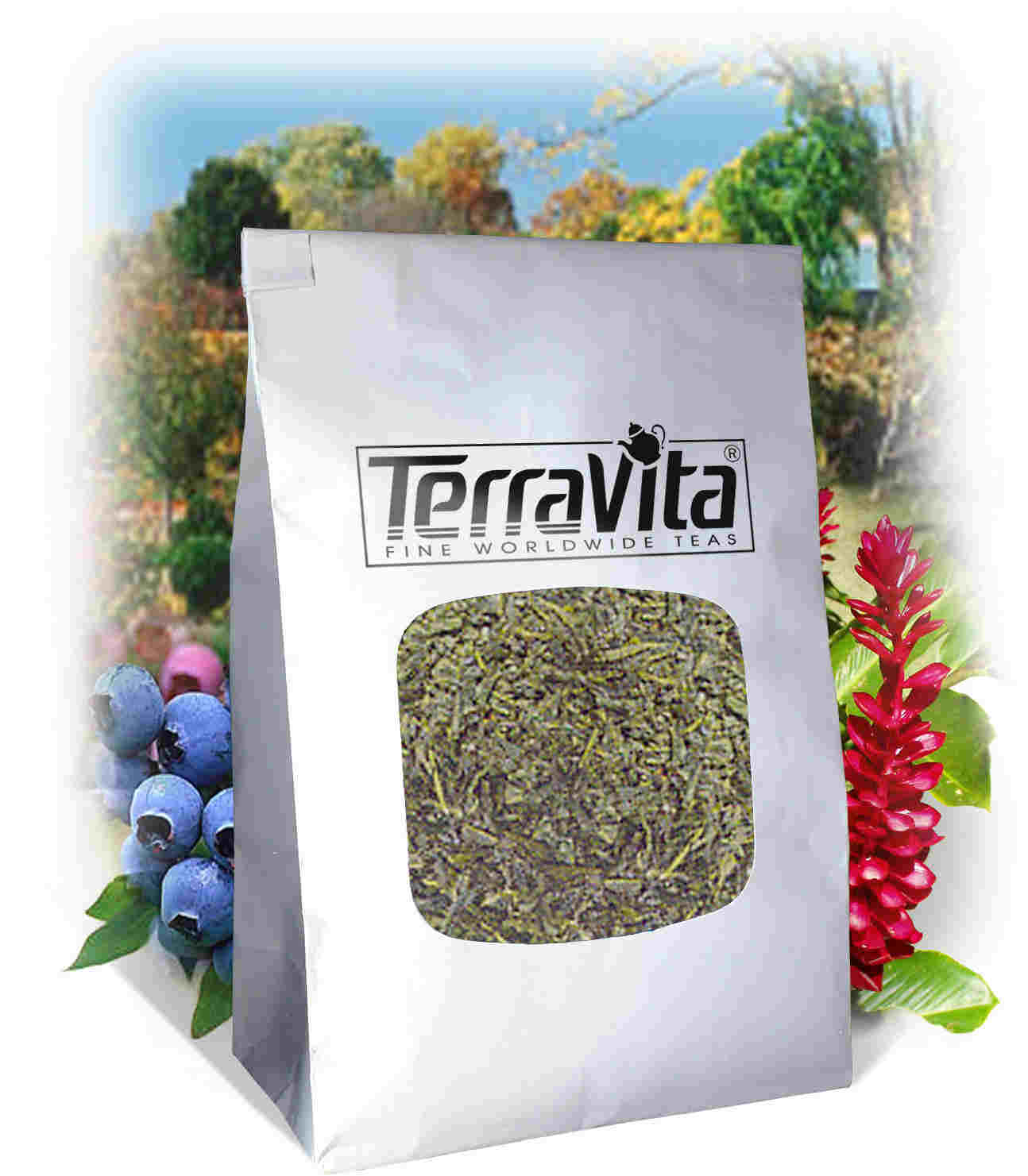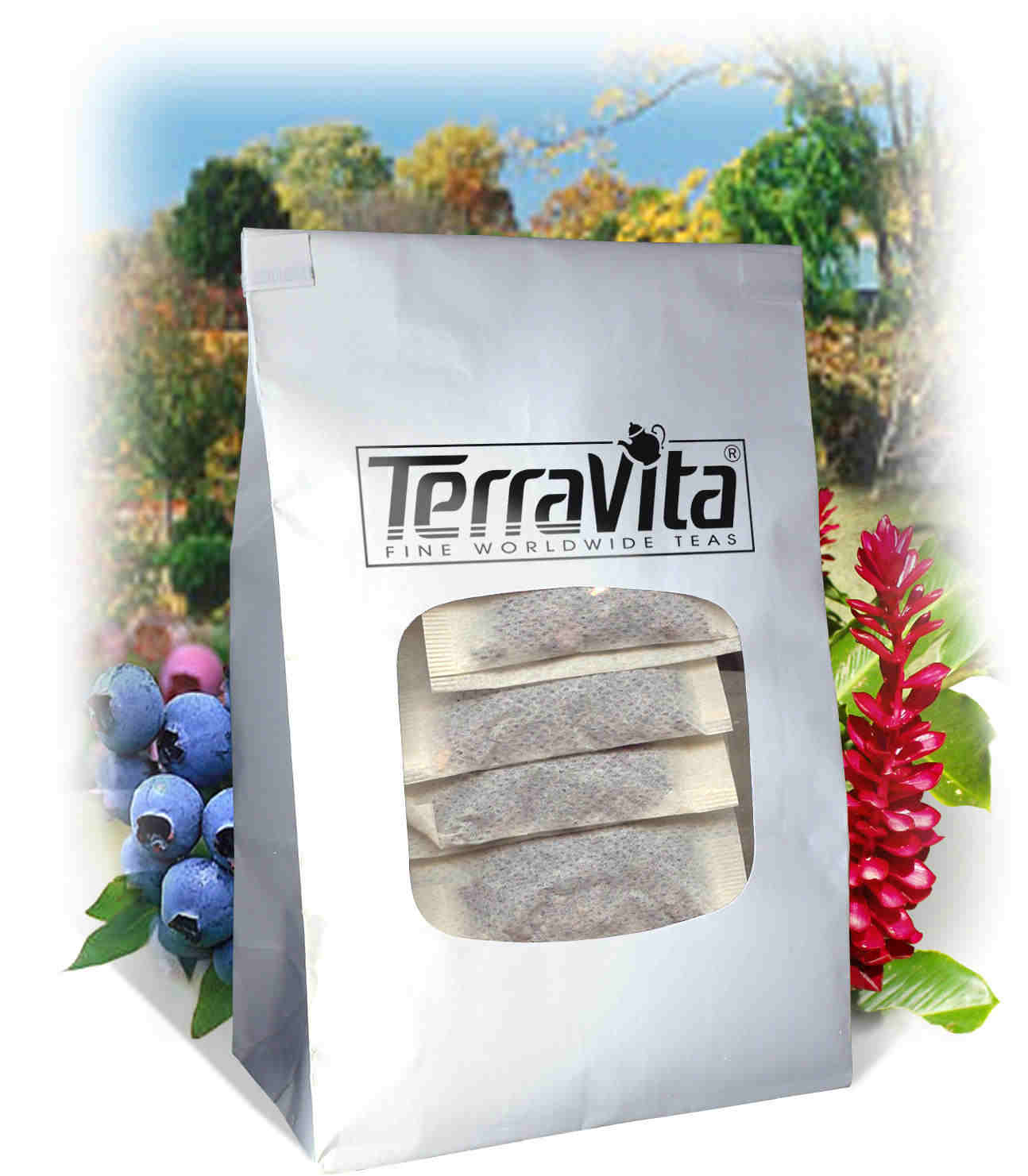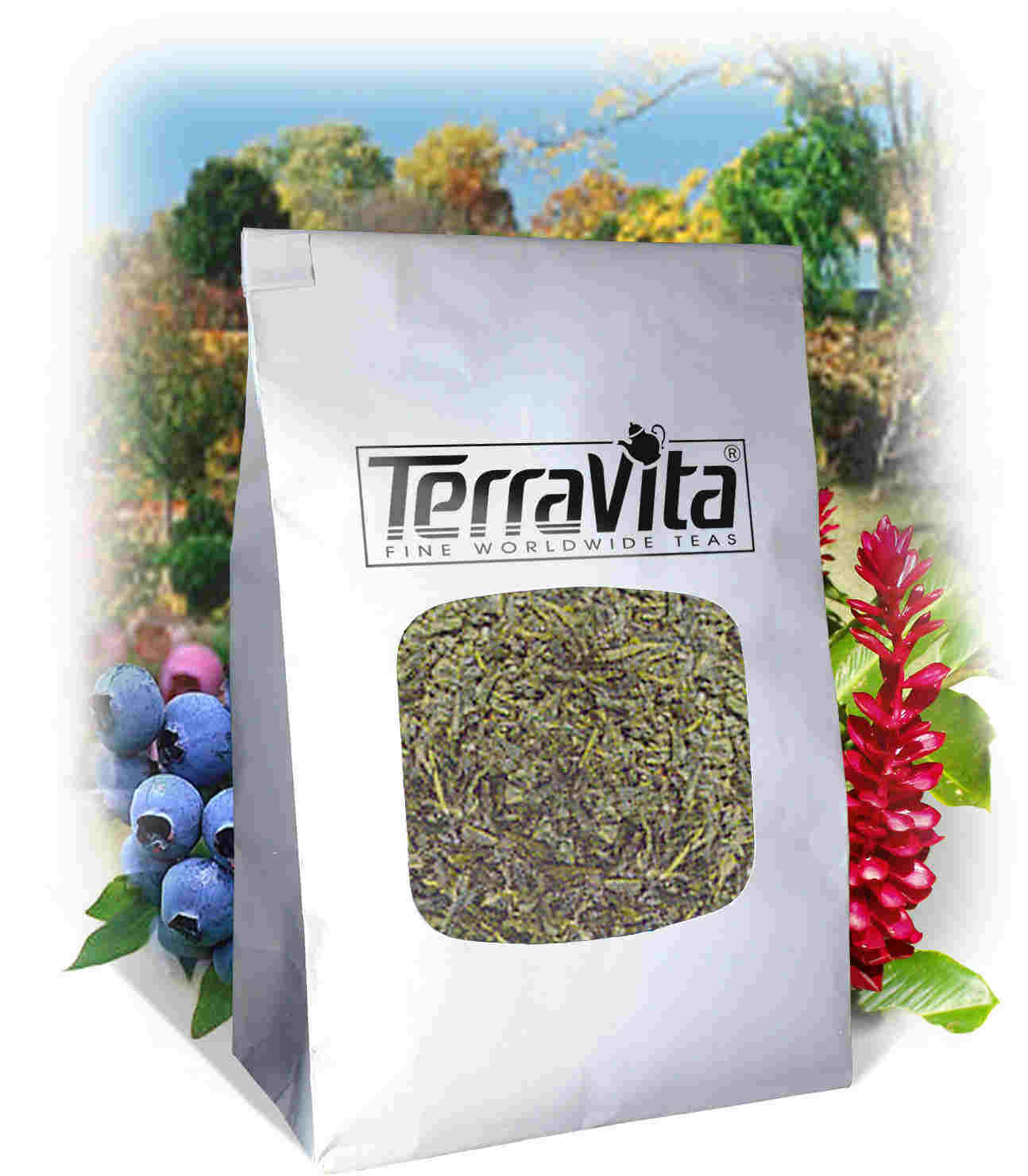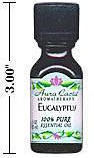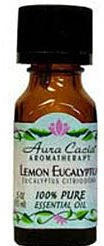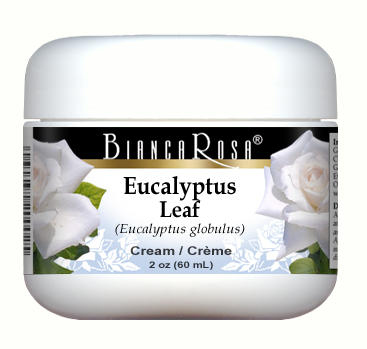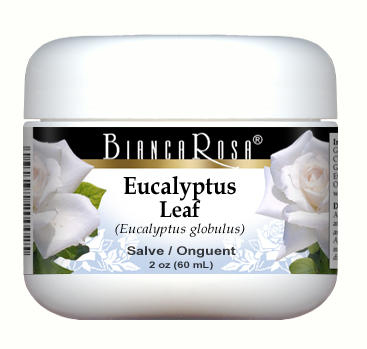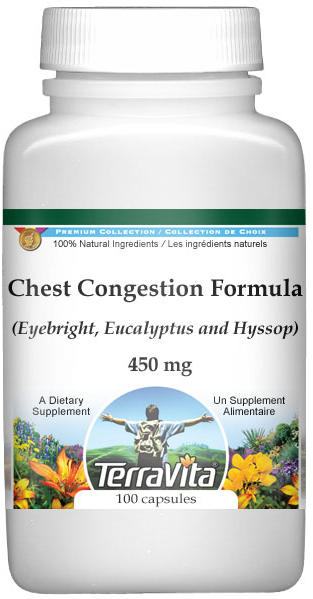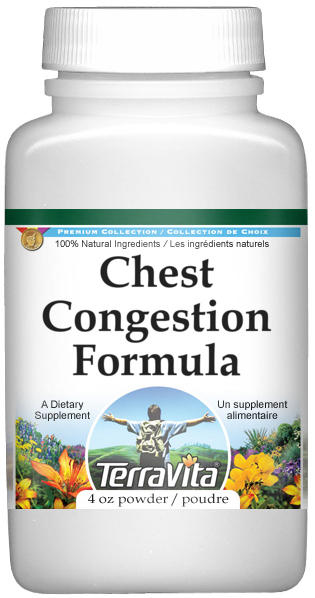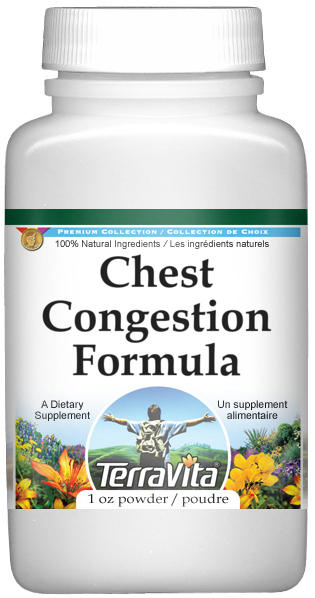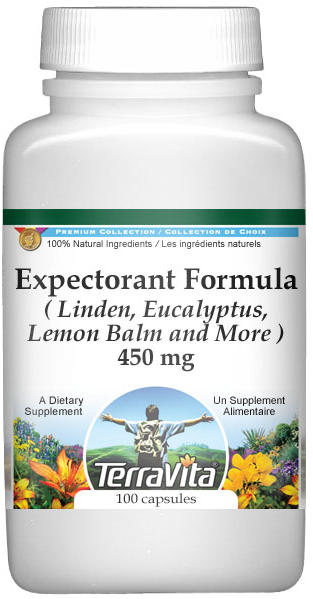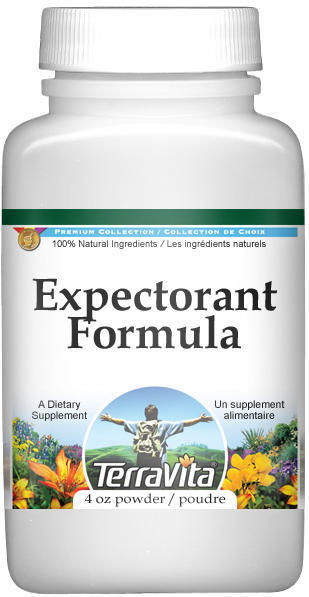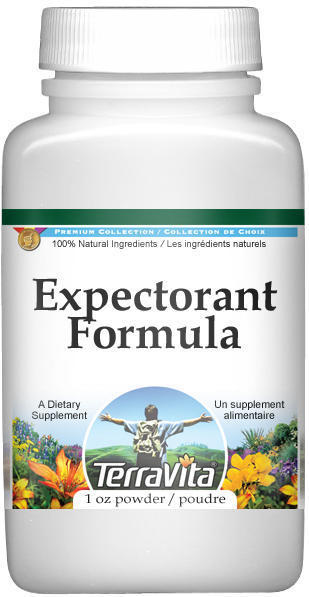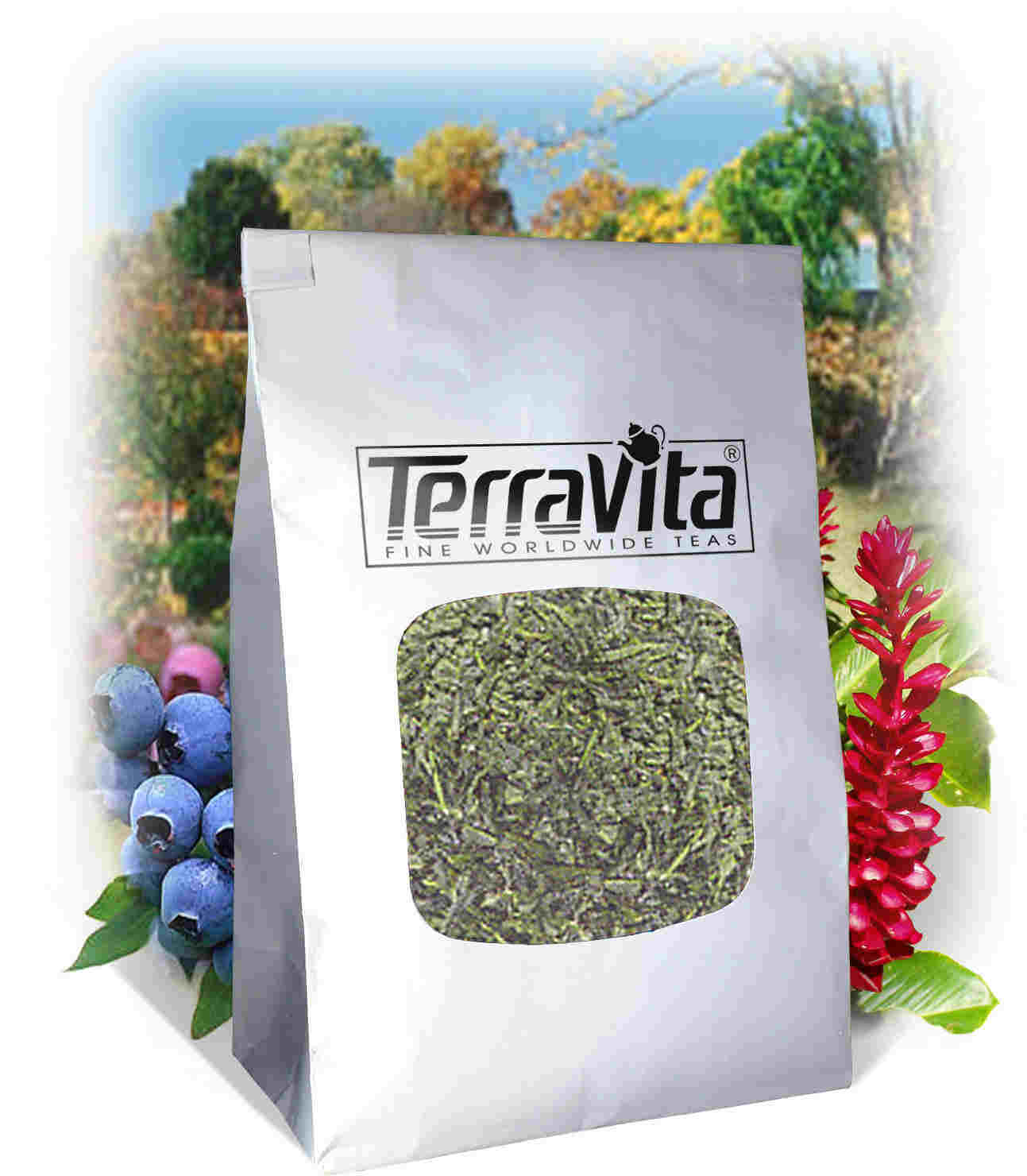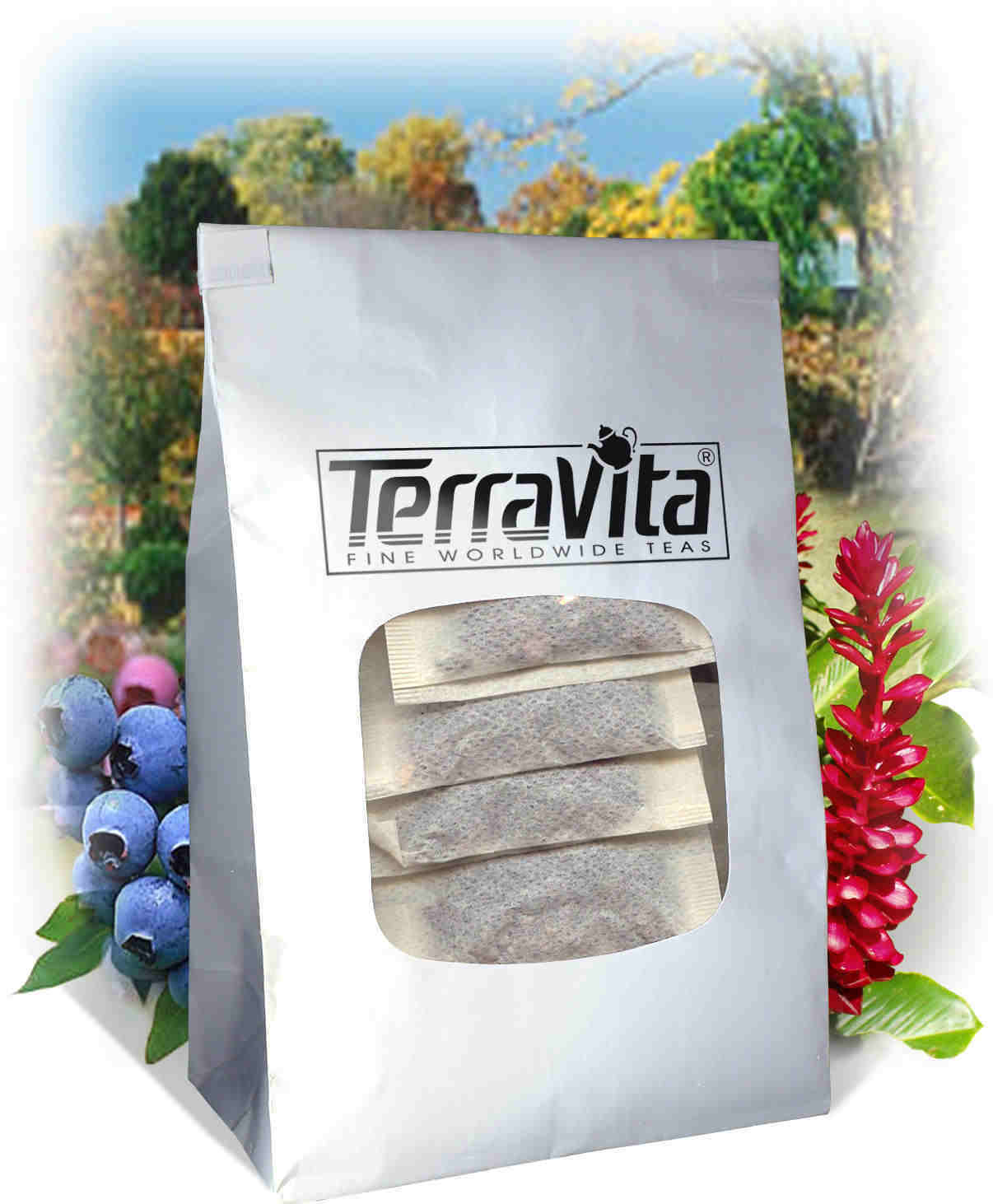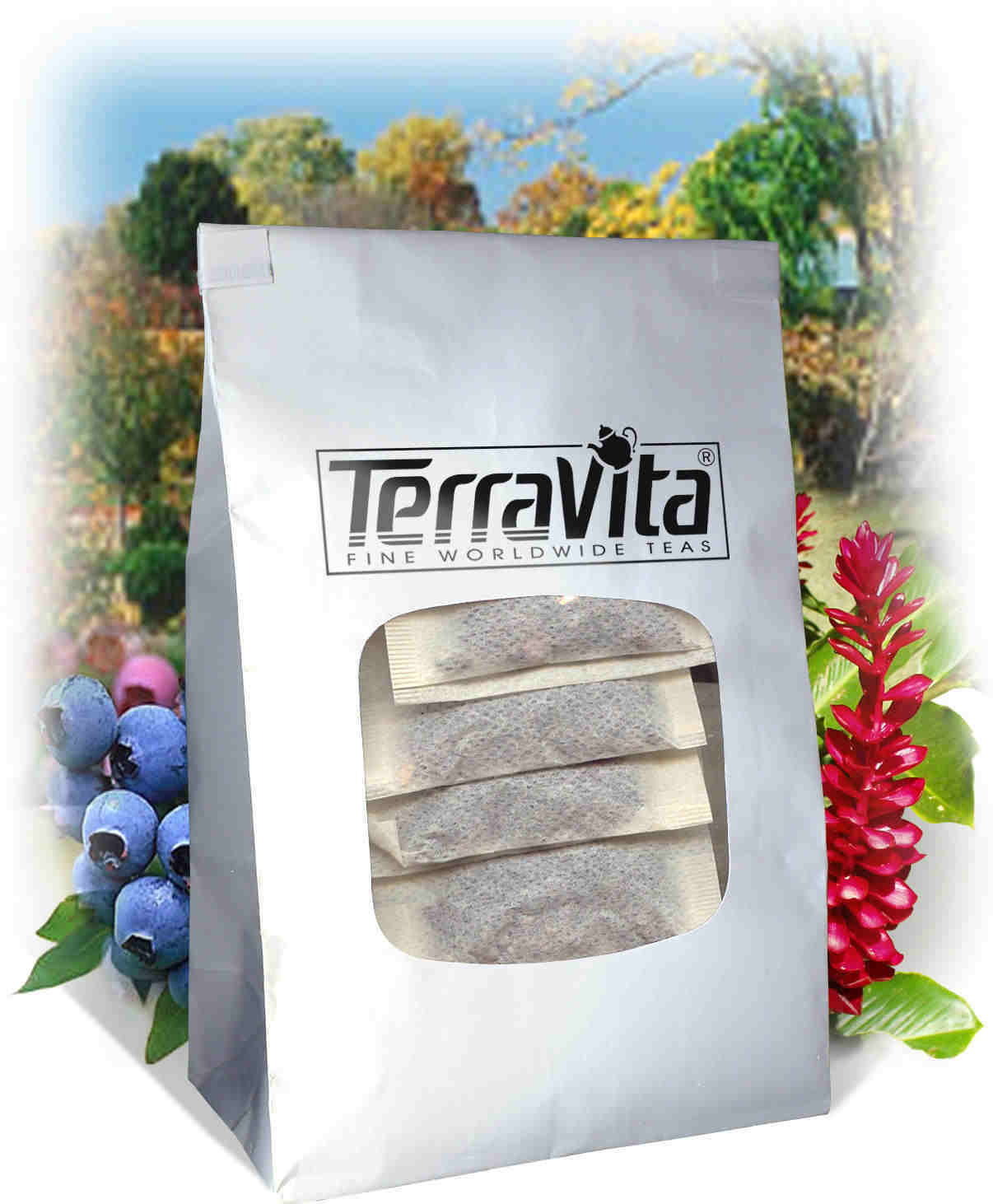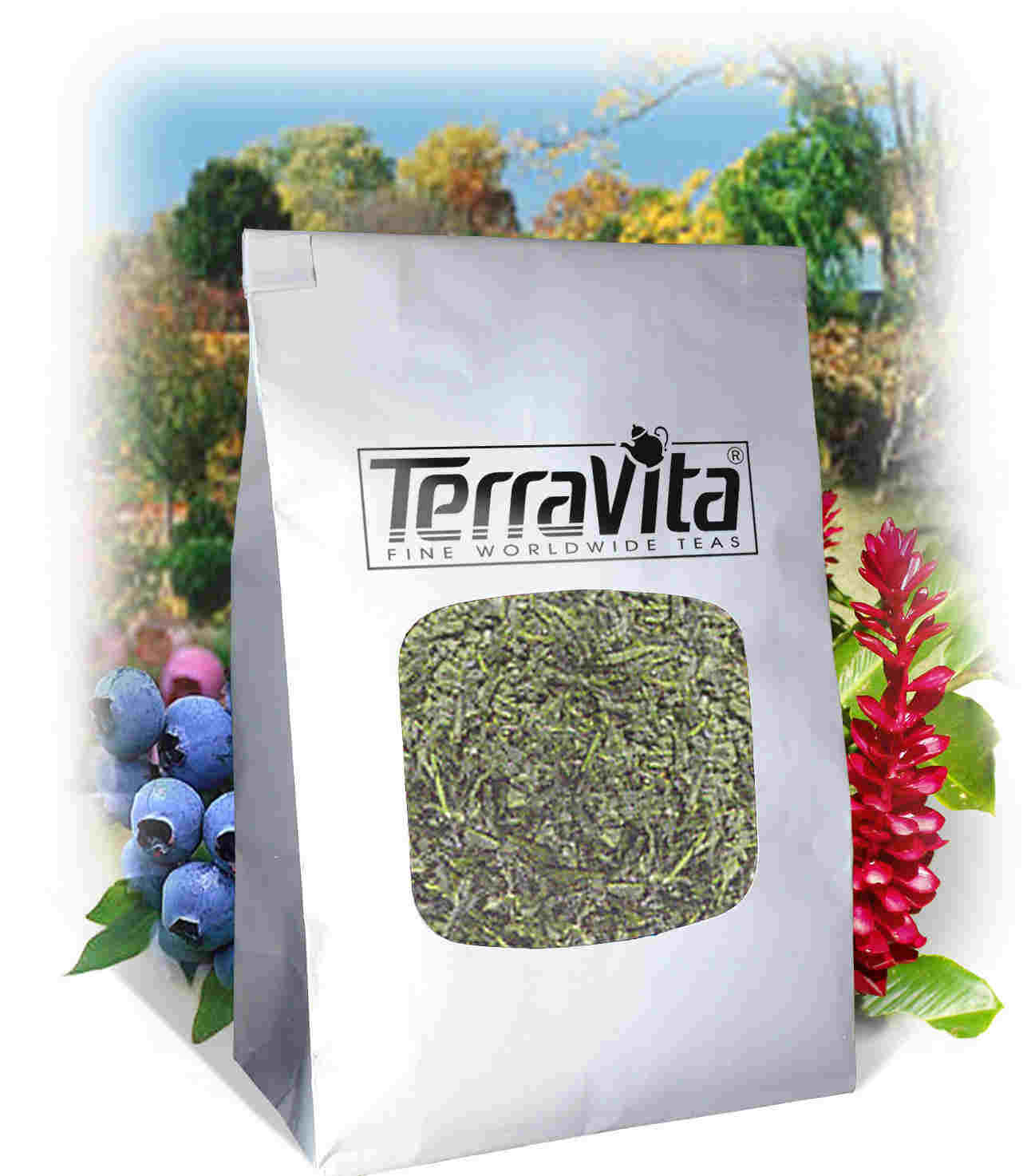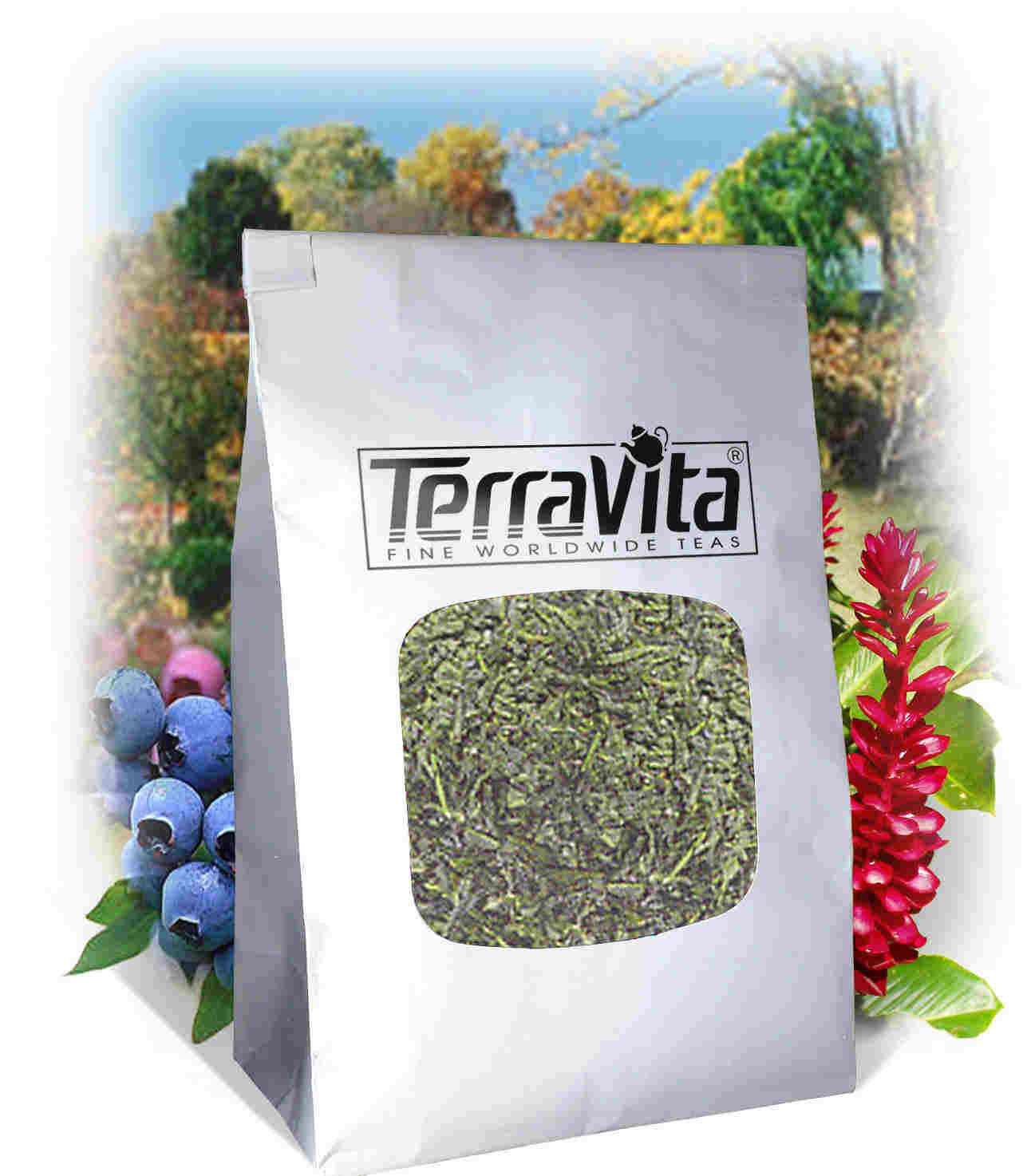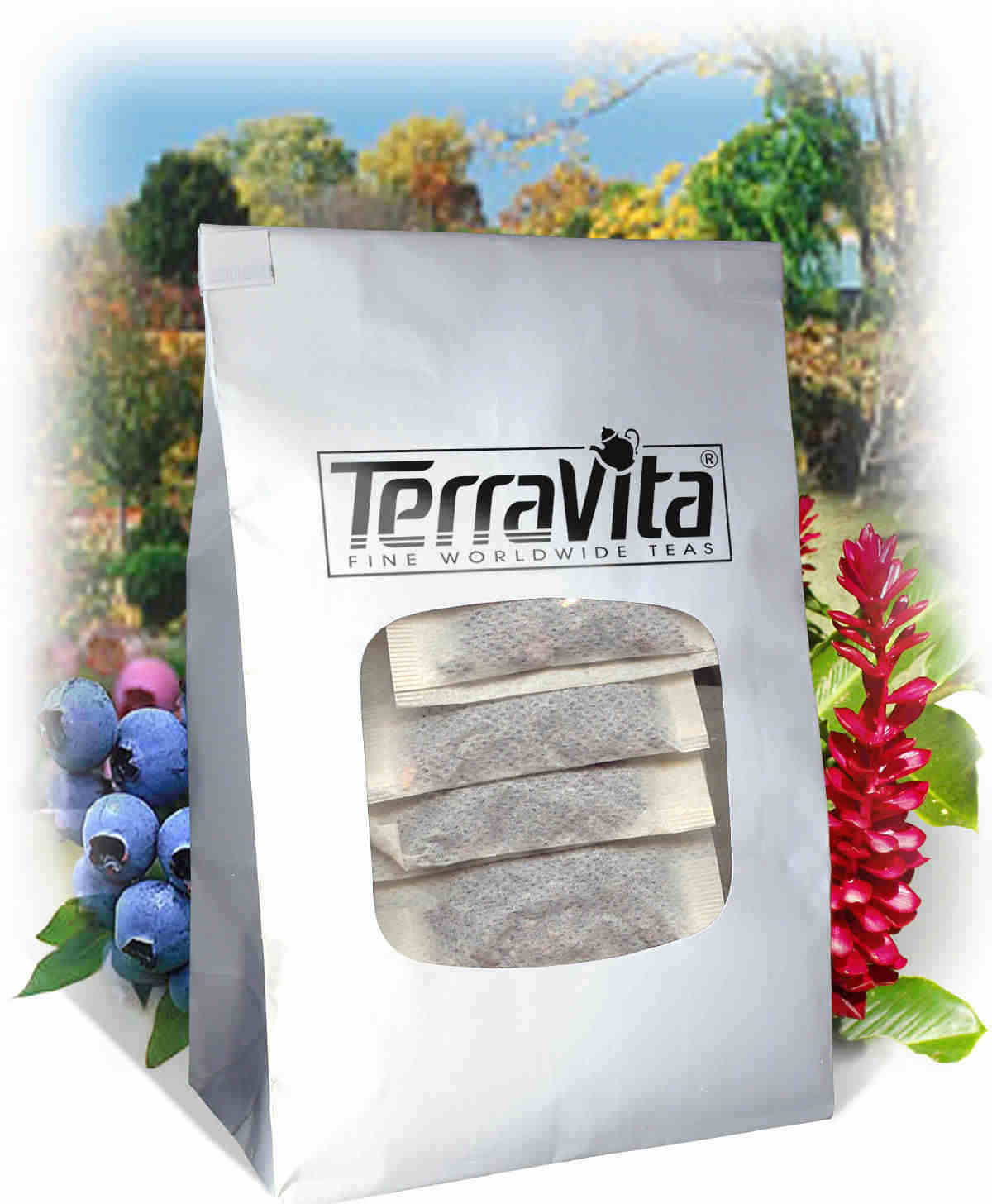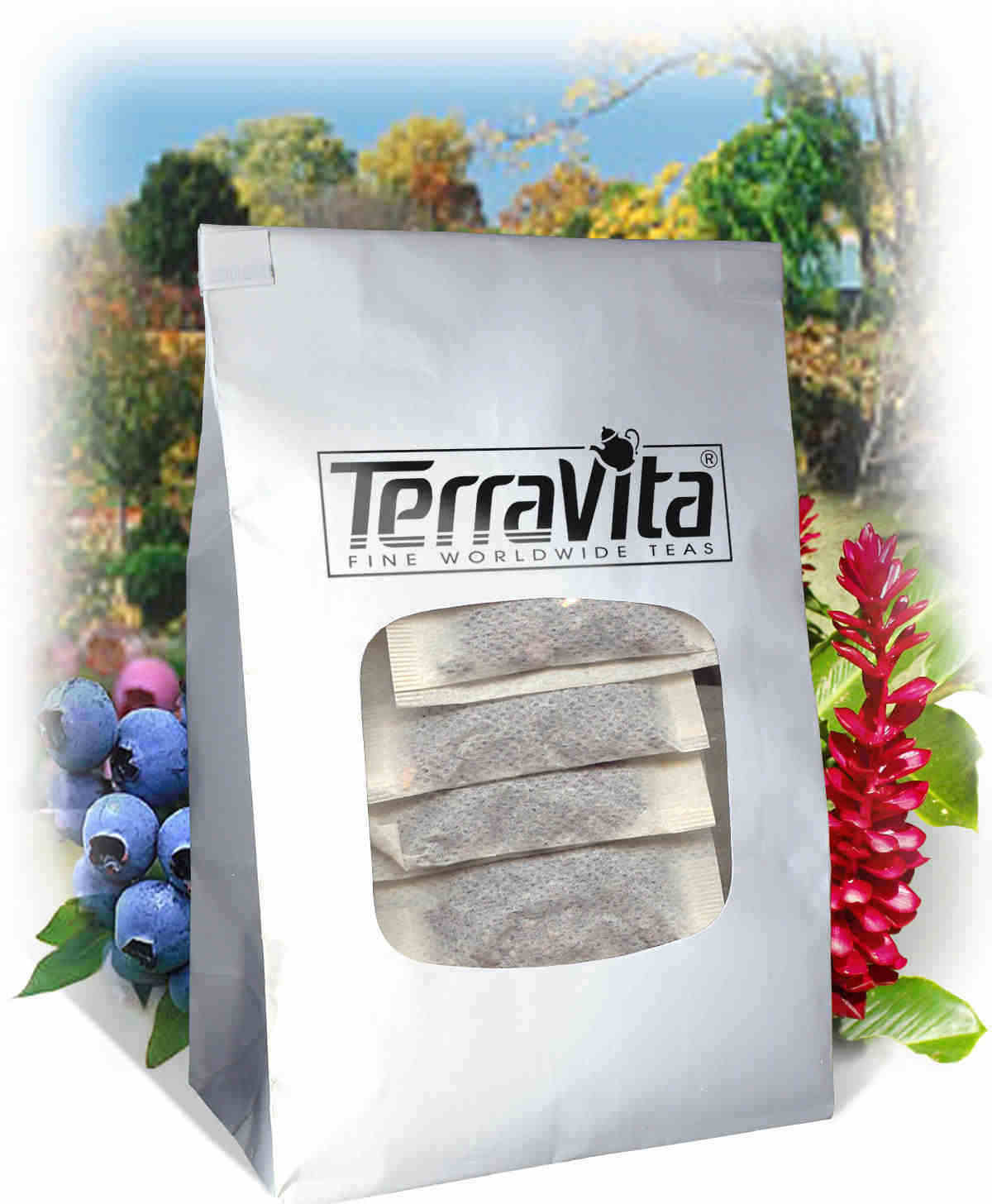 Newsletter
964,698 people read our free Health Newsletter.
Sign up now!
Eucalyptus
Click here for more information.
Eucalyptus leaves or essential oil can be used to help support the common cold, nasal congestion, bronchial difficulties and other respiratory problems. The oil is applied externally as a counter-irritant for the support for joint pain and minor skin ailments.

Eucalyptus
Eucalyptus globulus Labill.

Family: Myrtaceae.

Other Names: Bluegum; eucalyptus (French); Eukalyptus, Blaugummibaum (German); eucalipto (Italian); eucalypto (Spanish).

Description: The bluegum is a very large tree (up to 60 m) with a characteristic shedding bark, greyish foliage and arid large white flowers. The leaves are dimorphic - broad, rounded and opposite in the basal or juvenile leaves; narrow, falcate or scythe-shaped, alternate and pendulous in upper, mature leaves. Also distinctive are the large, solitary flowers and the large woody capsules.

Origin: Australia. Several of the more than 600 species of Eucalyptus have become important commercial timber trees and ornamentals in other parts of the world. Bluegum is grown in many countries, but Spain and Morocco have traditionally been important suppliers of the health product. Oil from E. fruticetorem (= E. polybractea) and E. smithii is also acceptable.

Parts Used: Mature (upper) leaves (Eucalypti folium), essential oil (Eucalypti aetheroleum).

Therapeutic Actions: Antiseptic, expectorant.

Active Ingredients: Essential oil is present in the leaves (1.5-3.5%), with 1,8-cineole (= cineole or eucalyptol) as the main ingredient (70-90%), together with alpha-pinene, p-cymene, limonene and several other minor monoterpenoids. Leaves also contain sesquiterpenes (aromadendren, globulol), euglobals (acylphloroglucin derivatives) and flavonoids.

Health Effects: The monoterpenes show antimicrobial, anti-inflammatory, expectorant, secretomotoric and surfactant properties. The "decongestant" sensation in case of a blocked nose is thought to result from the stimulation of cold receptors. The oil is readily absorbed when taken orally and is partially excreted through the lungs. Leaf extracts show diuretic, healthy blood sugar level supportive and immunity-supporting activities.

Status: Traditional health; Pharm.; Comm. E+; ESCOP 6; WHO 2.

Preparation and Dosage: The leaves can be used to prepare a tea (1.5 - 2 g of cut leaves in 150 mL water) taken three times a day. The essential oil is used orally but at a low dose (0.3 - 0.6 mL per day). Cream and ointments should contain 5 - 20%, or a few drops of the oil itself can be rubbed into the skin.

Spicy Eucalyptus leaves contain essential oil with cineole, ellagic and gallic acid, bitter principle, resin, antibiotic properties, and tannin. These compounds give the leaf its confirmed expectorant, stimulant, antibiotic, antiseptic, and rubefacient properties. Eucalyptus, or blue gum tree, as it is also known, affects the lungs and kidneys and can be used to help support respiratory complaints, coughs, arthritic aches and pains, and as an antiseptic.

Native to Australia, there are a great number of species of eucalyptus trees. The foliage of some contains many essential oils useful in herbal health. Their special value is their ability to control and regulate areas with a high water table, such as bogs and swamps.

The eucalyptus tree was introduced worldwide by a German botanist and explorer, Baron Ferdinand von Muller, director of the Botanical Gardens in Melbourne from 1857 to 1873. These fast growers have been naturalized throughout many areas of the world, including California, Southern Europe, non-tropical areas of South America, South Africa and India. One negative consequence, however, is that in many areas they threaten to replace indigenous trees.

It was von Muller who first suggested that the oil of the leaves resembled that of cajuput (tea tree oil) and suggested its use as a disinfectant in connection with infectious health issue.

Eucalyptus is one of the most powerful natural antiseptics. The aged oil forms ozone, which specifically destroys bacteria, fungi and viruses. An emulsion can be made by mixing equal parts gum Arabic and eucalyptus oil and taking three to five drops every two hours during the acute stages of colds, coughs and flus. An infusion can be made of leaves and taken internally for the same purpose, and most especially for chronic coughs and TB.

Most commonly, the oil is rubbed directly on the chest or back for all respiratory problems. Similarly, it is rubbed as a liniment for the support for arthritic and rheumatic pains.

Dosage: Of the leaves in infusion, one-half ounce to a pint; of the oil, 1-5 drops.

Native to Australia and now grown in many parts of the world, the eucalyptus tree is abundant in California and around the Mediterranean. The essential oil - strong, but pleasant-smelling - is drawn from the leaves and is a prime ingredient in products such as Vicks VapoRub, Mentholatum Cherry Chest Rub, and Listerine mouthwash.

Potential Health Benefits

When it's inhaled, eucalyptus clears the lungs of mucous. It's used externally in ointments to ease rheumatic complaints by improving local circulation.

Scientific Evidence

The dried mature leaf from older trees contains essential oil, "which consists mainly of 1.8-cineol and tannins," according to Commission E. Oil is obtained by steam distillation of fresh leaves and branch tips and contains at least 70 percent of 1.8-cineol. In its various forms, eucalyptus is an exceptionally good decongestant. The U.S. Food and Drug Administration approves eucalyptus to help support flu and colds. In his book Plants That Heal, Joel L. Swerdlow, Ph.D., refers to studies, which he doesn't name, that conclude that eucalyptus has the power to kill "some viruses and some kinds of bacteria, making it a support for bronchitis."

How to Use the Herb

For internal use, the daily average dose from the leaf is 4-6 grams. For liquid extract, 3-9 grams. For external use, daily dose is 5-20 percent oil in semisolid preparations, 5-10 percent oil in aqueous liquid preparations, and several drops of the essential oil rubbed into the skin.
Eucalyptus Blue Mallee Essential Oil - 0.5 oz
Eucalyptus Blue Mallee Essential Oil - 1.7 oz
Eucalyptus Blue Mallee Essential Oil - 3.4 oz
Eucalyptus Pure Essential Oil - 0.5 oz

Number of Reviews: 3
Average Rating: 4.3

Wonderful Product!
Rating:

by Anonymous on August 15, 2012

works great!
Rating:

by Anonymous on September 28, 2015

Rating:

by Mahmut on October 28, 2013
Eucalyptus Leaf - 450 mg - 100 capsules

Number of Reviews: 3
Average Rating: 4.0

Thank You
Rating:

by Anonymous on January 8, 2014

Rating:

by Anonymous on December 18, 2011

Nicest in a long time
Rating:

by Anonymous on December 14, 2014
Eucalyptus Leaf - Glycerite Liquid Extract (1:5) - No Flavor - 1 fl oz

Number of Reviews: 2
Average Rating: 4.0

Great Value
Rating:

by Anonymous on August 1, 2012

Rating:

by Jacquelyn on June 11, 2014
Eucalyptus Leaf - Glycerite Liquid Extract (1:5) - Strawberry Flavored - 1 fl oz

Number of Reviews: 2
Average Rating: 3.5

quality product
Rating:

by Anonymous on February 11, 2013

Excellent service
Rating:

by Anonymous on September 26, 2014
Eucalyptus Leaf - Glycerite Liquid Extract (1:5) - Chocolate Flavored - 1 fl oz

Number of Reviews: 1
Average Rating: 5.0

Rating:

by Anonymous on December 25, 2011
Eucalyptus Leaf - Glycerite Liquid Extract (1:5) - Vanilla Flavored - 1 fl oz

Number of Reviews: 1
Average Rating: 5.0

works great
Rating:

by Anonymous on November 24, 2013
Eucalyptus Leaf - Glycerite Liquid Extract (1:5) - Mint Flavored - 1 fl oz

Number of Reviews: 3
Average Rating: 4.0

Good product!
Rating:

by Anonymous on November 23, 2013

Good Value!
Rating:

by Anonymous on June 30, 2012

Thank You
Rating:

by Anonymous on March 23, 2015
Eucalyptus Leaf Powder - 4 oz
Eucalyptus Leaf Powder - 1 oz

Number of Reviews: 1
Average Rating: 4.0

wonderful product!
Rating:

by Anonymous on July 13, 2011
Eucalyptus Leaf Tea - 25 tea bags

Number of Reviews: 1
Average Rating: 5.0

Rating:

I was informed of the Eucalyptus tea by my daughter in New Hampshire who got it from her dad who has passed away. She really liked it and told me about it but didn't know where to buy it. I found ZooScape and decided to try it.

Wasn't really sure if I liked it but after trying it a few times found it to be good and an interesting change from regular tea. The only thing I would change would be a string to pull it out of the cup, but can really live without it.

I don't drink a lot of tea except in the winter but will order more when this is gone. Your price is quite reasonable and being able to get it in the mail is a plus.

Please keep making it.

[Editor: Thank you for your kind words! Eucalyptus tea is one of my favorites also - I can assure you, we will always make this tea! ; ) ]

by Gordon on January 17, 2014
Eucalyptus Leaf Tea (Loose) - 8 oz

Number of Reviews: 4
Average Rating: 4.2

Great Eucalyptus tea
Rating:

I bought a while back Eucalyptus tea and now I am about to buy more... I really like it! It is just right not too strong like others. I usually drink it hot with honey and I give to my 7 year old son when he starts coughing and he really like it, and makes him feel much better.

by Glokg (Profession: Engineer) on January 12, 2014

very satisfied!
Rating:

by Anonymous on December 12, 2013

good value
Rating:

by Anonymous on November 14, 2011

Happy
Rating:

by Anonymous on February 1, 2013
Eucalyptus Pure Essential Oil - 1.7 oz

Number of Reviews: 4
Average Rating: 4.2

Advantages of Eucalyptus Oil
Rating:

Eucalyptus Oil is one of the best oils that can be used if you have any muscle pull or another problem relating with muscle pain or back ache. just rub it hard for over 10 min over the area and sleep on a flat surface.

by Shaheen (Profession: IT Consultant) on July 8, 2011

happy
Rating:

by Anonymous on February 5, 2014

Thank you!
Rating:

by Anonymous on January 21, 2012

Wonderful Product!
Rating:

by Anonymous on June 28, 2011
Eucalyptus Pure Essential Oil - 3.4 oz
Eucalyptus Leaf Tea - 50 tea bags

Number of Reviews: 1
Average Rating: 4.0

Great!
Rating:

by Anonymous on August 10, 2012
Eucalyptus Leaf Tea (Loose) - 4 oz

Number of Reviews: 2
Average Rating: 4.0

Thank You!
Rating:

by Anonymous on November 14, 2013

satisfied!
Rating:

by Anonymous on January 25, 2012
Eucalyptus Essential Oil - 0.5 oz

Number of Reviews: 1
Average Rating: 3.0

very satisfied!
Rating:

by Anonymous on June 30, 2013
Eucalyptus, Lemon - Essential Oil - 0.5 oz

Number of Reviews: 3
Average Rating: 4.0

Good Service
Rating:

by Anonymous on December 30, 2014

Very Happy
Rating:

by Anonymous on October 31, 2012

pleased
Rating:

by Anonymous on February 19, 2013
Eucalyptus Leaf - Cream - 2 oz
Eucalyptus Leaf - Salve Ointment - 2 oz

Number of Reviews: 3
Average Rating: 4.0

wonderful
Rating:

by Anonymous on November 22, 2013

Great product!
Rating:

by Anonymous on October 27, 2013

great value
Rating:

by Anonymous on February 2, 2014
Chest Congestion Formula - Eyebright, Eucalyptus and Hyssop - 450 mg - 100 capsules

Number of Reviews: 2
Average Rating: 4.5

very satisfied!
Rating:

by Anonymous on April 28, 2012

good value
Rating:

by Anonymous on February 21, 2015
Chest Congestion Formula Powder - Eyebright, Eucalyptus and Hyssop - 4 oz

Number of Reviews: 3
Average Rating: 4.0

Happy
Rating:

by Anonymous on May 2, 2014

Very Pleased
Rating:

by Anonymous on January 18, 2012

Pleased
Rating:

by Anonymous on May 22, 2015
Chest Congestion Formula Powder - Eyebright, Eucalyptus and Hyssop - 1 oz
Expectorant Formula - Linden, Eucalyptus, Lemon Balm and More - 450 mg - 100 capsules
Expectorant Formula - Linden, Eucalyptus, Lemon Balm and More - Powder - 4 oz
Expectorant Formula - Linden, Eucalyptus, Lemon Balm and More - Powder - 1 oz
Expectorant Formula - Linden, Eucalyptus, Lemon Balm and More - Tea (Loose) - 4 oz
Expectorant Formula - Linden, Eucalyptus, Lemon Balm and More - Tea (Loose) - 8 oz
Expectorant Formula - Linden, Eucalyptus, Lemon Balm and More - Tea - 25 tea bags
Expectorant Formula - Linden, Eucalyptus, Lemon Balm and More - Tea - 50 tea bags
Chest Congestion Formula Tea (Loose) - Eyebright, Eucalyptus and Hyssop - 4 oz

Number of Reviews: 1
Average Rating: 3.0

wonderful product
Rating:

by Anonymous on October 21, 2013
Chest Congestion Formula Tea (Loose) - Eyebright, Eucalyptus and Hyssop - 8 oz

Number of Reviews: 2
Average Rating: 4.5

What I needed
Rating:

by Anonymous on June 17, 2012

excellent!
Rating:

by Anonymous on September 13, 2013
Chest Congestion Formula Tea - Eyebright, Eucalyptus and Hyssop - 25 tea bags

Number of Reviews: 3
Average Rating: 4.0

works for me
Rating:

by Anonymous on March 14, 2014

Satisfied!
Rating:

by Anonymous on January 13, 2013

Wonderful!
Rating:

by Anonymous on September 26, 2014
Chest Congestion Formula Tea - Eyebright, Eucalyptus and Hyssop - 50 tea bags